We stopped by star blogger Justina Blakeney's amazing L.A. studio recently (wow). And while we were there the conversation turned to cocktails, as it tends to do, and we discovered that Justina's go-to spring sipper is a lively mango mojito she whips up for friends and family, and sometimes just because. So of course we had to score the recipe.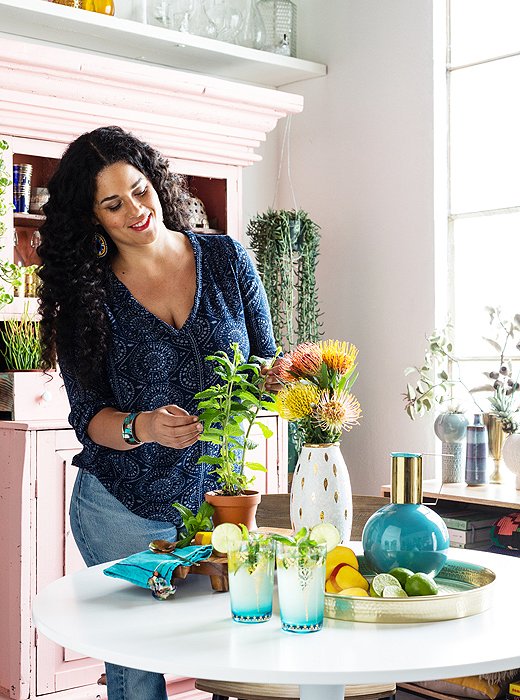 On where the recipe came from:
"I love mojitos. Thanks to the lime and mint, they're the freshest cocktail out there, and the rum just transports me to Cuba. The idea for this recipe was born in Denmark, when I was there for six weeks a couple years ago. They were having a juice craze—even before we were—and I became obsessed with this mango-mint juice in Copenhagen. I thought it would be fun to try a cocktail with mango and mint, and it turned out to be pretty much the best thing ever."
On why it's great for spring:
"It's really fun because my garden is popping—all the fruits and vegetables are coming through—and I love going out to my yard and picking some fresh mint and lemons and limes off my trees and making a super-refreshing drink."
On when she serves it:
"I'll make a round when I'm just hanging out on the patio with my husband after our daughter goes to bed in the evening. Or when we're throwing a party. It's such a crowd-pleaser."
The Recipe
Ingredients
8-10 fresh mint leaves
2 sugar cubes (preferably La Perruche brown sugar cubes)
1/4 c mango, cubed
1 oz. freshly squeezed lime juice
2 oz. mango rum (we used Bacardi's mango-infused rum, but any light rum will work)
2 oz. club soda
ice
Directions
In a cocktail shaker or a pint glass, muddle mint leaves, sugar cubes, and mango, until the leaves are crushed and sugar is mostly dissolved.
Add lime juice and rum. Shake or stir to combine.
Fill serving glass with ice. Add the muddled mixture and top off with club soda. Garnish with mint sprig and mango slice.
*We liked having the crushed mint and mango bits in the drink, but if you prefer, strain the mixture before pouring it over the ice.