If the charming facade, nautical-chic interiors (the work of acclaimed firm Roman and Williams), and rich history (parts of the hotel property date to the 1850s) weren't enough, a peek at Greydon House's maritime-inspired cocktail menu should be enough to have you envisioning yourself here on a balmy evening, gazing out from the veranda with a drink in hand.
We recently stopped by the boutique hotel, a 20-room retreat that opened its doors—to the delight of design-lovers everywhere—last fall. And while we can't whisk you away to Nantucket, we did persuade bartender Emily Connell to mix us up a taste of summer à la Greydon House that you can recreate at home. Whether served at the hotel's wood-paneled bar, on its famed cocktail cart (which roams the halls between rooms peddling predinner drinks), or at your backyard bar, the Raspberry Mojito is one delightful summer sip.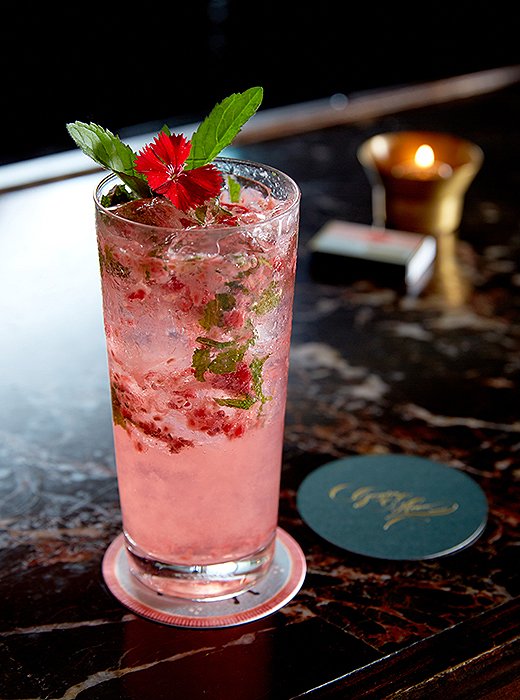 Greydon House Raspberry Mojito
The addition of fresh raspberries turns a classic mojito into the ultimate summer refresher—perfect whether you're kicking back seaside or firing up the grill.
Ingredients:
10 mint leaves
1/2 ounce lime juice
5 raspberries, plus more for garnish
1/2 ounce simple syrup
Directions:
Muddle mint leaves with lime juice. Separately, muddle fresh raspberries with simple syrup. Combine mint and raspberry mixtures with white rum and ice. Cover, shake, and serve in a rocks glass. Garnish with fresh raspberries.