We asked Eva Kosmas of the insanely gorgeous food blog Adventures in Cooking to create her favorite summer berry dish. Get ready to slice it and dice it, dessert style.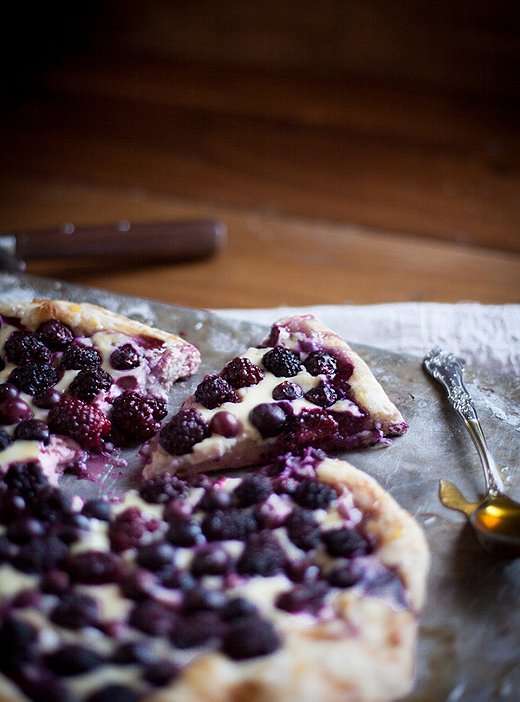 Eva on Dessert Pizza…
"Dessert pizzas are a delicious and simple way to use summer's bright and juicy berries in a uniquely beautiful sweet. With the growing availability of quality pizza dough for sale at local marketplaces, they've become even easier to make. This recipe calls for the use of a pizza stone, which helps the pizza cook evenly and keeps the outside of the crust nice and crisp while maintaining a soft and fluffy interior. When baked in the oven, the mascarpone honey filling sets quickly, and the berries take on a deep and intensely fruity flavor—a true summer treat!"
INGREDIENTS
1/2 cup mascarpone
1/4 cup plain Greek yogurt
3 tablespoons honey
1 pound pizza dough
10 ounces blackberries
4 ounces blueberries
2 tablespoons brown sugar
TOOLS
Pizza stone
Pizza peel
Parchment paper
DIRECTIONS
Place the pizza stone in the oven, and preheat the oven to 500 degrees Fahrenheit for 1 hour. This heats up the stone so that the crust will begin to crisp as soon as the pizza touches it.
In a small bowl, stir together the mascarpone, yogurt, and 1 tablespoon of the honey until combined. Set aside.
On a pizza peel lined with a lightly floured sheet of parchment paper, gently pull the dough out into a rectangle roughly 9 inches x 13 inches, leaving the edges a bit thicker for the crust. Spread the mascarpone mix over the dough, leaving a 2-inch border for the crust. Evenly distribute the berries over the mascarpone. Sprinkle the brown sugar over the crust, and press down gently to secure.
Slide the parchment paper and pizza onto the pizza stone in the oven. Allow to bake for 10-18 minutes (cooking time will vary depending on the thickness of your crust) or until the crust puffs up and turns golden brown. Remove from the oven and drizzle the remaining 2 tablespoons of honey across the top. Slice and serve.
We'd like to extend a big thanks to Eva for sharing her wonderful recipe with us. If you'd like to see more of her delicious recipes, check out her blog, Adventures in Cooking!