There's nothing quite like the magic of Christmas, which is why stylist and entertaining expert Michelle Wong decided to bring the wit and whimsy of the season to the dinner table. Featuring festive wares from Juliska—alongside a host of adorable North Pole critters in Santa hats—it's a scene certain to delight adults and kids alike. Read on for tips, a few festive recipes, and DIYs to make a truly memorable evening.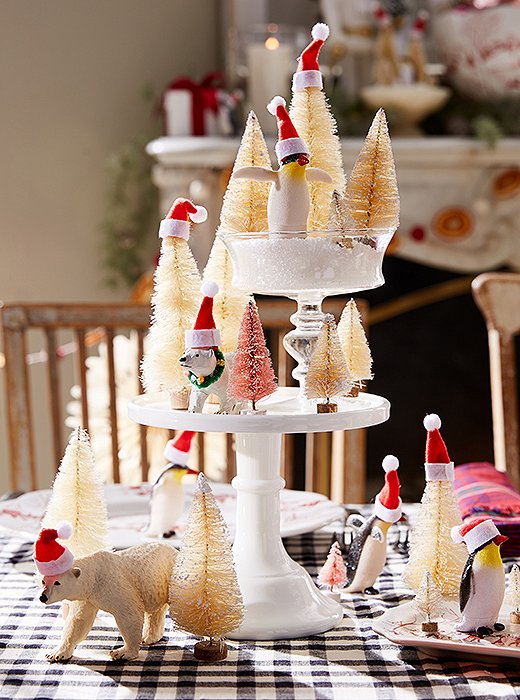 The Too-Cute Table
To make the party an affair for all ages, start with classic pieces, then layer on the fun. Michelle chose dinner plates and serveware from Juliska's Country Estate Winter collection along with tartan napkins and red glassware—a timeless foundation for setting a festive scene. The centerpiece is where the real magic happens; it features wintry creatures and bottlebrush trees outfitted in mini Santa hats (found at the craft store).
DIY to try:
Turn your centerpiece into a snowy winter wonderland with Michelle's easy and quick DIY. Fill the base of a cake stand or a shallow footed glass bowl with sugar crystals from the craft store, then place trees, animal figurines, and any other festive accents on top. It's the perfect way to get the kids involved too.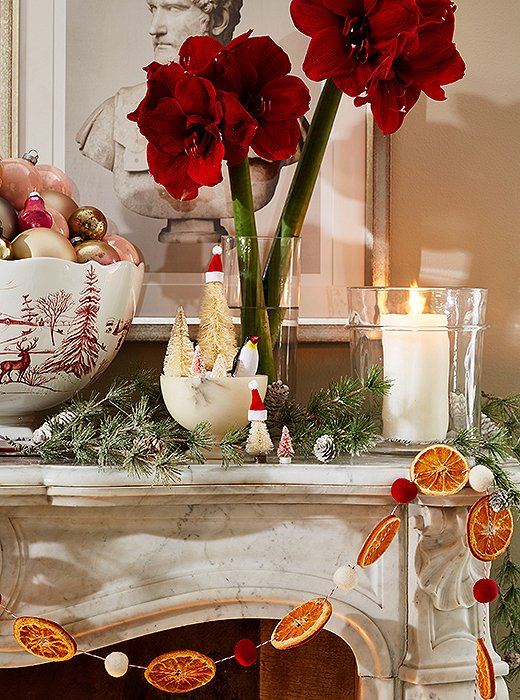 The Merry Mantel
Carry the magic of the table through to the other areas of your dining room, as Michelle did here with the mantel (although this setup will look just as lovely on a buffet or a credenza). Start with a simple evergreen garland, then accessorize with oversize florals (Michelle used amaryllis), a serving bowl filled with ornaments, a few mini trees and figurines borrowed from your table scene, and simple pillar candles.
DIY to try:
Another simple project that's great for kids, this pom-pom garland will add an extra touch of color. Simply thread store-bought dried orange slices and felt balls along a string of kitchen twine, then drape it across the mantel, the buffet, the windows, or anywhere else that might need a little extra whimsy.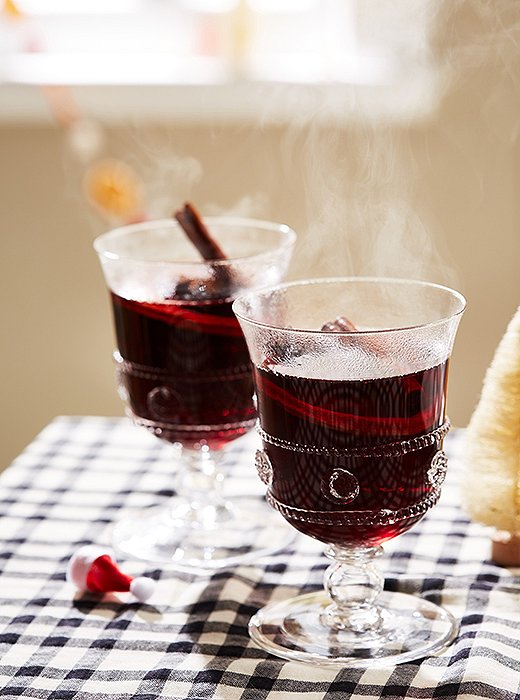 The Spiced Sip
Classic Mulled Wine
"I wanted something cozy that would make the house smell like Christmas," Michelle says—and this classic mulled wine recipe fits the bill. Help guests warm up by greeting them with a glass at the door, or serve after dinner alongside dessert.
Ingredients:
1 bottle of red wine (we used a cabernet)
¼ cup honey
1 large orange, sliced
6 whole cloves
Cinnamon sticks (2 for cooking, extra for garnish)
2 star-anise pods

Directions:
Combine all ingredients in a saucepan over medium heat. Stir well to dissolve honey. Reduce heat to low and simmer for 15 minutes (be careful not to overcook the mixture and boil off the wine). Pour into heatproof glasses, and garnish each with an orange slice and cinnamon stick.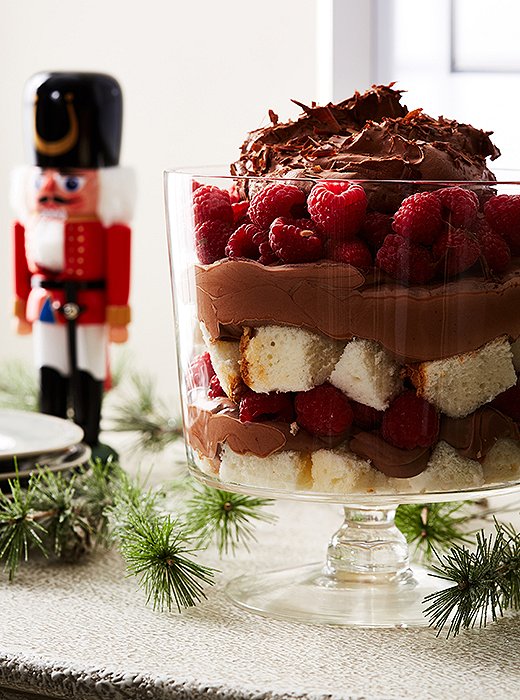 The Decadent Dessert
Chocolate Raspberry Trifle
Impressive-looking, easy to make, and decadently delicious, the trifle is a real crowd-pleaser and the perfect dessert to make for the busy holiday season. Michelle's version uses a mix of homemade and store-bought ingredients and omits the sherry to make it kid-friendly. Serve it in a glass bowl to show off the layers.
Ingredients:
Angel food cake (store-bought)
4 cups heavy cream
½ cup cocoa powder
½ cup confectioners' sugar
2 pints raspberries
Dark chocolate shavings
Directions:
Cut angel food cake into 1-inch cubes and place in a single layer at the bottom of the serving dish. Combine heavy cream, cocoa powder, and sugar in a mixing bowl, then whip with an immersion blender until fluffy (about two minutes). Spread a thick layer of the whipped cream onto the cake, then add a layer of raspberries. Repeat with another layer each of cake, whipped cream, and raspberries. Top with the rest of the whipped cream and finish with dark chocolate shavings.