Excepting perhaps the desserts (mmm, pie!), side dishes are the best part of a Thanksgiving feast. We turned to the experts at Sur La Table for some options that aren't the usual mashed potatoes and green-bean casserole. Given how tasty and surprisingly uncomplicated the recipes below are, they're apt to become welcome additions not just to your holiday meal but also to your menu year-round.
Apple-Cranberry Chutney with Quince
Makes about 3 1/2 cups
Ingredients
12-ounce bag fresh or unthawed frozen cranberries, picked over
1 cup quince preserves or apple jelly (about 12 ounces)
½ Granny Smith apple or other firm, tart apple, chopped
1 red bell pepper, chopped (about 1 cup)
¼ cup firmly packed dark brown sugar
¾ teaspoon ground coriander seeds
1 teaspoon mustard seeds
¾ teaspoon dried hot red pepper flakes
1 teaspoon salt
¼ teaspoon freshly ground black pepper
½ cup raisins
¼ cup cider vinegar
4-inch strip fresh lemon zest
1 medium onion, sliced (about 1 cup)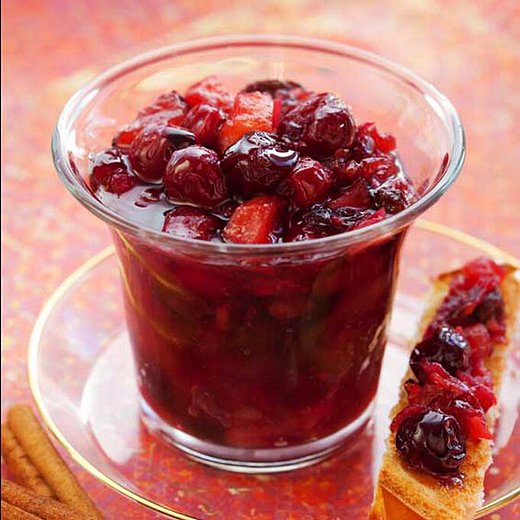 Instructions
In a large saucepan, combine all ingredients except onion and simmer for 30 minutes, stirring occasionally. Add onion and simmer for another 20 minutes, or until chutney is thickened. Chutney may be made a week ahead and chilled, covered. Serve chutney chilled or at room temperature.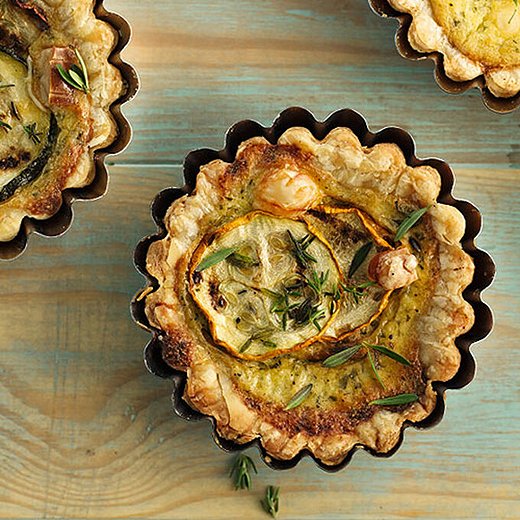 Caramelized Onion-and-Brie Tartlets
Makes 24
Ingredients
3 teaspoons unsalted butter
2 tablespoons extra-virgin olive oil
2 large yellow onions, peeled and thinly sliced
Kosher salt and freshly ground black pepper
2 teaspoons sugar
6 sprigs fresh thyme, plus more for garnish
½ cup water (optional)
4 ounces Brie cheese, chopped into ½-inch pieces
Half of a 17 1/3-ounce package frozen puff pastry, thawed
Directions
To prepare the filling: Place butter and olive oil in a large skillet, and heat over medium-high heat until butter foams. When foaming subsides, add onions and 1 teaspoon each salt and pepper, stirring well to combine. Cook, stirring often, until onions release their liquid and begin to soften, about 5 to 7 minutes.
Sprinkle sugar over onions and stir well to coat. Tuck thyme sprigs into onions and stir. Reduce heat to medium and cook, scraping the bottom of the pan to release any browned bits, until onions are golden brown, about 18 to 20 minutes. If onions or browned bits in the pan begin to darken too quickly, add up to ½ cup water, 2 tablespoons at a time, stirring well.
Remove onions from heat, discard thyme sprigs, and transfer onions to a large mixing bowl. Allow to cool slightly, about 15 minutes. When the mixture is warm, add the Brie and thoroughly combine. Taste and season with salt and pepper.
To prepare the puff pastry: Preheat oven to 400°F and place racks in the upper and lower thirds.
Remove one thawed puff pastry sheet from the package and unfold onto a lightly floured work surface. Roll into a 10-inch x 15-inch rectangle. Using a sharp chef's knife or pastry cutter, cut the puff pastry into 24 (2 ½ inch) squares. Press the pastry squares into 24 mini (1 ¾ inch) muffin-pan cups.
Fill each puff pastry cup with about 1 tablespoon of the onion-and-Brie filling. Transfer filled pastry cups to the preheated oven and bake until puff pastry is golden brown, about 15 to 18 minutes. Sprinkle each tartlet with thyme and serve warm or at room temperature. 
Thyme-Scented Potato Gratin
Makes 8-10 servings
Ingredients
4 tablespoons unsalted butter, divided, plus more for greasing the baking dish
2 large leeks, white and light green parts only, washed well and thinly sliced
1 cup heavy cream
1 cup whole milk
1 tablespoon kosher salt
½ teaspoon freshly ground white pepper
3 pounds Yukon Gold potatoes
6 tablespoons fresh thyme leaves, divided
½ cup grated Gruyère cheese
¼ cup grated Parmesan cheese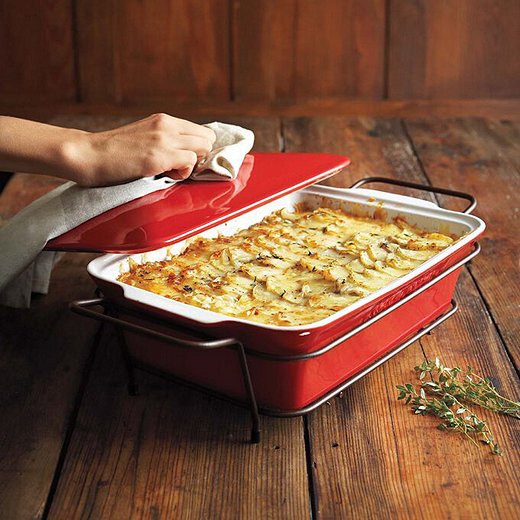 Directions
Place 2 tablespoons butter in a large saucepan and heat over medium heat. Add leeks and sauté until softened but not browned, about 4 to 5 minutes.
Add cream and milk to the saucepan and heat until mixture simmers. Add salt and white pepper, stirring well to combine. Peel potatoes and place a mandoline across the top of the saucepan. Slice potatoes into 1/8-inch-thick slices directly into the hot cream mixture. Press potato slices gently with a silicone spatula to submerge. Cook, undisturbed, until potatoes are partially cooked and mixture begins to thicken, about 10 to 12 minutes. Stir in 3 tablespoons thyme leaves.
Preheat oven to 375°F and place a rack in the center. Generously grease a 13-inch x 9-inch x 2-inch baking dish with butter. Combine cheeses in a small mixing bowl. Using a slotted spoon, transfer the potato slices to the prepared baking dish. Carefully pour enough cream mixture to barely cover the potatoes. Dot with remaining 2 tablespoons butter and cover with the cheese mixture.
Bake until the casserole bubbles around the edges, the potatoes are tender, and the top is golden brown, about 50 to 60 minutes. If the top begins to brown too deeply before the potatoes are cooked, cover gratin with aluminum foil. If the top has not browned when the potatoes are cooked, place gratin under a preheated broiler for 2 to 3 minutes, watching to ensure it doesn't burn.
Allow gratin to sit for at least 20 minutes before serving. Sprinkle gratin with remaining 3 tablespoons of thyme leaves. Slice gratin into serving portions and transfer to serving plates.