Weekend brunch clubs are emerging as the new game night because, well, who doesn't love brunch? Santa Barbara, CA-based photographer and blogger Leela Cyd, whom we discovered via her gorgeous Instagram feed before becoming addicted to her site Tea Cup Tea, invites us to join in the fun and offers up guidance for prepping and hosting a midday gathering so great, you'll be fielding tons of requests to become a member—even well after Easter Sunday!
Set a Casual, Mismatched Table
For setting the table, I like a mismatch of plates and silverware. If nothing goes together or matches perfectly, it all looks cohesive. This makes it easier to collect little treasures that might not have a match or a full set but catch your eye and add a bit of sparkle to your world. Natural life makes beautiful eye candy for your table as well, so try setting out a few bowls of fruit or fresh herbs; guests can enjoy the vibrant colors as well as snack on a piece if they feel like it.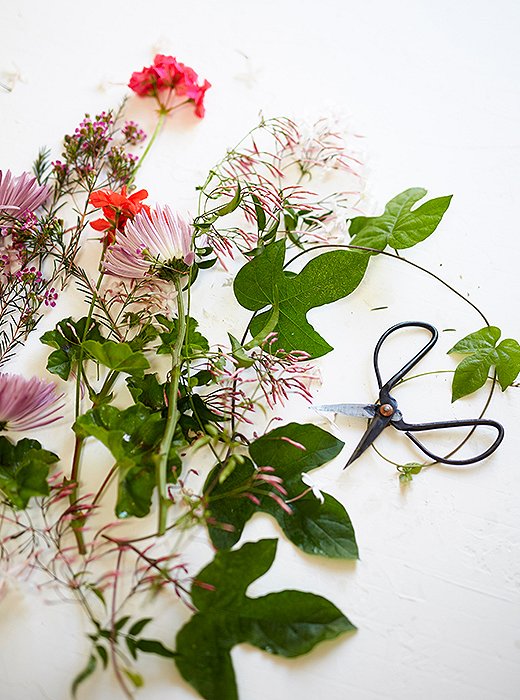 Go High-Low with Flowers
To elevate a weekend fete, I like to throw together a few bouquets. I buy one grouping of inexpensive flowers such as lilies, mums, or irises at Trader Joe's or a local grocery, then trim and group these with clippings from my own yard. Greenery can include things that grow around your neighborhood and add to the wild, organic feel of a pretty arrangement. Some good options to look for now are pink jasmine, ferns of any type, ivy, and geraniums.
If nothing goes together or matches perfectly, it all looks cohesive.
Plan a Make-Ahead Menu
When gathering for a brunch club with my girlfriends, I like to keep the food simple with lots of make-ahead components that just need to be assembled. This way, when guests arrive, it's more about assembling than slaving over the stove or oven. And I wouldn't dare forget to serve large pots of coffee and Yorkshire Gold black tea (my absolute favorite!) with plenty of brown sugar and whole milk.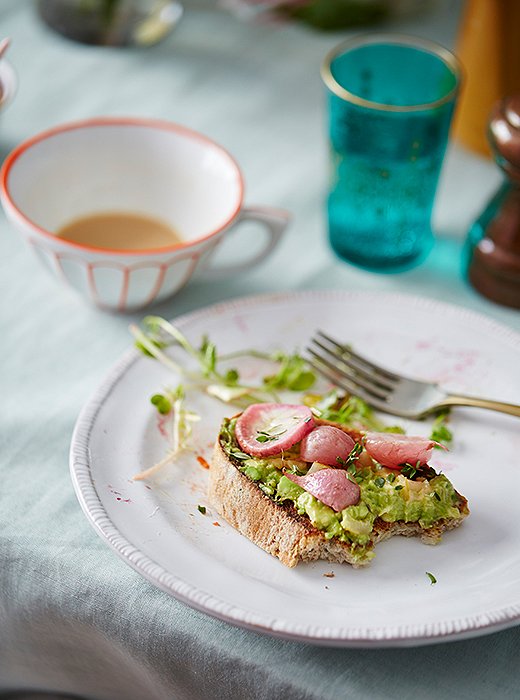 I like to keep the food simple with lots of make-ahead components that just need to be assembled.
Leela's Brunch-Club Recipes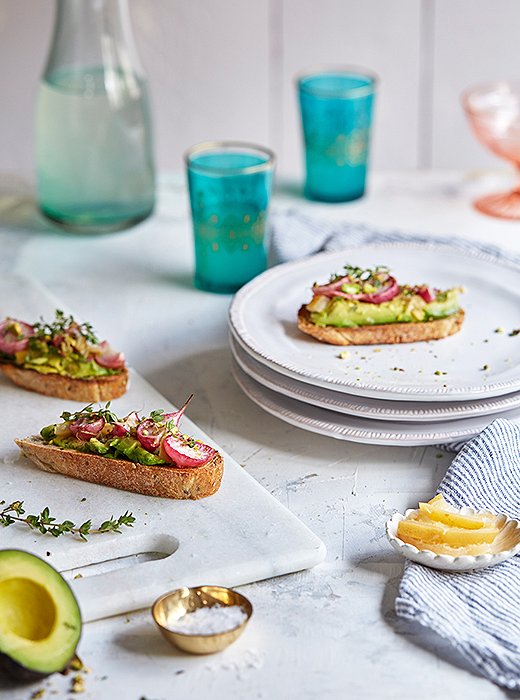 Roasted Radish Tartines with Smashed Avocado and Preserved Lemons
I live for delicious toppings on toast! The hearty bread acts as the ideal cushion for the richness of the avocado; the preserved lemon bits add a sharp contrast; and the pièce de résistance is the subtly spicy roasted radish. These little beauties are sure to inspire oohs and aahs from all the ladies (and gents) in attendance.
Serves 6-8
Ingredients:
3 bunches radishes, halved and with tops trimmed off
2 tablespoons olive oil
salt to taste
1 loaf rustic bread
4 avocados
juice from one lemon
pepper to taste
2 tablespoons roughly chopped preserved lemon
fresh thyme, for garnish
¼ cup roughly crushed pistachios, for garnish
Preheat oven to 425°F. Toss radishes in olive oil with a little salt, and pour onto a parchment-lined baking sheet. Roast for about 20 minutes, until slightly soft. Remove from oven and allow to cool on the baking sheet.
To assemble:
Preheat oven to broil setting. Cut bread into 8 half-inch slices and place on a baking pan. Broil toast for about 2 minutes on each side, until evenly golden. Remove from pan and place on a platter. In a large bowl, smash the avocado flesh with a fork until slightly chunky. Add lemon juice and salt and pepper to taste. Smear mashed avocado evenly onto the toasted bread. Sprinkle with preserved lemon bits, top with 5 radish halves, and garnish with plenty of fresh thyme, pistachios, and cracked black pepper. Serve immediately.