Leela Cyd is a photographer and stylist who has snapped images for magazines including Sweet Paul, Kinfolk, and Condé Nast Traveler. When not making images, she can be found testing out recipes, hosting a tea party, or on a beach walk with a friend. Here she shows us her favorite recipes that savor the last of summer's sweet, juicy fruits while nodding to the rich, cozy palette of fall.
The transition from the lazy days of summer to the crispness and golden light of fall is my favorite time of year. There's still sand around the stoop from dips in the ocean, but my sweater is tied around my shoulders, and I relish these mornings right now with my mug of toasty English breakfast tea in hand. It's definitely the most wonderful time of year to be cooking too, with the glut of summer fruits and produce still available and many of autumn's treats showing up at the market. There's only one word for it: bountiful.
With summer's lingerings and fall's beckoning in mind, these recipes celebrate the late-summer sweetness of plums, figs, and grapes with hints at autumn's moody palette. Each jewellike fruit stars front and center in a cocktail, a pizza, and a make-ahead dessert, and none of these recipes are demanding in time or effort. Served together, these recipes are guaranteed to make for a sumptuous menu and a night of easy entertaining.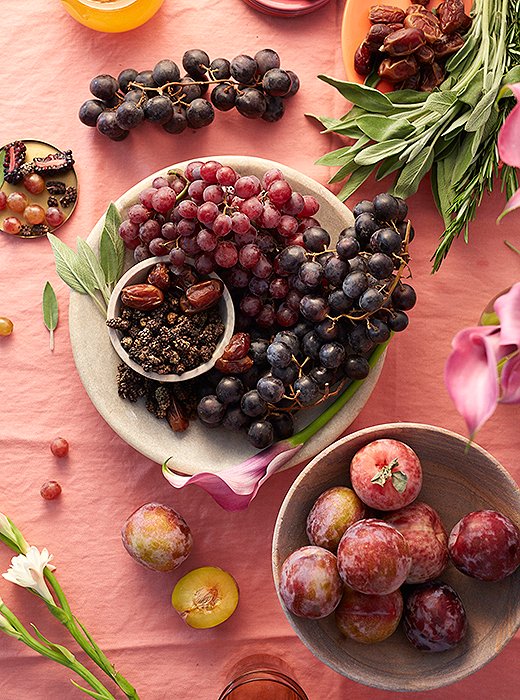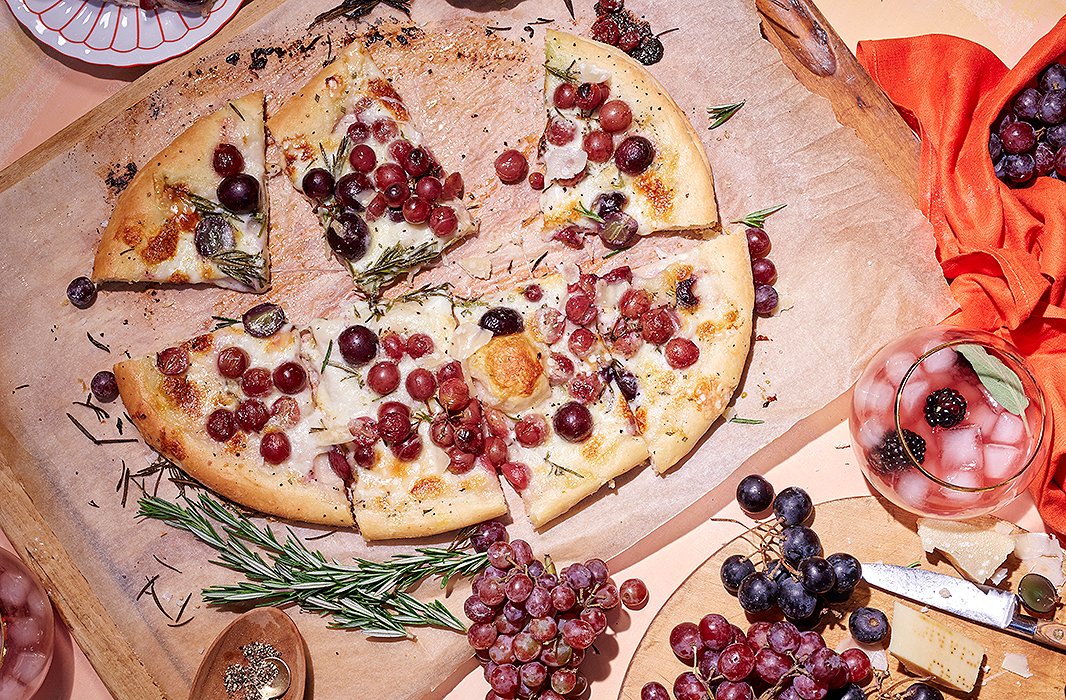 Roasted Grape and Burrata Pizza with Rosemary
My local pizzeria is next door to a specialty cheese and olive-oil market. It's a miracle it took me so long to put the two passions together! Yes, it's lovely to make your own pizza dough, and I take that task on when I have the time, but when it's 6 p.m. and I'm doing a quick cheese-and-wine run for dinner it's a joy to buy a perfectly risen soft ball of dough for cheap. This pizza comes together in minutes and oozes with burrata decadence and the puckering sweetness of fresh grapes.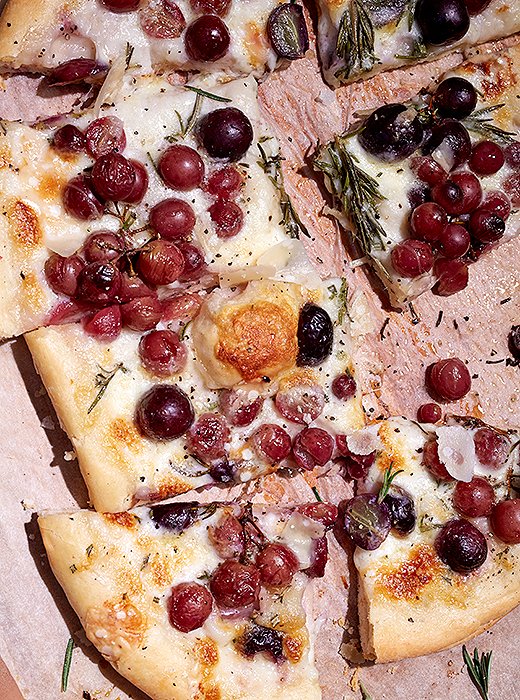 Serves 2-4
Ingredients
Extra flour for dough
1 ball of pizza dough from local pizzeria (or specialty grocery store)
Olive oil
1 8-oz. ball of burrata cheese
1 bunch Concord grapes, divided into a few stems and a few single grapes
1/4 cup Parmesan cheese slices
2 stems rosemary, 1 whole and 1 chopped fine
Salt and pepper to taste
Directions:
Preheat oven to 500 degrees. Line a cookie sheet with parchment. Sprinkle a little flour on a work surface. Stretch dough as thin as possible, using your hands (not a rolling pin), and place on the lined cookie sheet. Drizzle olive oil over entire surface. Tear burrata cheese into two-inch pieces and place all over pizza (you may have some left over, depending on how big your pizza is). Nuzzle the grapes into the buratta. Sprinkle with Parmesan and finely chopped rosemary. Place sprig of rosemary in center or on side of pizza. Add a pinch of salt and pepper. Bake until golden brown, about 10-12 minutes. Slice and serve.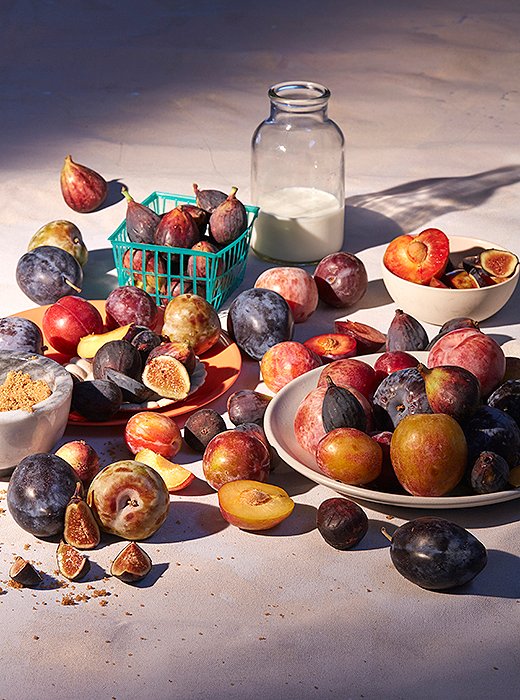 Figgy Plum Creamsicles
A yummy contrast here between the sweetness of late-summer figs and bursting plums with the tang of crème fraîche. It's the creamsicle of my dreams—laden with heaps of fruit and real dairy products. This technique could be altered to fit any mood or seasonal fruit; once you've purchased a popsicle mold the variations are limitless.
Makes 8 three-ounce popsicles
Ingredients:
1/2 cup diced, peeled plums
1/2 cup diced, peeled figs
1/2 cup light brown sugar
1 fig, sliced into ¼" rounds
2 cups whole milk
2 tablespoons sugar
1 teaspoon vanilla
Pinch of salt
1 cup crème fraîche

Directions:
In a medium pot, cook the plums, peeled figs, and brown sugar for about 10 minutes, then roughly blend and allow to cool. Distribute plum and fig mixture evenly into the bottom of the popsicle molds. Delicately place one fig round at the bottom of each popsicle, pushing the fig slice toward the surface of the mold. Freeze for about 15 minutes while preparing the next layer.
In a medium pot, bring milk to a low simmer, then add sugar and vanilla, and stir until dissolved. Add a pinch of salt. Remove from heat and whisk in crème fraîche. Allow to cool. Pour the milk-and-crème fraîche mixture on top of the semiset plum-fig popsicles. Using a long spoon or a bamboo skewer, mix a little bit of the fig and plum bottom into the creamsicle top. Freeze at least 4 hours, or until completely set. When ready to serve, allow to sit 5 minutes at room temperature before removing the popsicles from the molds.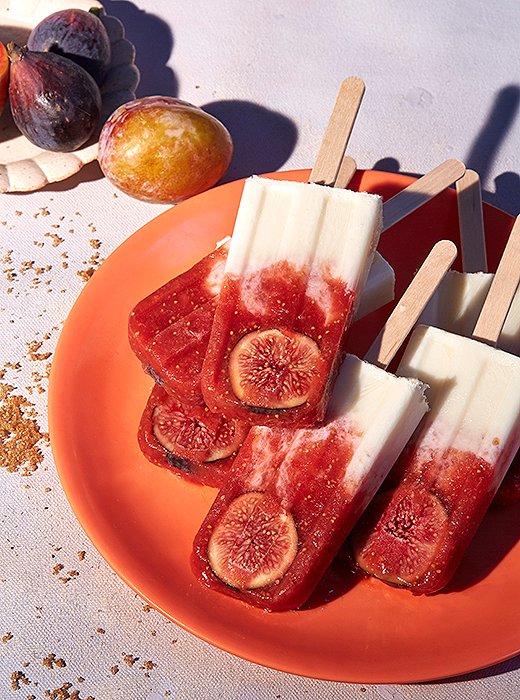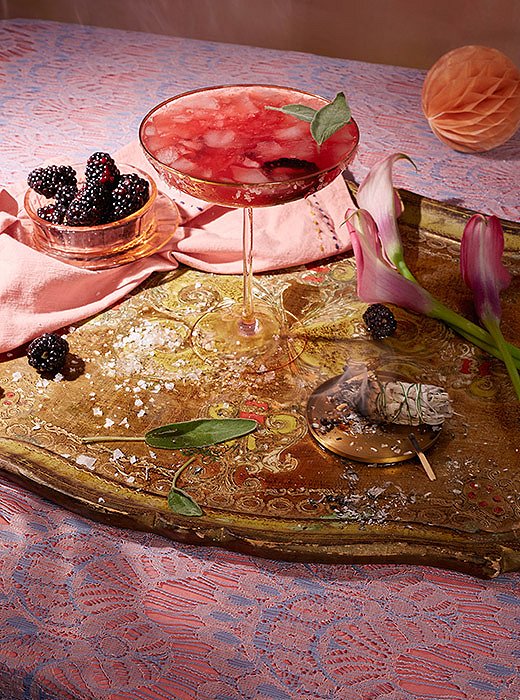 Blackberry Sage Margarita
This nontraditional margarita lets you savor the last days of summer with an explosion of jammy blackberry flavor while nodding to fall with a trace of smoky sage. It's not a gentle drink—rather a loud and fun one.
Serves 4
Ingredients:
1 pint blackberries, reserving 4 for garnish
14 sage leaves
8 oz. tequila
Juice from one lemon
2 tablespoons maple syrup
Crushed ice
Flake salt (I like Jacobsen salt)
Directions:
Muddle blackberries and 10 sage leaves until broken down. Add tequila, lemon juice, and maple syrup, and shake until combined. Fill rimmed glasses with crushed ice and pour cocktail full to the brim with crushed ice. Garnish with a blackberry and a sage leaf.