We asked Katy Sparks, a chef, culinary consultant, and author of the cookbook Sparks in the Kitchen, to help us put together a summertime feast that even those of us who prefer eating to cooking can create… and she did! Check out her recipes and tips below.
As much as we chefs love to cook, summer is my favorite season because the amazing abundance and quality of the produce does most of the heavy lifting. This lets me focus on a few inspired flavor combinations and a hard-won grilling technique to come up with a feast to share with family and friends and get me out of my hot kitchen. Our gathering was quite small—just four of us—but we felt very celebratory as we dined on my patio in Woodstock, NY, in the heart of the Hudson Valley, watching the resident blue heron swoop down over the pond, keen to find his own dinner. My friend Amy contributed a wonderful Austrian wine called Mon Blanc by Stefanie and Alwin Jurtschitsch that paired perfectly with the menu, since it had plenty of fruit and was not overwhelmed by the meal's big and bold flavors.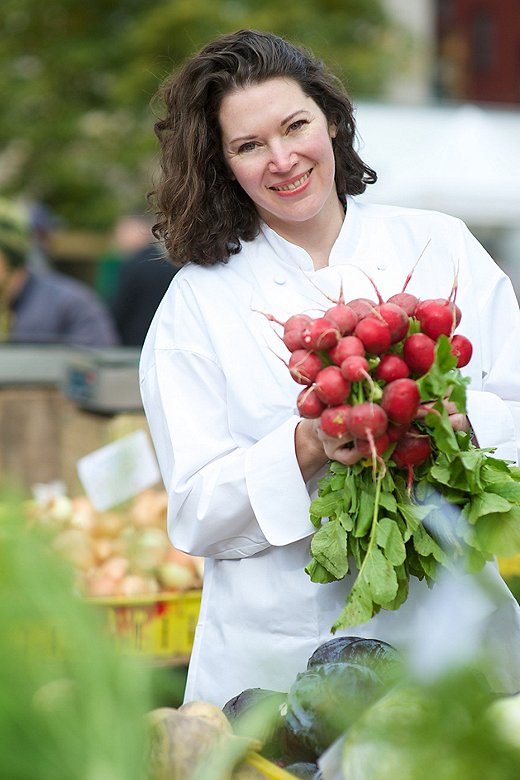 Barbecued Tri-Tip Beef
The centerpiece of this summer meal is the Hudson Valley-raised, all-grass-fed beef tri-tip. It reminds me of a thicker flank steak; in fact, if you can't find tri-tip, either flank or bavette cuts would be fine substitutions. The key to this recipe is the very peppery dry rub that I coat the beef with a couple of hours before grilling. The flames of the grill activate the pepper and rosemary in an amazingly fragrant way.
Ingredients
1 tbsp. coarse sea salt or kosher salt
1 tbsp. freshly ground black pepper (I use Tellicherry peppercorns)
1 tbsp. minced garlic
1 tsp. cayenne powder
2 tsps. minced fresh rosemary
2-3 lbs. tri-tip, flank, or bavette steak
Directions
Combine all the rub ingredients, then massage into all sides of the beef. Cover the beef with butcher paper or cling wrap and refrigerate for 2-3 hours. Transfer the beef to room temperature for 1 hour before cooking so that the meat will cook more evenly.
Light your grill. We use natural hardwood charcoal; it tastes better than regular briquettes and is healthier too—no petroleum byproducts, just wood. Bank your coals so that you have room to finish the beef away from the direct heat.
Once the grill is nice and hot, get a good sear on all sides of the beef—2-3 minutes per side. Then move the meat away from the banked coals, put the lid on the grill with the vents open and cook about 5 minutes per side. Test the internal temperature. You want this cut to be medium to achieve full flavor and tenderness. So look for your thermometer to register about 140-145 degrees; the meat will rest up a few more degrees once off the grill.
After the actual grilling, the second most important part is the resting phase. We time it so that the meat can sit and rest on the cutting board for at least 20 minutes before carving. And then there is the carving itself: You want to look for the grain and slice against it rather than with it. That will give you the most tender mouthfuls of delicious, smoky barbecue! Feel free to serve any favorite barbecue sauce you want on the side, but it really doesn't need it.
Corn on the Cob and Heirloom-Tomato Salad
I can't really call these recipes—they're just about selecting the best corn and tomatoes and adding a little razzle-dazzle with the supporting cast of ingredients.
For the corn: My favorite variety is called Butter and Sugar. Just steam each ear for about 3 minutes. The toppings I love this summer are cold-stamped New York State pumpkin-seed oil instead of the usual melted butter, smoked paprika, and a homemade black-sesame gomasio, which is essentially black sesame seeds dry-toasted in a skillet, then combined with sea salt and mashed together with a mortar and pestle.
For the tomato salad, simply select the best-looking heirloom tomatoes. Don't worry about the size or shape or color; just be sure they're nice and ripe, which means they feel heavy in your hand and the skins have a nice deep color. Slice,  crumble some briny feta over them, then add a drizzle of a fruity green olive oil and tons of freshly picked herbs. I like to also add a few thin slices of a chili pepper like jalepeño or serrano to jazz things up.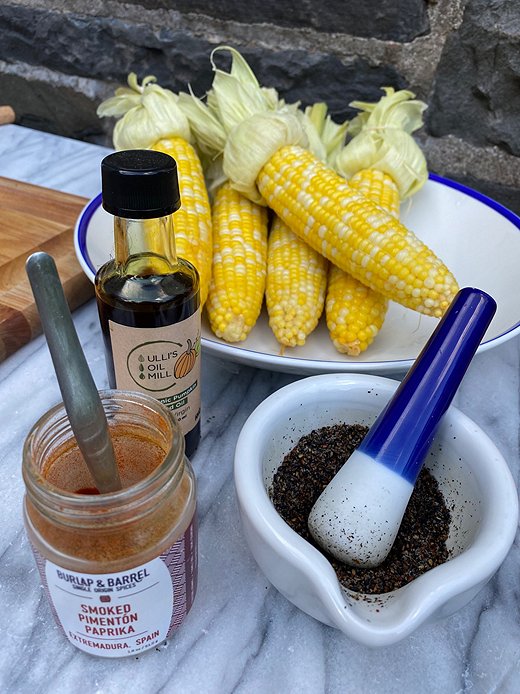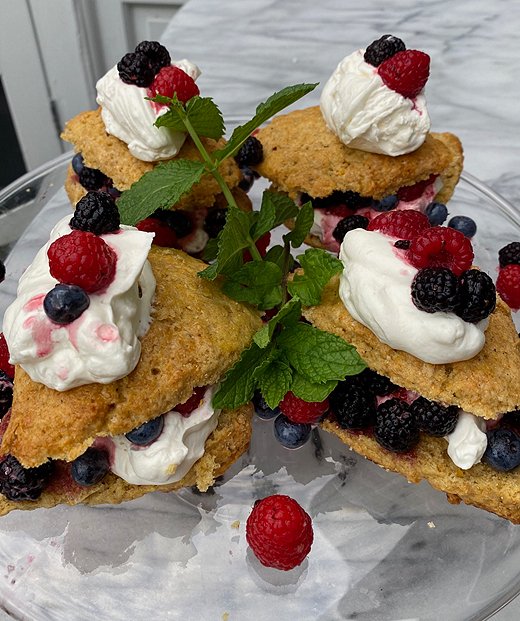 Mixed-Berry Shortcakes on Whole-Grain Scones
The whole wheat and cornmeal I used are grown and milled here in New York State. It is such a pleasure to get all of these ingredients from local producers—it really makes us feel nourished by the area we call home.
Yield: 8 scones
Ingredients
1 3/4 cups whole-wheat flour (I use Farmer Ground from Trumansburg, NY)
1/4 cup fine cornmeal (again, I use Farmer Ground)
1/3 cup granulated sugar
1/2 tsp. fine sea salt
1/4 tsp. baking soda
1 tbsp. baking powder
4 oz cubed cold butter
1 large egg
2/3 cup buttermilk (whole, rather than skim, buttermilk will provide a richer flavor)
Directions
Preheat oven to 400 degrees. Combine all the dry ingredients and stir well. Add the butter and cut into the dry mix until the butter has become pea-size chunks. Whisk together the egg and the buttermilk and set aside.
Turn the flour mixture out onto a floured board; turn a few times and pat into a 1 1/2-inch-thick round. The scones won't really rise, so make the round as thick as you'd like the cooked scone to be.
Cut the round into eight wedges. Brush the top of each wedge with a little of the buttermilk-and-egg mixture. Chill the scones for 10 minutes in the fridge to make sure the butter within is nice and cold again. Then place the wedges on a parchment-lined baking sheet and bake for 20 minutes. Cool on a wire rack.
Assemble the shortcakes
I gathered black raspberries, raspberries, and blueberries, but you can use whatever berries you find at your local farm stand. I tossed mine with a little sugar and a dash of a fruity blackberry vinegar I had. You can use an authentic balsamic or sherry vinegar too.
The whipped-cream filling is just very cold heavy cream from pastured cows and a dash of powdered sugar. Powdered sugar contains a little cornstarch, which helps keep the cream lofty for longer—always a good thing in the summer heat!
Cut the scones in half, layer with some whipped cream and the marinated berries, and serve with a few sprigs of fresh mint.