Warm-weather entertaining is all about ease, and when it comes to serving up a stylish meal, nothing is more fuss-free than melamine. Read on to see exactly what makes these wares summertime staples and to discover the exclusive designs we created with some of our favorite artists.

Why We Love Melamine
It's worry-free. Made of sturdy plastic, melamine is virtually shatterproof, so it's perfect for entertaining poolside and anywhere else you (and your kids) might be walking around barefoot. It's also dishwasher-safe, so cleanup is quick and painless.
It's festive and fun. Lively prints, a riot of color… It's safe to say that melamine helps bring the party—and our collection will make yours feel like an especially elevated event. For extra flair, try mixing and matching patterns to create a look that's all your own.
It's portable. Trade out disposable paper plates for lightweight melamine, which is easy to toss in your picnic basket and tote to the beach or the park.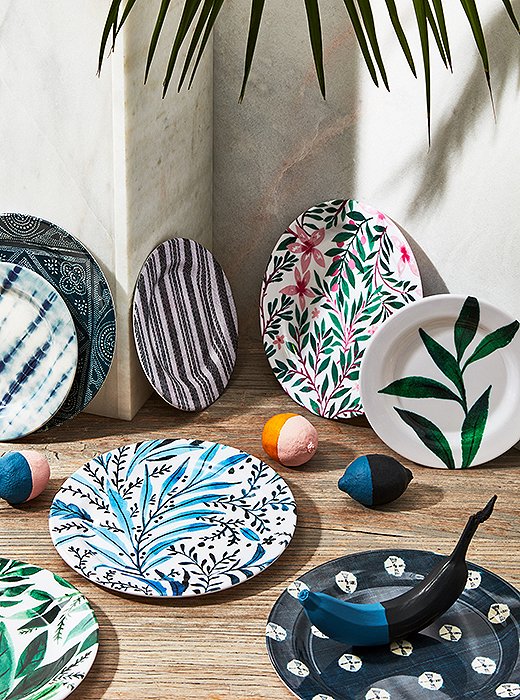 Our Exclusive Designs
To make our melamine offerings even more stylish, we created three exclusive suites—including collaborations with two of our favorite artists.

Designs by Vikki Chu
Illustrator Vikki Chu, whose works depict whimsical scenes such as monkeys frolicking through a tropical forest, dreamed up a set of flora- and fauna-inspired plates perfect for a patio pick-me-up.
Shop Vikki Chu's melamine designs →
Designs by Dawn Wolfe
From photography to paper-cutting, Dawn Wolfe has brought her artistic eye to a wide range of mediums. So it only made sense to bring her aesthetic to the table with this collection of indigo-hued melamine inspired by eclectic global textiles.
Shop Dawn Wolfe's melamine designs →
Designs by One Kings Lane
It's time to get coordinated: We designed these striped plates to match the fabric from our Frances outdoor collection.
Shop our melamine designs →