We asked Eva Kosmas of the insanely gorgeous food blog Adventures in Cooking to create an easy no-bake dish that's perfect for summer.
Eva on Cheesecake…
"Once the sun comes out and the weather turns warm, there's nothing more enjoyable than a slice of cool and fruity cheesecake. This no-bake option helps you beat the heat by keeping the oven off and letting the refrigerator do all the work. Whipped cream is folded into the filling to add a refreshingly light and airy texture to the dish, while freeze-dried raspberries add an intense burst of rich berry flavor. The ground pistachios are incorporated into the graham-cracker crust and sprinkled on top of the cheesecake, adding the perfect savory and crunchy complement to the sweet and creamy filling."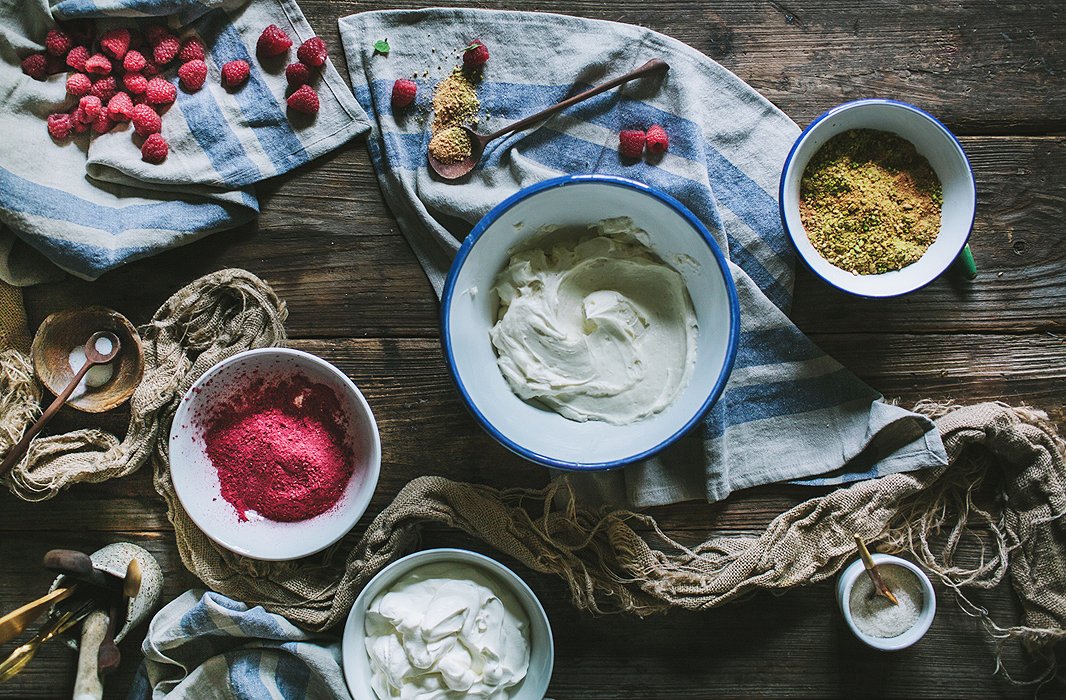 Ingredients
8 graham crackers, blended into fine crumbs
4 tablespoons ground pistachios
1/3 cup unsalted butter, melted
2 1/2 ounces freeze-dried raspberries
1 cup heavy whipping cream
16 ounces cream cheese, softened
8 ounces mascarpone, softened
2/3 cup granulated sugar
2/3 cup hot water
1 packet gelatin
1 cup whole milk
1/2 teaspoon vanilla extract
1/4 cup fresh raspberries (optional garnish)
Directions
In a medium bowl, mix together the graham-cracker crumbs, 2 tablespoons of pistachios, and butter until combined. Press into the bottom of an ungreased 8-inch springform cake pan to form an even crust. Set aside.
Blend the freeze-dried raspberries in a blender or a food processor until ground to a fine powder. Set aside. In the bowl of a stand mixer fitted with the whisk attachment, beat the whipping cream at medium-high speed until it holds a peak. Empty the whipped cream into a separate bowl, and attach the paddle attachment to the stand mixer.
Beat together the cream cheese and the mascarpone at medium speed until smooth. Add the sugar and beat for 1 minute more, then stop and set it aside.
In a small bowl, whisk together the hot water and gelatin until the gelatin has completely dissolved. Add the gelatin mixture to the cream-cheese mixture, beating at medium speed until smooth. Add the milk, vanilla extract, and raspberry powder, and continue mixing until incorporated. Remove the bowl from the mixer and fold in the whipped cream using a spatula, until smooth and uniform in color.
Empty the mixture into the springform pan and refrigerate for at least 4 hours. Garnish with the remaining ground pistachios and the fresh raspberries. Serve chilled.