As a fine-jewelry designer, Elizabeth Locke works on an exquisite but small scale. When faced with the prospect of redoing a vast Virginia estate, however, she didn't miss a beat. The 100-acre farm and its Federal-style home, Clay Hill, was falling into ruin when Elizabeth first saw it in 1979. "There were 17 giant trees growing into the foundation! It was out of our price range, but I told my husband if we could only buy it, I'd camp there."
After a few decades and collaborations with an architect, an interior designer, and a "genius painter," Clay Hill sings with gorgeous rooms and views of the gardens and farm. As for her vision for the ambitious project, Elizabeth struck a balance between American and European influences, remaining true to the home's 1816 Federal design with a layer of fanciful style that could be straight out of an Italian palazzo. We came for a tour and got swept away by the home's many charms, not to mention Elizabeth's proper but totally fun hostess style, inspiring career, and beautiful way with details large and small. Step into Clay Hill's stunning take on Southern style.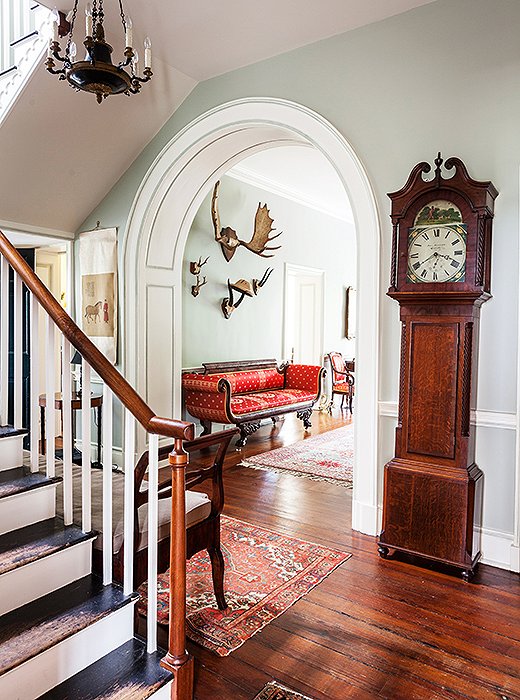 Restoring Its Original Splendor
A born-and-bred Virginian, Elizabeth spent years away in Italy and then New York. By the late 1970s, she and her husband, John, had their sights set on a Virginia farm. Their only criterion, given how much they traveled for work, was that it had to be close to a major airport. "We drew a circle around the airports in the D.C. area and looked at everything inside those circles. So we really found Clay Hill by pure serendipity."
Elizabeth describes the house's former occupants, who had lived there in the 1920s and '30s, as a "romantic and dashing couple." They had furnished the house with Federal-style antiques (those early American furnishings with the elegant neoclassical lines that Thomas Jefferson helped popularize in his own Virginia estate, Monticello). Those antiques came up at auction soon after Elizabeth and John bought the house, and they managed to snag many of them—"we spent every penny we had getting as much as we could"—and bring them back home to Clay Hill. From there, Elizabeth pieced the rooms back together using photographs from magazine shoots from the 1920s.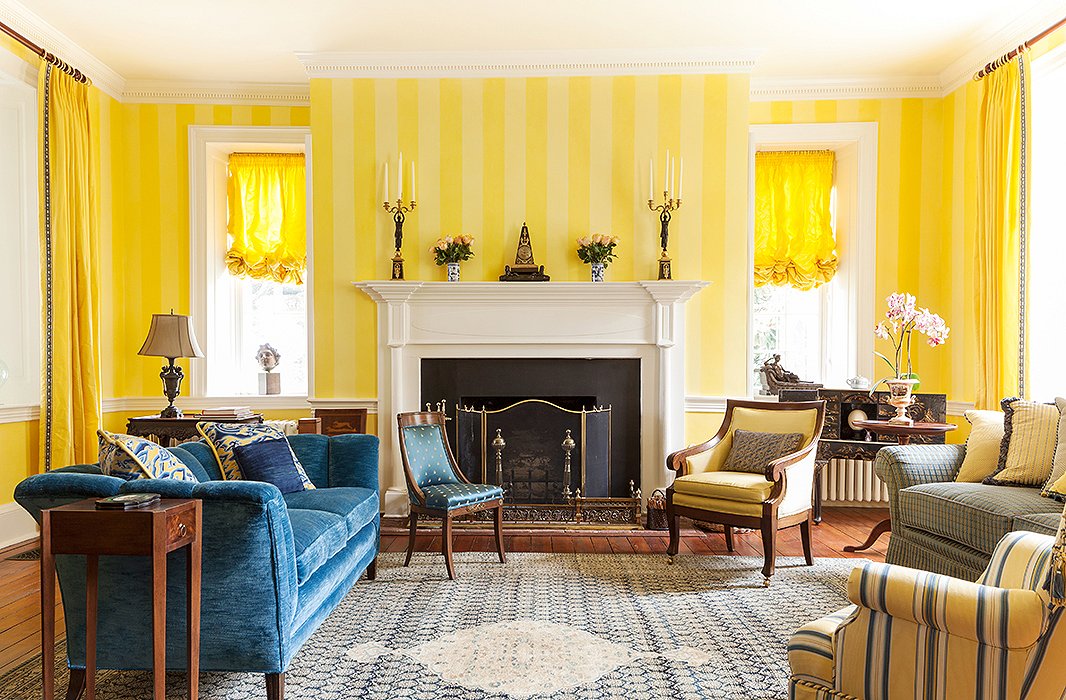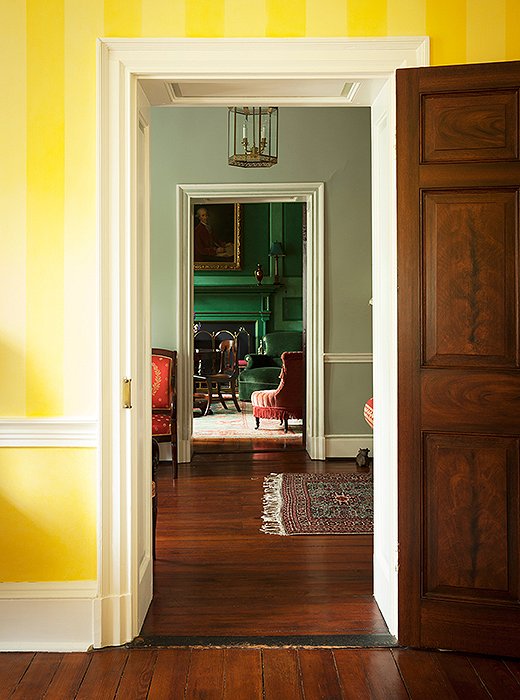 Turning Up the Color
While the interiors have traditional bones, they are far from somber. Like any other good Southerner, Elizabeth doesn't shy away from confident, unadulterated color. "It's a colorful house," she says. "That might not be fashionable now, but I don't really care!" As an experiment with a more sedate palette, she'd first painted the sitting room gray, but it turned off guests. "Even if you put a full tin of caviar in there, no one would set foot in it!" Working with the designer Alison Martin, they took the room 180 degrees in the other direction. A superradiant yellow—in the form of striped wallpaper, curtains, and upholstery— woke up the space.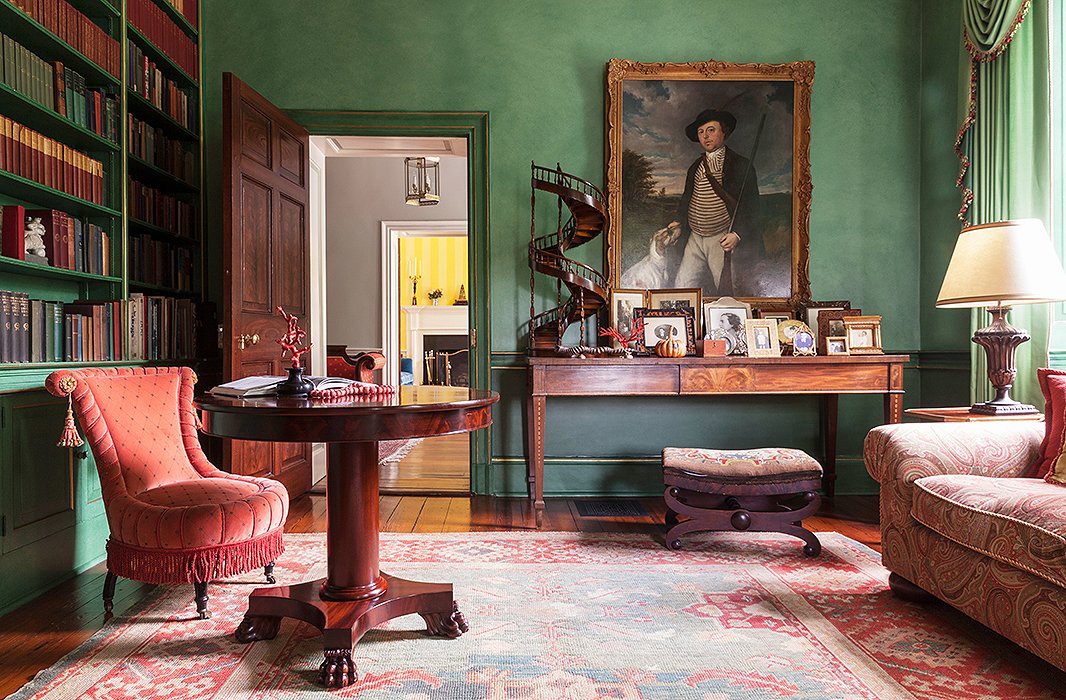 Adding Italian Romance
With a schedule that has her all over the globe, Elizabeth savors downtime at home. For that reason, her retreatlike library is her favorite room in the house. Its deep-green color is the result of a stored-away memory of Italy. She had lived there for years—a junior year in Florence led to a love affair, which led to grad school and her first company, all in Italy. And that's where certain ideas about design took hold. "Once many years ago in Venice, I saw a green library. It was dark but so enveloping. I thought, If I ever get the chance, I'm going to have one just like it."
She relied on Malcolm Robson, a master of graining and faux-painting, to pick the perfect green for this Virginia library. He found it, but it still wasn't the dreamt-of Venetian library; the green felt flat to Elizabeth. Then, in the middle of the night, the designer (who uses 19-karat gold in her jewelry) thought to add a touch of gold. With the addition of tiny golden lines here and there, the library came to life.
It's a colorful house. That might not be fashionable now, but I don't really care!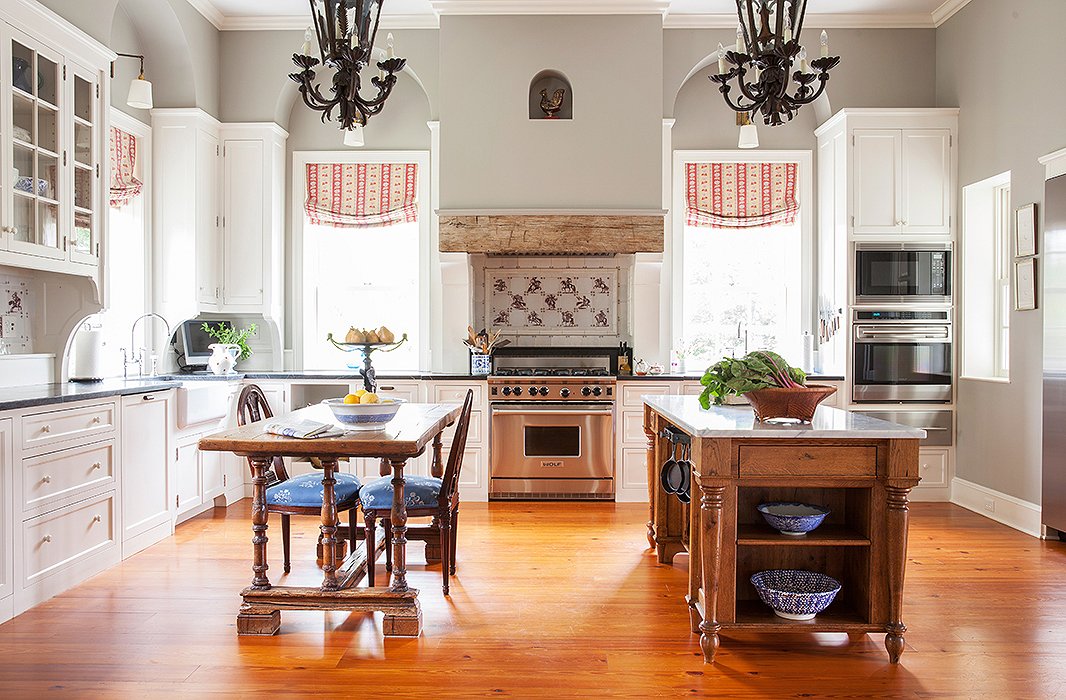 Quiet But No Downtime
A devoted cook, Elizabeth spends a lot of time in the kitchen, which has a cozy countryside air, in part thanks to the 19th-century tiles and a pair of lyre-back chairs, both French. She freezes vegetables from the garden so that they'll have homegrown food through the winter, and when they entertain, she cooks everything herself. This is where she relishes the privacy that comes with 100 acres. "Looking out from the kitchen windows, we can't see any of our neighbors! I love that, since I travel constantly."
Elizabeth's days at home revolve around the farm and gardens, as well as work. Mornings begin early, with a visit to the garden and breakfast in the kitchen. She heads to work in a nearby town, where she and John bought the local general store. The upstairs is now the Elizabeth Locke Jewels office. There are seven employees working there—along with several dogs, since everyone is allowed to bring one pet. Evenings are back in the countryside idyll—Elizabeth and John walk their dog, Chauncey, around the garden, put the chickens into their "sleeping quarters" to protect them from foxes, and make dinner.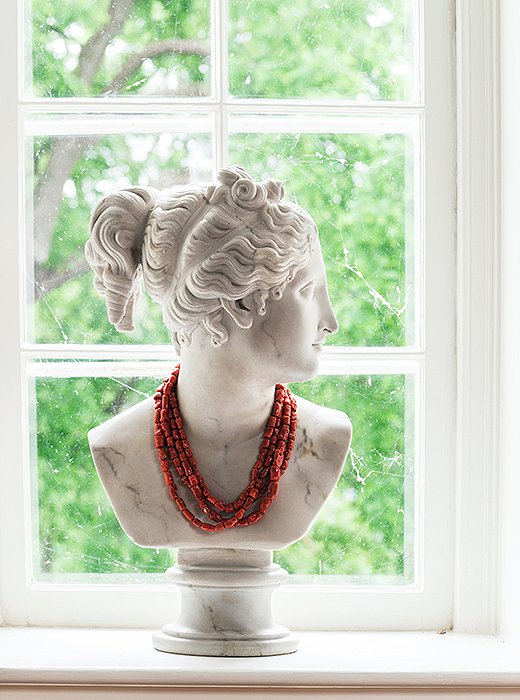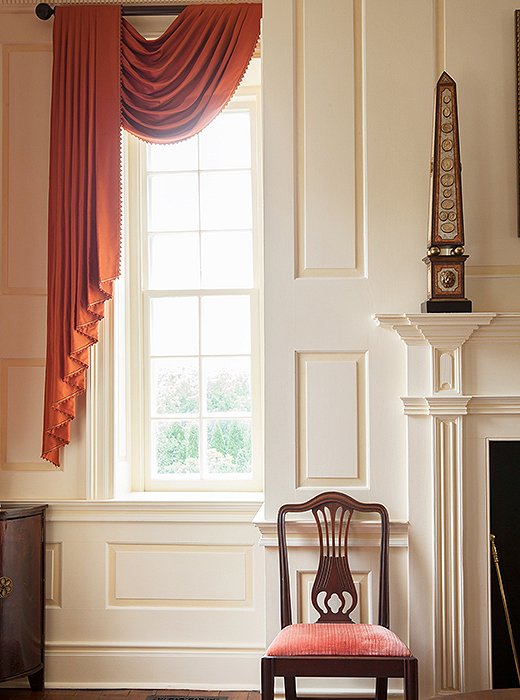 Kicking into Social Gear
When it comes to socializing, everything revolves around the dinner party—after all, there are almost no local restaurants to speak of. Luckily, Elizabeth is an expert hostess and has definite feelings about how these evenings should unfold. First off, "I don't like cocktail parties, where you have to stand around and make chitchat or balance a plate on your knee." When Elizabeth and John entertain, they like to host a proper sit-down meal. She typically aims for 12 people, to make for lively conversation, though sometimes dinners grow to three rooms—the sitting room, the dining room, and the library.
For proper occasions, she puts out a formal white damask cloth, huge 19th-century table napkins, and silver, and she'll often switch china patterns between courses. For more-casual moments or dinner on the porch, it's all about color—colored napkins, colored glasses—and a lot of straw accents. Gatherings run late into the night. "Where we are in Virginia," she explains, "dinner parties go on forever and ever and ever. Maybe because you know once you leave, everyone else will start gossiping about you! There has to be a mass rising and exiting."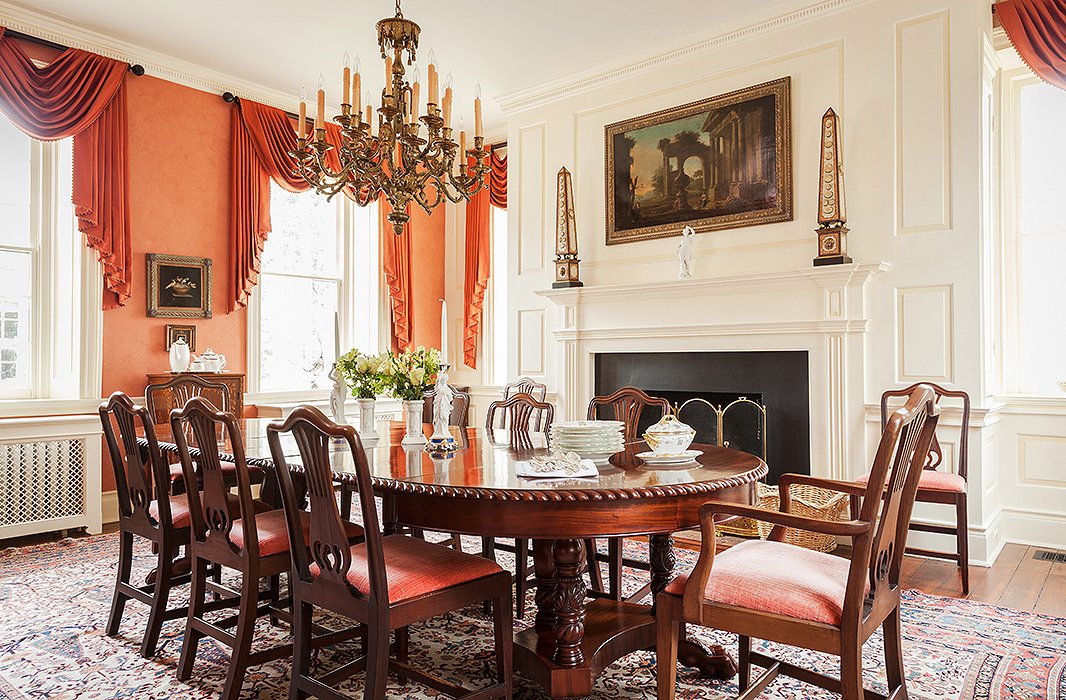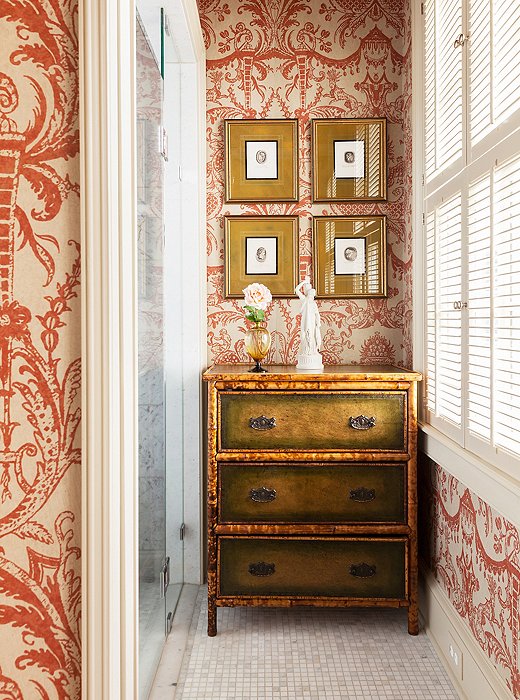 Dinner parties go on forever and ever and ever. Maybe because you know once you leave, everyone else will start gossiping about you!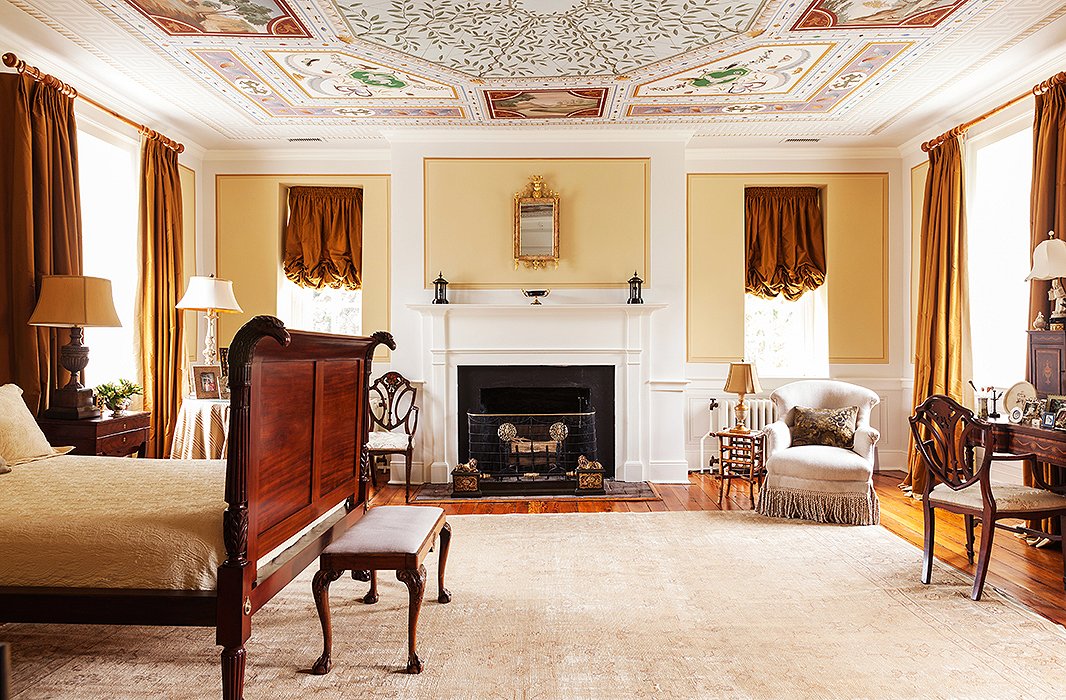 A Flight of Fancy
Elizabeth didn't save all the romance and style for the "public" rooms of the home—the master bedroom is decidedly romantic and Old World. The sleigh bed, found in New Orleans, is sky-high and makes one feel protected from the world. And the ceiling merits its own novel.
Elizabeth had loved the wall paintings in a friend's house in Florence and tracked down the artist behind them. Initially she'd wanted a wall painting, but the artist refused, saying he thought she should decorate the ceiling. She walked around Florence with him, looking at 19th-century ceilings painted with mythical creatures. The artist promised some sketches that never came, but then one day giant boxes arrived, with men to glue the ceiling together. The canvas had been painted in Florence, but the men added a few more birds and butterflies once it was in place. It's now a dose of Italy that Elizabeth gazes up at in the morning. "It has nothing to do with [the historic style of] anything in Virginia," she says, "but I just love it."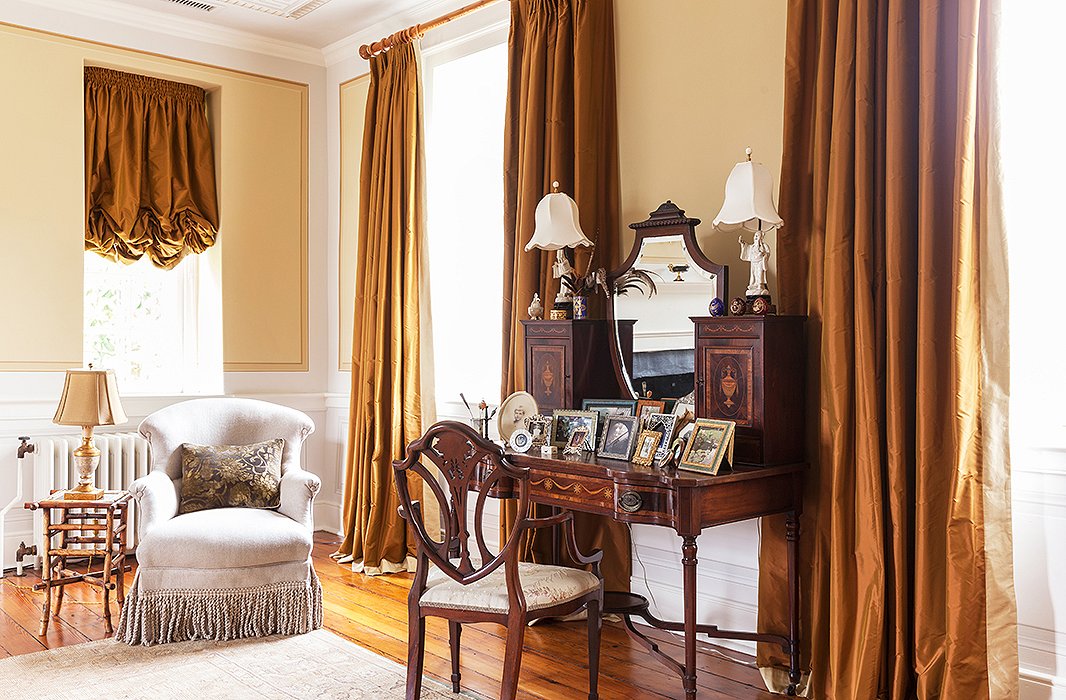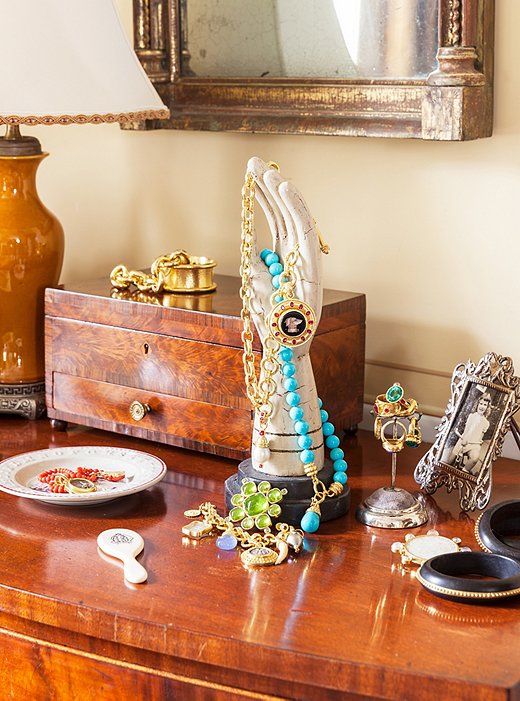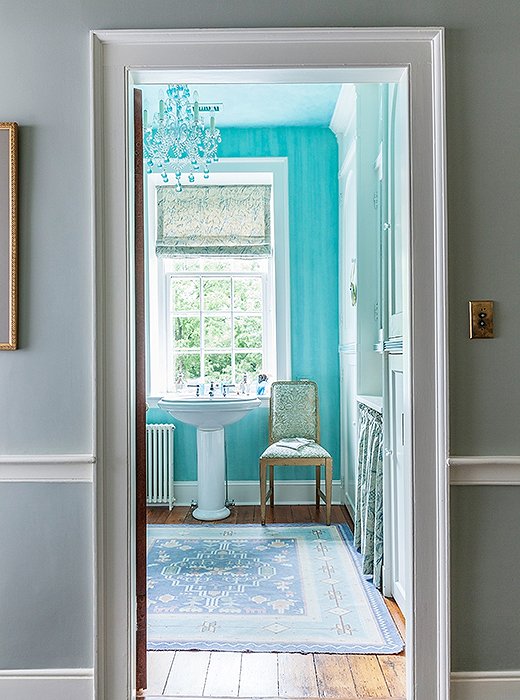 Looking out from the kitchen windows, we can't see any of our neighbors! I love that, since I travel constantly.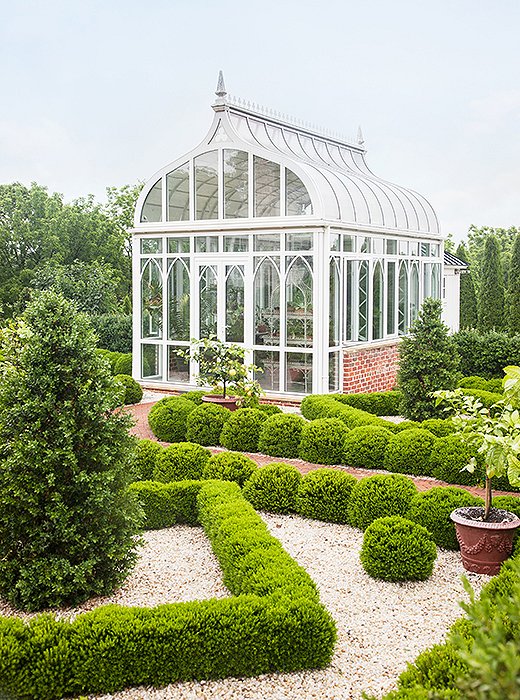 Getting to Garden
"I always wanted a really, really beautiful garden," Elizabeth says. During their big renovation a few years ago, she finally got the chance to create one. Now she's always outdoors fiddling in the gardens—"If I come home from a trip at 9 p.m., the first place I go is the garden, with a flashlight, to see what's blooming. It's never boring!"
The white Gothic greenhouse was part of Elizabeth's garden vision—she'd spotted the design years ago in a book, and an architect helped her tracked it down. On nights when they have garden parties it's lit up "like a jack-o'-lantern." On one side of the greenhouse are the cutting gardens, which is Elizabeth's source for every flower arrangement. "I can't just whiz down to the local florist—there isn't one! I make bouquets with whatever's growing, even if it's a bunch of parsley." Around the corner are herbs and a whole lot of dahlias in all shapes and colors. And then surrounding the greenhouse are Italianate gardens, with lemon trees here and there.