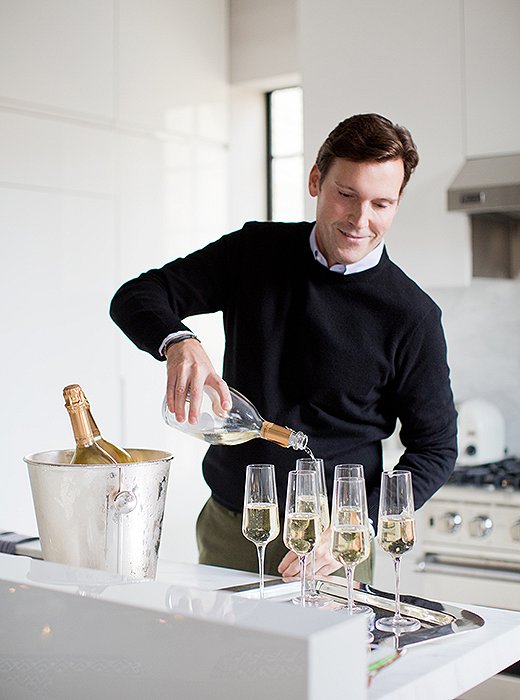 Holiday season is also cocktail party season. For New York designer Timothy Whealon, that means endless soirees at his gorgeous apartment overlooking Gramercy Park in the days leading up to the holidays. And while the gatherings are never formal, they're always intimate, inviting, and impeccably chic. Vintage glassware and silver are brought out; citrus wreaths and mood lighting set a magical scene; and champagne, Timothy's holiday standby, just keeps flowing.
We joined Timothy at a recent cocktail party he threw for friends at his apartment, which is decked out in his signature modern, sophisticated style. Between raising our glass and noshing, we chatted with Timothy to see how he pulls off cocktail party after cocktail party with elegance and absolute ease.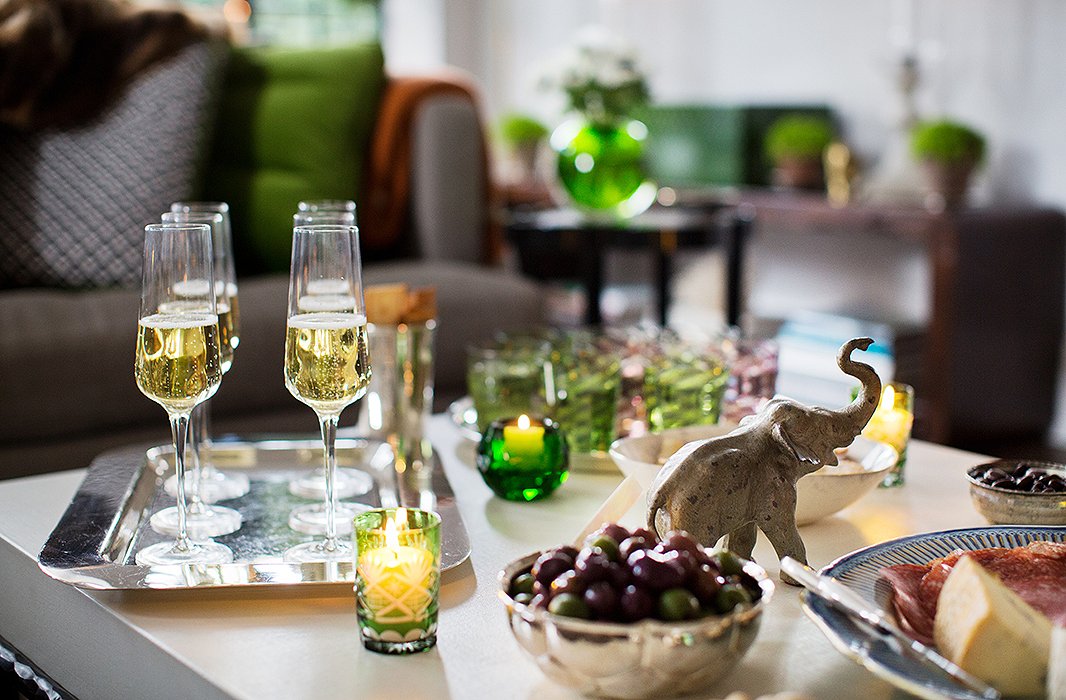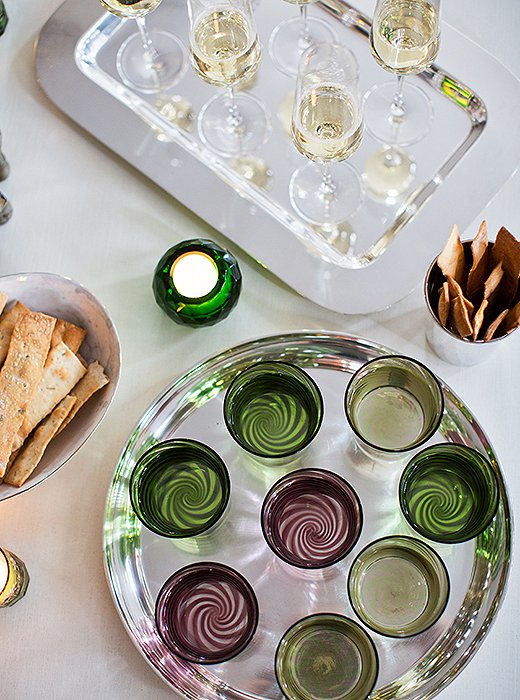 Party Prep Work
Lacking a formal dining area, Timothy entertains in his living room and (weather permitting) on his terrace. "I think generally if you have a small space you have to be organized," he says. "Have your glassware beautifully arranged on a tray before people arrive so that you're not going up into a high cabinet to get it when guests are there, and try to clear out any clutter." He lays out his prized silver, glassware, and serving pieces for simple snacks that guests can help themselves to. With a self-serve setup and entertaining centered around his living room sectional and coffee table, "I'm not shuffling around a lot when I'm in the middle of trying to entertain," he says.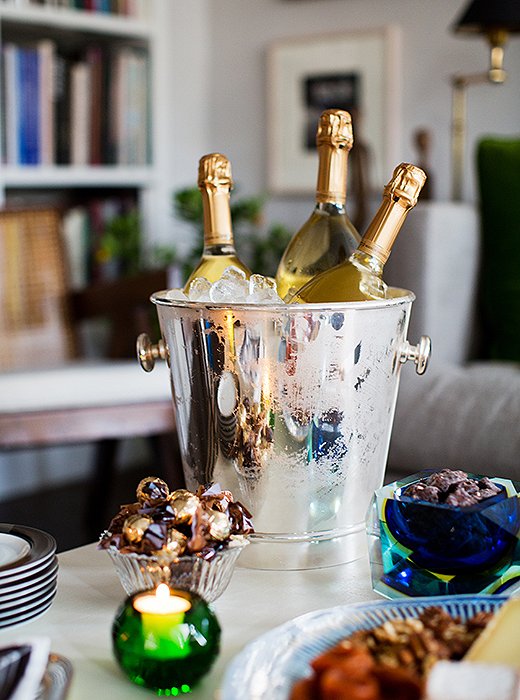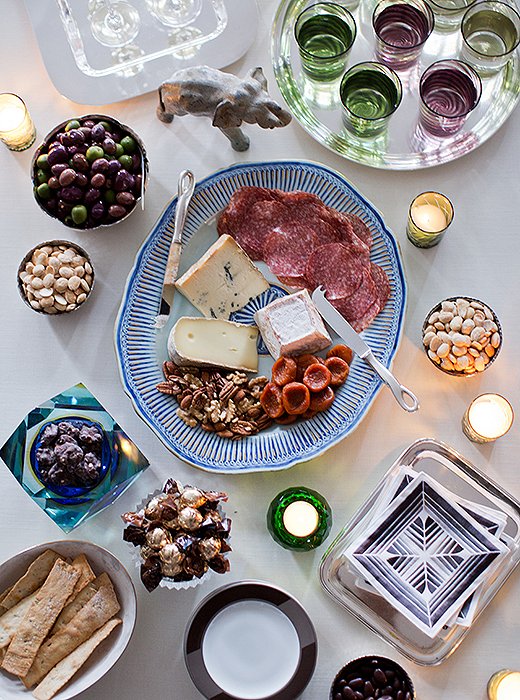 Mix Old and New Treasures
An avid traveler, Timothy takes advantage of the holidays to bring out his cherished finds from around the world to spice up the room's neutral palette. From a beautifully aged Hermès ice bucket and hammam bowls to gleaming silver trays and vintage David Hicks and Venini glassware, there's a colorful history behind each piece in Timothy's cocktail scene. "Where I look to bring out color in design is through accessories, art, and pillows," he says. "I find entertaining is a great way to do that. I like bringing in cobalt blues, purples and aubergines, bottle greens, and different things to add light. And against that I like to juxtapose old silver mixed with new, shiny silver things, so you have the sleek with things that are a little more timeworn."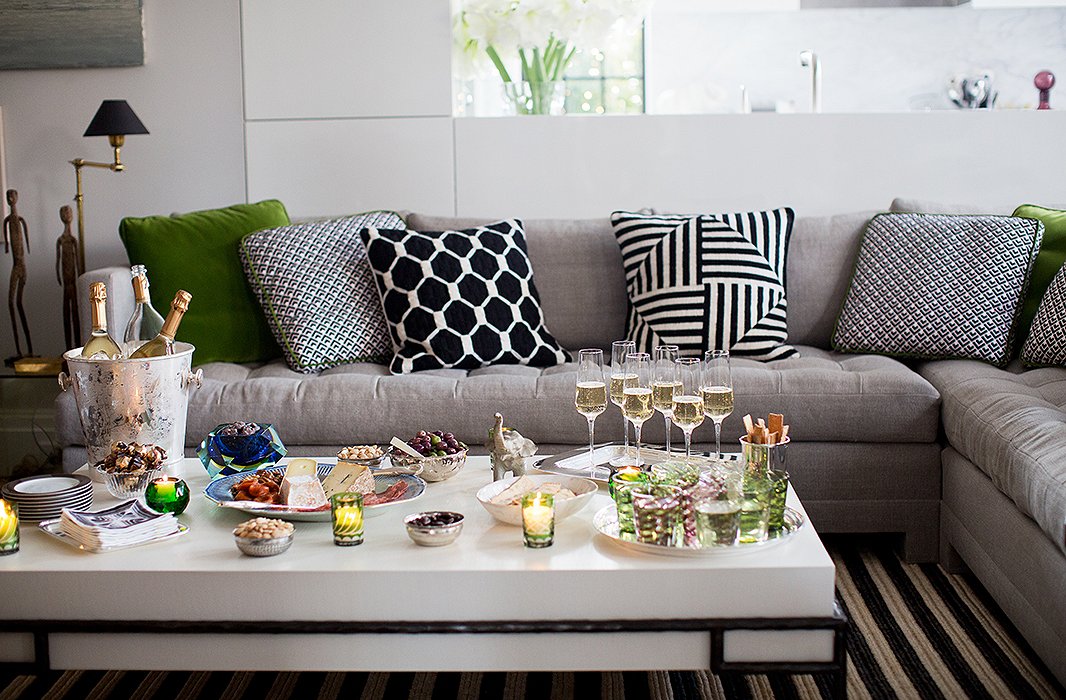 Find a Furniture Setup That Suits
Given the small footprint of his apartment, Timothy favors more-casual and intimate gatherings. "I generally prefer smaller gatherings, like 6-12 people," he tells us. "I designed the room especially because of that." For instance, he designed the coffee table to be low enough that guests can also perch on it—although there is plenty of other seating to go around. "The sectional can seat eight, and I'll have two chairs on the side and then pull stools up to the other side." And while guests start off in the living room at the beginning of the evening, usually they eventually make their way out onto the terrace.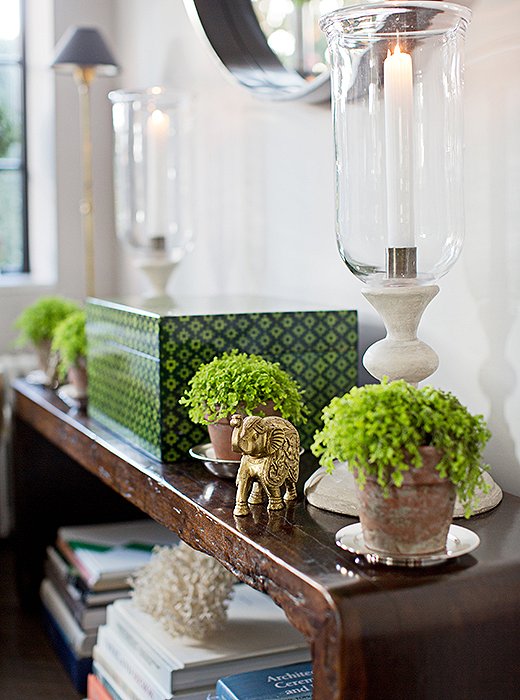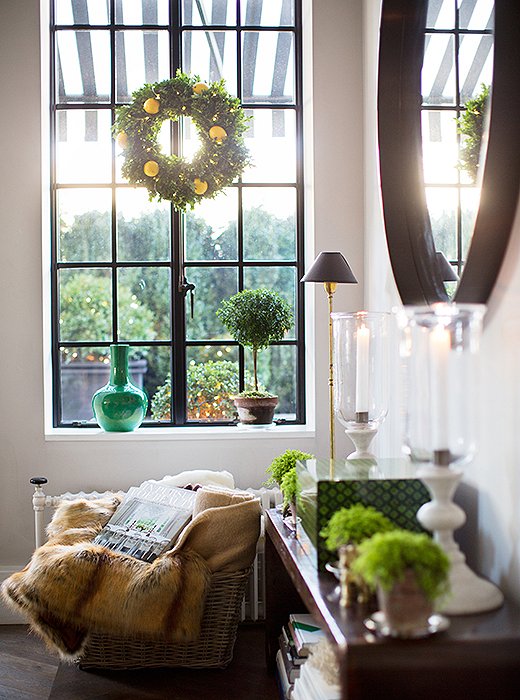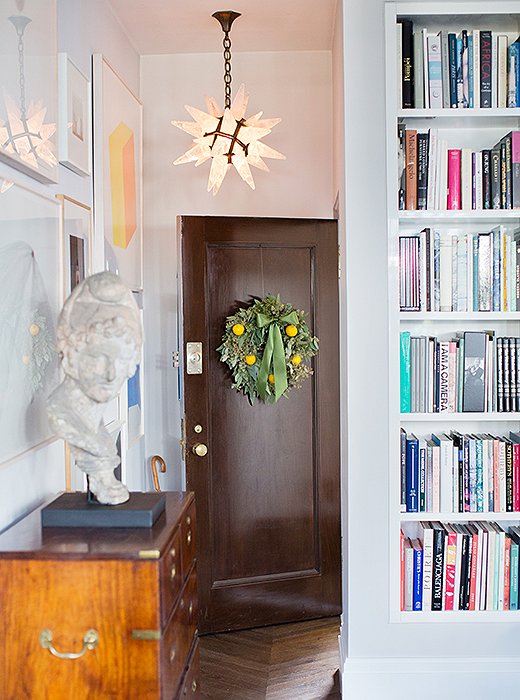 Say It with Citrus
With its neutral palette and modern bones, Timothy's apartment is a perfect canvas for layering gorgeous and lush holiday greenery. "I generally keep lemons on wreaths and use oranges and pomegranates during the holidays, since I'm not a big pinecone person," he says. "I also like a lot of myrtle topiaries mixed with boxwood wreaths. I prefer not to have candles going with food, so I lean toward scents that come from natural things," such as the holiday pomanders he sometimes has in his offices. For a touch of glimmer, Timothy looks to his collection of vintage elephants (all with their trunks up) in silver, gold, and glass, which he spreads across the room for a whimsical note.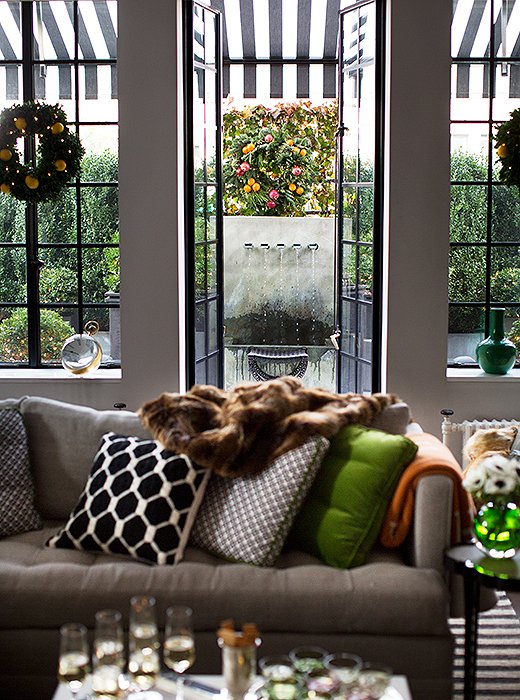 Be flexible and just really enjoy the moment with your guests. Things always work out if you put a little bit of effort into it and just go with the flow.
Enchant with Mood Lighting
Timothy's cocktail parties truly shine at night, as he uses hurricane candles, lanterns, votives, and lots of string lights to transform the terrace into a magical scene. "I love decking out the terrace with little white lights, and I like putting them on the wreaths as well," he says. "I like the feeling of the terrace being a room beyond the room with the windows looking out at all the white lights and having the wreaths centered on the French door." Inside, the mood lighting is more controlled but no less enchanting. "Lighting is very important, so I have settings on my lighting system," Timothy says of a dimmer that adds to the romantic glow of floor lamps, sconces, and candlelight throughout. "I love the mixture of ambient lights; it sets a mood that creates the mood of the party."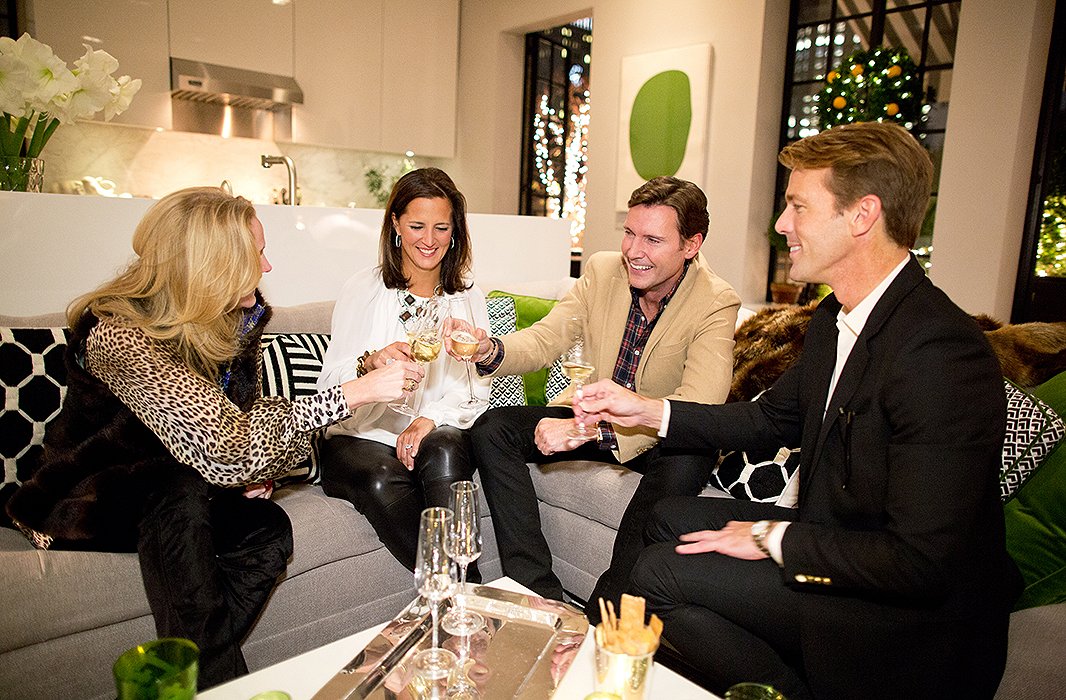 Maintain a Free-Flow Pace
Timothy encourages his guests to move freely around his home and to carry conversations out onto the terrace lounge areas whenever the weather permits: "If it's a nice night I leave the doors open, and people gravitate in and out. Girls get their cashmere out and go out there. I just let the flow go based on the weather." Manhattan's magnificent skyline becomes part of his cocktail party spectacle. "On a beautiful night when you're out on the terrace, you get the sunsets coming from the west and the beautiful open sky, but you look north and you see all this beautiful architecture," he says.
Keep parties simple and true to your vision. If your home reflects your personality and has a warmth to it, people will feel that. It's really about making people feel special and welcome in your home.