Stylist Michelle Wong created this mouthwatering galette using mild, sweet gala apples paired with classic fall spices—allspice and ginger—to add a warm, earthy note that evokes everything we love about fall. With its flaky, folded-up crust and oodles of sliced fruit, it looks pretty enough to bring along as a hostess gift, but it's easy enough to make for your family, simply because it's Tuesday.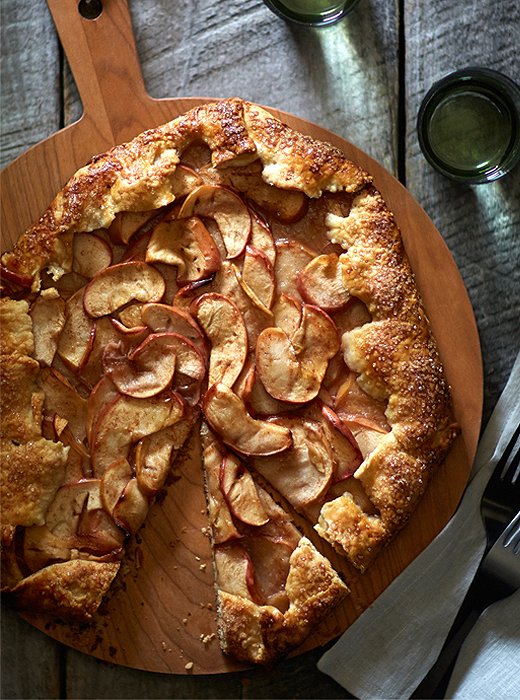 INGREDIENTS
Crust
1/2 pâte brisée recipe, chilled (from Martha Stewart)
Filling
4 small apples (gala, sliced into thin slices, seeded, skin left on)
1 tbsp of cornstarch
1/2 tsp of salt
1/3 cup of sugar
2 tbsp lemon
1 tsp cinnamon
1/2 tsp allspice
1/4 tsp ginger
Finishing
1 egg
1 tbsp of soy milk
sanding sugar
Directions
1. Preheat oven to 375 degrees.
2. Over a sheet of parchment, roll out dough to 1/4-inch thickness.
3. Transfer to a baking sheet & freeze for 10 mins.
4. Combine cornstarch, salt, sugar, lemon, cinnamon, allspice, ginger, and mix in thinly sliced apples.
5. Transfer apple slices onto the dough, fanning them out slighty, but letting them overlap. Leave a 1.5 inch border of dough, then fold edge of dough over fruit.
6. Brush crust with egg and soy milk mixture; sprinkle galette with 2 tablespoons sanding sugar over the crust. Bake until crust is golden and underside is cooked through, about 55 minutes.