Summer entertaining can be a lot of things: after-work drinks on the porch, a sunny barbecue in the backyard, a casual movie night. One thing it should never be? Difficult. To show you how to pull off a laid-back get-together in style, we called on stylist Michelle Wong. Her ideas for an easy summer brunch, from the no-fuss flower arrangements to the crowd-pleasing main course, will have you gearing up for a season of stylish hosting.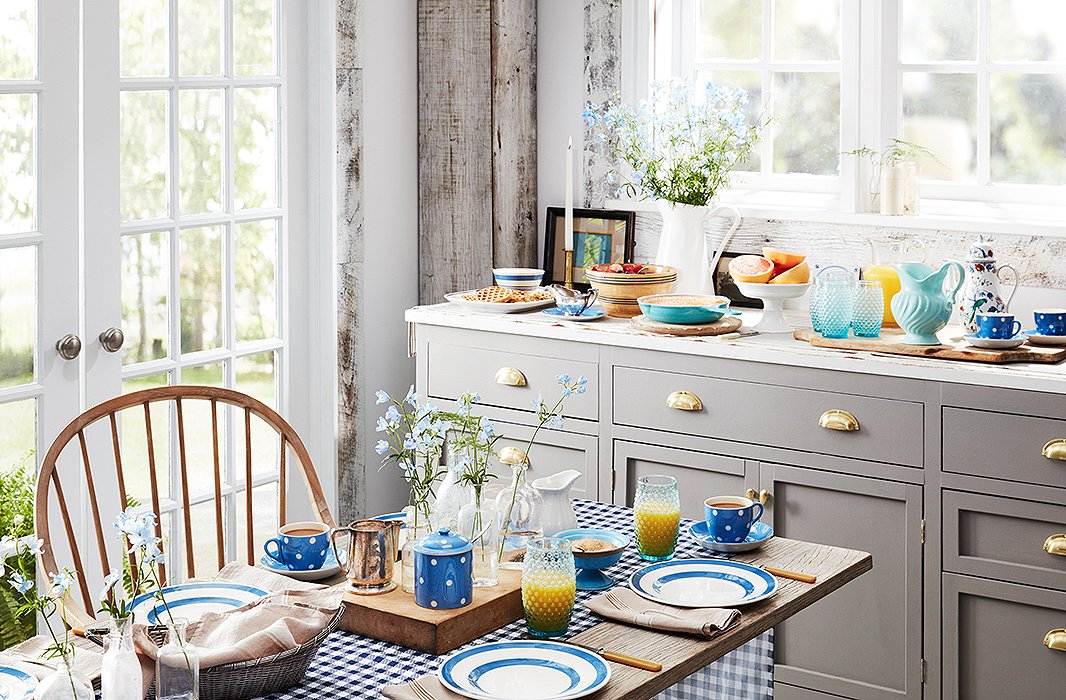 Mix, Don't Match
The first rule of easy entertaining: Don't strive for perfection. Michelle loves to lean on mismatched vintage tableware for casual get-togethers rather than striving to pull together a perfectly coordinated set. "Use all the things you love," she says. That whimsically patterned teapot or retro-chic pitcher will make your gathering all the more colorful; those polka-dot teacups will look charming paired with striped dinner plates.
For the buffet, Michelle repurposed vintage bakeware as serve-yourself vessels. Halved grapefruits top a vintage cake stand. Cut-up berries go in a vintage yellowware mixing bowl. "Their visual appeal makes them perfect for serving family-style," Michelle says.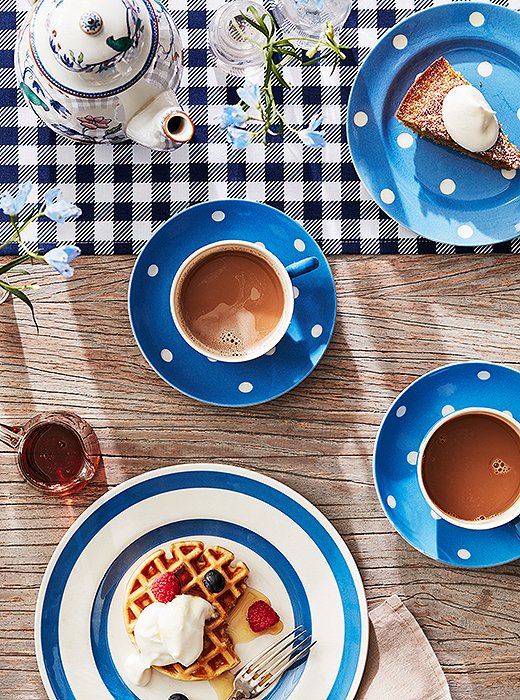 Go Easy on the Details

This is no time for formal chargers or fussy napkin folds. Skip place mats and try adding visual interest to your breakfast table with a basic cloth runner. As for a centerpiece, a charmingly rustic wooden cutting board can stand in nicely. "It's a perfect substitute for a tray," says Michelle, who used hers to group together a vintage creamer and sugar bowl along with flower-filled glass bottles in a variety of shapes and sizes.
As for the flowers, Michelle stuck to a single type to make arranging as simple as possible, opting for blue delphiniums to coordinate with her cool-tone palette. "I placed a larger grouping in a tall pitcher on the buffet and brought a few more single stems onto the table to connect the spaces," she says.
Michelle's go-to trick for relaxed hosting? Prep as much as you can ahead of time. You can set the table, arrange the flowers, and even lay out serving pieces the night before. "Organizing ahead of time helps you enjoy your time with your guests," Michelle says.
Serve a Crowd Simply
No one wants to slave over a hot stove in summer. Instead, mix up this flavorful skillet cake, which can be baked the day before and served at room temperature or reheated right before serving.
Pistachio Cardamom Skillet Cake
Ingredients:
4 oz unsalted pistachios (about 1 cup pulsed)
3/4 cup cornmeal
1 cup sugar
1 1/2 tsps cardamom
2 tsps baking powder
1/2 tsp salt
8 tbsps unsalted butter
3 large eggs
1/2 cup 2% Greek yogurt
Toppings (optional):
whipped cream
fresh berries
Directions:
Preheat oven to 350 degrees. In a food processor or a high-powered blender, pulse pistachios for about 1 minute or until texture is fine with some larger pieces remaining.
In a large bowl, whisk together cornmeal, sugar, pistachios, cardamom, baking powder, and salt. In a 9-inch enamel skillet, melt butter on low and swirl to coat the bottom of the pan. Pour all but 1 tablespoon of the melted butter into a medium bowl, then whisk eggs and Greek yogurt into the bowl to combine.
Pour the butter, egg, and yogurt mixture into the dry ingredients and stir to form a batter. Pour the batter into the skillet and bake until the top is evenly brown, about 35 minutes (for a 10-inch skillet, bake for 25-30 minutes) or until a toothpick inserted into the middle of the cake comes out clean.
Let cool slightly. Run a spatula around the edges of the pan to loosen the cake, then slice and serve with fresh berries and whipped cream.