Every season, our co-founder Susan Feldman relishes the pleasures of playing hostess and gathering close friends at her home in a big way. For summer an alfresco dinner is a given. She recently celebrated House Beautiful editor Sophie Donelson along with some of L.A.'s top female luminaries in design and entertainment. For this soiree, Susan set the scene with soft summery hues and simple but beautiful details. See her secrets for an always-elegant (and memorable) alfresco dinner that are sure to inspire your own fetes this summer.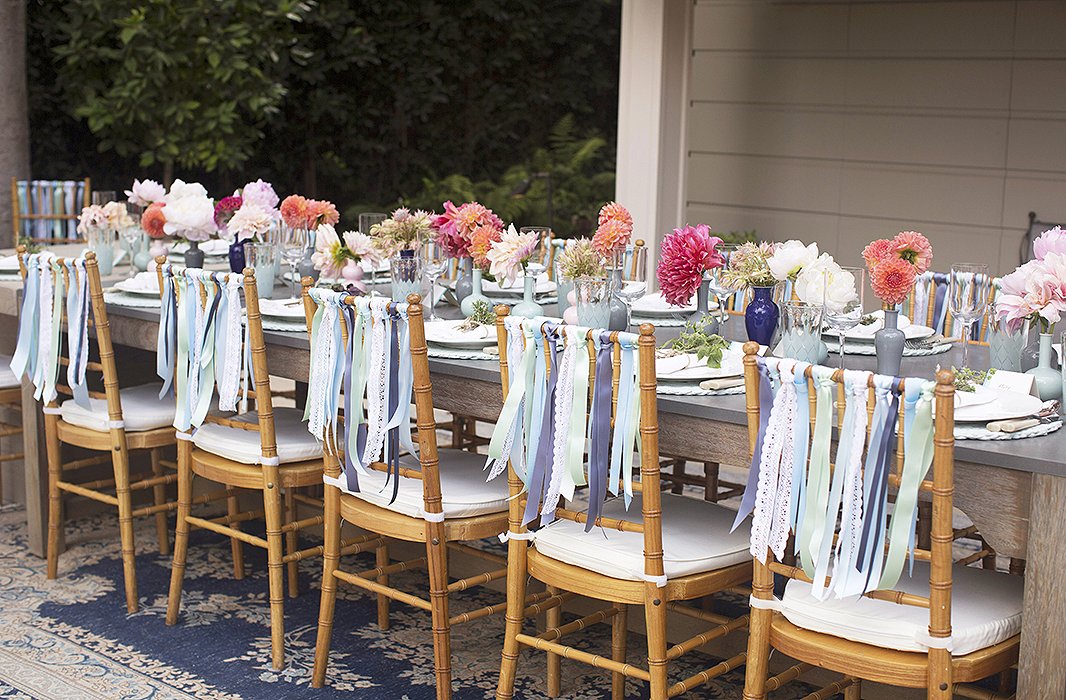 Play Up Soft Cool Hues
Rather than summer's vibrant colors, Susan took inspiration from more-subdued blues and chic blue-grays. "I wanted to go with a palette that would be soft and feminine," she says of her vases, glassware, and lacy ribbons used to dress up the chairs. It's a color approach that's endlessly stylish, versatile, and nearly foolproof—the softer hues wonderfully play up Susan's gorgeous white dishware and glassware flecked with gold while allowing her pastel-pink and orange blooms to stand out.
I always love using natural elements on my table, especially things like herb bundles that can be used after the party is over. An added bonus was how refreshing the herbs smelled.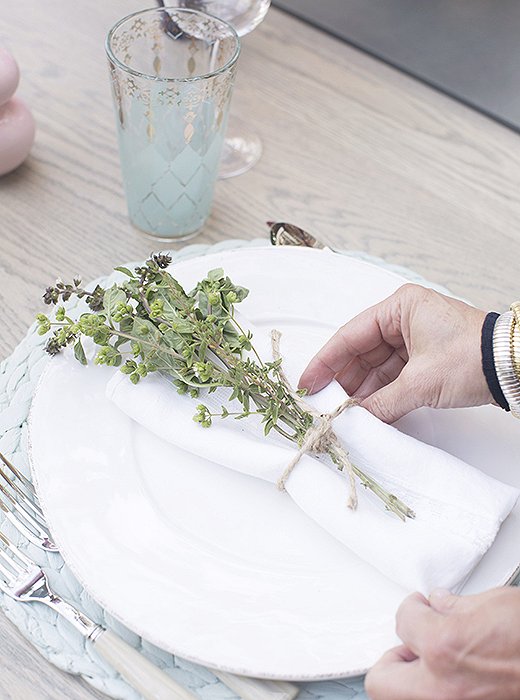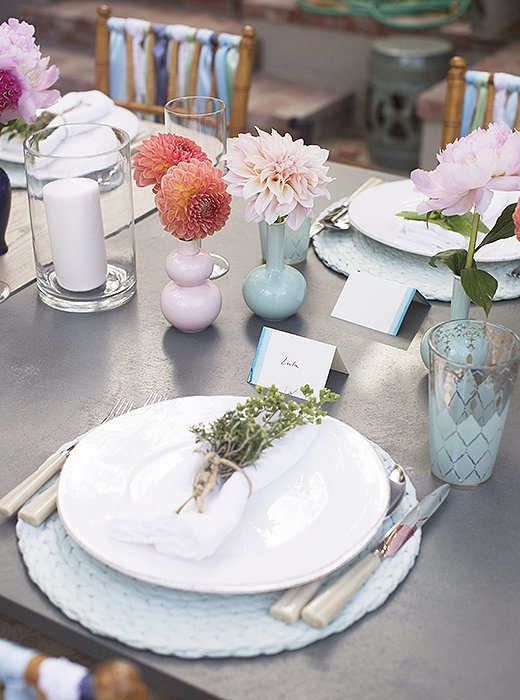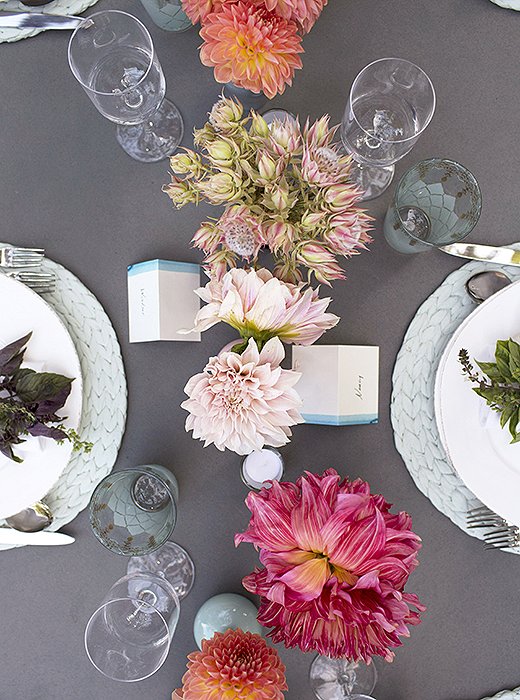 Mix Simply and Beautifully
When it comes to setting the table, Susan firmly believes you can't go wrong by starting with simple but beautiful plates and napkins. "What makes a simple place setting stylish is to add some texture to it. It makes it more interesting," she says. "A place mat or a napkin ring can add variety and dimension to your table." And it's always about bringing in that touch of contrast. "If you have a more ornate place setting, keep the glassware simple. If the place setting is understated, you can do a little more with the glasses. For this party I had fun and did one really simple glass and one that was more decorative. Everything about the table setting was simple, so I thought having one decorative glass would be a fun pop."
The same philosophy goes for flowers. "Of course, it depends on what is in season and the color story I am going for, but I think it's important when you do a mix of flowers that they complement each other," Susan says. "On their own each one is gorgeous, but together they seem to make each other look spectacular." And don't be afraid to keep it to single or smaller blooms. "Lately I have been loving using small vases with just a few flowers in them. I love the simplicity, and they are low enough that it doesn't deter a conversation across the table."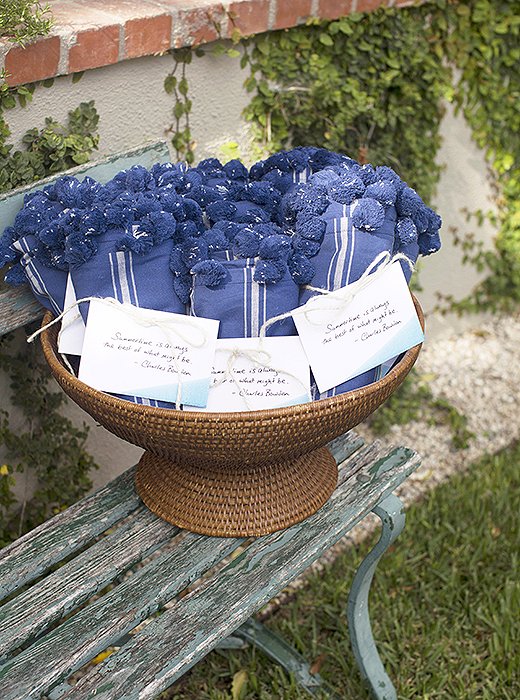 Gifting with Utility in Mind
"A stylish parting gift is always a memorable gesture that lets your guests remember the evening," says Susan. "And a stylish gift shouldn't be limited to purely decorative objects." For this outdoor soiree, she piled a basket with cozy lightweight blankets that were at the ready should her guests grow chilly as dinner extended into the evening but that were also fashionable accessories they could use for summer and beyond. "I love throws and blankets as a send-off gift to my guests because they can carry them wherever they travel for the rest of summer, or they can use them for any other occasion or at home."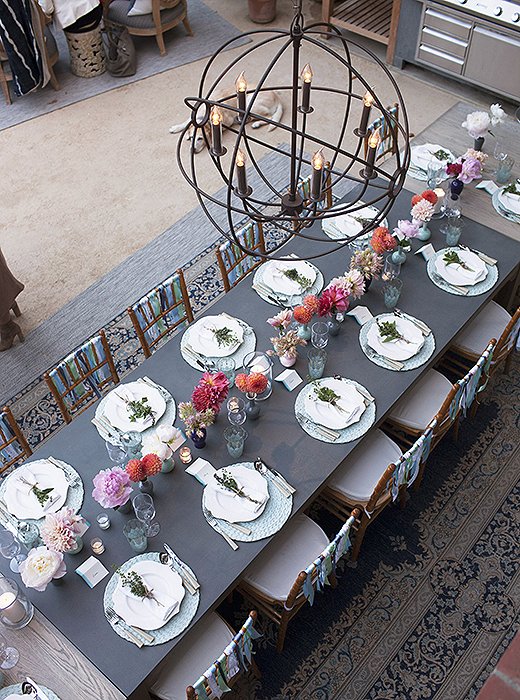 Susan's 5 Foolproof Tips for Alfresco Hosting
Spread tons of candlelight. "You can never have too many sparkling votives and hurricanes casting their gorgeous glow."
Bring out your best pieces. "There are fabulous melamine dishes available today, but I love bringing out my most beautiful dishes, glassware, and flatware for a touch of alfresco elegance. Don't save them just for the holidays!"
Create a signature cocktail. "I've found coming up with a unique beverage adds that special personal touch to a party, and it's a great conversation starter. I usually brainstorm drinks that tap into the ingredients of each season."
Keep the menu simple. "I've learned that being the best hostess means being present for your guests. An easy dinner menu will keep you from having to run back and forth from the kitchen, so you can really spend time with your guests."
Plan for chilly evenings. "My dinners often go well into the night, so I try to be prepared in case it gets chilly after sunset with blankets and throws for my guests."