Camille Becerra knows a thing or two about serving a mouthwatering meal—after all, she is a Top Chef alum and a veteran of multiple buzzy restaurants. When it comes to entertaining, in Camille's mind, a successful party is about the food and the setting. "I want to dress the table, and I want to have beautiful dishes and beautiful bites," she says. "A lot of effort is made in it not just looking pretty but tasting really delicious too."
The chef invited a few close friends to her home on Manhattan's Lower East Side for a soiree outfitted with Ralph Lauren Home tabletop pieces; it was evening that we can only describe as picture-perfect. We sat down with her to hear how the evening came together and what she thinks about when entertaining at home.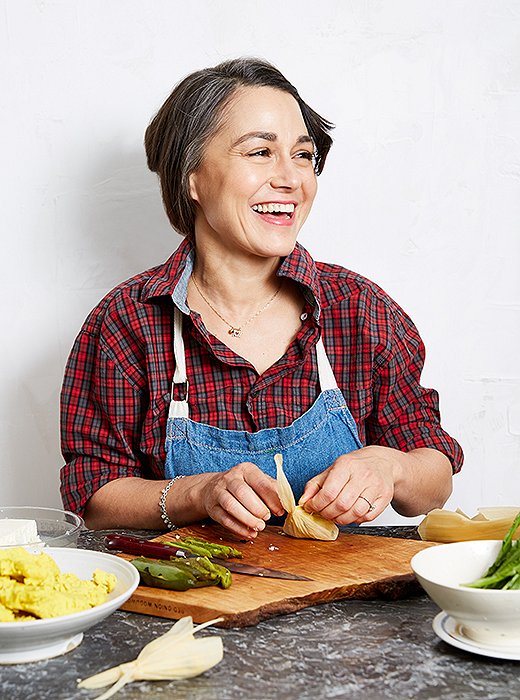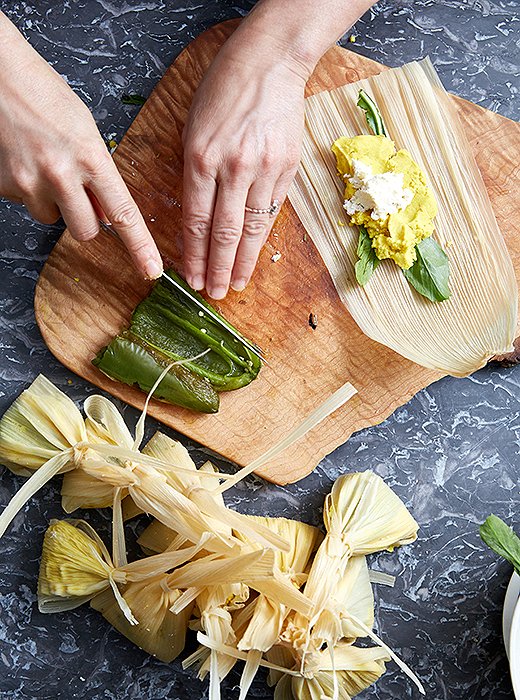 When asked about the inspiration for her menu, Camille says, "A lot of it really comes down to going to the market and just seeing what's there. That's generally how I start." She also likes to have "a certain amount of balance, so there's something light and crisp, and then something more substantial." To offer something a bit heavier for hungry guests, especially those who were drinking, Camille served jalapeño chili turmeric tamales with pickled-beet salsa. "They're sort of filling, but they're small and delicious," she says.
Turmeric Tamales
Makes 10-15
Ingredients
15 dried corn husks
4 jalapeño chilies
1 cup coconut oil
2 tsp turmeric powder
2 tsp salt
3 cups masa harina
1 ¾ cup stock
1/2 cup queso fresco
Directions
In a medium to large pot, boil 10 cups of water.  Turn heat off, add and submerge corn husks, cover pot, and allow husks to soak for 1 hour. In a dry cast-iron pan, char the jalapeños; when they're charred on all sides transfer to a bowl and cover them to steam for 5 minutes. Remove skins and seeds, and cut each chili into 4 long slices. Use gloves or oil hands to protect from the spicy oils of the chili. Warm the coconut oil; once it's liquefied, turn off heat, then add the turmeric and salt. Stir until the turmeric and salt have dissolved. Using a hand or stand-up mixer with a whisk attachment, start combining the masa harina with the turmeric-coconut oil and the stock. Refrigerate for an hour. To assemble, lay out the husks; add to each a 1/4 cup of the masa mixture, a jalapeño slice, and 1 tablespoon of queso, then wrap and tie. Add water to a large pot; the water should come up 1-2 inches from the bottom of the pot. Allow the water to come up to a boil. Transfer tamales into the pot, making sure that they are standing up—if necessary you can use extra husks to keep them snug and in position. Cover with lid, and steam on a low flame for 1 hour. Serve with salsa.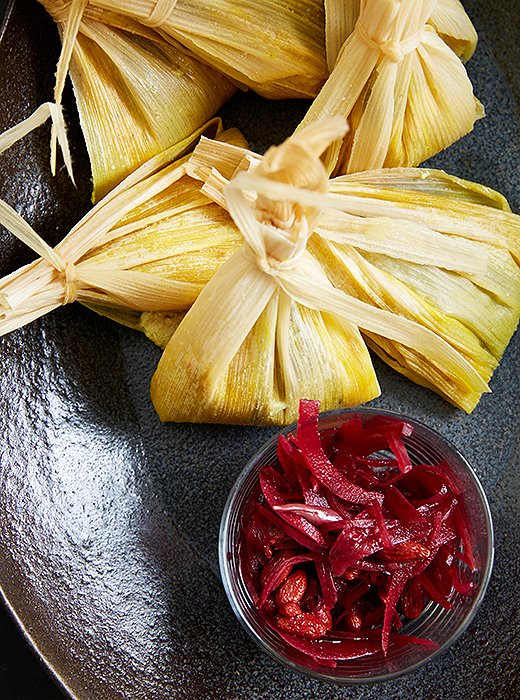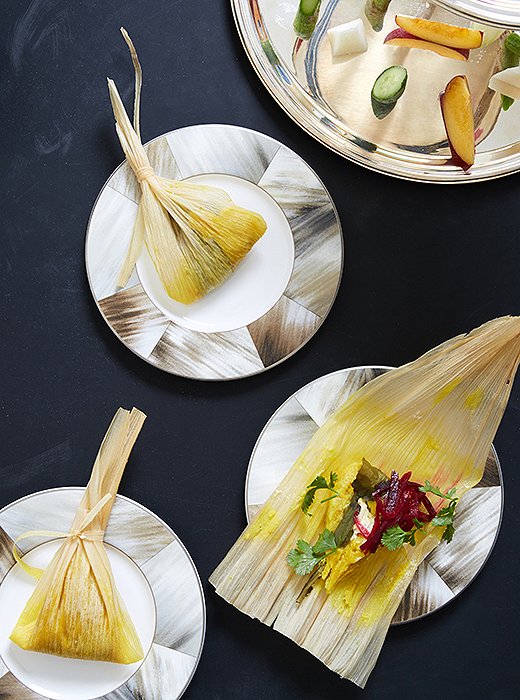 Camille also served bites including stuffed dried apricots, chickpea fritters, cabbage-wrapped Robiola cheese, and crackers with nori pesto and black sesame that were petite and manageable. "It's nice for everyone to have their own little individual piece of canapé," she notes. "They're easy to pick up from a platter and serve yourself."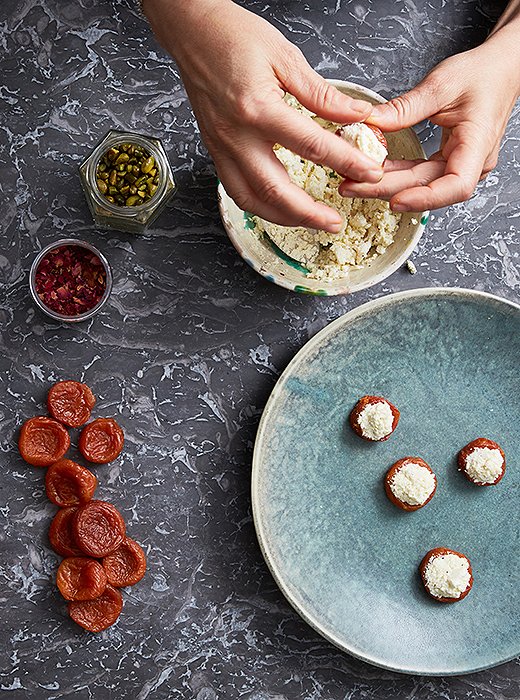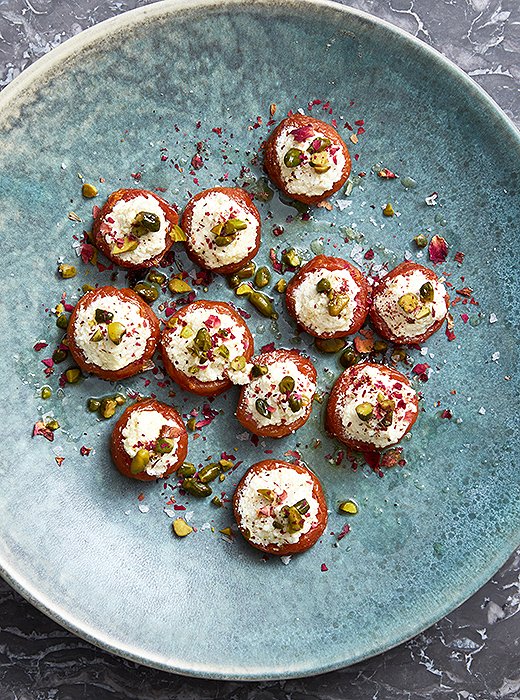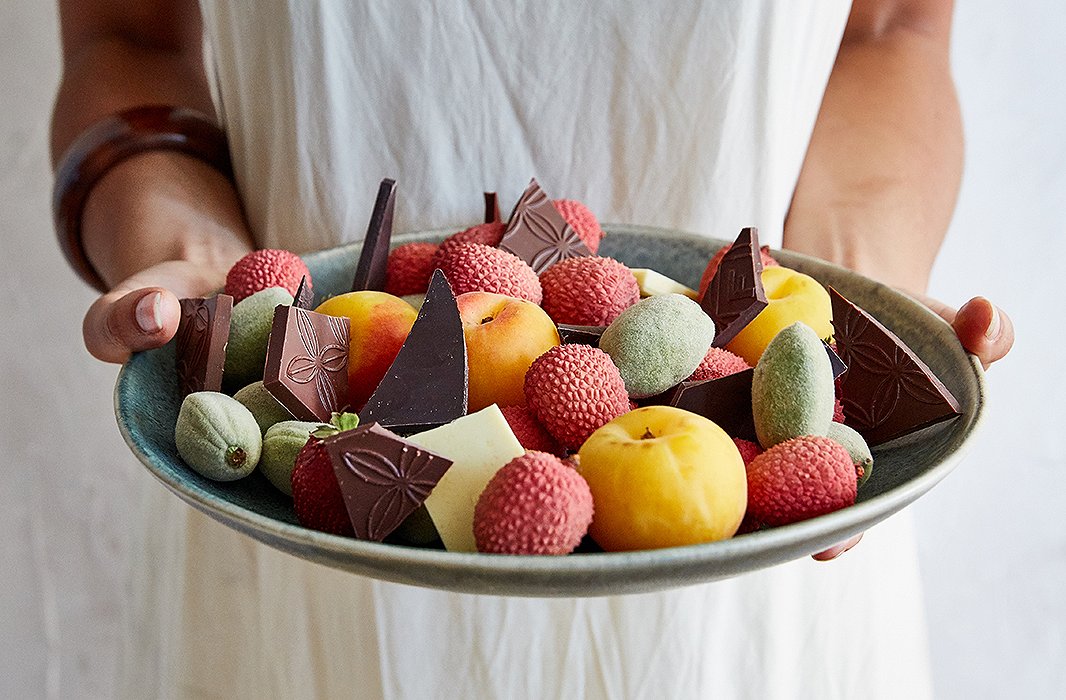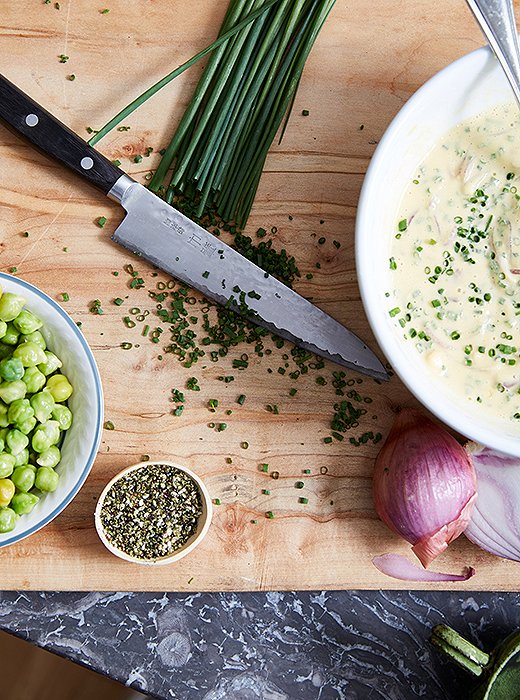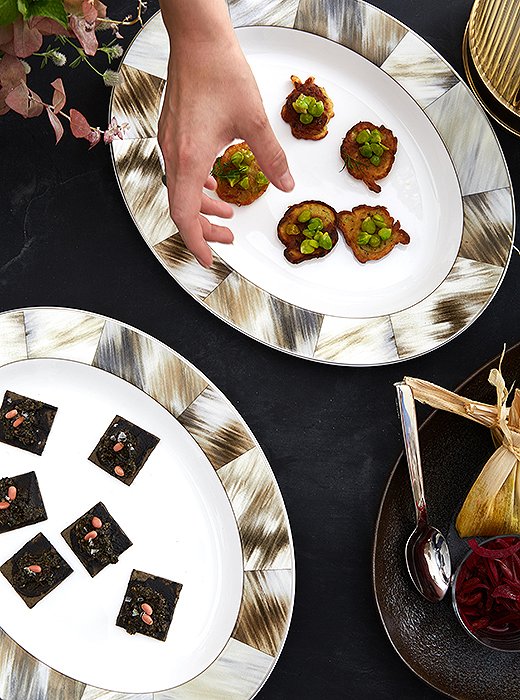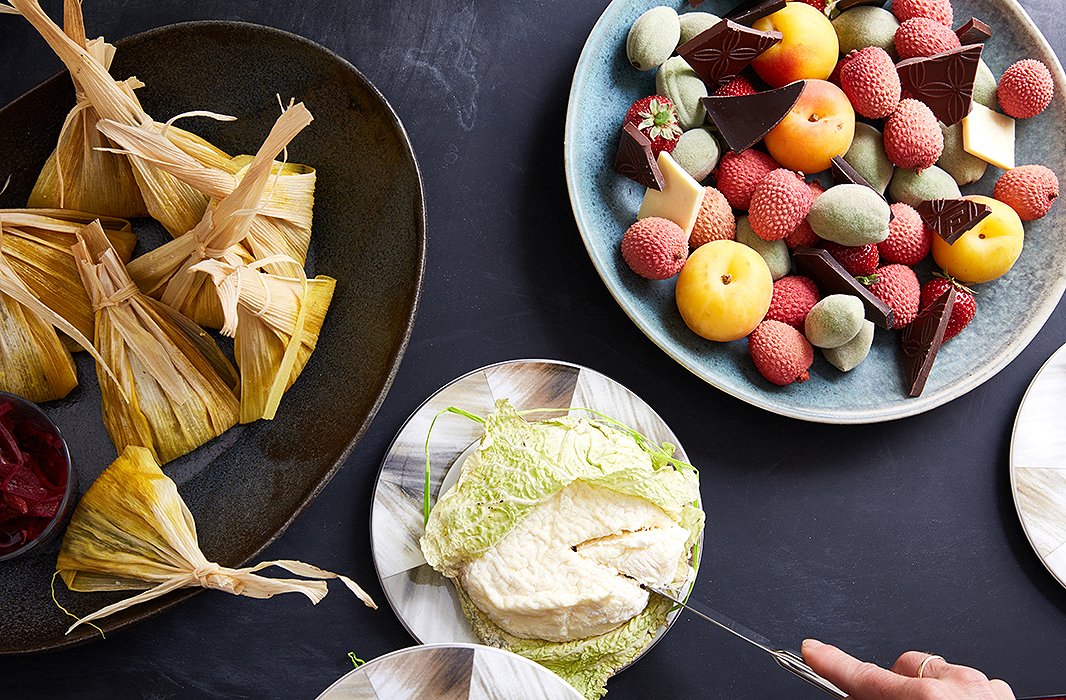 To complement the food, Camille made a beautiful rose-colored cocktail with The Bitter Truth Pink Gin, rose water, lemon juice, agave, and aloe water. "You want something light and refreshing," she says. "The light pink color feels very summery and floral. It's also super-refreshing and hydrating because I put aloe in there." For teetotaler friends, the chef made a sparkling turmeric tonic. "I like to have one nonalcoholic drink because sometimes people don't want to drink or they're doing a cleanse. I've served this for many years in different restaurants I've run. It's supergood for you, and if you're not going to be drinking, it's nice to still have something special and good for your body."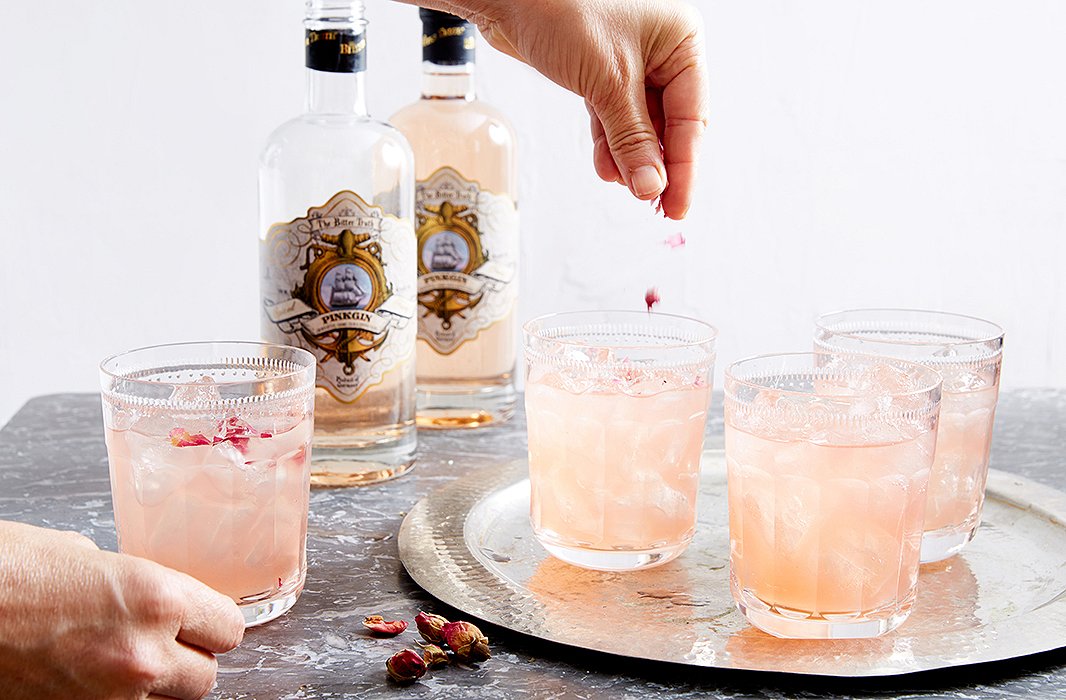 Camille's approach to flowers for a party is similar to her approach to the menu: "I just go to the market and get what looks gorgeous." Her thoughts around tabletop decor are equally laid-back yet elevated. For this gathering, she mixed pieces in silver, china, crystal, and brass by Ralph Lauren Home. "I love a mix-and-match moment for a tablescape, sticking to the same tones but mixing styles."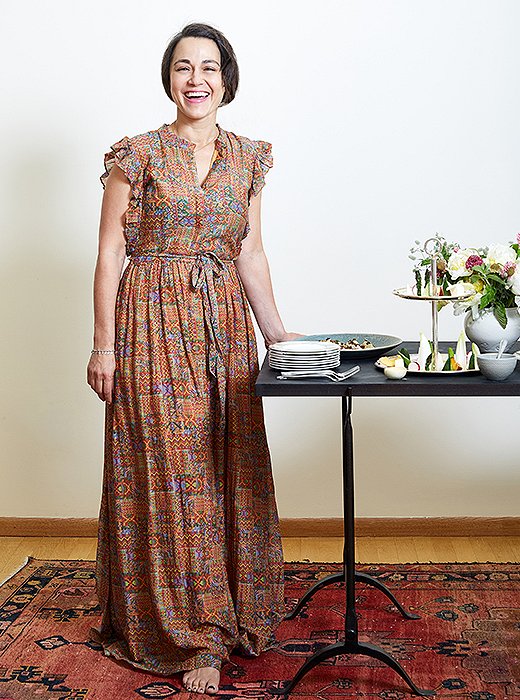 Camille's secrets to a successful soiree? "Lots of ice, a perfectly balanced cocktail, and an array of snacks. My advice is to have a good time, invite people you crush on, and have a selected deejay in the group."