This year's July 4th festivities are apt to be smaller gatherings, but that doesn't mean they should be any less fun—or flavorful. We asked Elizabeth Blau (above), co-owner of Las Vegas's acclaimed farm-to-table restaurant Honey Salt, for some recipes and advice for this and any other summertime get-togethers.
"Whether it's a casual backyard dinner or a formal indoor celebration, planning is the most important part of a great dinner party because if done right, you should also be able to enjoy the evening," Elizabeth says. "The more you can do in advance and the more organized you are the easier it is to pour yourself a glass of wine and relax with the guests." That includes making sure you have enough tableware, serving pieces, and seating and, if possible, buying nonperishable food items ahead of time.
Below are four of Elizabeth's recipes for a small July 4th dinner party that are ideal for just about any other summertime meal as well. Hungry for more? Check out the book she co-wrote with her husband, chef Kim Canteenwalla, Honey Salt: A Culinary Scrapbook.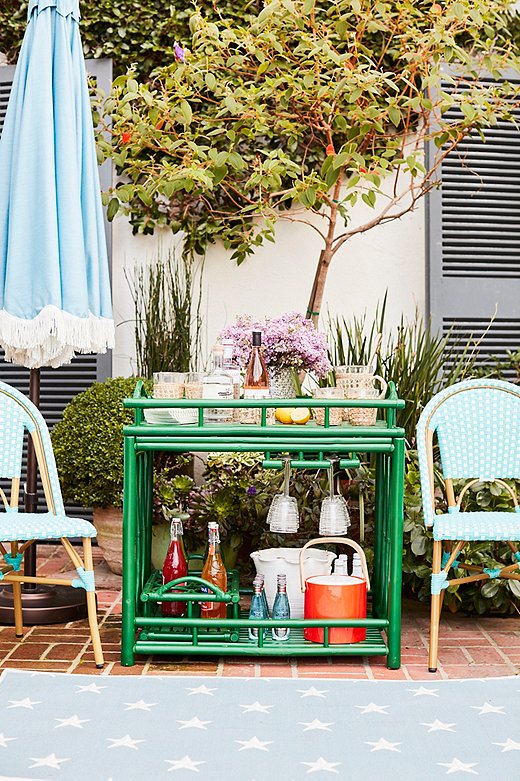 Red Sangria
Serves 6
"We always have a signature cocktail that we prebatch to make service fast and easy," Elizabeth says. "It takes away needing to make a decision on what to drink and allows for great creativity by theming the drink for the holiday or season."
Ingredients
1 bottle of lightly flavored red wine (though you can use white or rosé if you prefer)
2 cups seasonal fruits and citrus, diced into half-inch pieces ("We always use apple and citrus but play around with orange, blood orange, even grapefruit in a white sangria. Peaches and nectarines when in season make a great addition. Cherries as well! In the summer, you will be sure to find raspberries and blueberries.")
3 oz club soda
3 oz sparkling lemonade (Elizabeth suggests Sanpellegrino Limonata)
Directions
A day ahead of time, pour the wine into a pitcher or other container. Add the fruit, place into the refrigerator, and let macerate overnight.
To serve, pour a half-ounce of club soda, a half-ounce of the sparkling lemonade, and the sangria into a glass. Garnish with an orange peel if desired.
"If you like your sangria with more of an alcohol punch, you can also add a favorite brandy or Grand Marnier," Elizabeth says.
Burrata Heirloom-Tomato Salad
Serves 6
Ingredients
Handful of fresh-picked basil (enough to equal 1 1/2 cups chopped)
½ cup grape-seed oil
1/4 cup extra virgin olive oil plus more to drizzle
2 lbs. Burrata cheese
5 Rosa Bruno tomatoes, cut into wedges
1 pint red and yellow teardrop tomatoes, chopped
10 Black Mission figs, quartered
¾ cup balsamic vinegar
1/4 cup balsamic reduction
Directions
Start by preparing basil oil. Place fresh-picked basil leaves in a blender. Heat grape-seed oil and olive oil in a saucepan over medium heat until hot but not smoking. Pour the oil over the basil leaves in the blender and, using a towel to prevent splattering, puree mixture until smooth. Pour through a fine sieve and reserve.
Place the Burrata in the center of a large oval platter or shallow bowl and drizzle with olive oil, salt, and pepper.
Place the tomatoes and figs in a separate bowl, and toss with balsamic vinegar, salt, and pepper. Then arrange the tomatoes and figs around the cheese on the platter.
Garnish with a drizzle of balsamic reduction, basil oil, sea salt, crushed pepper, and fresh basil.
Barbecued Ribs
Serves 6
This is less a recipe than instructions on how to create impressive-looking, fabulous-tasting, yet surprisingly easy ribs.
Ingredients
2 racks of pork spare ribs, 4-5 lbs. each
2 ½ cups of your favorite barbecue sauce
For the grill, 1 cup hickory, mesquite, or applewood chips
Directions
Soak the wood chips in water for at least 30 minutes. Preheat your grill to medium-low heat, about 250 degrees F.
If using a charcoal grill, drain the wood chips and scatter over the hot coals. For a gas grill, drain the wood chips and put in a smoker box positioned over direct heat.
Place the ribs on a cutting board, meat side down. Insert a sharp boning knife between the bone and the membrane, and trim off the membrane.
Season the ribs liberally with salt and pepper, then put the ribs meat side down onto foil and place at the coolest point of the grill. Close the lid. When the temperature reaches back to 250 degrees F start timing the ribs for about a 3-hour cook.
Remove the ribs, wrap tightly in foil, then return them to the grill. Close the lid and cook another 1 ½ hours.
Again, remove the ribs and unwrap. Return the ribs to the grill, this time meat side up, and baste with your favorite barbecue sauce. Cook until the ribs are tender.
Remove the ribs and let rest for 5 minutes before slicing. Serve with the remaining barbecue sauce.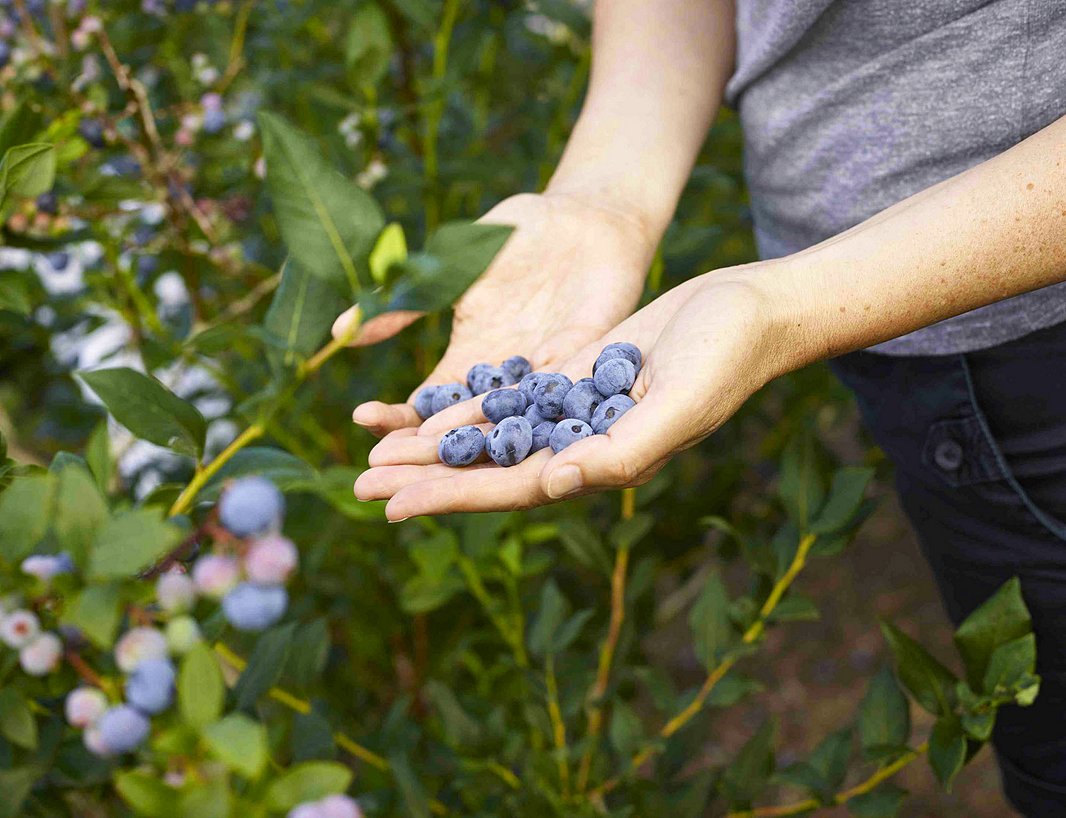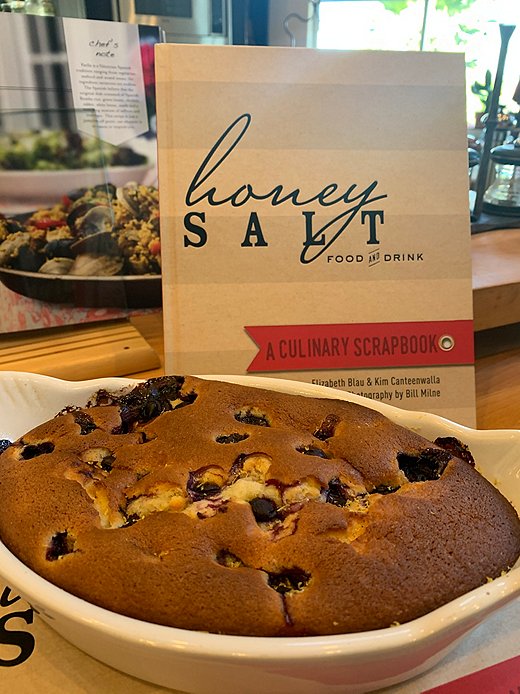 Summer Berry Spoon Bread
Serves 6
Ingredients
2 pints fresh blueberries
1 ½ cups sugar
2 tbsp. cornstarch
1 ½ cups all-purpose flour
2 tsp. lemon zest
1 ½ tsp. baking powder
1 tsp. salt
2 eggs
½ cup milk
1 tsp. vanilla extract
t cup butter, melted
Directions
Toss the blueberries with 1/2 cup of sugar and the cornstarch in a large mixing bowl. Let mixture set for 10 minutes to macerate the berries.
Preheat the oven to 375 degrees F. In a large mixing bowl, whisk together the flour with the remaining cup of sugar, lemon zest, baking powder, and salt.
In a separate bowl, whisk together the eggs with the milk and vanilla extract. Then whisk this liquid mixture into the dry ingredients until combined, and whisk in the melted butter.
Spread the blueberry filling into a 9″ x 13″ baking dish. Spoon the batter over the berries, leaving gaps between each spoonful.
Bake in the center of the oven for 1 hour, until the fruit is bubbling and a toothpick inserted in the spoon bread comes out clean. Let cool at least 1 hour before serving.