"It's most important to keep things simple, but simple doesn't mean you have to sacrifice style," says interior designer and California native Nathan Turner of his approach to summer entertaining. A laid-back lunch at his Malibu home, which he shares with fellow designer Eric Hughes, means a simple-to-execute menu, not overthinking the table, and set-it-and-forget-it drinks. Here, he shares a few of his easy-to-steal ideas for an effortlessly stylish (and stress-free) gathering.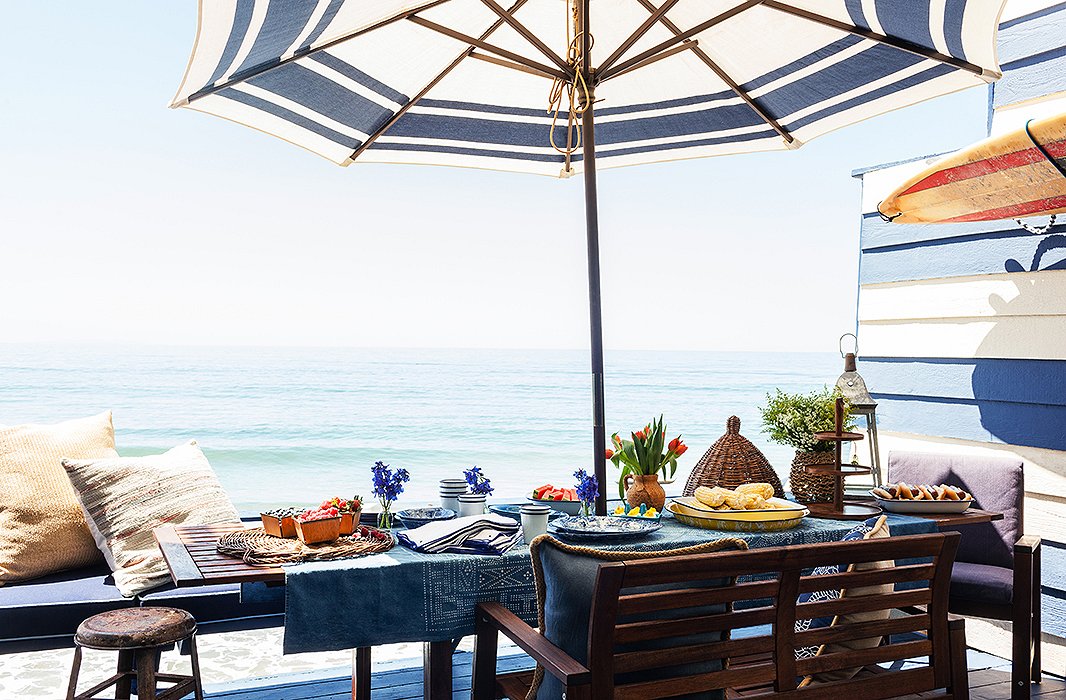 Think in Themes
Having one central idea—a vibe or a color, say—can help you focus your energy when setting the table. For Nathan, it was blue. "I never met a blue I didn't like, and all hues of blue work at our beach house—blue is our neutral," he says. Having a common theme lets you lean into what you already have while making the table feel considered (all white, anyone?). Nathan's enamelware camping-style plates, marbleized bowls, and an antique textile used as a tablecloth all hang together beautifully thanks to their shared color scheme.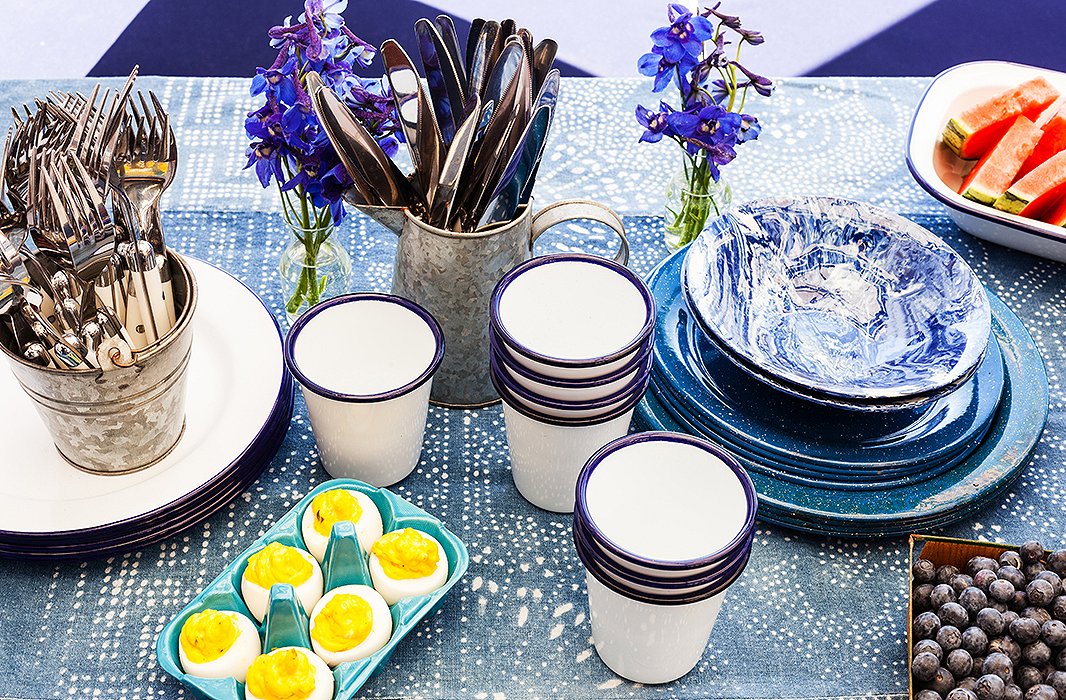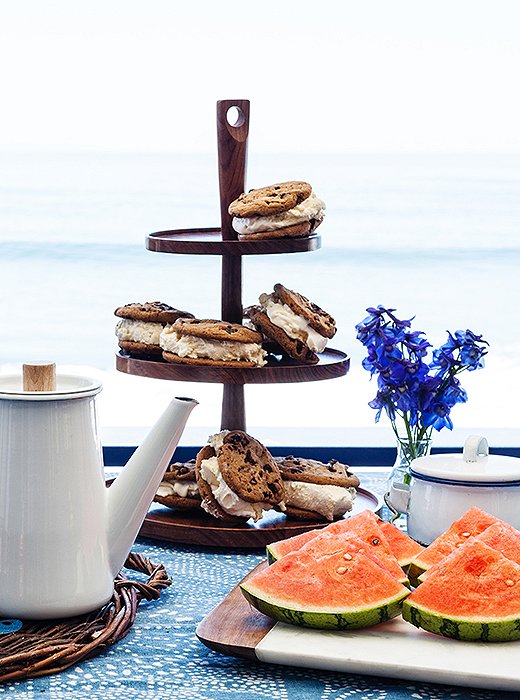 Serve Make-Ahead Classics
"I've found people, including myself, don't want fussy food when at the beach," says Nathan. "Focus on things that can be made in advance." For his casual lunch that meant a roundup of old-fashioned summer favorites like corn on the cob, hot dogs, hamburgers, deviled eggs, Louie salad, and of course, big slices of watermelon. As for dessert, "Ice cream sandwiches are a staple. Who doesn't like homemade ice cream in between two chocolate chip cookies?"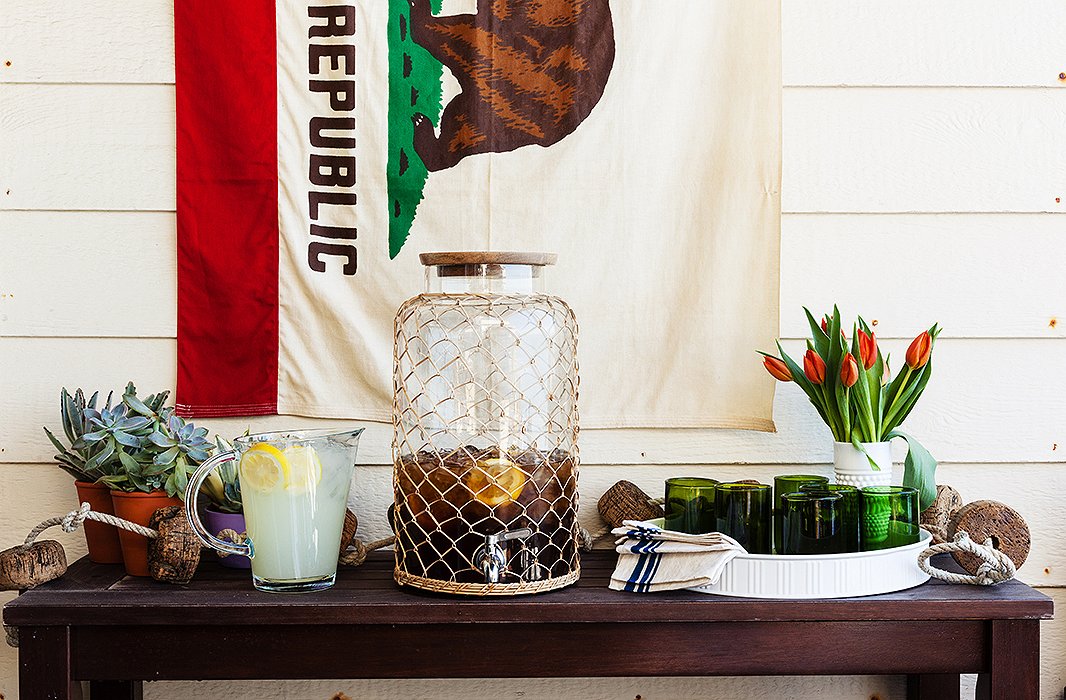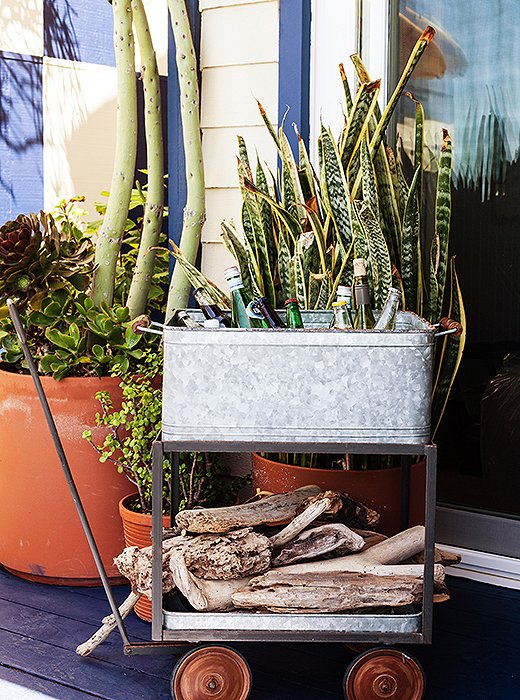 Rely on Self-Service
Summer afternoons are fleeting, so set yourself up for lots of chilling and chatting, not shuttling drinks from the kitchen to guests. "I think self-serve is best when outdoor entertaining, especially at the beach when people are active, in and out of the water," says Nathan. His strategy? "I put out a wide selection of drinks covered with ice and don't have to worry about it again." In addition, he fills a dispenser with homemade iced tea, "a must-have during summer. I only use Luzianne brand, which I can't find on the West Coast so I get it on Amazon."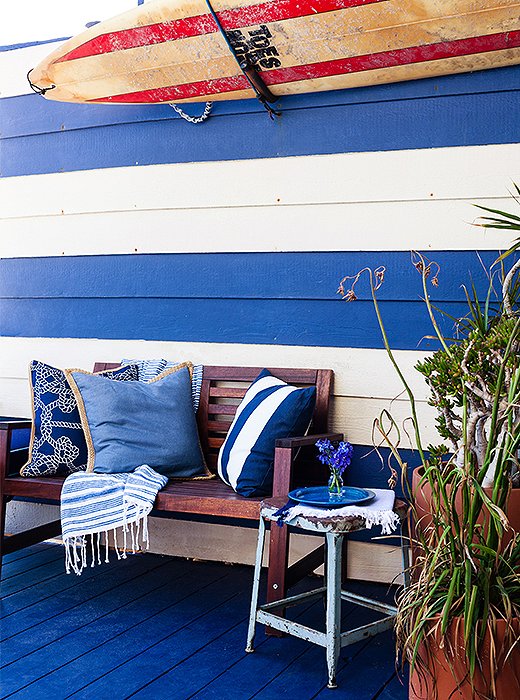 Make Every Spot Feel Special
Bringing a few items, such as pillows and throws, from the inside out can add a sense of elegance. In Nathan's case, he turned a petite bench into the perfect spot for quiet conversation, complete with a side table for drinks, by mixing some decorative pillows with his outdoor cushions. A lightweight beach blanket is ready to grab and go if a guest wants to head down to the water for a quick dip or needs a little extra warmth.
No need to waste your time creating an overelaborate lunch—that defeats the joy of summer entertaining, when you want to enjoy your company, the amazing weather, and get out in that water!