Hosting a party usually comes with a fair amount of stress: Will there be enough food? Do I have enough chairs? Add to it a small space and most would just say "no, thank you."
But creative director Whitney Leigh Morris is not only unfazed but gracious, gregarious, and gushing with fantastic tips to entertain 4 or 40 in the smallest of spaces.
In her Venice Beach, CA, Tiny Canal Cottage, which boasts a mere 362 square feet inside (and not much more outside), Whitney recently hosted a cocktail party in the home she shares with husband Adam, beagles Sophee and Stanlee, and soon, another small wonder (the couple's baby is due in October).
It's the latest in a long list of parties here. Earlier in the year, the couple held their wedding ceremony at the house and toasted with 60 (yes, 60) friends and family. Not to mention the sit-down dinners they regularly host for 8 or 12 in their diminutive dining room.
See how Whitney achieves major style and big entertaining wins in her very petite party space.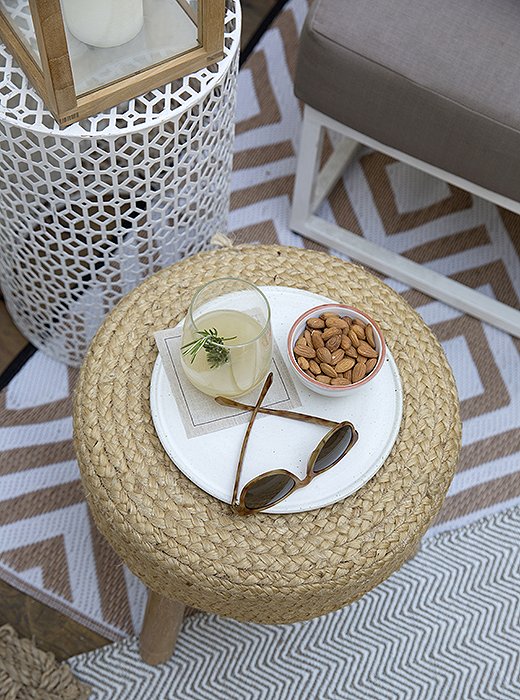 Keep It Neutral
A lot of loud color and pattern would not only overwhelm the small garden and patio but also detract from its assets, such as the vine-covered fencing and the perfectly patinated deck. "Our style is pretty natural in terms of what we serve and the look and feel of the environment," says Whitney. And there's a lot of white for a reason. "White is just fantastic in the California sun—it bounces the light around and makes a space feel bigger." So with minimal color and pattern, it's about texture. Whitney loves natural finishes that layer well together such as linen, wood, rope rattan, canvas, and cotton.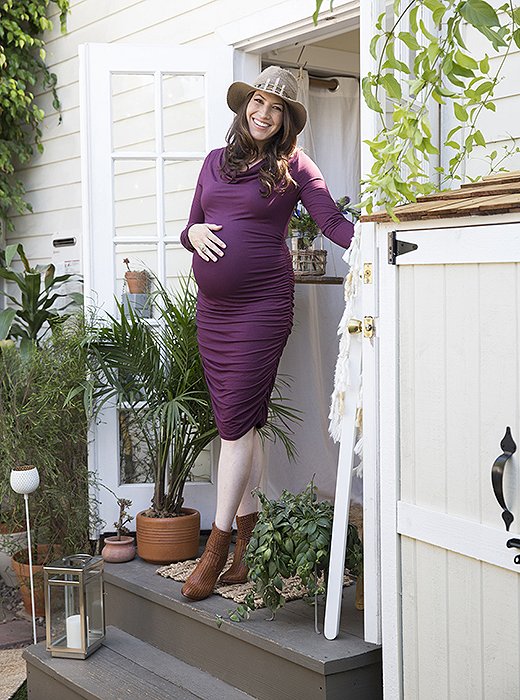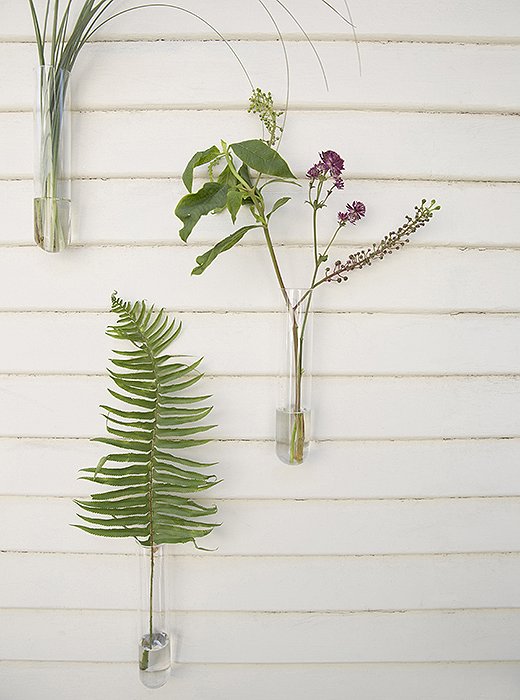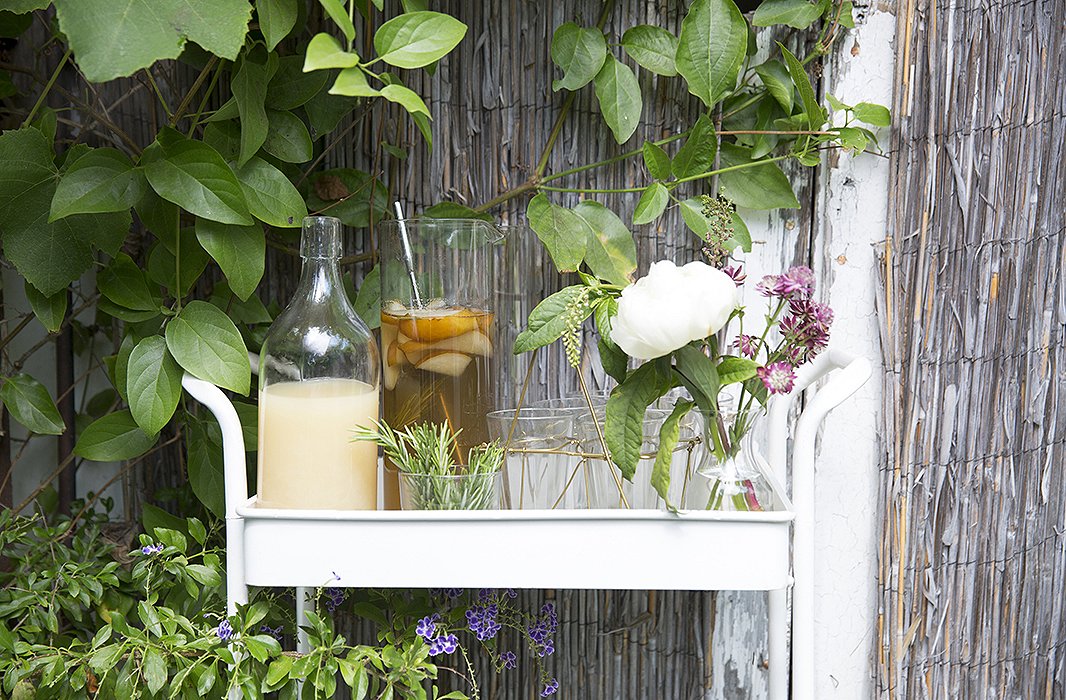 Add Artful Arrangements
For flowers, Whitney prefers a natural, loose look. Luckily, she doesn't need to add much thanks to the potted plants and trees that dot the outdoor space. She adds a few farmers'-market arrangements in casual vessels such as pitchers and jelly jars, and in another ingenious use of vertical space, she arranges wildflowers, plant leaves, and ornamental grasses in delicate glass vials to hang along the porch wall. The result is deconstructed centerpiece meets art installation. "We've used these beaker vases for years," Whitney says. "I love how beautiful and impactful they are. I tell people you don't have to live large to live beautifully, and this wall demonstrates that."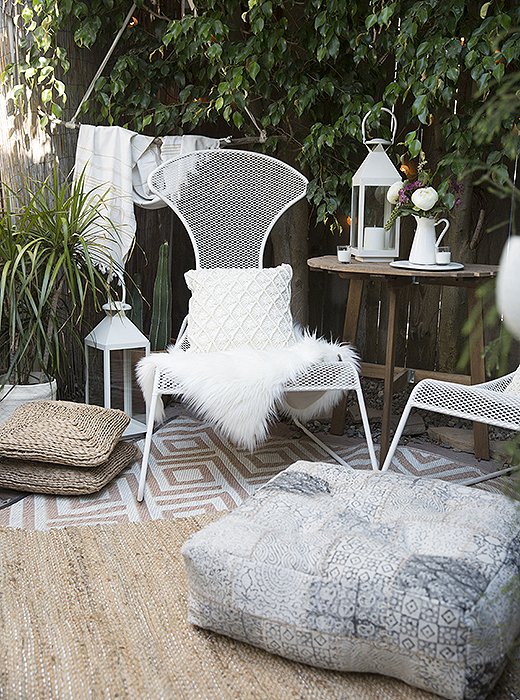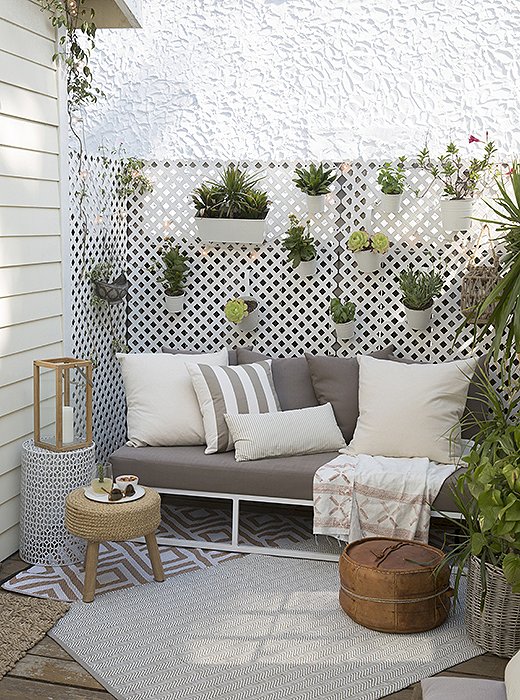 Create Convertible Seating
Rather than designated zones for standing, chatting, or sitting, Whitney alters the outdoor spaces for the season or soiree. "We like furniture and accessories that are adaptable and can be used in other parts of the garden," she says. "There's nothing that works only in one space. We also move things around as the seasons change or where the sun is hitting." Also key? Make sure guests are comfortable anywhere. "We don't have much room here, so in lieu of armchairs and loungers, we have a mix of outdoor dining pieces, conversation sets, and low cushions on outdoor rugs," says Whitney.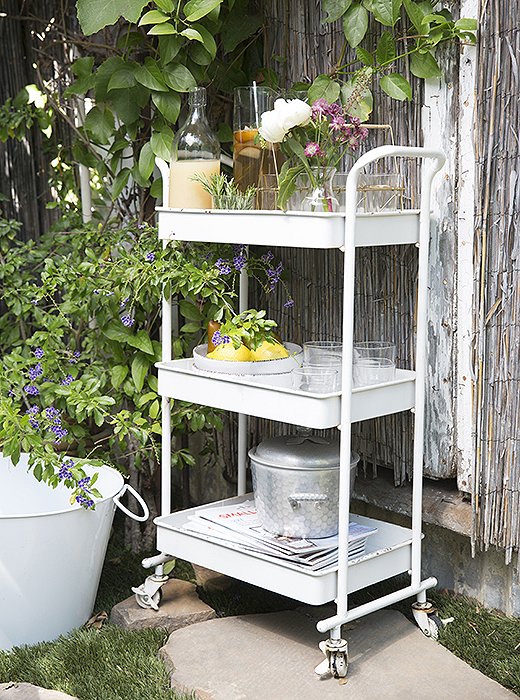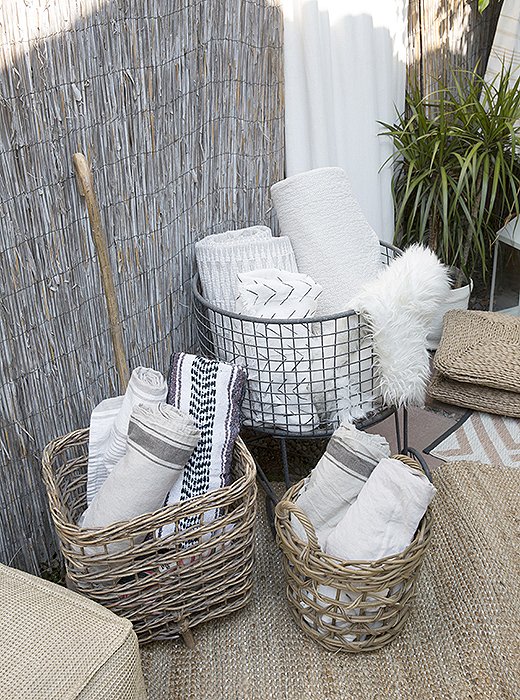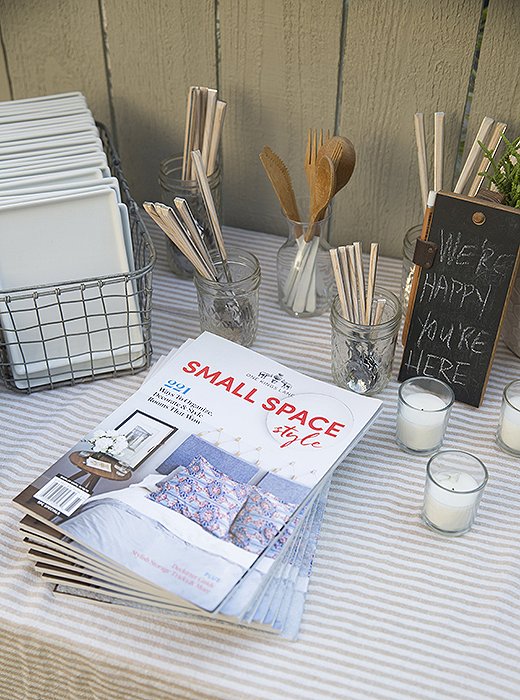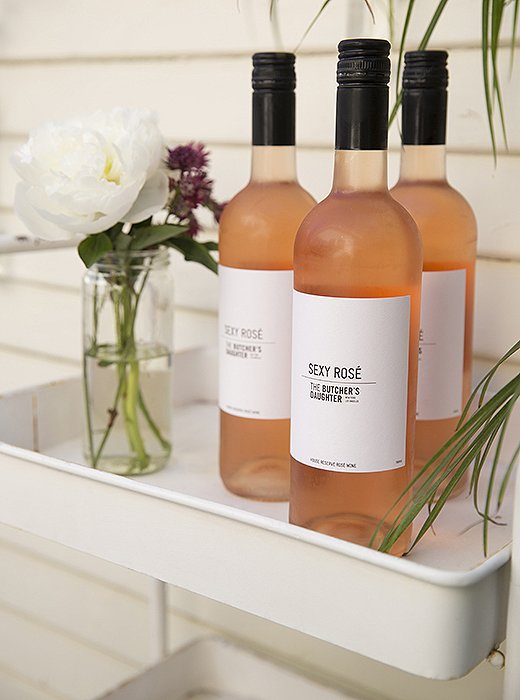 Help Guests Help Themselves
Though Whitney's gatherings are low-key and casual, attention to detail and thoughtfulness abound thanks to smart storage and planning. A self-service bar has a ready-made pitcher of drinks, glassware, ice, and extra fruit for garnishing. A vintage laundry bin and some baskets hold Whitney's cool collection of cozy throws and blankets, which guests can help themselves to should they get chilly. And there's always a beautiful, organized mix at the buffet. Birch flatware is ready to grab in mason jars. And the army of white plates? "When serving in small spaces, it's key to find pieces that stack well and don't take up too much space," says Whitney. "We keep our plates in these wire-mesh baskets above our refrigerator and tote the basket to wherever we're serving."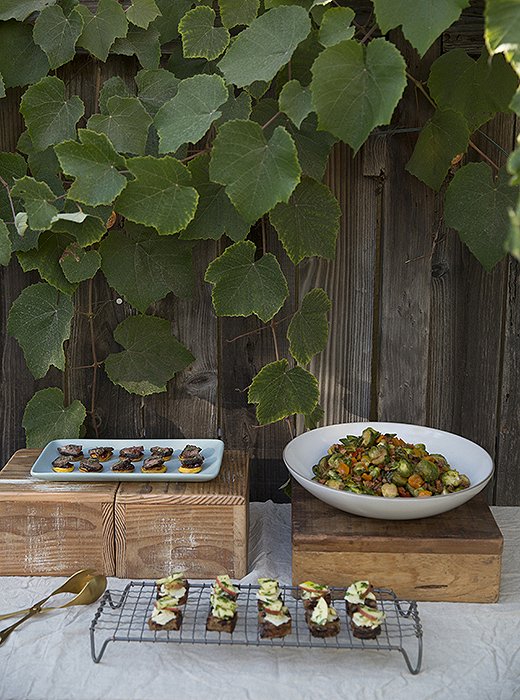 Where guests gravitate depends on where the food and alcohol are…
Keep Out of the Kitchen
Whitney admits she's no Iron Chef. "I don't cook," she says. "And it can be tricky to cook while entertaining in a small space. If we have more than eight people, I work with Urban Palate, who make delicious and beautiful food. It frees me up to focus on talking with guests and enjoying the party." For tonight, small appetizers (Pink Lady apple bruschetta, sage-fried chicken biscuits, parsnip pomme frites) on plates were scattered among the garden's many tables and trays.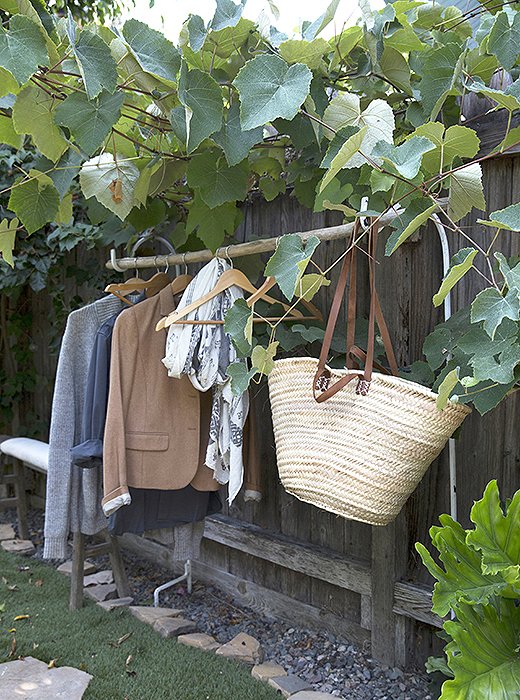 Carve Out a Coat Check
With not a square inch to spare, Whitney devises a cool, instant closet: "I don't want to waste one cushion or chair if a guest drops their tote or jacket." She uses two shepherd's-hook garden stakes, a piece of driftwood as a rod, and S hooks or spare hangers. "I'll also add a small rug underneath so people drop things there as well. It gets everything out of the way, and everyone knows where their coat is at the end of the night."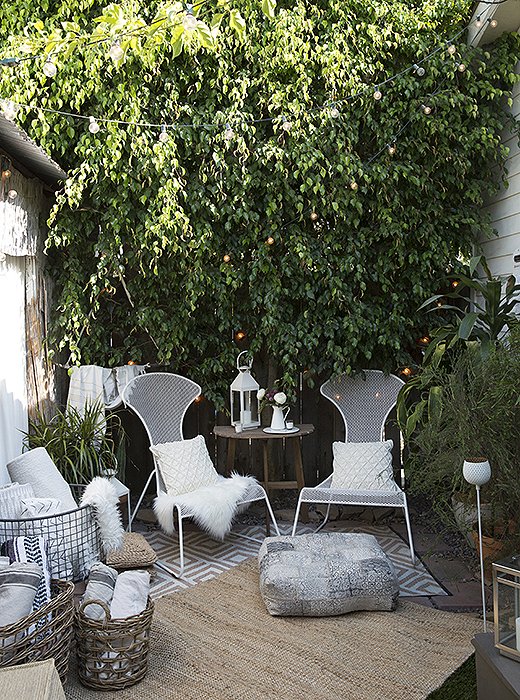 Add Lots of (Different) Lighting
"I'm obsessed with twinkle lights," says Whitney. "They make any space—large or tiny—feel magical. I prefer the warm-toned bulbs." She'll also mix in other illumination. "Pair the hanging strands with lots of candles on tables, and place some hanging lanterns along the floor."
We like furniture and accessories that are adaptable and usable in other parts of the garden. So there's nothing that works only in one space and doesn't work in another.
Care for a Mocktail?
Whitney's friend, mixologist, and "leisure expert" Rachel Mae Furman created this mocktail for the party. (To make it a cocktail, substitute champagne for club soda.) You can follow her at @rachelmaefurman.
Pear and Rosemary Spritz
2 ounces freshly squeezed lemon juice
2 ounces pear simple syrup*
2 ounces club soda (or brut champagne)
Rosemary sprigs (garnish)
*Make a simple syrup by heating 50/50 sugar/water and sliced pears in a pan. Add 2 or 3 rosemary sprigs, cover, and let the syrup cool in the refrigerator. Strain out the pear slices and rosemary when ready to use.
Individual serving: Combine 2 ounces of lemon juice and 2 ounces of simple syrup in a shaker. Shake with ice, strain in a champagne glass, and top with 2 ounces of club soda or champagne.
For a crowd (can be prepared ahead of time): Fill a bottle or pitcher with equal parts fresh lemon juice and pear simple syrup. Drop in 2 or 3 rosemary sprigs. Keep chilled in an ice bucket or refrigerator. When ready to serve, pour 2 ounces in a champagne flute and top with 2 ounces of club soda or brut champagne. Garnish with a sprig of rosemary.