Brunch, for me, is the ideal meal for an at-home gathering. It involves all my favorite foods, there's no time limit or bills to split as in restaurants, and the dishes can be done so you're back in bed doing the crossword with a cup of tea by 3 p.m. It's these long leisurely meals with my friends that I hold dear, with the promise of the day still twinkling and the to-do list pushed aside.
For summer I'm turning on my oven as little as possible, so the following menu involves just a short amount of time over the stove and by the oven: a frittata to delight and anchor the meal and a fun batch cocktail that's pretty and refreshing. It's amazing to know that with little prep and cooking you can still create a beautiful spread sure to inspire guests to stay awhile. And when the group is right, we've been known to transition from a long brunch straight into barbecuing and a cheese plate in the afternoon.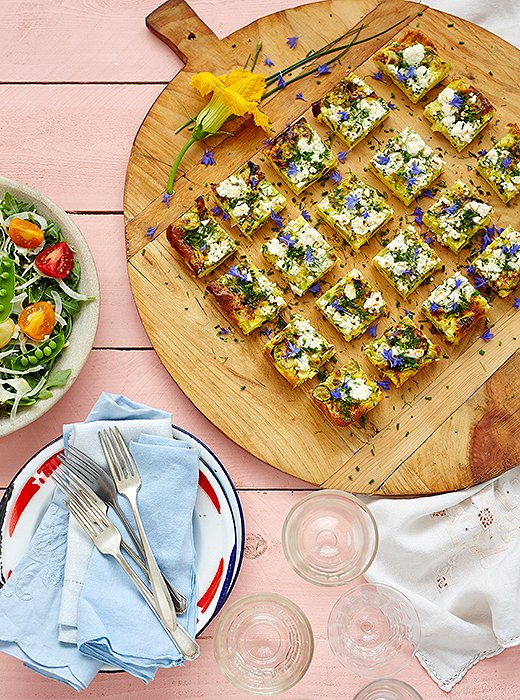 Zucchini Feta Frittata
This zucchini feta frittata was inspired by the bounty that is summer squash and the creamy saltiness that is French feta cheese. I use lots of fresh herbs to keep it verdant and flavorful, and they're ideal complements to a bed of farm-fresh eggs and nutty zucchini. This frittata is also gluten-free and melds beautifully with any side salad. I used edible cornflowers as garnish because I love their shocking-blue color, but you can swap in any edible flower; nasturtiums, marigold petals, and chive blossoms are all beautiful and tasty additions to this golden egg dish.
The best part is that frittatas are a flash to whip up. You can prep and quickly bake them first thing in the morning before the day gets too hot and keep them covered on the counter for a few hours until guests arrive.
Serves 6-8
Ingredients
2 tablespoons unsalted butter
1 pound small zucchinis, sliced into 1/4-inch rounds
1 dozen eggs
1/2 cup half-and-half
1 large leek, trimmed and cleaned, cut into 1/4-inch rounds
1 teaspoon chives, finely chopped
1 teaspoon fresh thyme, finely chopped
1 teaspoon fresh dill, finely chopped
3/4 cup French feta cheese
Cornflowers, for optional garnish
Extra herbs, for optional garnish
Directions
Preheat oven to 400 degree Fahrenheit. Bring a large skillet to medium heat. Add 1 tablespoon of butter, and cook zucchinis and leek for about 7-8 minutes, until the zucchini is golden, then set aside. Grease a 9″ x 13″ baking pan with the remaining tablespoon of butter. Whisk the eggs and the half-and-half together. Pour half of the egg mixture into the pan and add half of the zucchinis and leek. Fill the pan with the remaining egg mixture and vegetables. Sprinkle the herbs across the top.
Bake for about 20 minutes, until the egg is just set. Add the feta evenly across the top. Broil for about 5 minutes until golden brown. Allow to cool for 15 minutes. Turn out the frittata and cut into two-inch squares. Top with extra herbs and cornflower petals as desired. Serve warm or at room temperature.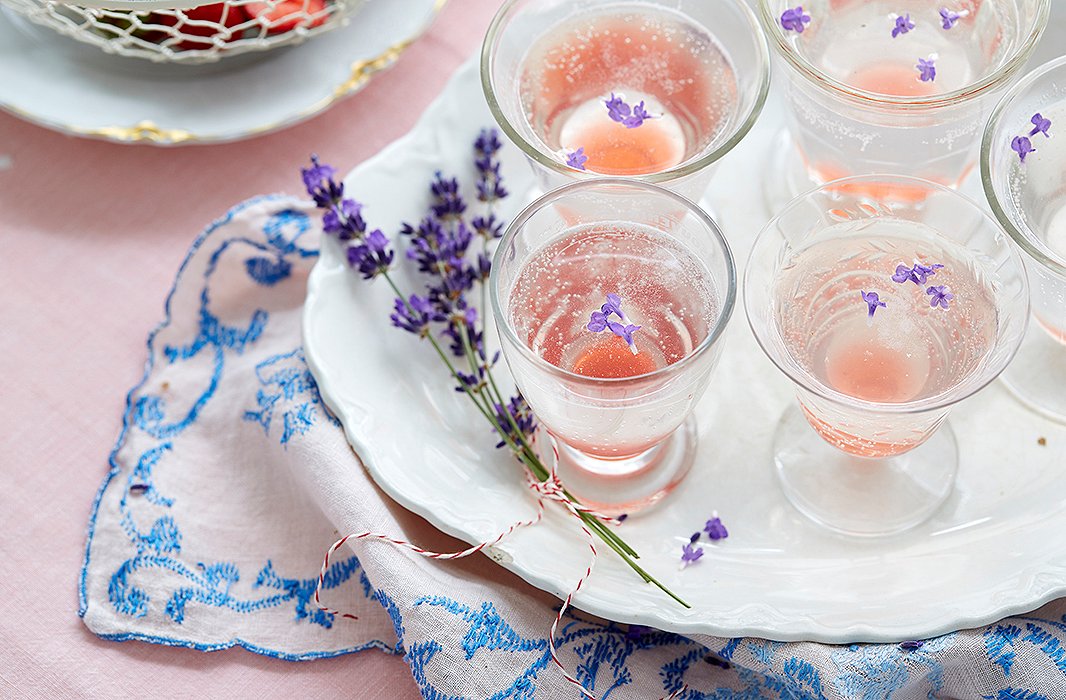 Strawberry Lavender Gin Sparklers
I have always been a fan of the famed 1950s gin fizz. My iteration is amped up with what I call nature's candy: a syrup made of cooked-down sweet strawberries and a dash of lavender bitters.
If you haven't explored the flavors and textures of different types of strawberries at your local farmers' market, I strongly suggest you do. There are some wild variances in taste, and I've found I prefer a bit of acid and a ton of sweetness. Usually the smaller the berry the better. It's worth sampling every single type and narrowing in on the one you love.
For this cocktail, I used my local favorite: The most fragrant and delicious strawberries from Harry's Berries. The gin is Aviation, a great brand out of Portland, OR. For the bitters, this lavender by Scrappy's is light and earthy, unlike others I've tasted, which seem soapy. Because this gin cocktail is so simple, it relies heavily on the freshness and great flavor of each component, so get a few very special ingredients here to jazz it up.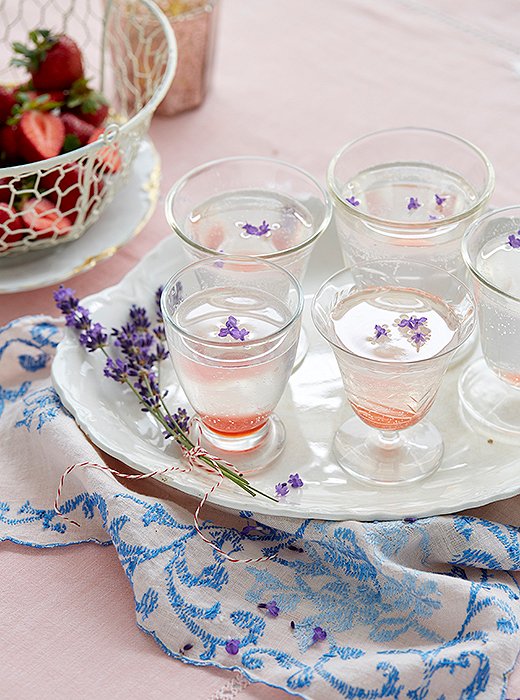 Serves 5
Ingredients
2 cups strawberries, washed and tops trimmed
1/4 cup sugar
Scant cup of gin
Lavender bitters
Sparkling water
Lavender flowers, for optional garnish
Directions
In a medium pot, cook the berries with sugar over medium heat until all the sugar is dissolved and the fruit is starting to break down (about 5 minutes). Strain the berries and reserve the syrup in a bowl. Pour the syrup into glasses so that there is a thin layer at the bottom of each glass.
Shake gin and about 5 dashes of bitters in a shaker with ice. Pour carefully onto the strawberry syrup. Top with a little sparkling water, and if desired place 3-5 fresh lavender blossoms on top of each cocktail. Serve immediately.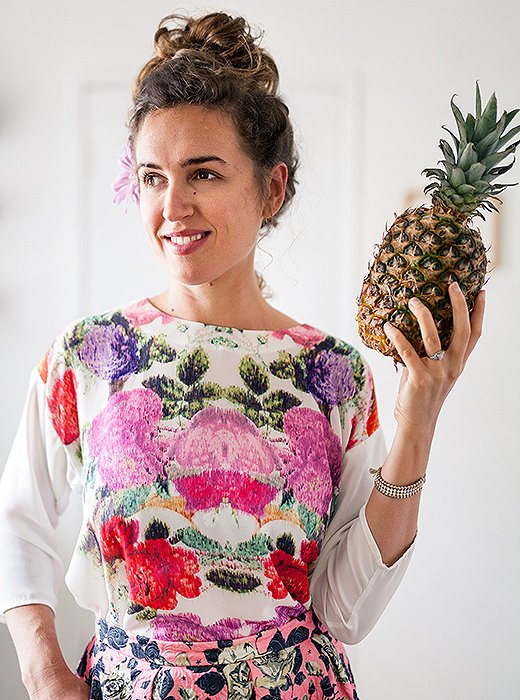 Leela shoots for magazines such as Sweet Paul, Kinfolk, and Condé Nast Traveler. When not making images, she can be found testing out recipes, hosting a tea party, or on a beach walk with a friend. Check out more of her delicious recipes at leelacyd.com.