If your home, like you, is always up for a party, then a home bar is a must-have. Whether it's stocked for impromptu happy hours or dinner-party aperitifs, a bar is one touch guests are sure to appreciate. Take a look at the home bars of some of our favorite designers and tastemakers, and learn how to create your own party-ready space.
Jenni Kayne's Artful Cocktail Area
Fashion designer Jenni Kayne's jewel-box den includes a chic mirror-lined wet bar. The designer accessorized the space with Victoria Morris pottery, William Yeoward decanters, Hermès cocktail glasses, and a photo of the Rolling Stones.
Idea to steal: A bar can hold more than bottles and glassware. Add a mix of art and eclectic accents to bring personality and panache to your display of potables.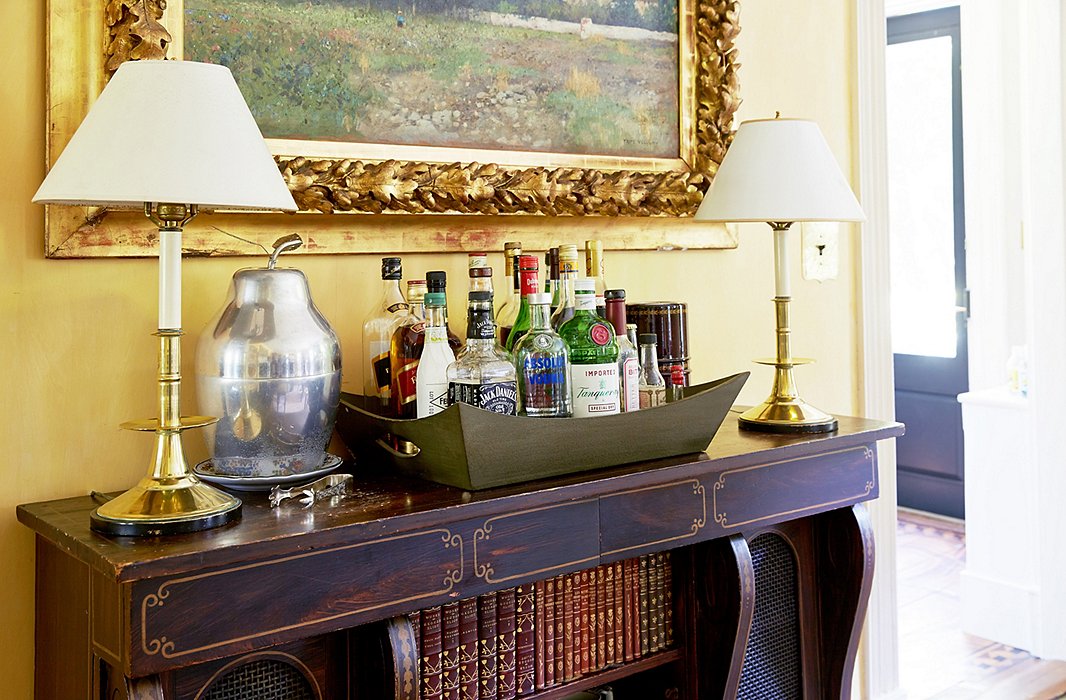 Bunny Williams's Always-Ready, Self-Serve Bar
Designer Bunny Williams and antiques dealer John Rosselli take a laid-back approach to decorating and entertaining at their weekend retreat in Falls Village, CT. They set up a self-service bar atop an antique cabinet complete with plenty of spirits and a 1950s apple-shape ice bucket, which John found in a junk shop.
Idea to steal: Let your guests help themselves or take turns playing bartender by keeping everything needed for classic cocktails right at hand.
Take the full tour of Bunny Williams and John Rosselli's sumptuous home→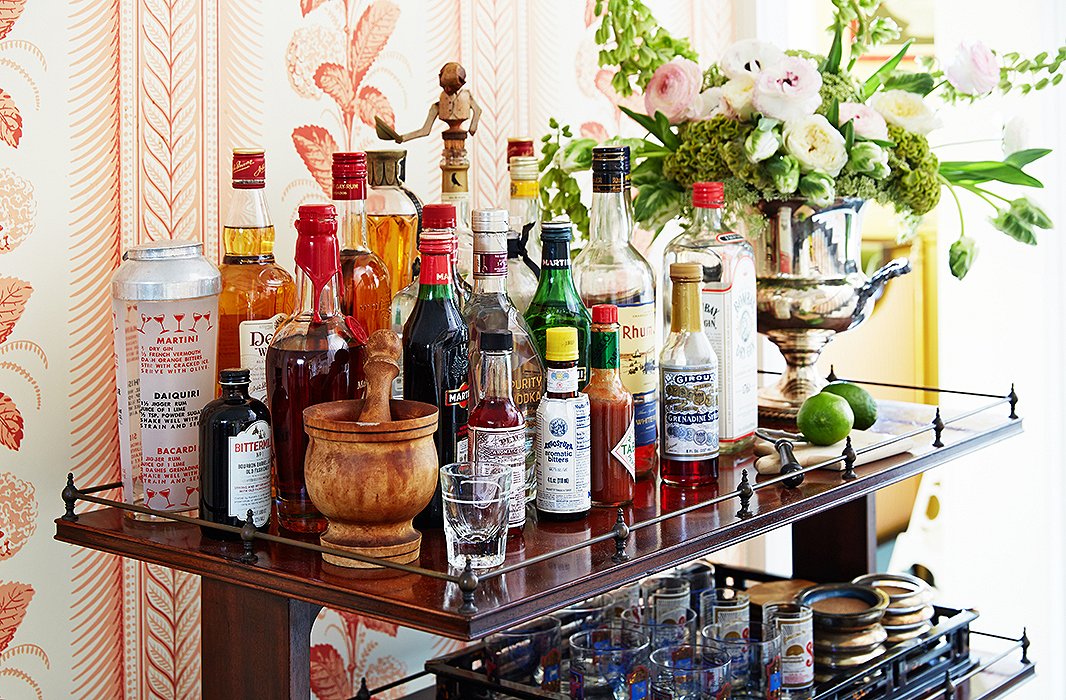 Jeffrey Bilhuber's Fab Entryway Drinks Station
Jeffrey Bilhuber has a strict evening regime at his country house in Locust Valley, Long Island: "cocktails at six, dinner at seven." The designer placed a fully stocked bar in the entry, making it easy to hand guests their drink of choice as soon as they walk in the door.
Idea to steal: Think beyond the dining room and set up a bar in an unexpected space such as an entry or an office.
Take the full tour of Jeffrey Bilhuber's colorful country home →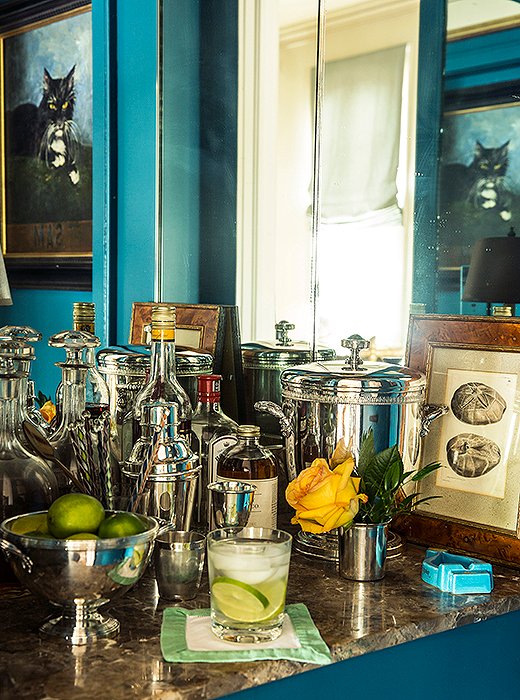 Julia Reed's Classically Elegant Bar Nook
Author Julia Reed's New Orleans home is brimming with Southern hospitality. She serves guests classic concoctions, such as a Pimm's Royale, from a bar set with an array of silver serveware and tools.
Idea to steal: Take a cue from Julia and use the your best silver and glassware no matter the occasion. "It doesn't matter if I'm just having some close friends or neighbors around for a casual Sunday supper: I'm going to pull out the good stuff."
Take the full tour of Julia Reed's party-ready New Orleans home→
Darryl Carter's Speakeasy-Style Spot
At his sophisticated Washington, D.C. townhouse, designer Darryl Carter created a cozy bar area behind heavy wooden doors, mixing classical elements with touches of patina.
Idea to steal: Bring in a striking piece, whether it's a petite cart or an antique bar, to turn your serving station into the focal point of the room.
Take the full tour of Darryl Carter's timeless Washington, D.C. home →
David Netto's Mini-Chic Cocktail Bar
Designer David Netto and his wife, Liz, often entertain at a restaurant instead their compact midcentury home, but a sleek tray makes room for a small home bar with all the essentials for dinner in.
Idea to steal: You don't need a lot of space to have a home bar. Create a small setup on a console or desk using a tray to keep things organized.
Take the full tour of David and Liz Netto's iconic midcentury home →