Between a flourishing winery, an accessories boutique, and a newly opened Sag Harbor storefront (not to mention a growing family—she and her husband welcomed a baby girl this summer), Joey Wölffer has a lot on her plate. Of course, she's not letting that cramp her entertaining style. On the contrary, this chic multitasker is full of tips for no-fuss entertaining.
We joined Joey at Wölffer Estate Vineyard in Sagaponack, NY, for a laid-back alfresco dinner party, decked out with the enviable bohemian-chic style for which The Styleliner, Joey's fashion boutique on wheels, is known. Between delicious nibbles and sips of straight-from-the-source wine, we grilled Joey to see how she fits entertaining into her busy life—and manages to pull it all off with style.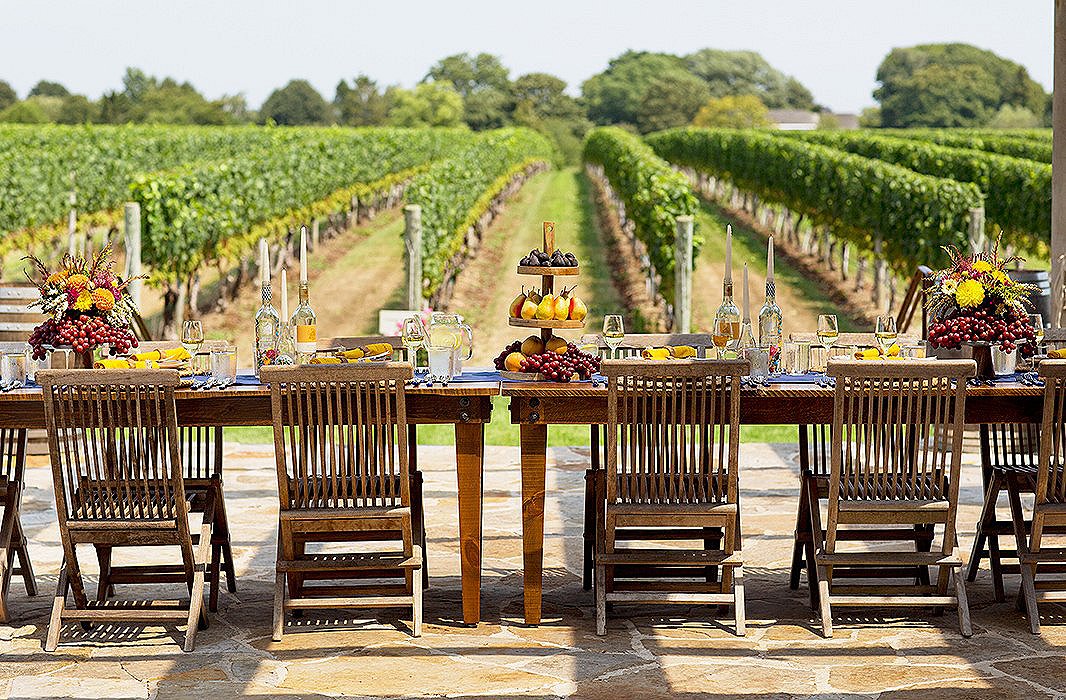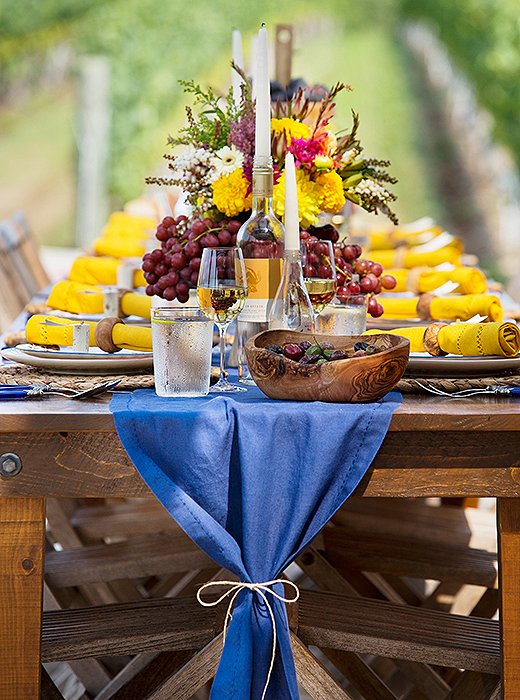 Set a Layered Table
Joey's approach to setting the table is an extension of The Styleliner's signature aesthetic—relaxed yet chic, with an intriguing mix of elements. "Colors, patterns, and textures are such a simple way to create an exciting table," she says. Brightly patterned plates were layered atop woven place mats, while linens in vivid yellow and rich blue warmed up the wooden table. "Each detail here is unique, from the napkin rings to the table runner, yet it all meshes well together—something I also take pride in when pairing an array of vintage accessories with an outfit."
Colors, patterns, and textures are such a simple way to create an exciting table.
Do It Your Way
Not the formal dinner-party type? Don't sweat it, says Joey, who embraces her penchant for laid-back get-togethers: "I always think it's important that your natural personality comes out in the decor and flow of the party. For me, nothing is overdesigned or stuffy."
Rather than making sure every detail is picture-perfect, Joey focuses on creating an inviting overall atmosphere so that guests feel at ease. For this dinner party, a canopy of casually draped string lights set a festive mood, and guests were greeted with wine and rustic hors d'oeuvres set out on simple wooden boards and marble platters.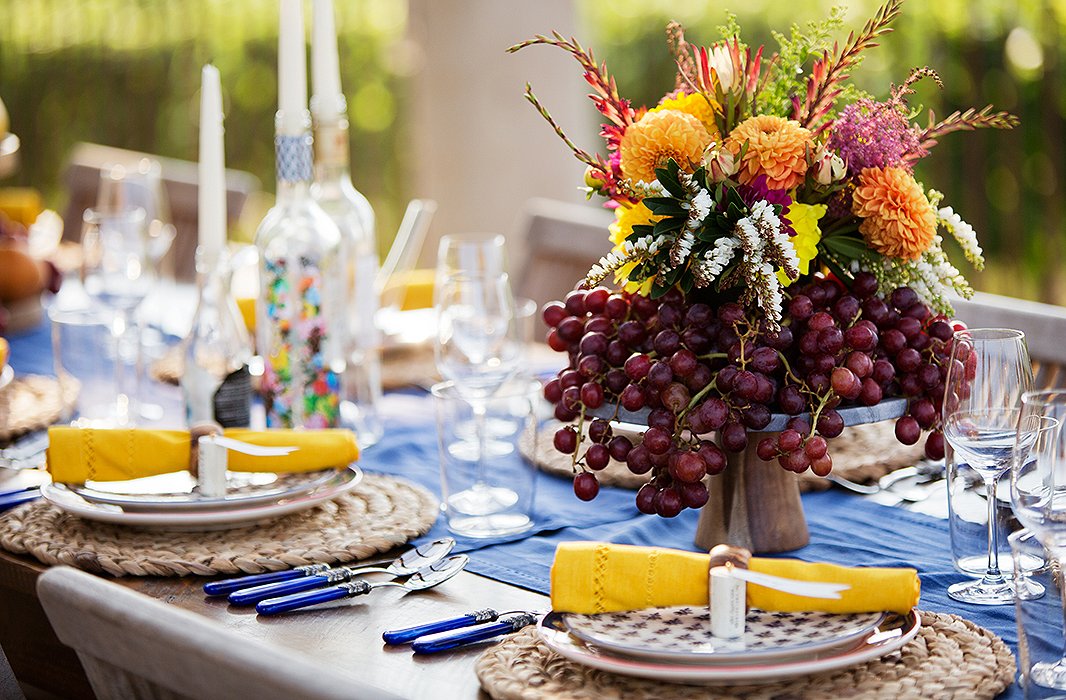 Take Cues from the Locale
"The natural beauty of the Hamptons makes it a wonderful place to entertain," says Joey, who takes cues from the Wölffer winery (founded by her father and now co-owned by Joey and her brother) when it comes to table decorations. Running with the harvest theme, centerpieces incorporated an autumnal bounty: Grapes were nestled around colorful flower arrangements, and pears and figs were stacked on a tiered wooden stand. It's a simple yet abundant look—and one that's easy to recreate with any seasonal produce.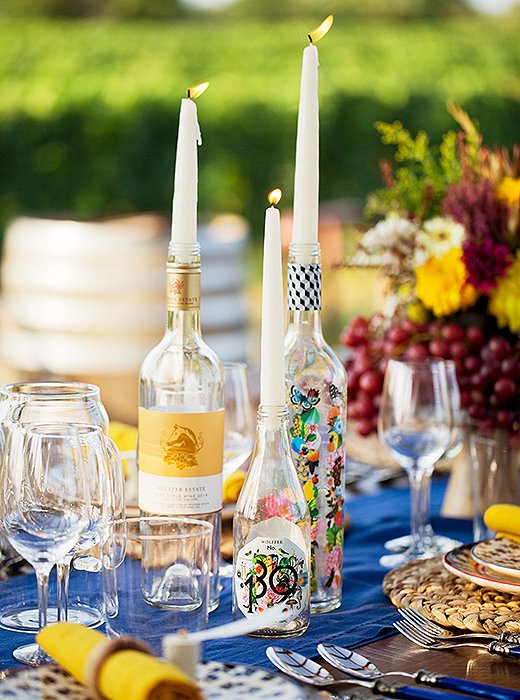 Riff on Classic Touches
While candlelight and place cards might seem to signal formality, here they were given a playful, laid-back twist that was spot-on for the setting. Empty wine bottles made chic and unexpected holders for taper candles (vintage bottles work just as beautifully), while the corks were used as simple place cards.
Get Guests Involved
There's no need to sequester yourself in the kitchen while putting the finishing touches on dinner, Joey says. When she gathers a group, "everyone hangs out in the kitchen while I finish cooking, and people jump in to help." That way, "everyone eases into the night without any formal structure to the evening. By the time dinner rolls around, everyone is a little more at ease, and dinner lasts for a long time with lots of laughter."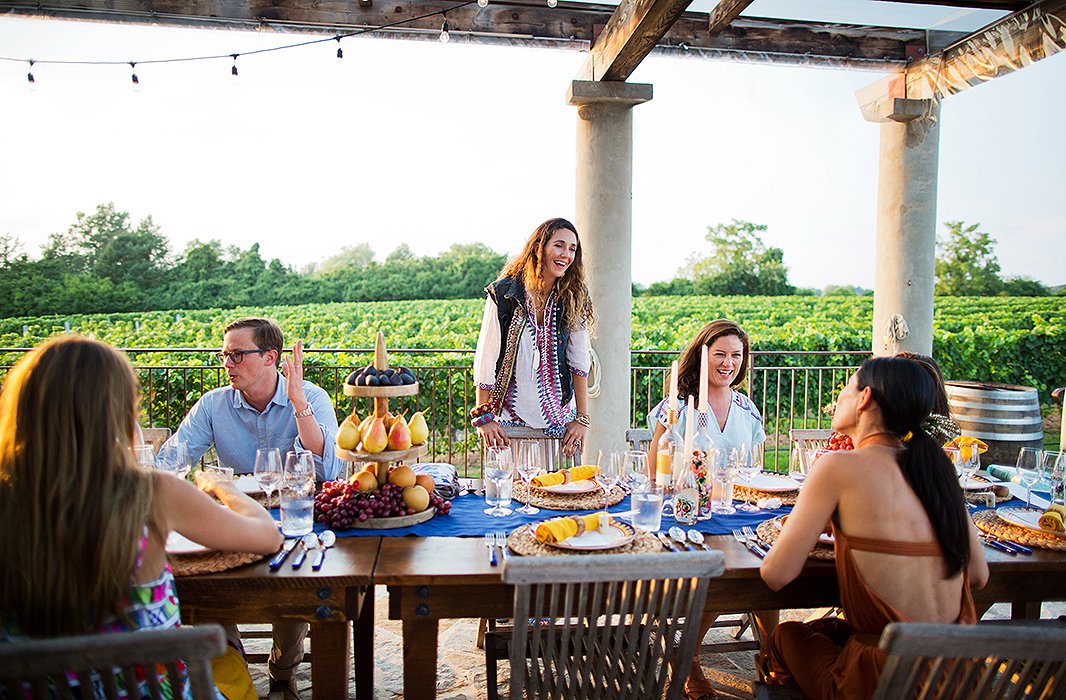 Invite a Good Group
"I love introducing new and old friends," says Joey of her ideal guest list. "As an entrepreneur, I also like introducing friends who do similar things and have an entrepreneurial spirit. I love when my friends end up working together or helping each other!"
In fact, a carefully crafted guest list is one of Joey's secrets of entertaining success. "The key is to entertain people who can simultaneously entertain you," Joey says. "When I'm surrounded by good company, the rest of my schedule can be put on hold for at least an hour or so! No one expects anything fancy out of me—just good food, delicious wine, and fantastic company, which makes entertaining worth all the effort!"
When I'm surrounded by good company, the rest of my schedule can be put on hold for at least an hour or so!