In this age of rushed breakfasts and dinners parked in front of the TV, it's easy to argue that a formal dining room is superfluous. And while we'll concede that it's not an everyday space (no one has time for multicourse meals seven nights a week!), its value as an entertaining hub shouldn't be overlooked. Plus when your dining room is as beautifully decorated as the rest of your home, you might find yourself whipping out the good china little more often.
Here we're peeking into the dining rooms of 10 top designers. As we head into entertaining season, let these swoon-worthy spaces inspire a refresh.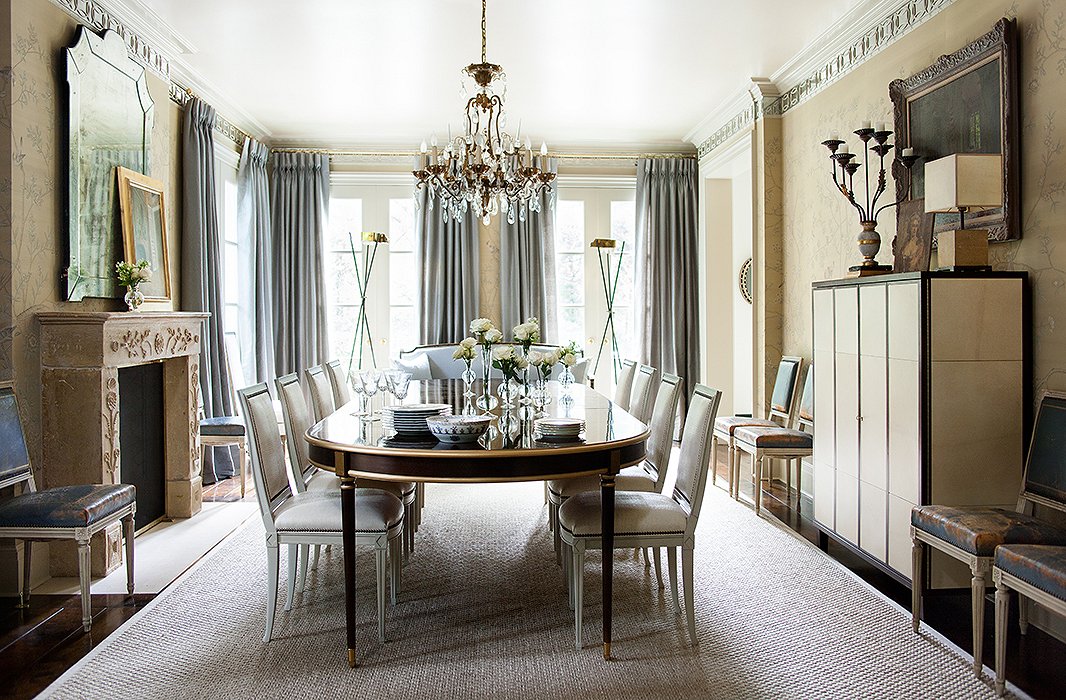 Suzanne Kasler's Quiet Elegance
Designer Suzanne Kasler is celebrated for her serenely elegant aesthetic, and the dining room of her own Atlanta home captures that signature sensibility flawlessly. A soft palette allows the luxurious details, including custom de Gournay wallpaper, mirrored molding at the cornice line, and silk curtains, to stand front and center.
Idea to steal: Station extra chairs around the edges of the room to give guests with a place to perch during cocktail hour—and to provide additional seating for larger dinner parties (the more the merrier!). They should coordinate with your main dining chairs but don't need to match exactly.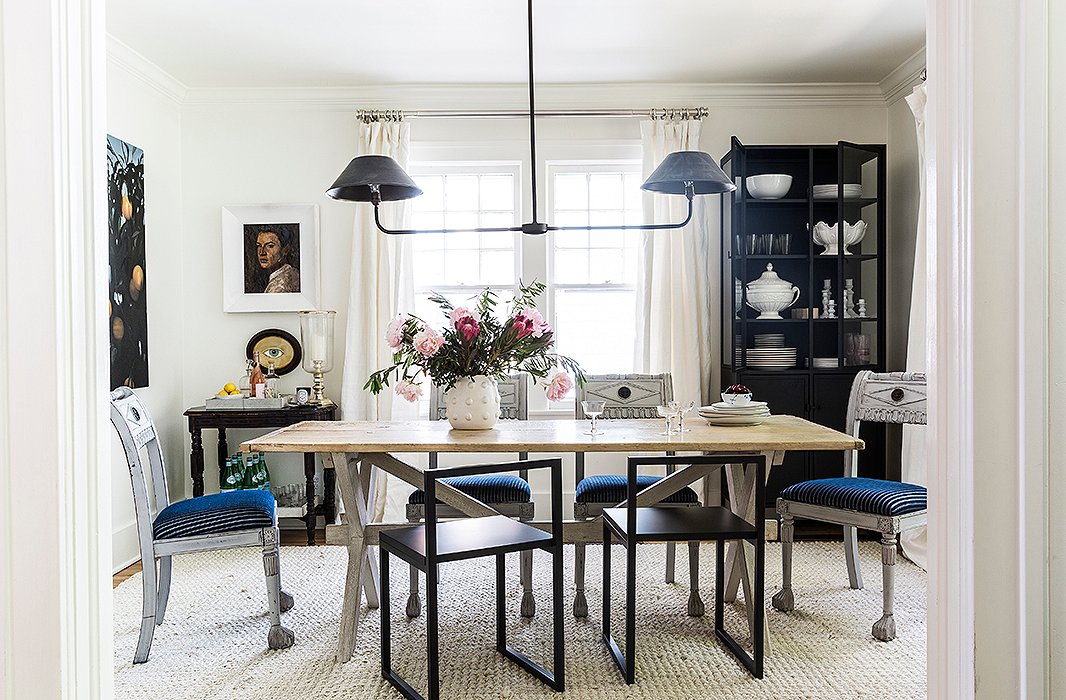 Michelle Adams's Collected Cool
Michelle Adams's Michigan home reflects that masterful mix of styles we love so much. Her version is a place where European antiques live happily alongside California-cool accents. With its mismatched chairs, eclectic artwork, and cultivated collections on display, the dining room blends seamlessly with the other rooms in the house.
Idea to steal: Show off your favorite dishes and serveware by artfully arranging them in a glass-front cabinet or an open hutch. Not only will this add to the collected vibe of the space, but it'll also allow for easy access to your entertaining essentials.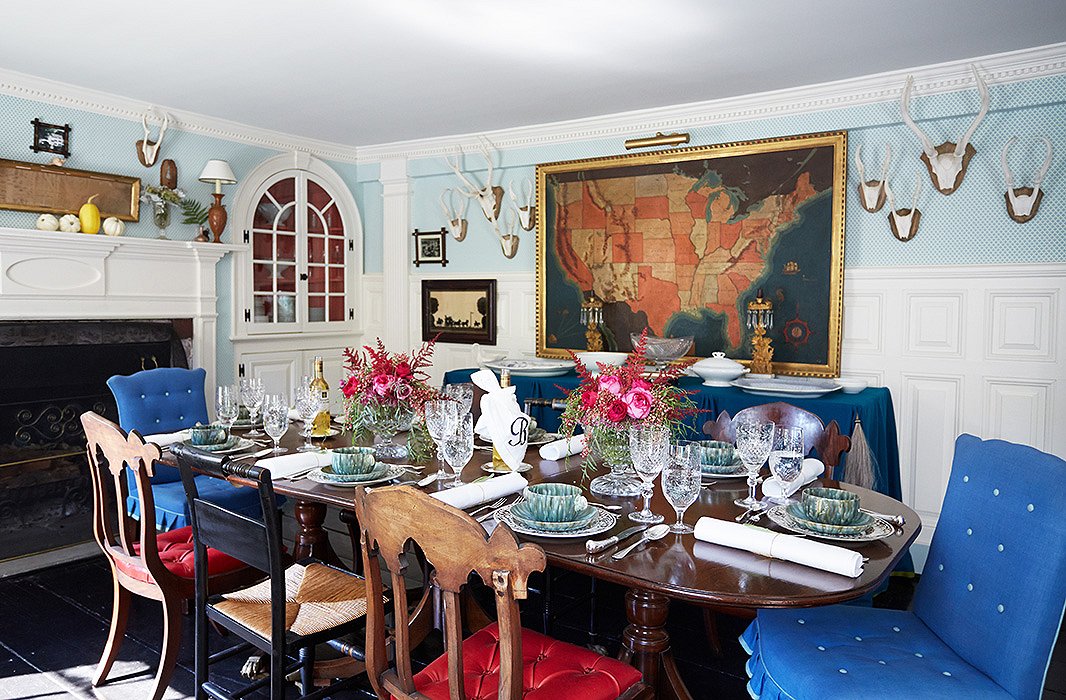 Jeffrey Bilhuber's Historic Charm
The dining room of designer and master entertainer Jeffrey Bilhuber is exactly as you would imagine it: immaculately appointed, perfectly suited for entertaining crowds both large and small, and brimming with his signature dose of heirloom furnishings, rich color, and Americana charm.
Idea to steal: Eschew the standard set of dining chairs for a mix-and-match collection, as Jeffrey does here. A pair of upholstered chairs at the ends of the table help unify the look.

Jane Scott Hodges's Refined Warmth
Luxury-linens maven Jane Scott Hodges outfitted the dining room of her New Orleans home in a rich plum grass-cloth wallpaper, an antique chandelier, and a multitude of traditional textiles. It's a formal yet approachable look—one perfectly befitting the consummate Southern hostess.

Idea to steal: Jane Scott cuts the formality of the space by pulling up a settee on one side of the table in lieu of chairs. "We're a little cozy," she says. "But for me, it's about taking it down a notch and remembering that it's about the experience for everybody else and not about appearances or perfection."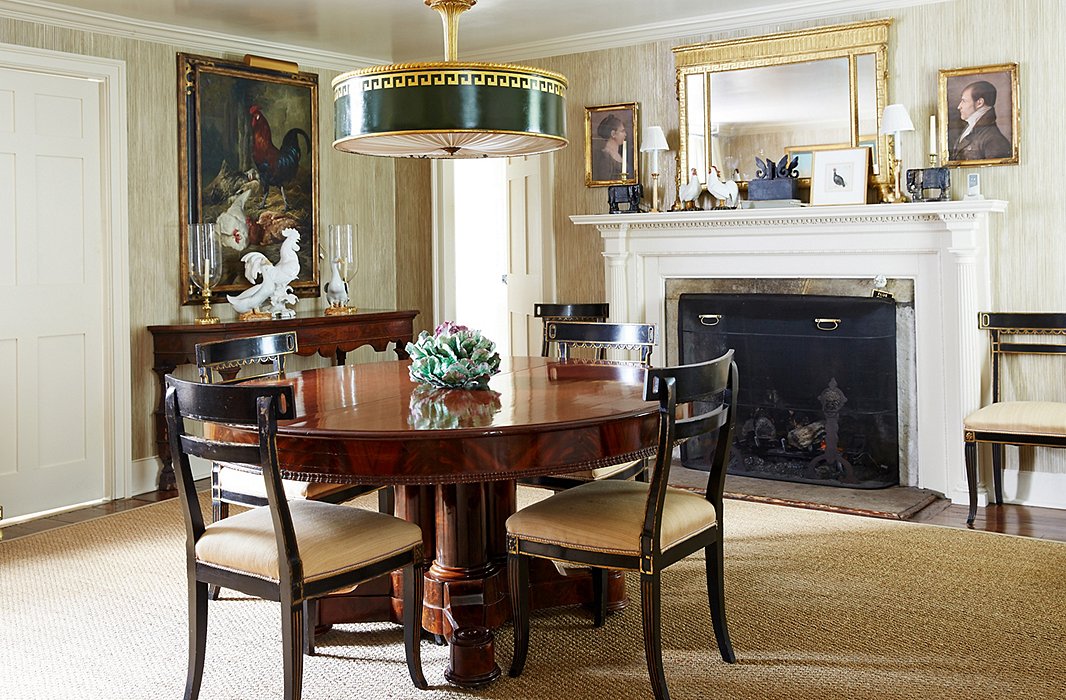 Bunny Williams's Classic Grace
Bunny Williams's dining room exudes everything she's celebrated for as a grande dame of American interior design: effortless elegance, inviting warmth, and style that transcends trends.

Idea to steal: If your dining room is square, try a round table instead of a rectangular one. It will complement the room's proportions and bring in an elegant curve, all while encouraging cozy conversation.
Hutton Wilkinson's Major Maximalism
As the protégé of Tony Duquette, Hutton Wilkinson is not one for small gestures when it comes to design. This ethos extends to the dining room of Hutton's L.A. home, which is—to say the very least—spectacularly outfitted, brimming with rich color and carefully curated antiques from around the world.
Idea to steal: Pick a theme and go all-out. Here, Hutton focused the design around Venetian (the chairs, the candlesticks, the paintings) and Chinese (the rug, the lacquer accents) antiques to give the space its lavish aplomb.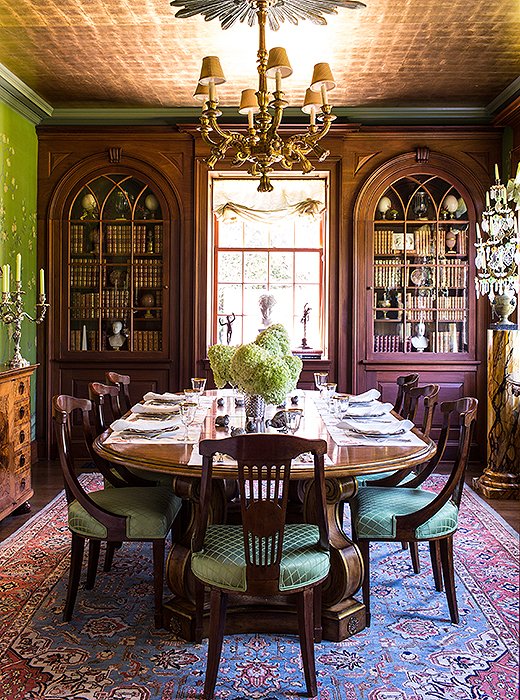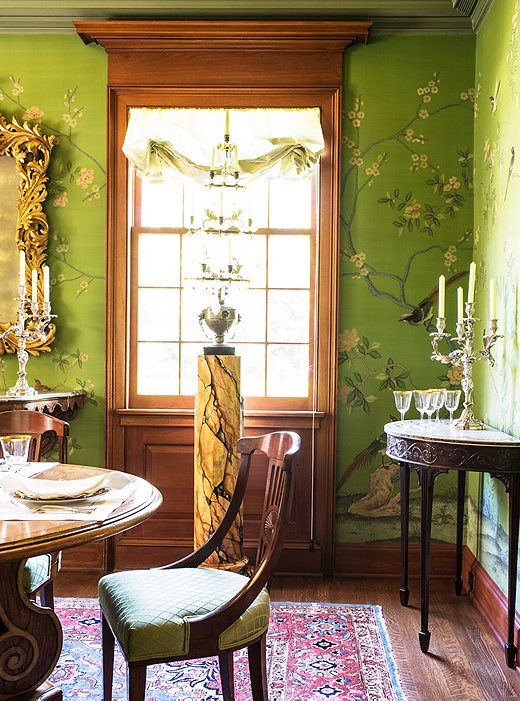 Timothy Corrigan's Dramatic Moment
Timothy Corrigan has a rule when it comes to the dining room: Go big and make a statement. "I feel that there are three rooms in a house where you can really go for broke and go for big drama: the entrance hall, a formal dining room, and a powder room," the designer says. "The thing that they all have in common is that none of those are rooms that you stay in that long. I don't find high-drama rooms, for the most part, that comfortable to live in over a sustained period of time, but in those three rooms, you can make a big statement."
Idea to steal: Dishes and serveware aren't the only accessories that can live in a dining room. Outfit yours with books to bring a collected, literary sense to the space—the perfect setting for a convivial dinner party among friends.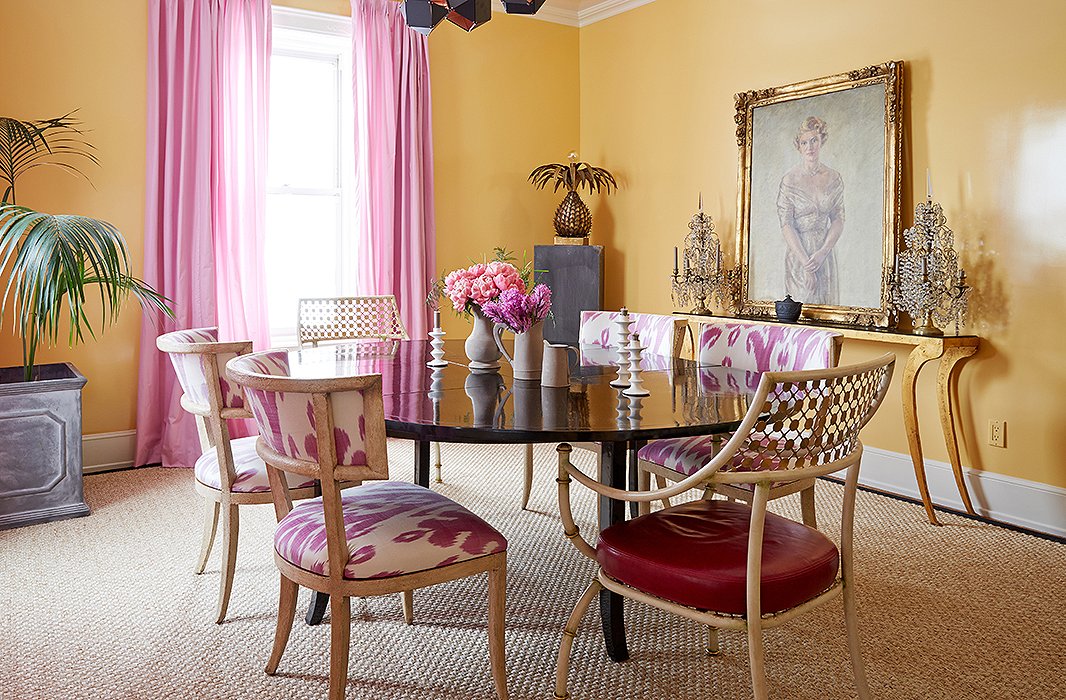 Amanda Nisbet's Ladylike Glamour
"I just don't think that any colors don't go together," proclaims designer Amanda Nisbet. "There isn't a color I don't like." This fearless philosophy is expertly displayed in Amanda's own dining room, where bold hues are paired with glamorous gilded accents to create a space that feels both fashionable and fun.
Idea to steal: Follow Amanda's lead by going bold with your color pairings in the dining room. Since it's not a space you'll use every day, it's the perfect place to push the envelope.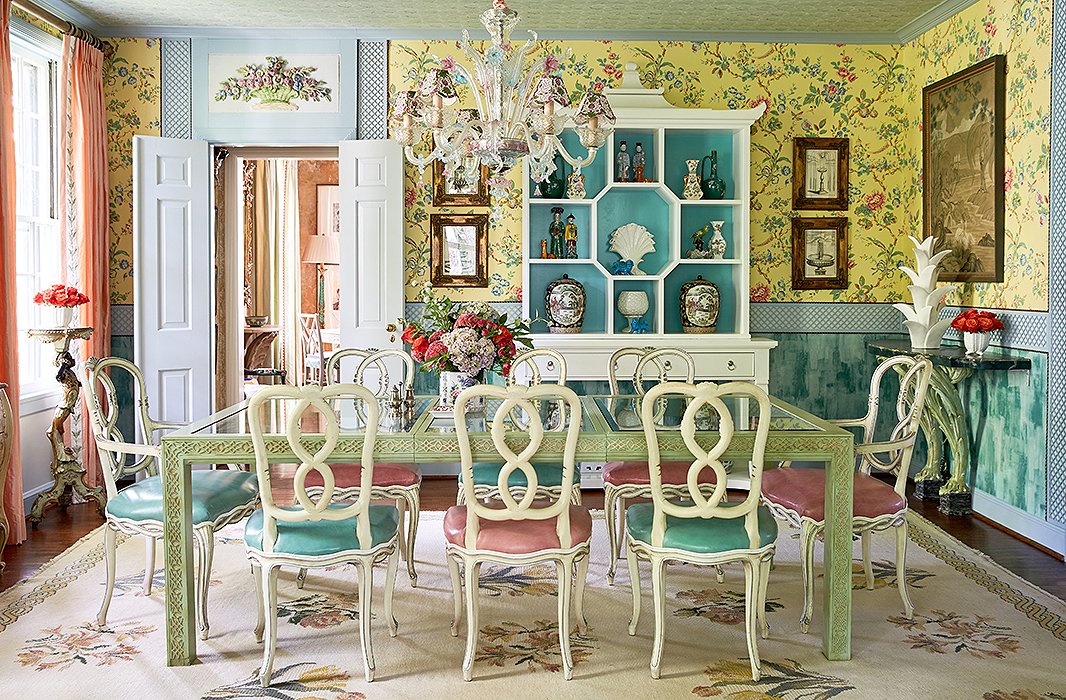 Madcap Cottage's Patterned Panache
Jason Oliver Nixon and John Loecke, the duo behind design firm Madcap Cottage, are true pros when it comes to decorating with pattern. Case in point: their ebullient dining room, outfitted in five prints to create a look that feels high-spirited—and yes, a little madcap.
Idea to steal: Don't be afraid to go big—really big—when it comes to pattern. The trick to making it work is sticking with a core palette of three or four colors that weave a thread of continuity throughout.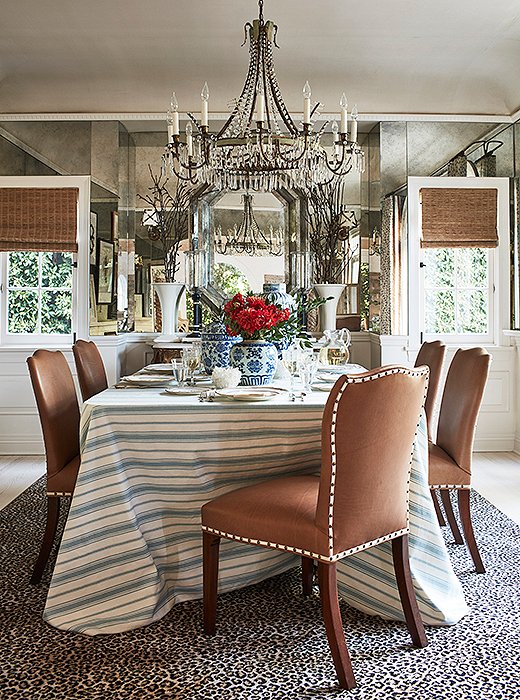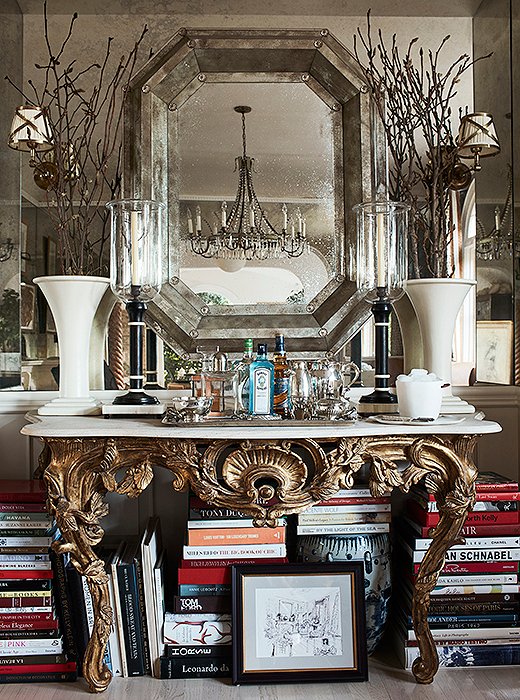 Mark D. Sikes's New Take on Tradition
Mark D. Sikes doesn't do a lot of formal entertaining in his dining room, instead using it as a place to sit and get work done. And it's quite the inspiring space to be productive, designed in Mark's signature new-traditional look: a blue, white, and neutral palette, polished furnishings, and character-rich antiques. (And if he does decide to entertain, the space is certainly more than capable!)
Idea to steal: Maximize the light in your dining room by lining the walls with mirrors, which will bounce sunlight into the space during the day and play up the candlelit drama at night.