Eva on her citrus cupcakes:
"Kumquats are an often-overlooked winter citrus. They are about the same size as a large grape, but they pack a mightier flavor than their petite appearance would suggest. Unlike most other citrus fruits, the kumquat's peel is incredibly sweet, while the interior fruit is a perfect sour counterpoint, so I wanted to celebrate both attributes of the fruit. For this recipe, both the peel and the juice are incorporated into the cake, while just the juice is incorporated into the icing to add some tartness to this otherwise sweet dessert, creating the perfect harmony of flavors."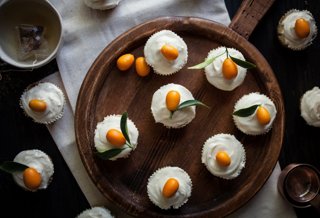 Makes 1 dozen cupcakes
Ingredients:

Kumquat Cupcakes:
1 1/2 cups King Arthur Unbleached All-Purpose Flour
1/2 teaspoon salt
1/4 teaspoon ground ginger
2 teaspoons baking powder
3/4 cup unsalted butter, at room temperature
3/4 cup sugar
1/4 cup milk
1 tablespoon finely chopped kumquat peel
2 tablespoons fresh kumquat or orange juice
1/2 teaspoon vanilla extract
3 large eggs
1 dozen kumquats (optional garnish)
Citrus Cream Cheese Icing:
1/2 cup butter
6 ounces cream cheese
2 and 2/3 cups powdered sugar
1/2 teaspoon vanilla extract
1 teaspoon vanilla bean paste
pinch of salt
1 tablespoon heavy cream
1 tablespoon kumquat or orange juice
Begin by making the cupcakes. In a large bowl, mix together the flour, salt, ginger, and baking powder until blended. Set aside. In the bowl of an electric mixer fitted with the paddle attachment, cream together the butter and the sugar until smooth and fluffy. Add the milk, kumquat peel, juice, vanilla extract, and the eggs, one at a time, until well blended. Add the flour mixture, and continue mixing until the flour is just incorporated.
Preheat the oven to 375 degrees Fahrenheit. Evenly distribute the batter in a muffin pan lined with cupcake liners, filling each liner about ¾ full with batter. Place the pan in the oven, and bake for 15-20 minutes or until the tops of the cupcakes have a slight golden tint and a toothpick inserted into the center of a cupcake comes out clean. Remove and allow to cool to room temperature
While the cupcakes are cooling, you can prepare the icing. In the bowl of an electric mixer fitted with the paddle attachment, cream together the butter and cream cheese until smooth. Add the powdered sugar, vanilla extract, vanilla bean paste, and salt. Continue mixing until smooth, then add the cream and the juice. Beat until the liquids are fully incorporated and the icing is fluffy, about 4 minutes at medium-high speed.
When the cupcakes have cooled, use a spatula to spread the icing over the top of each cupcake, and garnish with a kumquat. Serve immediately.

We'd like to extend a huge thank-you to Eva for sharing her delicious recipe with us! See more of her stunning photography and exclusive recipes on her blog, Adventures in Cooking.
Shop Stylish Baking Basics