Whether you're a casual hostess or an all-out party planner, it never hurts to have some expert knowledge at your fingertips. Here, we're tackling the endlessly varied world of flatware: from basic sets to obscure (but utterly fabulous) vintage designs. While a multicourse dinner may not be on your agenda anytime soon, you can still appreciate the beauty of these highly specified designs—and impress everyone when you distinguish a lemon fork from a tomato server.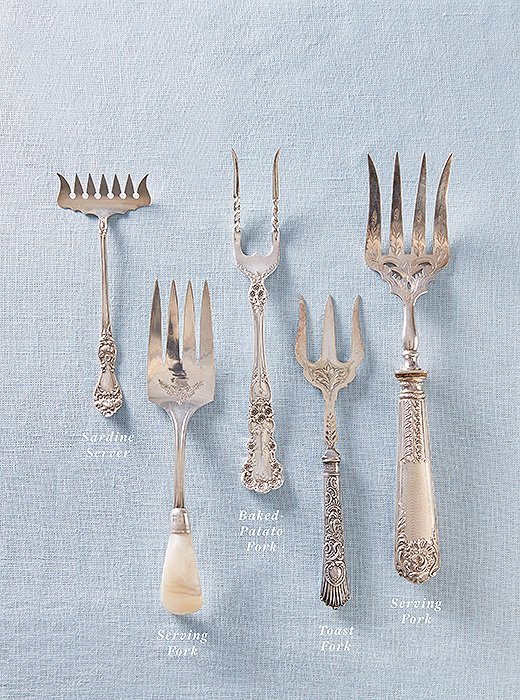 The Large Serving Forks
Sardine Server: Features short, wide tines ideal for serving sardines, anchovies, and other small bites.
Serving Fork: Think of this as your dinner party workhorse: an all-purpose piece that can be used for serving everything from sliced meats to roasted vegetables.
Baked Potato Fork: Makes lifting and serving hot potatoes feel downright fancy.
Toast Fork: Its wide prongs function to pierce and serve toast—but we won't tell if you use it for something else (DIY place-card holder?).

Serving Fork: You'll never regret doubling up on these versatile pieces. Featuring an intricately adorned handle and a stunning pierced design, this example would make an artful addition to your entertaining arsenal.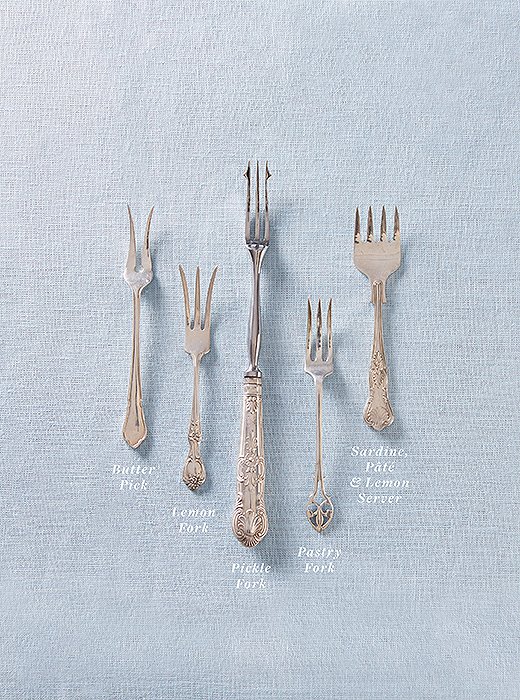 The Small Serving Forks
Butter Pick: Just the right size for piercing and serving pats of butter (a trick guaranteed to wow at your next dinner party).

Lemon Fork: Roughly the size of a salad fork, this piece is designed to serve wedges of lemon or any other small garnish. Station a few of these at your bar to let guests craft next-level cocktails.

Pickle Fork:Place this piece alongside a charcuterie board to serve up cornichons and small pickled veggies.
Pastry Fork: More delicate than its dinner-fork counterpart, this piece is also known as a pie fork. Its three tines make it perfect for cutting into airy desserts.
Sardine, Pâté, and Lemon Server: An all-purpose fork that effectively serves any small morsel, from preserved fish to slices of citrus for drinks (just not at the same time, of course!).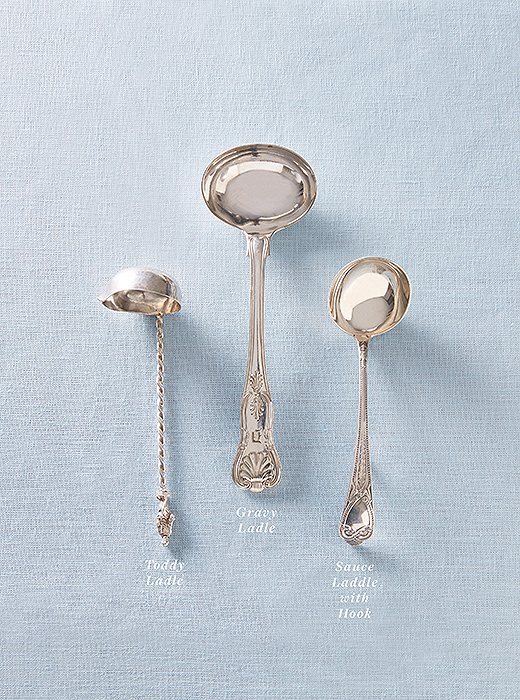 The Ladles
Toddy Ladle: Originally designed for hot toddies, this piece is ideal for serving any type of festive punch.

Gravy Ladle: Your standard, medium-sized ladle: a Thanksgiving standby.

Sauce Ladle: Appropriate for serving all types of sauces, from creams to au jus, this particular style features a hook beneath the handle that helps the spoon rest upright.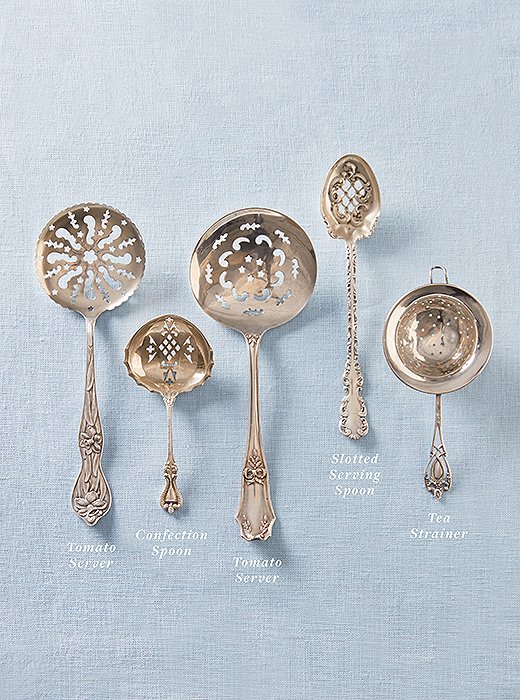 The Large Serving Spoons
Tomato Server: Features a large, flat bowl ideal for straining and serving tomatoes. Art Deco adornment adds flair to the piece on the far left, while the middle example boasts a more traditional design.

Confection Spoon: Used to sift powdered sugar over desserts and fruits; makes a pancake breakfast feel instantly sophisticated.

Slotted Serving Spoon: Ideal for serving casseroles, vegetables, and anything else that needs to be drained before plating.
Tea Strainer: Designed to rest on top of a pot or mug of tea—and certain to lend an air of refinement to your afternoon cuppa.