From Art Nouveau brooches to Edwardian gold pieces, vintage jewelry is cloaked in history and intrigue. Each piece has a story that follows it across decades, countries, and wearers. Destiny shows its hand when a vintage piece finds its way to a new owner. 
There are numerous things to consider when purchasing a piece of vintage jewelry—everything from the piece's provenance to its physical appearance. Buying quality vintage pieces requires a trained eye. Sophie Jane, founder of Sophie Jane Jewels, grew up around all kinds of antiques as a kid exploring her father's antiques warehouse in Australia. When she wasn't looking at the furniture and decor, she was admiring the style of two women who worked with her father, Pat and Jean. "They were always dressed to the nines and dripping in jewelry," she says. That was when she fell in love with vintage and antique baubles. 
Sophie's love of jewelry and antiques acumen helped when, in 2001, she left her corporate job to start selling her collection of vintage jewelry. She jumped into the unknown that was early aughts ecommerce and never looked back. 
Determining Value
The setting and the quality of pieces are the two most important things to look for when buying, according to Sophie. Buyers will bring tool kits to determine whether the stones are precious or imitation and to test the determine if a piece is too delicate for daily use. Buyers also weigh pieces to determine their worth. (Lucky for you, our selection of vintage jewelry has already been through these steps.) 
Another major factor in the value of a piece is where it falls on a jeweler's timeline. Different jewelers have different definitions for what makes a piece antique or vintage. A good rule of thumb is that antique pieces are more than 100 years old and vintage pieces are from the past 50-100 years; collectors typically refer to post-1960s jewelry as retro. Pieces that fall on the cusp of these delineations, like those from the Art Deco era, can be labeled either vintage or antique. Estate jewelry simply means that the piece was previously owned . Often, these pieces can be traced to a direct former owner, living or dead.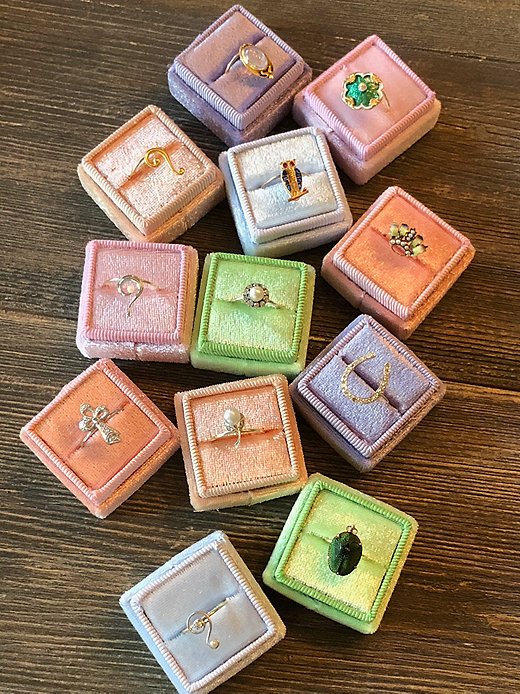 Style Guide
Knowing the difference between what is considered antique versus vintage helps determine what you're attracted to. Do you lean more toward Edwardian or Art Nouveau? Brushing up on these periods is a great way to build a vocabulary so you know what styles to look for when shopping.
Style should dictate every purchase, according to Sophie. From Art Deco rings to Victorian coral chokers, vintage and antique jewelry can appeal to multiple aesthetics. Brand-aware shoppers might even find shopping vintage a better way to collect pieces from favorite brands such as Cartier and Tiffany & Co. without breaking the bank. "It doesn't have to be expensive," says Sophie. She tries to keep most pieces around $1,000.
The beauty of vintage jewelry is its ability to work and fit in across eras. A signet ring from 1932 pairs easily with a cool leather jacket and moto boots. A pair of 18th-century Iberian earrings pair as easily with a white T-shirt as they do an evening gown. The bottom line is, let your vintage jewelry choices be guided by what you like. Often you'll find dynamic pieces that no one else will have and you'll own a little piece of history.