Ikat, kilim, shibori, suzani: The gorgeous global textiles you know and love have an equally alluring backstory, full of rich history and tradition, that gives us a glimpse into the lives of the fascinating cultures that created them. Many of these pieces are works of art, created with techniques carefully honed over centuries by skilled craftspeople. Below, discover the story behind these textiles and their continuing influence on design today.
Moroccan Berber Textiles
Provenance: northern Africa
History lesson: The Berbers are a group of tribes dating back to 10000 BCE, living predominantly in the High Atlas Mountains of Morocco and leading a largely nomadic lifestyle. Textiles, typically made by the mothers in families, are meant to serve both as decoration in the home and as wares to sell in souks. Many textile types hold a special meaning to the Berbers, such as the Moroccan wedding blanket, which is sewn by a bride's female relatives to bring good luck to the marriage.
Design details: Authentic Berber textiles are handwoven, typically in wool, and encompass a number of styles that vary by tribe. Common details include geometric motifs such as stars and diamonds, stripes, fringe, metal sequins, and delicate hand-embroidery—in either a riot of colors or a more subdued cream palette. 
Aside from pillows, these textiles can be found on poufs, blankets, and rugs. They add a wonderfully unique hint of texture and personality to a space.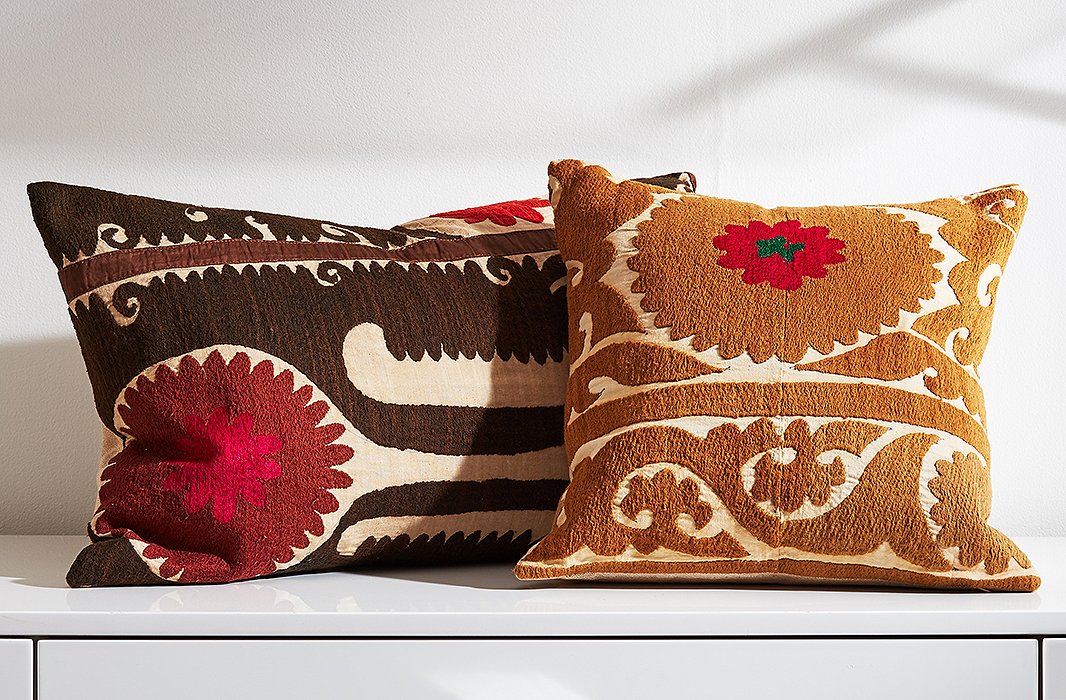 Suzani
Provenance: Uzbekistan and the surrounding Central Asian countries
History lesson: Suzanis, a type of embroidered tribal textile, were traditionally made by brides or members of her family as part of a wedding dowry. By some estimates, the earliest suzani dates back to the 15th century. The word originates from the Persian word suzan, meaning "needle." Because their birthplace was near the Silk Road, suzanis are believed to have influenced textile design in eastern Asia and Europe, particularly English Jacobian embroidery, as a result of trade.
Design details: Traditionally suzanis were used as tapestries or blankets, although their designs have been translated to pillows and rugs as well. It is thought that women in Central Asia created suzanis to bring beauty to their surroundings, stitching floral motifs to mimic flowers and plants and give life to the barren desert scenery. Medallions, most often made up of flowers, are the most common design, although motifs from ancient iconography, including suns, moons, stars, and pomegranates, also appear. Making a suzani is a time-consuming process: Creating the intricate stitches, some fine and flat, some more three-dimensional in appearance, requires a high level of technical prowess.

Today suzanis are a decorator favorite for their ability to complement traditional and bohemian spaces alike.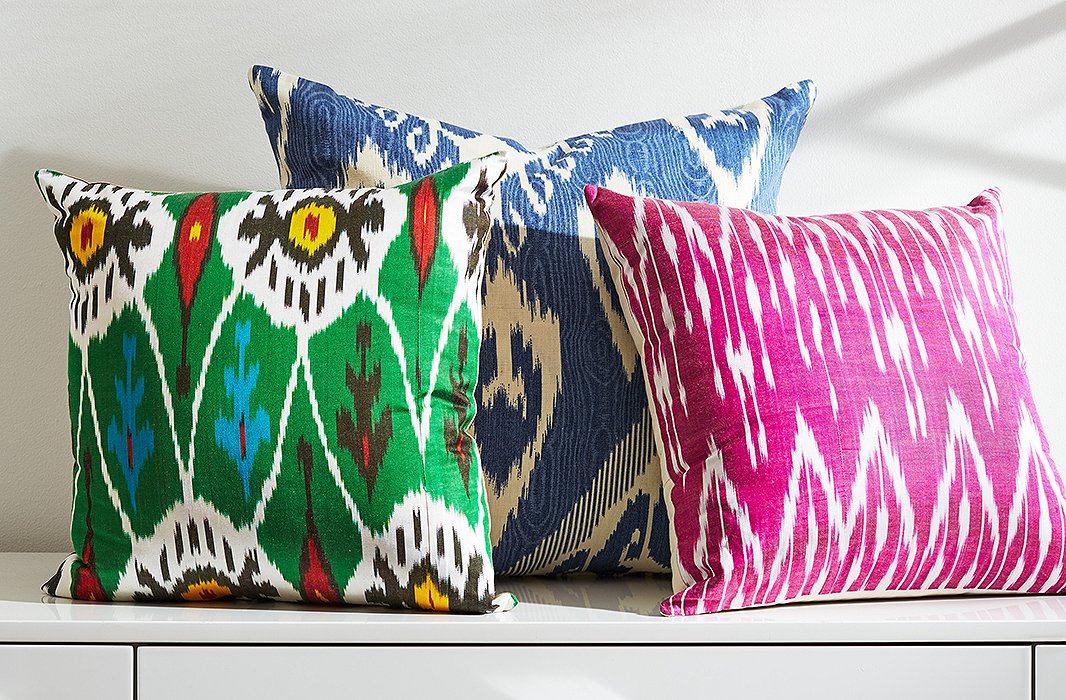 Ikat
Provenance: multiple cultures, but most notably those of Japan, Uzbekistan, and Peru
History lesson: Ikat patterns hail from all over the world, appearing to be independently developed beginning in the Dark Ages by cultures in Southeast Asia, South America, and the Middle East. The origins of ikat are difficult to track, since textiles don't hold up well to the test of time. The phrase itself comes from a Malaysian word, mengikat, which translates as "to tie."
Design details: Ikat is essentially a fancy version of tie-dying. What makes it different—and makes it very difficult to create—is that the threads are dyed before they're woven together. Loose threads are tied into bundles, which dictates exactly where the dye is absorbed. After that, the threads are woven together to create the fabric. The more colors in a fabric, the more complicated and time-consuming it is to weave. As a result, some patterns are more precise and some have more blurred edges. While the sharper designs were given higher merit in the past due to the technical expertise required to line up the threads just so, a slight blurriness has become a hallmark of ikat prints.
Today ikat is found widely across the worlds of fashion and interiors. Dresses, shoes, pillows, rugs—nearly any item can be given a global spin with the lively motif.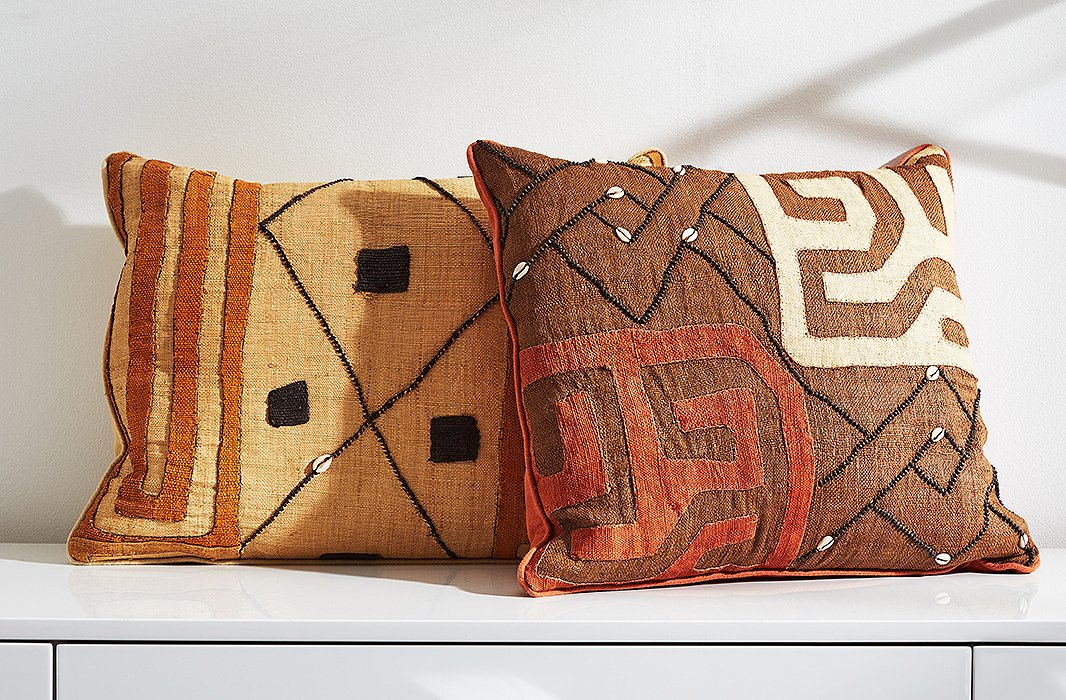 Kuba Cloth
Provenance: the Democratic Republic of the Congo
History lesson: Named for the Kuba people, Kuba cloth dates back to at least the 1600s and is used in religious ceremonies, most often as skirts and overskirts. The process to create the fabric is labor-intensive; it can take up to a month to make a single square. Typically all members of the family are involved in its creation, beginning with the fathers weaving the cloth from raffia palms in the ancient African tradition. Women then transform the raw textiles into wearable fashions, baskets, and other goods.
Design details: Kuba cloth is full of surprises and can be either bold or plain, ordered or asymmetrical. Embroidery, appliqué, patchwork, and dyeing are all used to decorate the raffia fabric, with some embroidery patterns passed down through generations. The geometric motifs are said to have influenced artists including Picasso and Matisse.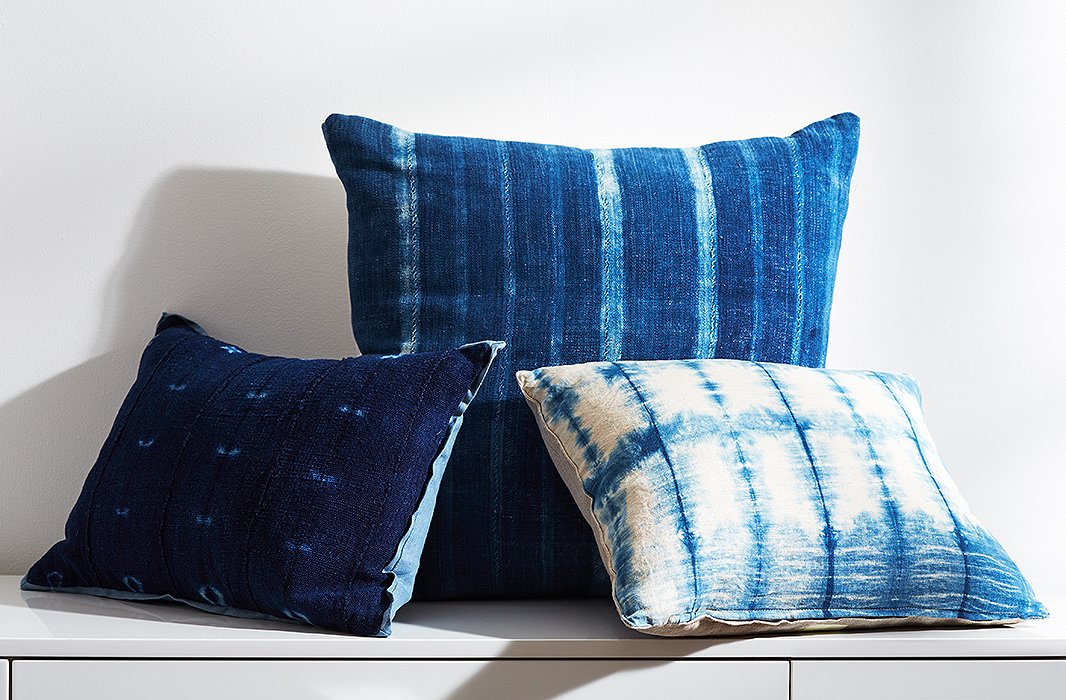 Shibori
Provenance: Japan
History lesson: Shibori is one of Japan's oldest dyeing techniques, dating back to the eighth century and using indigo to achieve a deep-blue tie-dye pattern. It is thought to have been developed by the country's poor, who couldn't afford luxurious silks and thus sought out an alternative way to enhance their dress. Eventually shibori became an art form: Becoming a true indigo craftsman required a five-year apprenticeship under a master. The word originates from the verb shiboru, meaning "to wring, squeeze, or press."
Design details: Shibori is created using processes that depend on the type of fabric being used and the pattern desired. Artisans bind, stitch, fold, twist, and knot the cloth in various combinations to achieve a certain pattern, whether intricate and elaborate or simple and subdued. While the process is precise, there is a great deal of importance placed on achieving a "perfectly imperfect" look, embracing the bleeding nature of the dye.
Shibori has swept the design world in recent years and is now found on everything from pillows to furniture to even lamps.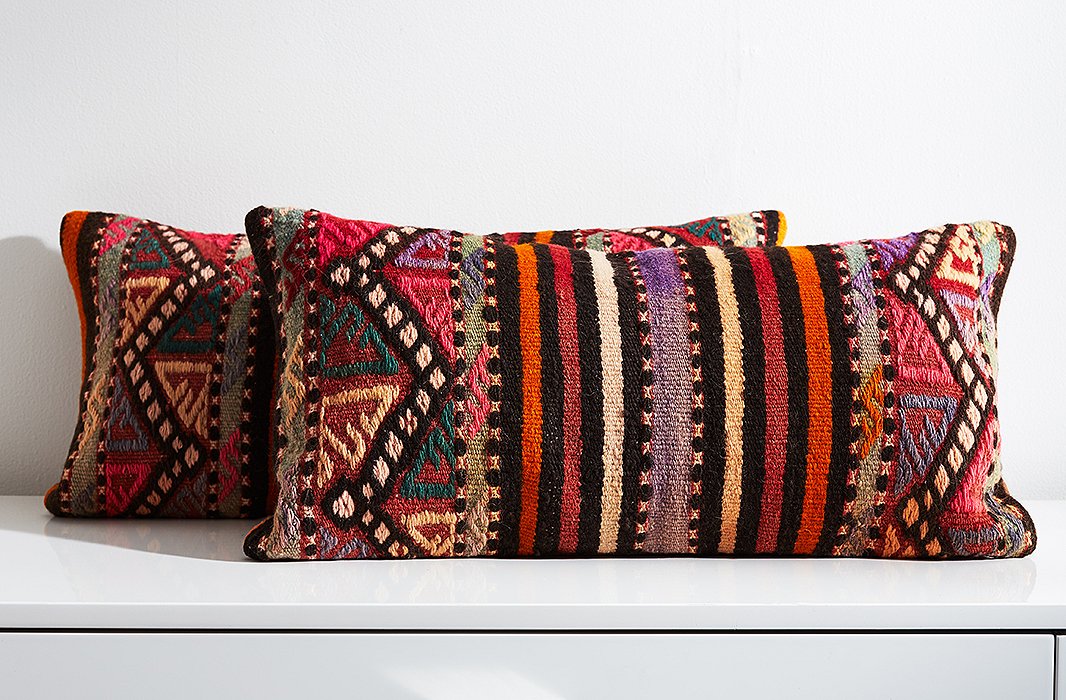 Kilim
Provenance: the Middle East and Central Asia
History lesson: Kilim rugs and textiles are produced across a wide area, from the Balkans to Pakistan, and are used as interior decoration and in religious ceremonies as prayer rugs. Their original provenance is debated, but most agree that kilims first came out of Central Asia in ancient times—though currently the most popular designs hail from Turkey.
Design details: Kilims are typically made from wool and woven on a loom, producing a flat-weave cloth with no pile. They come in a seemingly endless variety of colors and designs, though geometric motifs are generally the guiding theme—in part because the weaving technique used, known as slit weave, lends itself to the creation of sharp patterns.
In the past decade, kilims have seen a major resurgence, thanks to the popularity of the bohemian-eclectic look. While often used as rugs, they're also used as upholstery or turned into pillow covers.