Blood oranges are a favorite food of mine, for eating as a quick snack, as a bright accent within a salad, or for enchanting friends atop an almond olive-oil cake. Their juicy flavor is slightly sweeter and less acidic than that of other citrus, making them a perfect fit for desserts or cocktails. This dessert can be pulled together in less than 30 minutes, and it incorporates a lot of pantry staples like good olive oil and honey. It's a true crowd-pleaser, and best of all, it's gluten free, so friends with a gluten allergy can partake in a slice or two.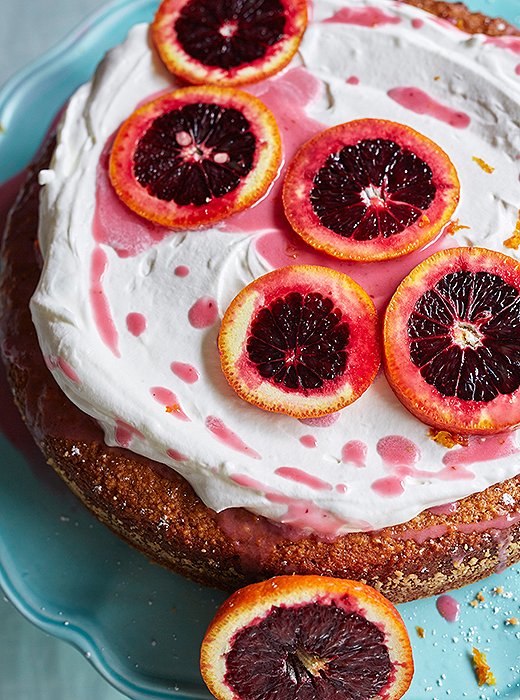 Blood Orange Almond Cake with Zesty Glaze and Whipped Cream
Serves 8
Ingredients:
For the cake:
4 cups almond meal, plus a little more for dusting the pan
1 teaspoon baking powder
½ teaspoon baking soda
½ teaspoon fine sea salt
½ cup olive oil, plus a little more for greasing pan
½ cup honey
3 large eggs
1 teaspoon vanilla extract
2 teaspoons blood orange zest
1 blood orange, sliced into ¼" rounds (optional garnish)
For the glaze:
1 cup sifted powdered sugar
3 tablespoons blood orange juice
2 tablespoons milk
1 teaspoon orange zest
pinch of salt
For the cream:
3/4 cup heavy cream
1/3 cup Greek yogurt
2 tablespoons sugar
1 teaspoon vanilla extract
pinch of salt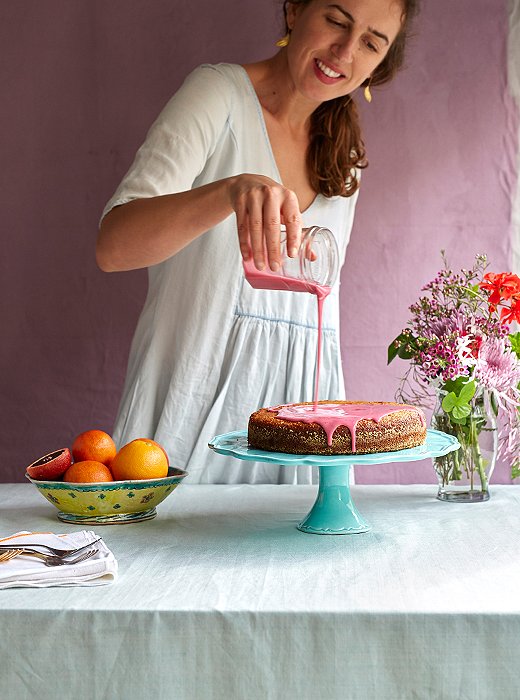 Directions:
Preheat oven to 350°F. Generously grease and coat an 8-inch spring-form pan with olive oil and almond meal. In a large bowl, whisk together the almond flour, baking powder, baking soda, and salt. In a medium bowl, whisk the olive oil, honey, eggs, vanilla, and orange zest until fully combined. Pour the wet ingredients into dry, and whisk until mixture is evenly incorporated. Add the batter to the prepared pan and bake for 30 minutes, until it's deep golden brown; when a toothpick is inserted in the center of the cake, it should come out clean. Allow to cool in pan for 5 minutes, then remove from pan and allow to finish cooling on a wire rack.
When ready to serve:
Make the glaze by whisking together the sifted powdered sugar, blood orange juice, milk, orange zest, and pinch of salt. Gently poke a few holes in the cake with a toothpick, pour glaze evenly over top (you'll have a little extra, which you can reserve for the top), and allow to sit for about 10-20 minutes before serving.
Whip the cream in an electric mixer until medium peaks form. Add yogurt, sugar, vanilla, and salt. Continue to beat on high speed until stiff peaks are formed.
Assemble the cake:
Top the glazed cake with a generous dollop of whipped topping; you might have a little extra for serving. Pour any remaining glaze you may have left over on top of the whipped cream topping, place about 5 orange slices on top, and serve immediately. The cake will keep, covered in the fridge, for about 3 days.
Related: Leela's Guide to the Brunch-Club Entertaining Trend
A huge thank-you to Leela for sharing her delicious recipe with us! See more of her photography and recipes on Tea Cup Tea.