Summer is the season for cocktail hour. Warmer temperatures, sun in the sky well past eight, and friends with laxer schedules make a refreshing sip of an ice-cold something taste all the more sweet. With that in mind, stylist Michelle Wong pulled together all the elements needed for a tropical cocktail get-together fit for your nearest and dearest. Inspired by the Bahamian getaway of India Hicks, she created an indoor scene with all the best parts of a far-flung Caribbean isle (and without one stamp on her well-worn passport). Palm fronds, a parrot, fresh fruit, and a bit of tequila are just a few things that make up her inventive mix of food, drink, and easy breezy decor. Find what she did and how you can too, below.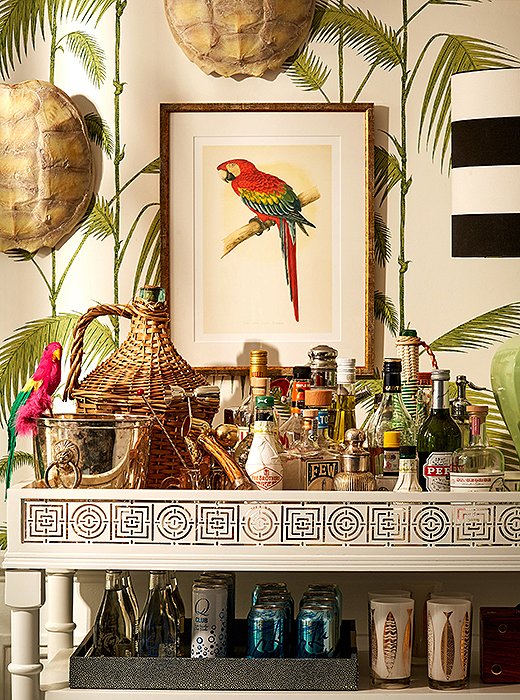 Decor, Island Style
---
When we think of the tropics, we think palm fronds, tons of color, and maybe the distant call of an exotic bird," says Michelle, "so I wanted to find a way to bring those different things into the decor." With a clear point of view and her signature sense of humor, she transformed a white bar cart into a flair-filled stage. A pink parrot perched on a silver champagne bucket mirrors the print on the wall behind, creating a vibrant vignette when paired with the palm-leaf paper behind.
Serve
---
 "When it's hot, people usually prefer to eat light," says Michelle, which is why she chose to serve a pineapple salsa using some of summer's best produce. Tangy, sweet, and a little salty, it's one of those dishes perfect to munch on all evening long, pairing perfectly with her refreshing margarita recipe below.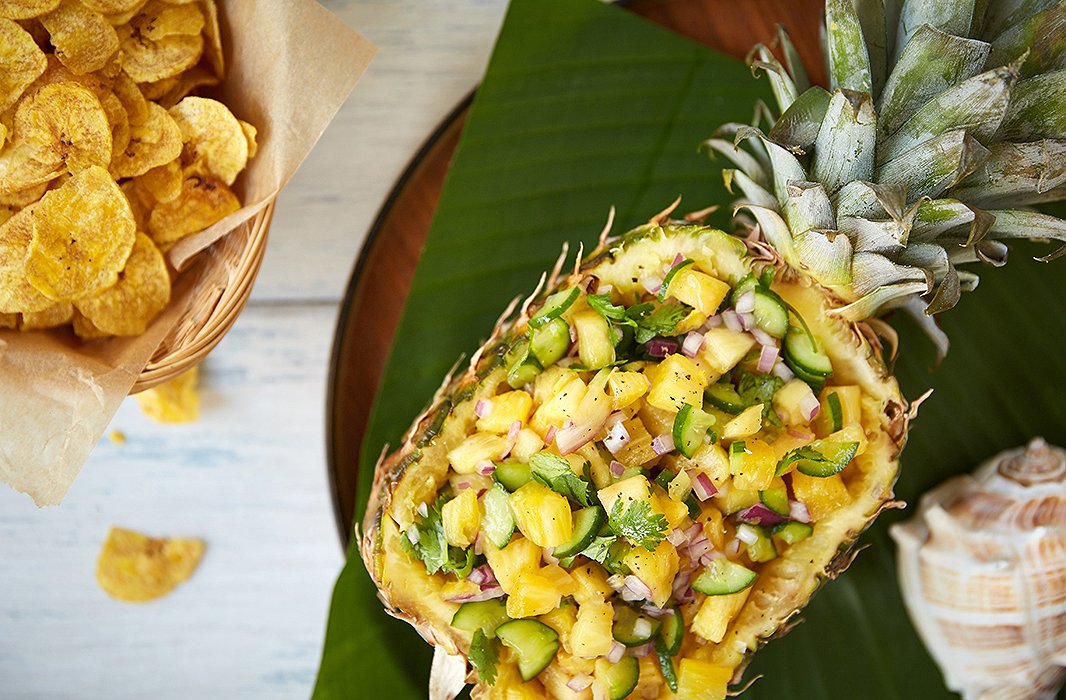 Pineapple Salsa
---
Ingredients:
1 cup fresh pineapple diced into ¼-inch chunks
1/2 cup Persian cucumbers, quartered and thinly sliced
1/2 cup diced red onion
3 tablespoons chopped cilantro
1/2 teaspoon cumin
Juice from 1 lime
Salt and pepper
Preparation:
Create the bowl by laying the pineapple horizontal and slicing off about a third of the body to create the opening, leaving the stem attached. Cut around the outer edge of the pineapple fruit (about ¼ inch), slice the middle section horizontally then vertically, scoop out the middle portion into a medium bowl, and set aside.  
In the medium bowl, add the Persian cucumbers, red onion, cilantro, and cumin. Add lime juice over the top and salt and pepper to taste.
Transfer the salsa to the pineapple bowl. Serve with plantain or tortilla chips.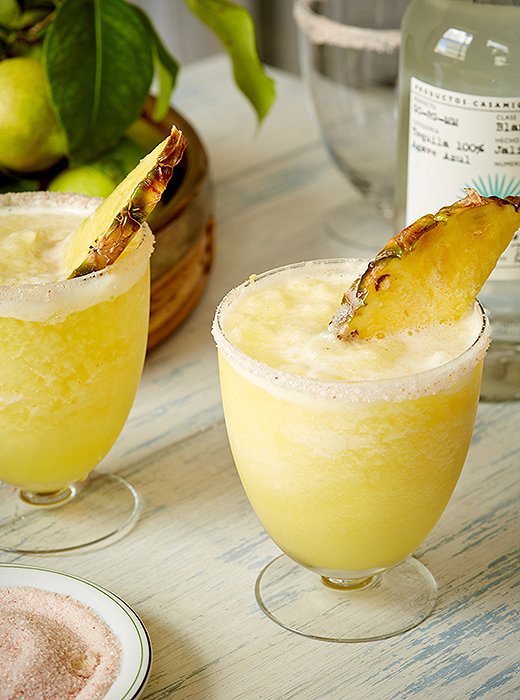 Frozen Pineapple Margarita 
---
Ingredients:
Pink Himalayan salt for glass rim
1/2 cup fresh pineapple pieces
1/2 cup coconut water
1/2 cup ice
2 oz tequila
Preparation:
Dampen rims of glasses, then dip into a shallow dish filled with Himalayan salt.
In a blender, add pineapple chunks and coconut water. Blend for one minute. Add ice and blend until smooth.  Add tequila and blend for 10 more seconds.
Garnish with a wedge of pineapple.  Serve immediately.
Sip
---
Legend has it that the margarita was created in 1938 by Danny Herrera, a Tijuana-based restaurateur, for showgirl Marjorie King. Tequila was allegedly the only alcohol she wasn't allergic to, but she couldn't bear the taste. Herrera's solution? A little lime and a rim of salt. Here, Michelle takes his concoction a step further with the addition of pineapple and coconut water.