In his new book, I Love California, designer Nathan Turner offers up a multisensory tour of his home state. Born in the San Francisco Bay area, Nathan grew up toggling between the hustle of city life and the ease of his mother's family's cattle ranch near Stockton. He credits the dichotomy of these two places for his affection for (and understanding of) the California aesthetic. "It's comfortable and chic but super-laid-back," says Nathan of California style. "It's linen instead of heavy velvet, and it's delicious food without the fuss." Such a description manifests in the book's 239 pages, with images of colorful rooms ranging in style from farmhouse chic to contemporary by the sea alongside recipes inspired by memories of cooking with his great-grandmother Marion.
Below, we've rounded up some of our favorite rooms and recipes from I Love California (along with Nathan's California-inspired picks to shop), so you too can serve up a taste of the Golden State.
Laid-Back Layers
Rooms that make you want to put your feet up are a signature of California style. Above left, Nathan used layers of blue along with a mix of old and new to achieve just that kind of feel in his own Malibu home. Vintage fabric was used to upholster an armchair and stools for "a relaxed, perfectly worn-in look," he writes. On the sofa, mismatched pillows keep things casual yet pulled-together.

Farmhouse Chic
In Nathan's "Italian-American dining room" (above right), touches including floral wallpaper and a checked tablecloth pay homage to country living, while raffia-wrapped chairs and a classic ceiling medallion add a dose of cosmopolitan flair. To achieve a similar look, mix large- and small-scale patterns and go big on natural textures: linen upholstery, raffia accents, and sisal or jute for the floor.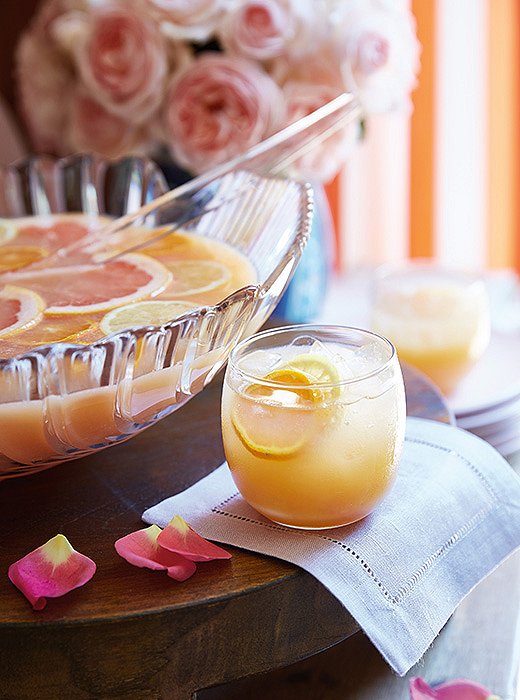 This is a super-refreshing, light drink to have at lunch. Don't wait until a special occasion.
Something to Sip
This citrus punch (p. 225) is a go-to for Nathan. The recipe below serves 12.
Ingredients:
1/2 gallon fresh-squeezed orange juice
1/2 gallon fresh-squeezed grapefruit juice
2 cups fresh-squeezed lemon juice
1/2 cup light agave syrup
1 liter sparkling water or seltzer
2 lemons, thinly sliced
2 small red grapefruit, thinly sliced
2 oranges or tangerines, thinly sliced
Ice, for serving
Directions:
Chill all ingredients well. In a large punch bowl, combine orange juice, grapefruit juice, lemon juice, and agave, and stir well to dissolve the syrup. Top with sparkling water before serving and stir gently. Garnish with lemons, grapefruit, and oranges and serve over ice.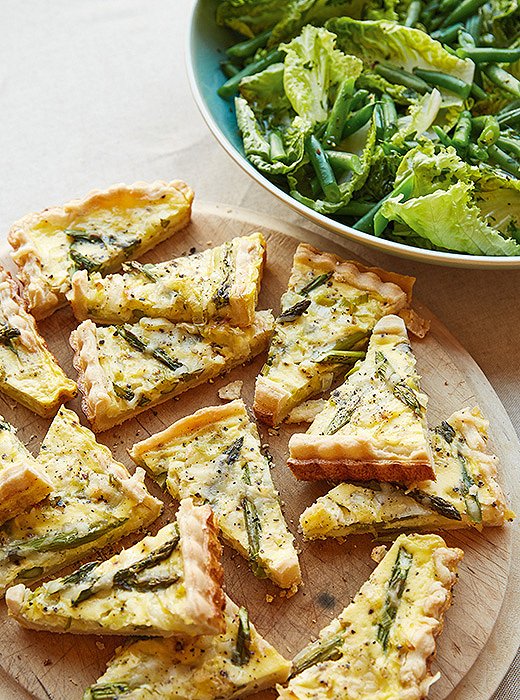 Full disclosure: I have been known to buy rollout piecrust dough. It is a huge time-saver, and no one will know.
Quiche, Quick and Easy
This asparagus-and-leek quiche (p. 227) takes only minutes if you use store-bought piecrust dough.
Ingredients:
1 store-bought piecrust, at room temperature
2 teaspoons olive oil
2 leeks, cleaned and sliced
2 cups asparagus, cut into 1-inch pieces
2 cups half-and-half
4 large eggs, beaten
1 teaspoon freshly grated lemon zest
1 teaspoon salt
1/2 teaspoon ground black pepper
1 1/2 cups shredded Gruyère
Directions:
Unroll piecrust to fit in a 9-inch round tart pan with
 a removable bottom. Press the crust into the sides. Line with parchment and pie weights and bake for 12 minutes. Let cool completely and remove parchment and weights.
In a large sauté pan, heat olive oil. Sauté leeks for 5 minutes over medium-high heat, until they begin to soften. Add asparagus and sauté for 5 minutes more. Set aside.
In a large bowl, whisk together half-and-half, eggs, zest, salt, and pepper.
To assemble the quiche, layer the bottom of the cooled crust with 1 cup of the cheese and then the vegetable mixture. Pour the cream mixture over the vegetables and sprinkle with the remaining cheese.
Bake for 30 minutes or until set in the center. Let cool and serve warm or at room temperature.