In our new video series, "A Visit With…," our favorite designers, tastemakers, and influencer friends stop in at One Kings Lane HQ to show us what they do best. Here, our senior partnerships manager (and vintage-jewelry aficionado) Ashley Homitz catches up with the inimitable design and fashion icon Iris Apfel to talk about her favorite jewelry pieces—and more. 
Iris Apfel needs no introduction. And at 95, the style star is busier than ever, jet-setting between fashion shows and photo shoots and teaming up on fashion collaborations high and low. So when the legendary doyenne came to us (for the third time!) about selling a small collection of her most prized costume jewelry pieces, we dropped everything—naturally.
Uncovered during her travels throughout the years—Iris and her husband, Carl, ran the famed textiles firm Old World Weavers, which took her to all corners of the world and had her working with everyone from Dorothy Draper to the Kennedys—the jewelry "are great conversation pieces," Iris tells Ashley. "There's one piece I especially feel terrible about losing. Well, somebody else will enjoy it. That's the way I have to think about it." Click play above to find out for yourself—and meet Iris's new best (plush) friend. Then read on for some of Iris's gems of jewelry—and life—wisdom.
If it [the jewelry] works and you like it, you can start to collect. Or get something else, or layer, or play around. You all have some innate creativity, so you should use it.
These are great conversation pieces. And for people who are dating, you'll be amazed: It's like bait.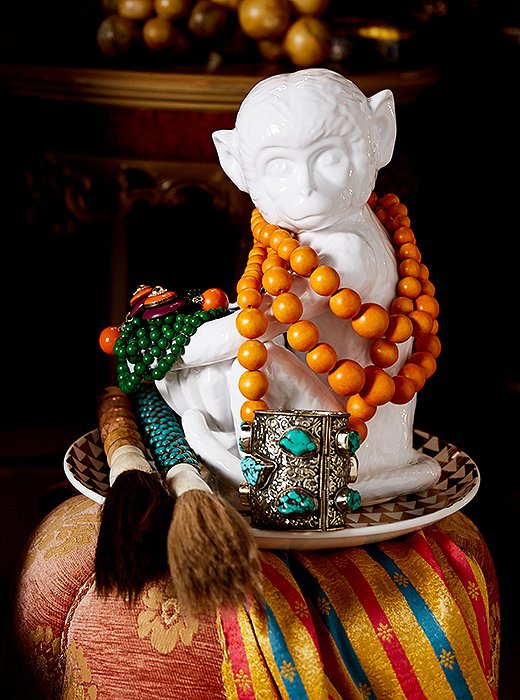 Many of [the pieces] came from traveling, and I just have an eye for this kind of stuff.
There's so much sameness in the world. And if people are not going to change their manner of dress, at least change your jewelry so you don't all look alike. Now that I've said my piece…