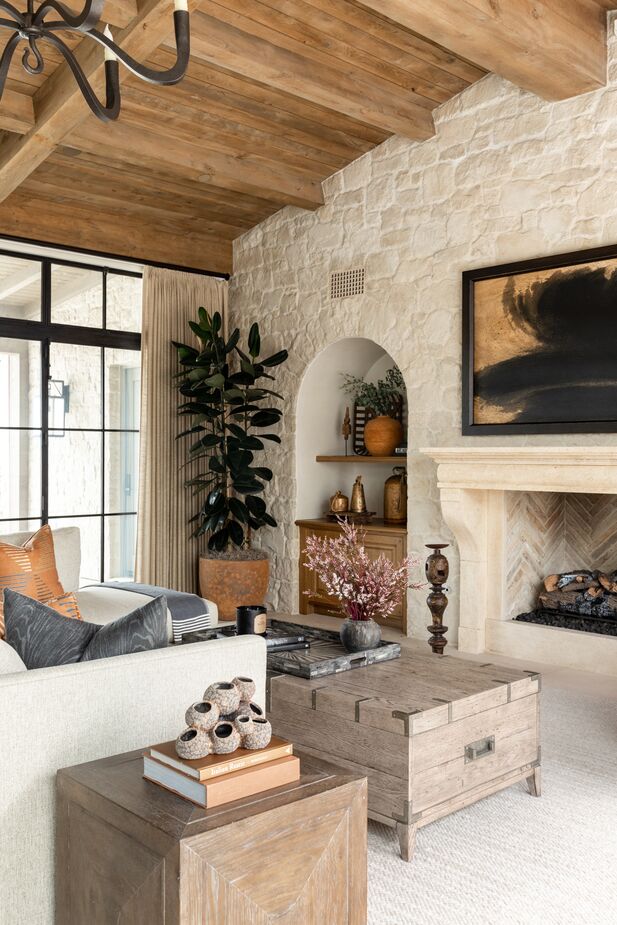 "Harboring the good life" is the motto of Dana Point, a small coastal city in Southern California. This new-build home exemplifies that ethos. Inspired by Mediterranean homes' graceful integration of indoor and outdoor spaces, Insert Design Studio, led by Majid Maleki and Jenna Schumacher, introduced stone-clad walls, limestone floors, and weathered-wood ceilings to create a sense of organic elegance and ease. 
And ease was just as important as elegance, given that the homeowners are a family with teenage boys and a Jack Russell terrier. You can envision the family sprawling out on the great room's sectional, the boys using the sturdy wood coffee table as a footrest, and the dog curling up on the custom tête-à-tête. The room, which encompasses the kitchen, was designed to promote togetherness, as were numerous other indoor and outdoor gathering spaces. At the same time, the home offers out-of-the-way nooks where people can escape for me time. 
This sense of balance—spaciousness and coziness, comfort and sophistication—is evident throughout the home. The great room's ocean-blue sectional pillows and tête-à-tête complement its otherwise earth-tone palette; the simple silhouettes of the dining table and chairs accentuate the intricate overlay of the room's coffered ceiling; a bathroom's traditional vintage floor runner offsets the sleek lines and glossy finish of the minimalist modern soaking tub. This home demonstrates that the good life is a beautifully balanced, harmonious one.