Bamboo, pale wood, muted palettes, and minimalist silhouettes are among the elements of Japanese style that have influenced interiors worldwide these past few years. They also gave rise to Japandi chic, which incorporates Scandinavian ease as well. 
Yet Japanese furnishings and art are much more diverse and colorful than the Japandi trend would have you believe. For proof, take a look at our edit of favorite Japanese antique and vintage finds, and read on to learn about wind walls, pictures of the floating world, and more.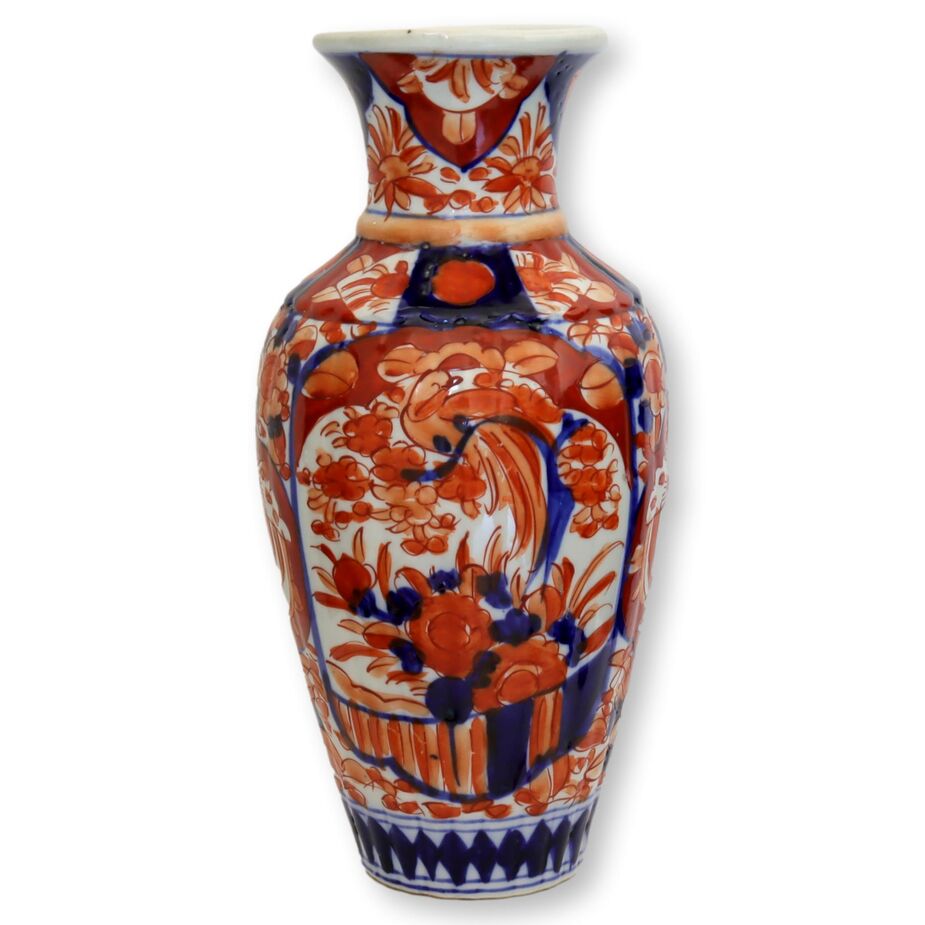 Imari ware
What we in the West call Imari ware began in the early 17th century as Arita ware, named for the Japanese town where the first ceramic potteries were established. Once the porcelain goods became popular in Europe, Westerners named them after the port from which they were exported, Imari.
Imari porcelain is most associated with lavish nature-inspired motifs rendered primarily in cobalt and dark coral or iron red. The earliest pieces, however, featured blue nature scenes on white and were said to have inspired Delftware. Other colors were introduced later, as was the application of gold. Designs became busier, with less of the white base visible among the decorations.
In some ways, Imari-yaki became a victim of its own success. Demand for the porcelain grew so fierce, European potteries such as Royal Crown Doulton and Meissen began replicating it. So did numerous Chinese makers. Some collectors prefer the Chinese versions, contending that the base tends to be whiter and the glaze more even.
Tansu
"Form follows function" was coined in the 19th century, but the Japanese mastered the concept centuries earlier. Case in point: the tansu. Developed in the 17th century, these portable cabinets are believed to have originally stored firewood and food but subsequently were used to hold everything from paperwork to clothing. While the stepped style of tansu, kaidan-dansu, is probably the best known in the States, these cabinets come in a variety of configurations. Each unit is likely to encompass drawers and cabinets in multiple sizes, providing maximum storage flexibility. They typically lack legs, though they may have wheels; they're also likely to feature iron hardware and be made of two types of wood: a "primary" wood such as beautifully figured and durable chestnut or elm on the exterior surfaces and a less expensive wood such as cedar or pine for the interior.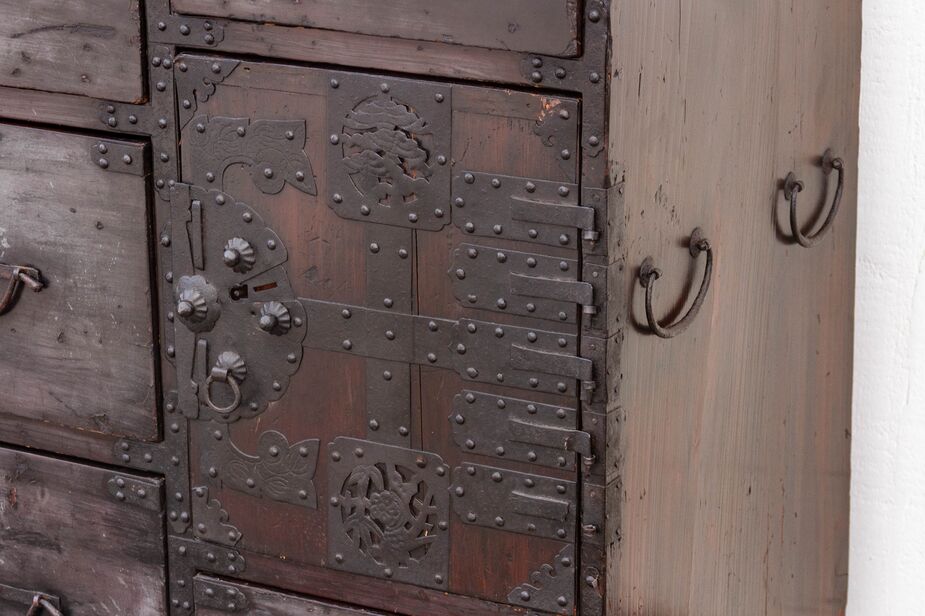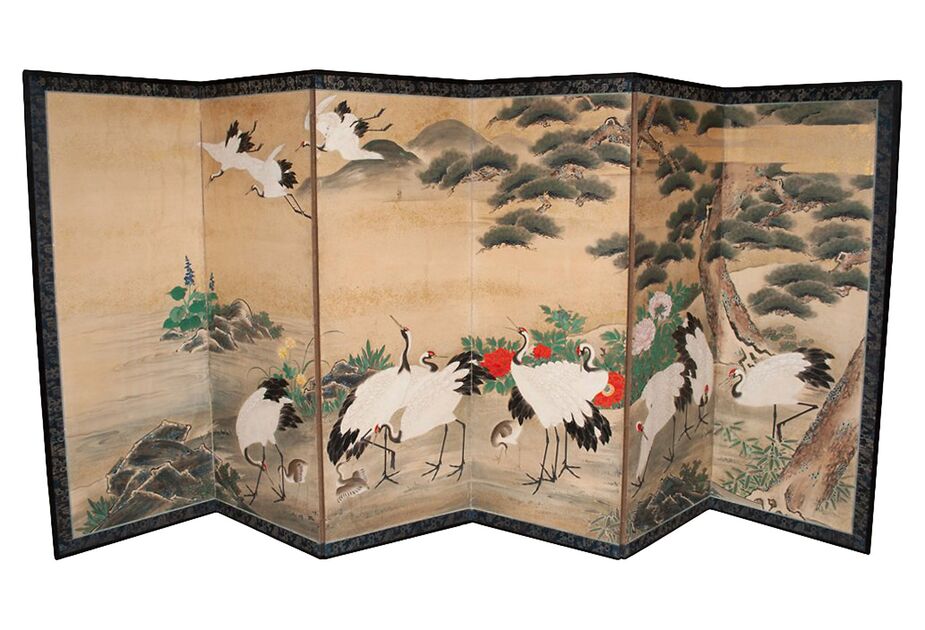 Byōbu
It's believed that the Chinese invented the byōbu—Japanese for "wind wall"— but the Japanese adopted it by the eighth century and made the art form their own. Used to shelter people from drafts as much as they were to partition a large room into two smaller spaces, the first byōbu were crafted from bamboo and didn't fold. The Japanese soon swapped out the bamboo for silk (and later, washi paper) and replaced the cords used to connect individual panels with hinges. By the 15th century it became common for landscapes to stretch continuously across the panels, rather than each panel being adorned with a standalone image. Lavish gold-leaf backgrounds became a status symbol in the 17th century, and in the 18th century byōbu were in demand among European tastemakers. Most screens were at least five feet high, but during Japan's Sengoku, or Warring States, period (1467-1603), waist-high screens came into vogue, to reassure visitors that no samurai or rebel fighters were hiding behind them. 
Ukiyo-e
"Pictures of the floating world": That's what ukiyo-e means in Japanese, and it sounds rather lovely. But during the Edo period (1615-1868), when ukiyo-e became a style of art, the "floating world" was that of prostitutes and actors, two groups that were looked down on yet patronized by the upper classes. The first ukiyo-e were paintings, but in the 18th century more artists adopted woodprinting, which also made the artworks more affordable and accessible. Now that the elite were no longer the only audiences for ukiyo-e, the subject matter expanded to include folk tales and landscapes. (The Great Wave by Katsushika Hokusai is probably the most famous ukiyo-e print.) The well-defined lines and flat colors lacking shadows and highlights that distinguish ukiyo-e influenced many European artists such as Mary Cassatt and Vincent van Gogh. In addition to Hokusai, masters of ukiyo-e include Kitagawa Utamaro, Tōshūsai Sharaku, and Utagawa Hiroshige.