L.A. designer Kendall Conrad, known for her line of timeless, buttery-soft leather and suede bags, shoes, and accessories, had a vision when she first saw the 1942 Mediterranean property she now calls home. It was 1998, and after a lengthy real estate hunt in Los Angeles with husband/photographer David Cameron, the couple headed north to visit some properties in Montecito, close to where Kendall grew up.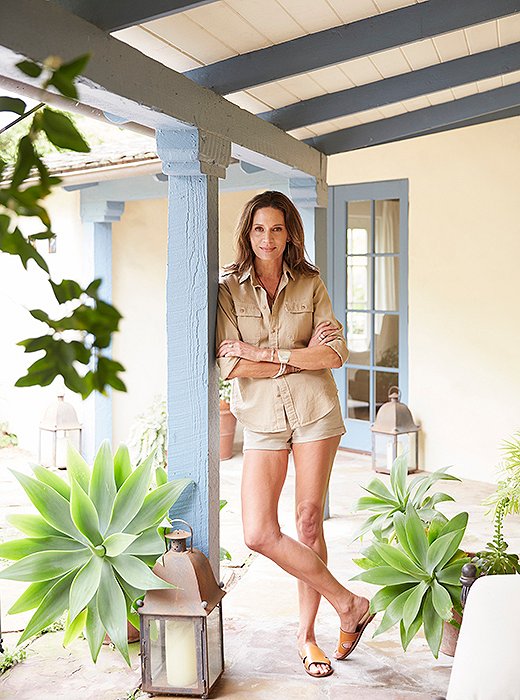 "I thought, 'Oh God, I'm not moving back to Santa Barbara,'" laughs Kendall. "But we ended up looking and after seeing 10 houses or so, I walked in and that was it."
"It" was an image she saw while touring the home and its gardens. "This was the house I wanted to raise my children in," reminisces Kendall, who was eight months pregnant at the time and now has two daughters, Luisa and Fernanda. "The space… it just moved me." After a heartfelt letter to the owners, it was theirs. "My kids had the childhood I dreamed for them."
With open, well-appointed rooms, seven cozy fireplaces, and sunshine streaming through every window and door, it's dreamy indeed. "It has a very bohemian vibe and is in tune with the nature around it," Kendall says. Bordered by abundant gardens and a winding creek, the home is just minutes to the area's scenic beaches. "I've lived in New York, Paris, and London, but my husband and I are both from California, and we wanted this life."
Combining finds from travels with family heirlooms, classical and clean-lined furniture, eclectic art, and lots of texture, the home is not unlike her eponymous accessories collection: neutral, sophisticated, and relaxed with a dash of worldly glamour. Tour the Shangri-la that Kendall shares with her family (including wirehaired dachshunds Ollie and Georgie) and discover her insider guide to Santa Barbara.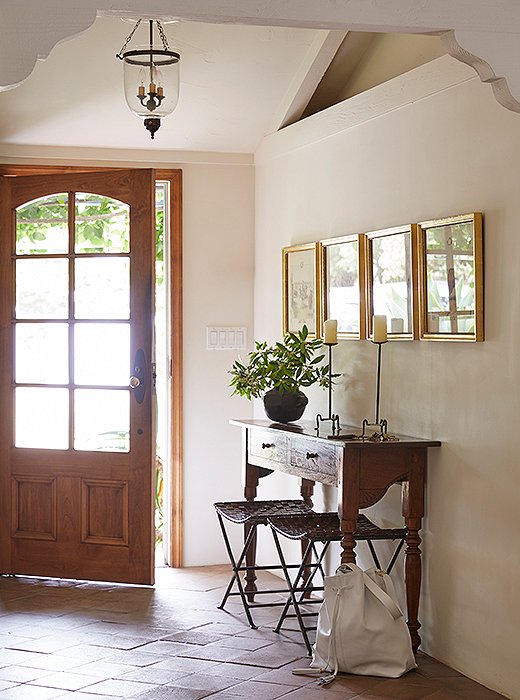 When I saw the house and garden I thought, 'This is magical. I want little children running around playing with frogs by the creek and running around the fruit trees.'
Really, we should be in a white box with five modern pieces, because we both gravitate toward that. But this home fits a cozy family life. Maybe we'll do the white box one day.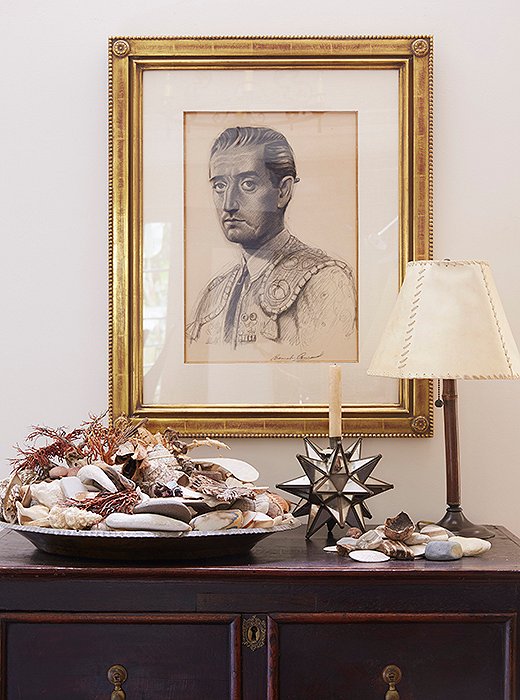 Inspiration? Everything you look at gets in. We have these rocks on our beach that are cognac, black, and white. I call them calico rocks. They inspired my recent collection.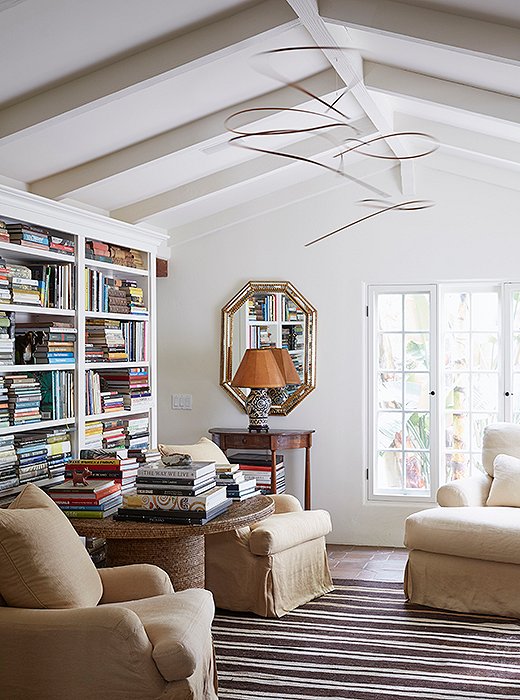 People feel really cozy and at home here. The house appears small at first, but it keeps opening up to you all the way down to the creek. It never feels vast or lonely.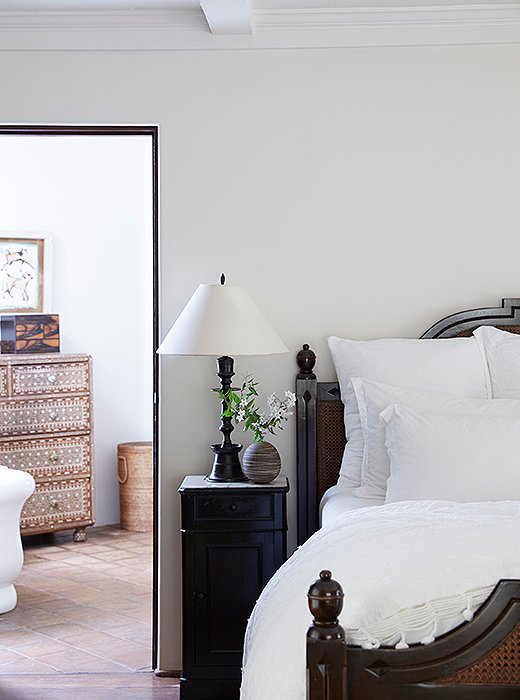 It doesn't matter if it's modern or traditional; it just has to be right for the space and mix well. I think good lines work together regardless of when they were made.
Discover Kendall's Santa Barbara
We asked the designer a few local hangouts, and she wowed us with an insider guide she creates for friends and family. "There's an abundance of amazing things to do and to see," says Kendall. From farm-to-table eating to vintage rugs, old-fashioned ice cream to surf breaks, here are the spots not to be missed.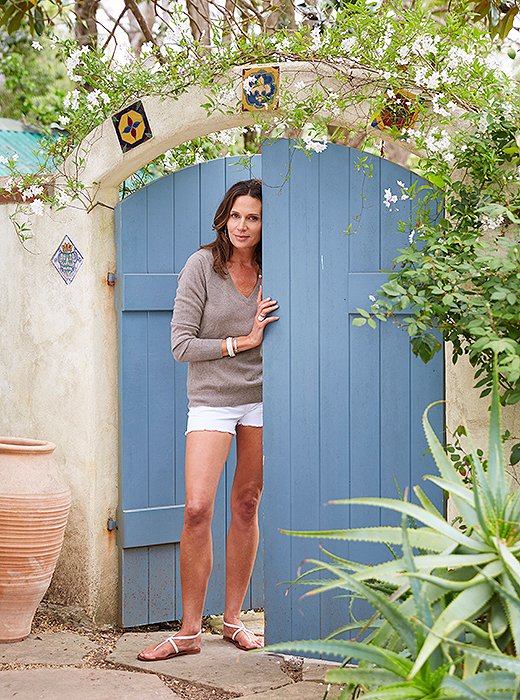 Plow & Angel at San Ysidro Ranch
Offering California cuisine in a stunning location, this is a year-round fave. "It's supercozy inside by the fire on a cold night, or go on a warm night and sit outside under the loquat trees."
The Lark
"A boisterous, good farm-to-table" joint, the restaurant was named after the Pullman train of the Southern Pacific Railroad. "They have a great roast chicken," Kendall says.
Upstairs at Pierre Lafond
Finds from this home store can be spotted all over Kendall's home. "They just always have something exotic and appealing there. Definitely check out the Moroccan rugs."
Lotusland
Situated on the estate of Madame Ganna Walska, this unique collection of exotic plants is a must-visit, says Kendall. "The most spectacular gardens and story."
Kendall Conrad
(Okay, we made her include this.) Stop by to browse Kendall's supple leather bags, summery sandals, sculptural jewelry, and accessories at the Montecito Country Mart.