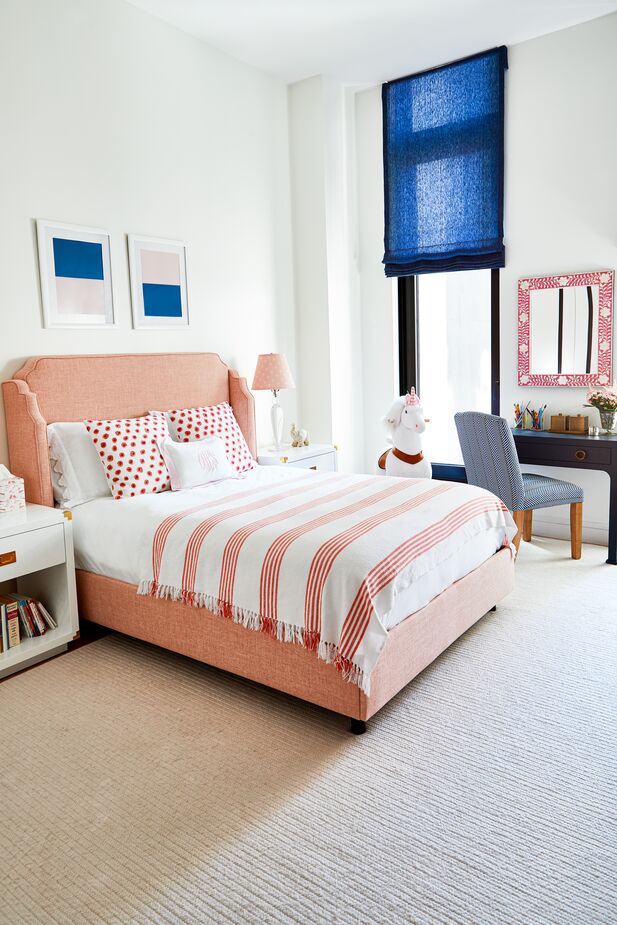 When it comes to designing a kid's room, the most common mistake is making it too age-specific. Another common mistake is taking the opposite approach: making a kid's bedroom look and feel just like an adult's.  
Kids can outgrow clothes and toys fast. Fortunately you can avoid having them outgrow their bedrooms as quickly. When decorating children's bedrooms, "we try to select big-ticket items like drapery, rugs, art, and case pieces that will transition through different stages of childhood and take bigger risks with color through paint, pillows, and bedding," says Aileen Warren of Jackson Warren Interiors. 
Jordan Schehr of One Kings Lane Interior Design agrees. "The furnishings don't have to be kid-specific. The bed, the dresser, the rug, the lighting: You can pretty much make same or similar choices as you can for an adult. Then lean into the bedding, the art, the rug to change over time." A bed upholstered in a neutral fabric or a classic four-poster bed can last a kid to adulthood before being repurposed as a guest room bed (assuming it doesn't accompany the child to his or her first apartment). A bed in the shape of a racing car? Probably not. 
For items such as beds and dressers that you want to stand the test of time, Jordan suggests buying "good quality but not heirloom quality." "We encourage clients to invest in these spaces over nurseries because they can actually grow with the kiddos," says Katie Davis of Katie Davis Design.
Choosing sheets, artwork, and accessories that tie in with the kid's interests, then swapping them out as those interests change, is one way to differentiate a child's room from an adult's. Other differences go beyond aesthetics.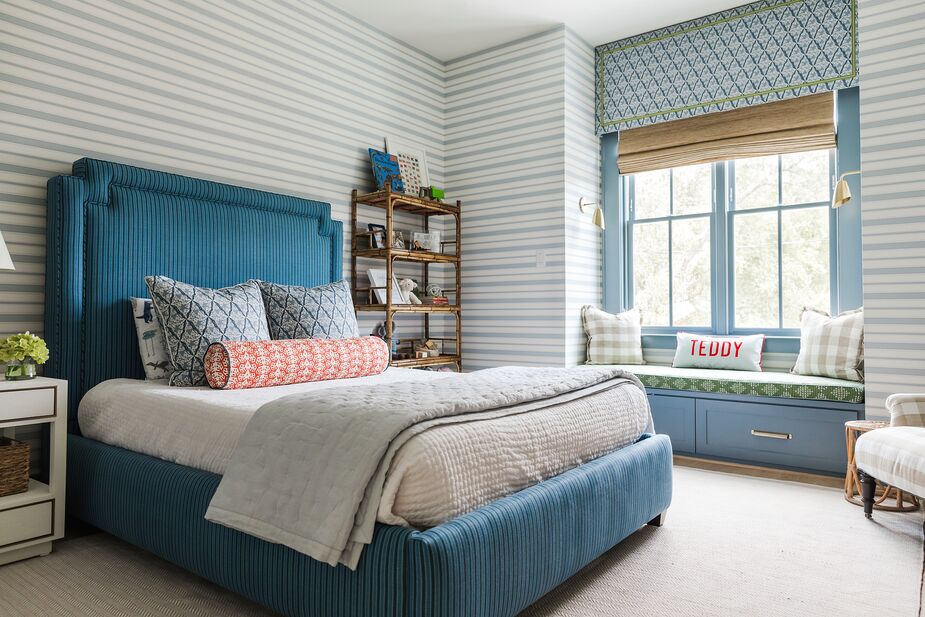 "Functionality is extremely important, just as it would be in a utility room like a bathroom," Jordan explains. "How can we simplify the adults' life? How can we make the kids self-sufficient?"
Positioning closet rods so that kids can reach their clothes themselves is one way. Making shelves and drawers easy for them to access is another. "You don't want to create a scenario that encourages climbing," Jordan says. (And on that note, anti-tip hardware is essential for anchoring dressers, bookcases, and other furniture.) He suggests repurposing a media console: "They tend to be lower and have doors that can conceal storage." A storage ottoman can serve as a stylish toy chest or crafts container for kids old enough not to trap themselves inside, and baskets or boxes can help contain clutter on open shelves and atop dressers. 
Another type of convenience to consider: ease of cleaning. Look for performance fabrics such as Crypton and Sunbrella. Faux and real leather are other good choices: "You can just wipe it down," Jordan says. For the same reason, when choosing rugs, "start off with something polypropylene." Don't forget the rug pad to help prevent slips, and "don't discount the value of wall-to-wall carpet," he adds.
The ideal kids' room puts the fun in functionality so that it pleases children and parents alike. "More people are recognizing these days that kid's rooms don't have to be juvenile," Jordan says. "You can be playful without being juvenile."