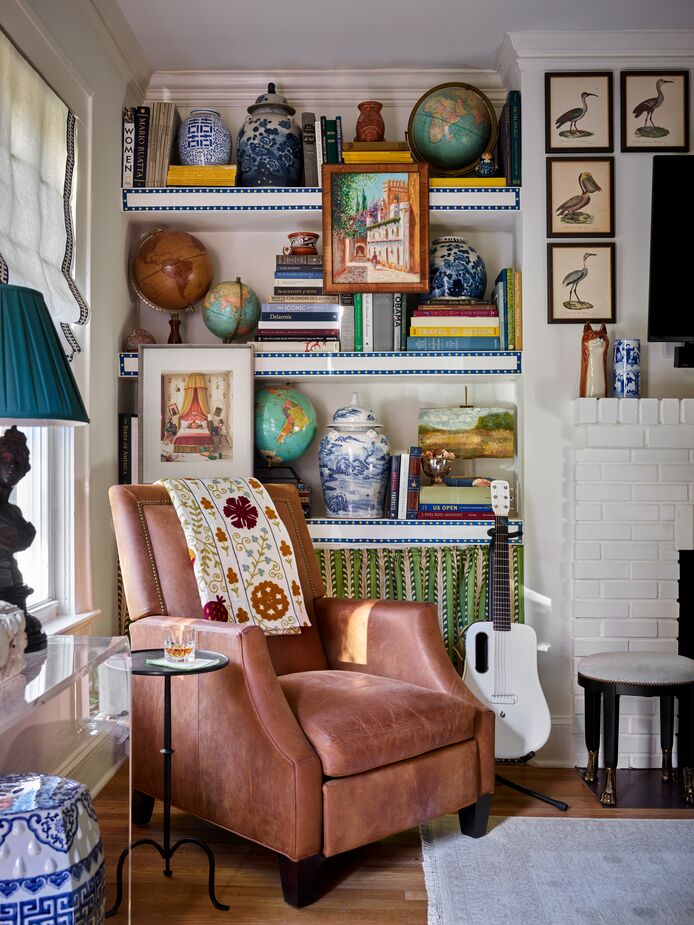 For Lathem Gordon, co-founder of Atlanta-based design firm GordonDunning, home is where the art is. Just about every room in the Decatur, GA, home she shares with her husband and their two young daughters is chockablock with paintings (including some by her paternal grandmother), family photos, etchings, prints, and other artworks. Not only was Lathem's undergraduate degree in visual arts, but her globe-trotting maternal grandmother insisted that she always buy artwork while traveling because "whether it comes from a gallery or an artist on the street, the work holds meaning, beauty, and a memory," Lathem says.
"I grew up in a house where art was regularly rotated in and out," she continues. "As a result of all this, I have a lot of art. And my husband had his own art from travels as well… and we have collected a great deal since being together—from travels, local artists, etc. With the variety of texture, color, and subject matter that is inherent in a collection formed over so many years and from such a variety of places, we took great care to curate the collections for each room."
So in the colorful living room, which includes a botanical wallpaper mural, they opted for works with more-muted palettes. In the primary bedroom, which is predominately blue and white, the art is more colorful. Then there's the guest bathroom, which "we jokingly call the 'ladies and landscapes' bathroom," Lathem says. "For this space, we curated a special group of female portraits and landscapes from travels across the globe."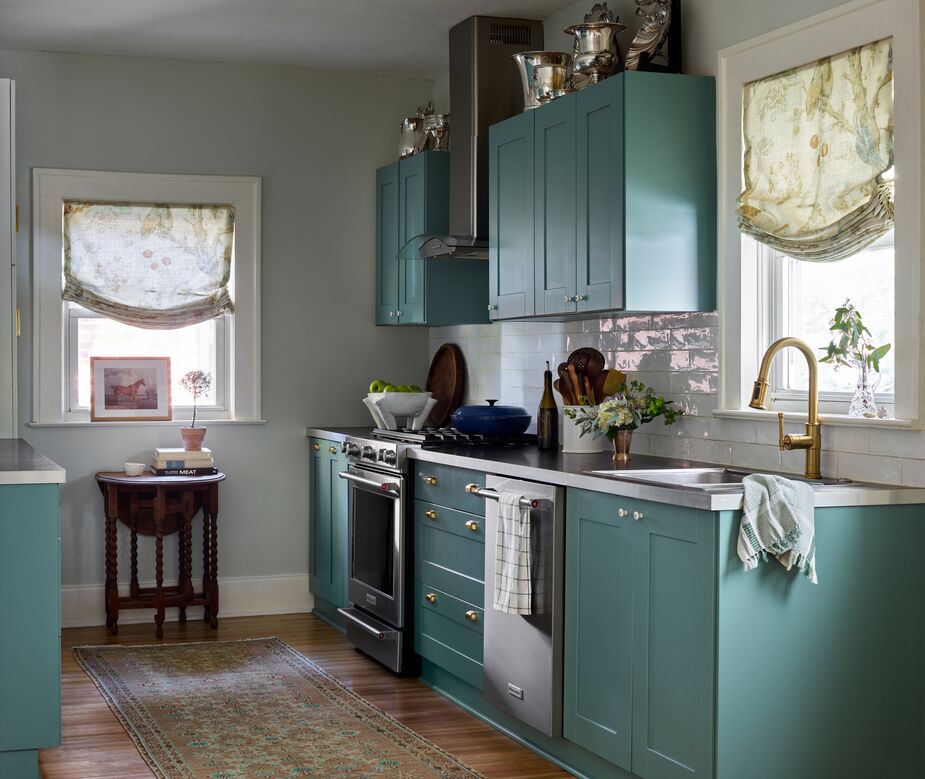 The home's furnishings, like the artwork, are an inspired medley of old and new. Chinoiserie accompanies suzani and Peruvian textiles; a prayer rug Lathem's husband bought while deployed in Iraq complements furniture passed down from her great-grandmother; vintage silver serving pieces sit atop teal kitchen cabinets; a clear acrylic console table supports an antique lamp.   
And just about every room has at least one garden stool. "One of our GordonDunning rules is that everyone needs a place to put their drink," Lathem says. "We use garden stools and martini tables—or 'coasters on sticks,' as we call them—in almost every project. No matter the size of a space or its primary use, if you are going to be able to truly relax in a space, you can't be too far from your beverage."
For Lathem and her family, the home is not only a place for relaxation but also "a collection of collections," one that "brings me joy every day." You can't ask much more from a home than that.