The only thing more delightful than Neil Zevnik's ever-changing assortment of vintage and antique costume jewelry? A conversation with the man himself. A former actor and semiretired personal chef (his clients have included former Disney CEO Robert Iger, Elizabeth Taylor, and Charlize Theron), Neil is a veritable (and enthusiastic) jewelry encyclopedia. That's evident in the descriptions he writes for his "jools," which he now sells exclusively on One Kings Lane. (Take his description of a 1950s millefiori art-glass bracelet: "The art glass is the star here: reflective inky-black cabs are shot through with amorphous swirls and ribbons and dots in shades of blue, green, and mauve. Plating is bright and unblemished, and the glass is transcendent; a truly singular expression of Fifties Fashion.") 
And it's even more apparent when chatting with him. Mentioning the blockbuster bodice-ripper series Bridgerton leads to a discussion of how the jewelry isn't period correct. Instead, Neil says, "the jewelry on the women is very tied to character, very indicative of who each character is. Most of it looks like jewelry from the '50s and '60s—lots of crystals and stones in elaborate settings, lots of necklaces with matching earrings. More period correct would have been longer necklaces, with a drop of some kind at the end—in the show only Queen Charlotte wears them." (He's also singled out a few pieces that he thinks are pure Queen Charlotte.)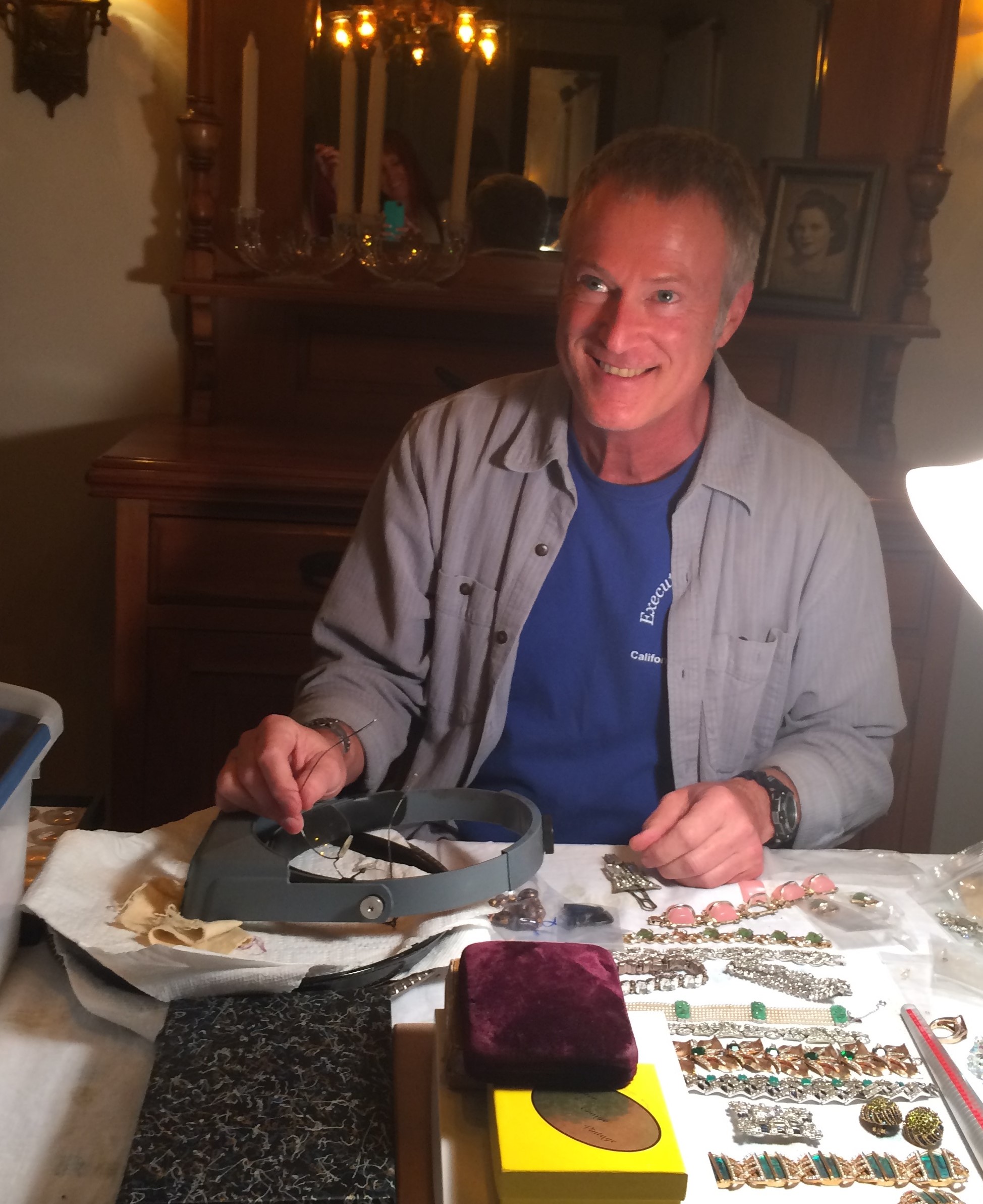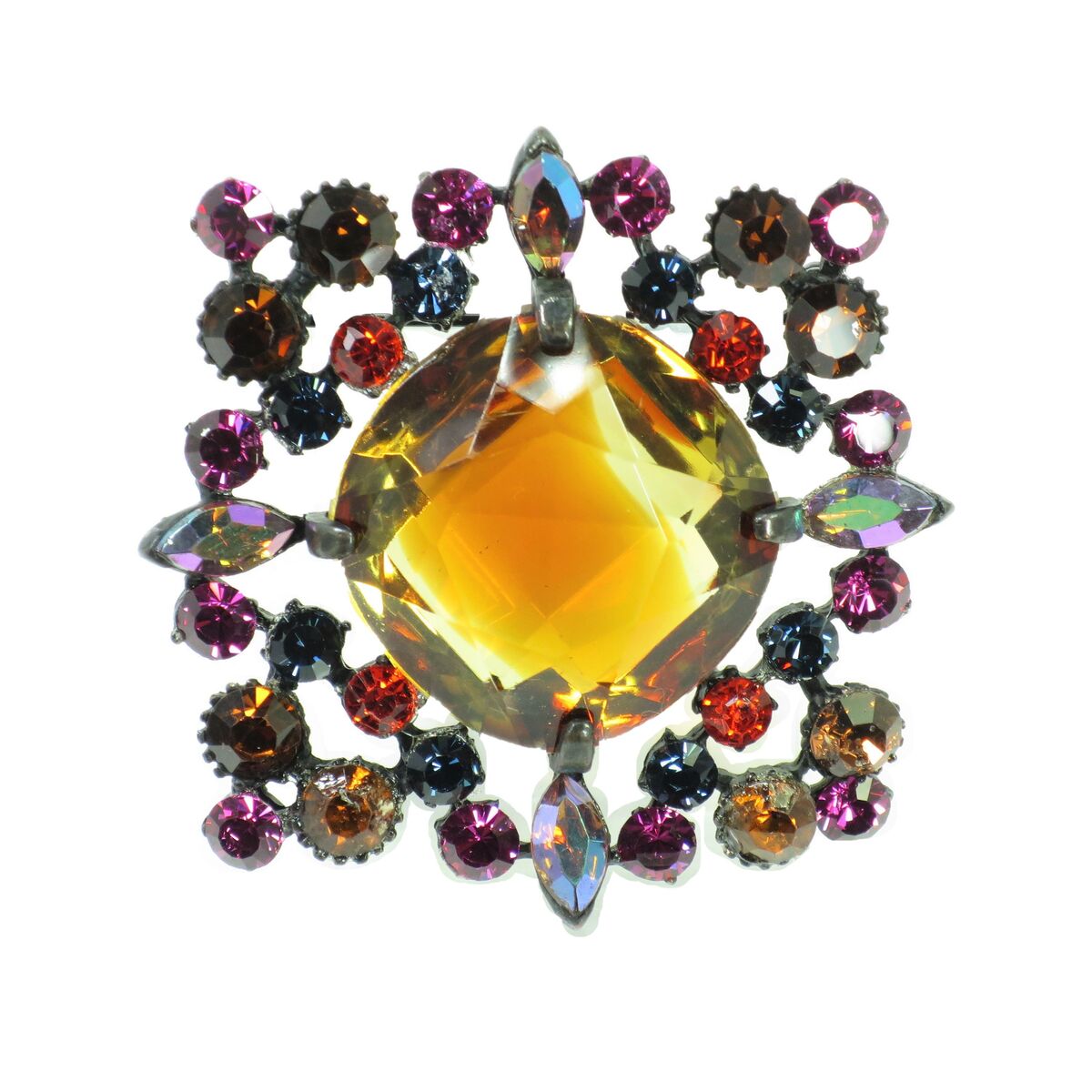 Late-'50s/early-'60s Bridgerton-type pieces by DeLizza & Elster and, in particular, its vibrant Juliana line, are among Neil's favorites: "They're vivid, they're beautifully constructed." He also has a special fondness for Czech jewelry from the 1910s and '20s. "Bohemia [a region in what was then Czechoslovakia and is now the Czech Republic] was known for its glass," Neil says. "These pieces are much more subtle than those from the '50s and '60s but beautifully constructed."
Neil's interest in costume jewelry dates back to the mid-1980s, when he lived in Manhattan and accompanied a girlfriend to visits to the legendary vintage apparel shop Alice Underground on the Upper West Side. His interest in collecting became a passion more than a decade later. "In the late '90s my sister died, and I was pretty much nonfunctional for a long time," he says. "For some reason the only thing I was interested in was vintage jewelry. It became an obsessive hobby." He scored many of his pieces from what was then a relatively new auction website—eBay—at impressively low prices. "Years ago people didn't know what they were selling," he says. 
Having amassed roughly 60 books on vintage costume jewelry, Neil knows what he's buying—and what he's selling. "I always justified myself collecting jewelry by saying it was my retirement fund, but that means I have to sell some of it," he says with a laugh. He maintains a sizable collection to admire, however, as well as to lend to friends for special occasions. Willow Iger, wife of the former Disney CEO, wore one of his bracelets to the Oscars; the wife of film producer Roger Birnbaum also wore one of Neil's brooches and matching earrings to an Oscar ceremony; another friend wore one of his necklaces to President Obama's first inaugural ball. 
Those are some swank events for jewelry that was once looked down upon as "paste." Neil contends that costume jewelry holds historical as well as aesthetic significance. "What compels me is how jewelry, more than any other decorative art, is expressive of the period in which it's made," he says. Of course, history is much more interesting when it sparkles.