For the past several years, modern farmhouse style has been impossible to ignore. Shiplap, barn doors, heavily distressed wood furniture, and faux-antique signs extolling the joys of living, loving, and laughing seem to be everywhere. 
That's because modern farmhouse style has plenty going for it—it's comfortable; it's simple to coordinate and maintain. But maybe it's too simple. You could argue that if you've seen one modern farmhouse home, you've seen them all. What's more, because it has become synonymous with the late 2010s-early 2020s, the style risks looking dated, the way harvest-gold kitchen appliances and popcorn ceilings do now.
Enter "new" modern farmhouse style.
Making Modern Farmhouse Style New
The addition of crisp, bright whites to muted earth tones is one element that made farmhouse style "modern." To make the modern "new," consider adding a bit more color. Neutrals should still dominate, but bring in spots of nature-inspired colors such as sky blue, olive green, lavender, or even beet red. Generally speaking, the more pigmented or dramatic the color, the less of a presence it should have in a new modern farmhouse room. Cherry blossom pink could work for a wall color, while cherry red is probably best left for a throw pillow.
The addition of pieces that are seemingly the antithesis of farmhouse style also goes a long way to updating the look with a timeless sophistication. For instance, with its emphasis on spare lines and natural materials, Danish Modern furniture complements farmhouse style surprisingly well. Ditto handcrafted vintage and antique rugs, especially kilims and Oushaks—and if the colors are somewhat faded, so much the better. 
Layering in pieces of varying provenances and styles ties in with what is arguably the most important element of modern farmhouse style: texture upon texture. Given the look's restricted palette and relative lack of pattern and adornment, texture was always important; that's one reason "chippy" furniture, with its visible peeling layers of paint, became a key element.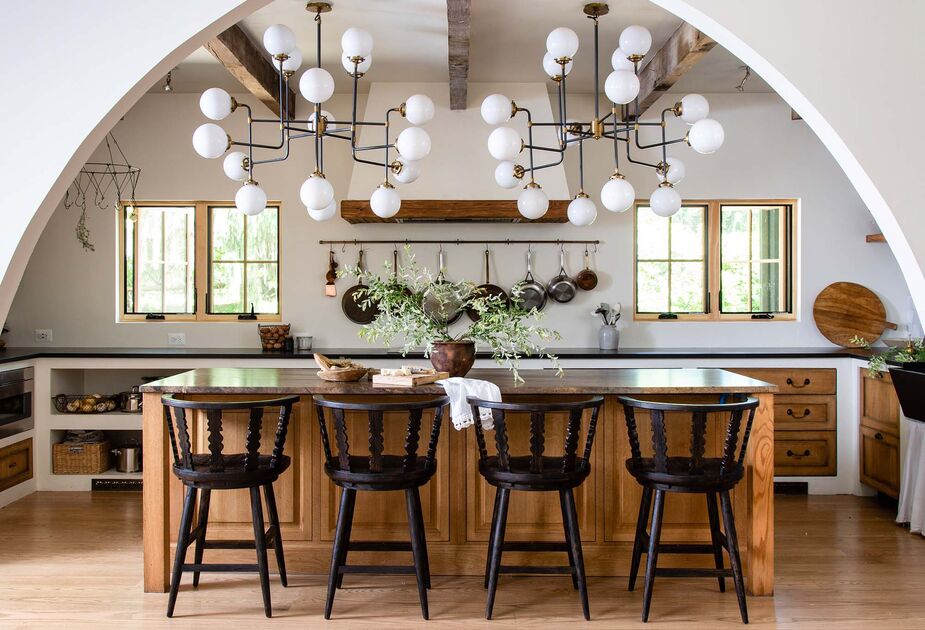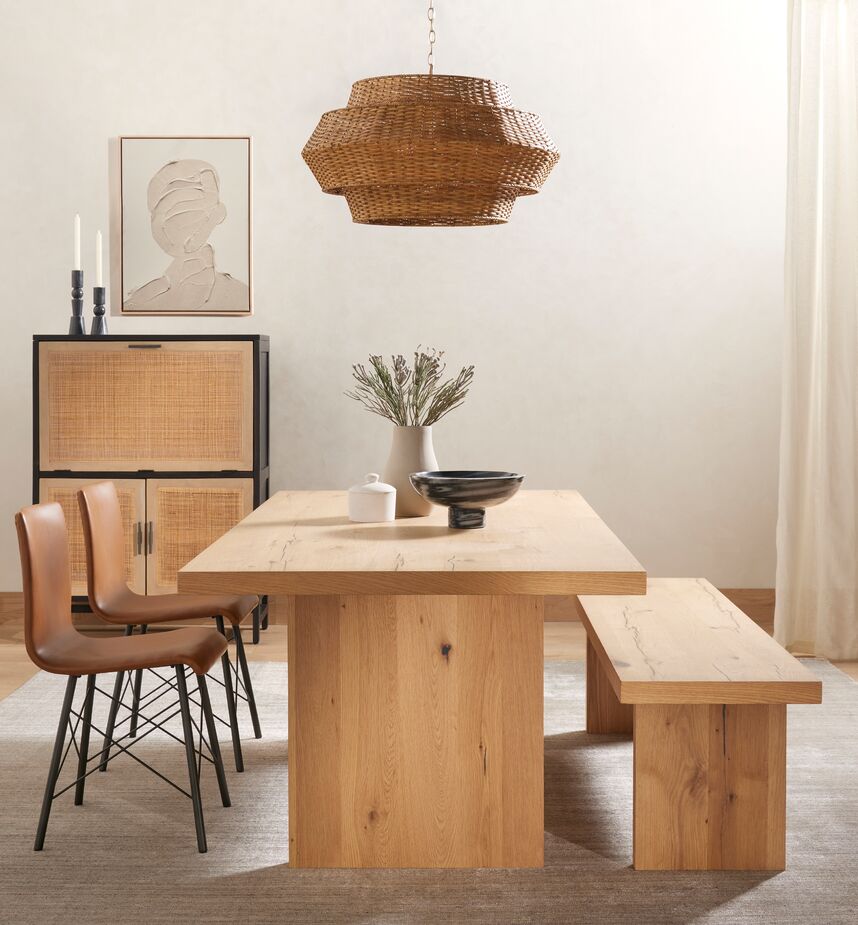 New modern farmhouse chic brings in even more textural variety by introducing materials that aren't part of the farmhouse vernacular. A dining table with a concrete top and stainless-steel legs, for instance throws the warm beauty of wooden Windsor chairs into sharp relief. A marble top lends a sleek contrast to the distinctive grain of an oak media console—just as a curved marble plate can make an unexpected but ideal centerpiece on a reclaimed-wood trestle table. Add lustrous silk sheets to your iron-frame bed, a sterling-silver frame or cut-crystal candlesticks atop your iron-and-elm étagère, a sumptuous alpaca throw over the back of a simple wood bench.
To stay within the farmhouse aesthetic—new, modern, or otherwise—you should still adhere to a few guidelines. Besides keeping colors and patterns to a minimum, limit the number of purely decorative items on display. Similarly, avoid pieces with an abundance of ornamentation, such as baroque gilded mirrors and Louis-style chairs. 
Of course, if you fall in love with a chandelier dripping with crystals or a table with elaborate mother-of-pearl inlays, go for it. Who cares if adding it means a room is no longer farmhouse style? It's your style, and that's much more important.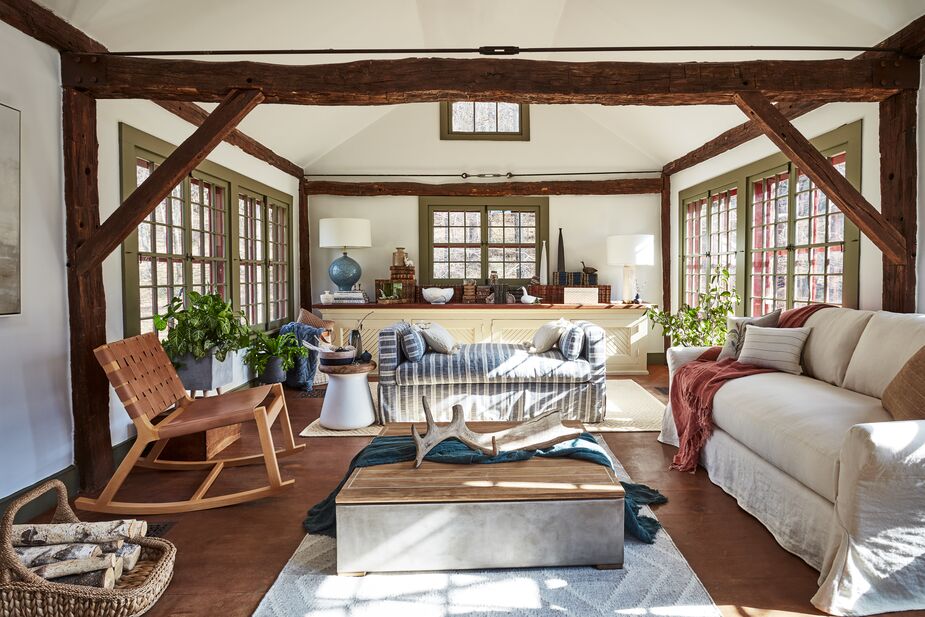 Five Favorite Pieces to Update Modern Farmhouse Style
• Oscar End Table. With its slatted shelf and square frame made of whitewashed reclaimed pine, this table is classic farmhouse—but its marblelike quartz top makes it feel new. It's also available as a console table, a square cocktail table, and a rectangular cocktail table.
• Ralph Round Hide Rug. Hide rugs are long-time rustic standbys. But here thin strips of hide are stitched together to create a luxe mosaic.
• Seeded Glass Table Lamp. The clarity and smoothness of the seeded glass elevate what could have been basic.
• Jamari Wall Mirror. The hexagon silhouette and three ornamental slats distinguish it from other wood-framed mirrors.
• Las Palmas Accent Chair. This chair pairs a teak frame with a woven rattan seat and back—and it's a rocker to boot. What could be more farmhouse than that? Yet its airy, sleek shape allows it to transcend genres and complement just about any style.