Love it or hate it, open-concept living is here to stay. Even though who embrace living with a minimum of walls and doors, however, can find decorating an open floor plan to be challenging. That's why we tapped our expert interior designers to help us figure out exactly where to put things and how to create a cohesive experience from one corner to the other. 
Get in the Zone
First things first: Your open-concept space needs flow, and to encourage flow, you need to create zones.
What do we mean by zones? Simply put, each activity that you plan on doing in the space—eating, working, playing with the kids—needs a distinct area or zone. "This helps the room not feel too disjointed or confusing to the eye," says Jess Hutchinson, a member of the One Kings Lane Interior Design team. A number of factors play into the creation of zones, but another One Kings Lane designer, Shannon Frappied, suggests orienting your zones around structural features—"maybe it's a ceiling detail or the placement of a fireplace." If your space is devoid of retaining pillars, feature windows, or any other elements that help carve out distinct areas, use rugs or light fixtures to help delineate each zone. 
Once you've got the basics of your zones solidified, it's time to ensure that the zones mesh. "Be sure to have a constant color or pattern that connects the spaces," Shannon says. "Use the same wall color throughout, and then layer in pattern and texture with art and textiles." She prefers moody tones in a larger space where there is loads of natural light.
"You can definitely design with color in an open floor plan—just be sure to define your palette and stick to it," Jess adds. Creating this sense of continuity is key in curtailing chaos.
Another tip to encourage the eye to flow effortlessly throughout the room: "Opt for low-profile furnishings," Shannon says. "This will allow the space to feel more connected and inclusive."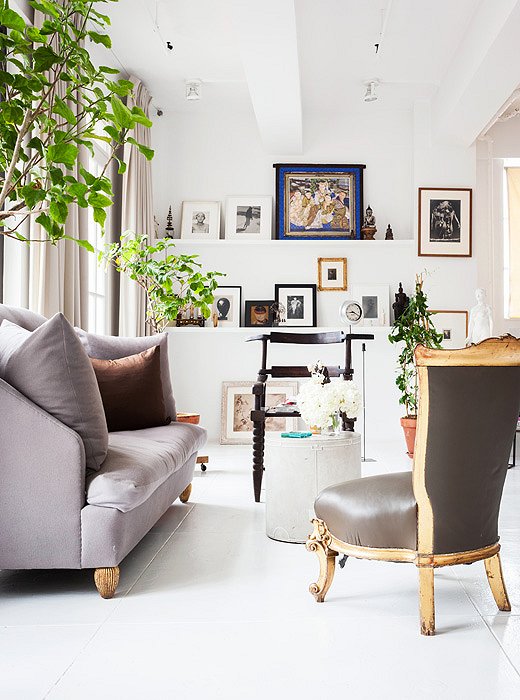 Design Details
"Once you've landed on the different zones in a room, scale is the next area to tackle," says Jess. "Map it out. Create a layout to understand the scale of furniture needed for each zone of the room." 
That means ensuring not only that your furnishings fit within their designated zone but also that there's plenty of room to move around them. "You don't need to fill a space just because it's there," Shannon notes.
One other thing to keep in mind is that in an open-plan space, you'll likely be floating at least some of your furniture. Furniture that isn't placed against a wall needs to look good from all angles, so be sure to check out the backs of any sofas, bookcases, and other pieces that will be standing alone. Alternatively you can place two pieces of furniture back-to-back to hide a less-than-ideal rear view; this can also help to further differentiate zones.