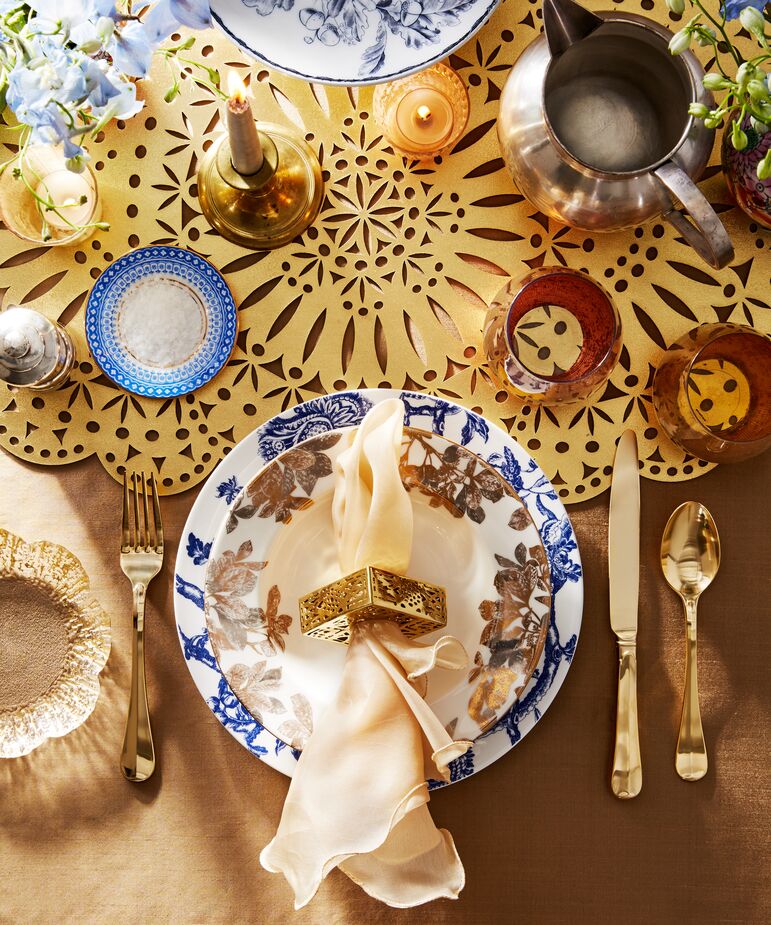 With the right companion, any meal can be romantic. But feasting on food that's more special than your everyday fare can certainly put one in the mood for love. With help from our friends at Sur La Table, we selected three recipes ideal for Valentine's Day, anniversaries, date night, or any other amatory occasion. 
And a few more suggestions to make any meal a romantic one:
• Light candles—if not on the table, somewhere else in the room. Mealtime is one occasion when you want fragrance-free candles. While tapers are the go-to, votives and pillars, particularly if they're in a hurricane candleholder, are equally lovely options for those who worry about tapers being knocked over. (Find an array of candleholders here.)
• Break out your best tableware. If dinner with your sweetie isn't a special occasion, what is?
• Bring out the cloth napkins… and maybe a tablecloth too. Many are now machine-washable, so the effort-to-wow-factor ratio is firmly in your favor. 
• Prep an ideal soundtrack. As Shakespeare noted, "If music be the food of love, play on."
Cast-Iron-Roasted Oysters with Spinach and Bacon
Makes 2 dozen oysters
Ingredients
6 slices bacon, cut crosswise into ¼-inch strips
1 garlic clove, chopped
1 medium shallot, chopped
3 cups loosely packed fresh spinach
2 ounces (½ stick) unsalted butter, room temperature
½ cup dry coarse breadcrumbs
2 tablespoons Pernod or other anise-flavored liqueur
1 teaspoon Tabasco or other hot sauce
Sea salt and freshly ground black pepper
24 fresh oysters, shucked on the half shell
Rock salt, as needed for serving
½ cup freshly grated Parmigiano-Reggiano
Instructions
Position rack in the upper portion of the oven and preheat to 450°F.
Add bacon to a medium skillet over medium-high heat. Cook until crisp, about 5 minutes. Add garlic and shallot; cook until soft and translucent, about 2 minutes, and remove from heat.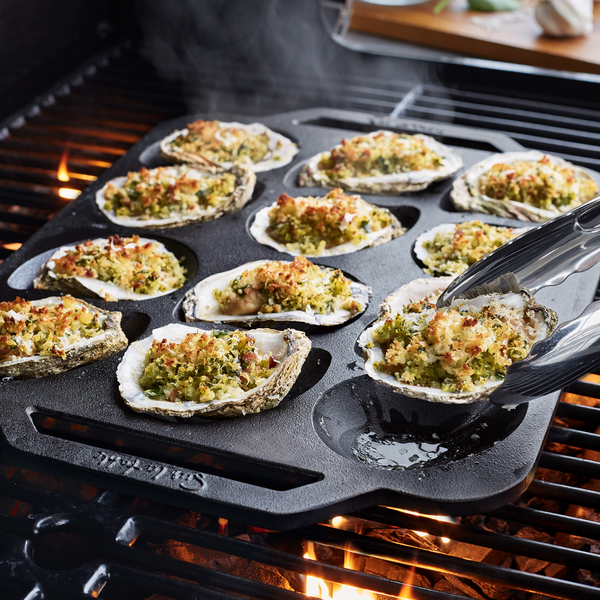 Transfer bacon mixture to a food processor. Add spinach and pulse to roughly chop. Add butter, breadcrumbs, Pernod, and hot sauce, and pulse until well blended. Taste and adjust seasoning with salt and pepper.
Place a shucked oyster in each cavity of two cast-iron oyster pans, or line a cast-iron skillet with about an inch of rock salt and place the oysters on top. Top each oyster with one heaping tablespoon of the spinach mixture, then sprinkle each oyster with cheese. Bake until spinach mixture is browned, about 8 minutes.
Serve oysters straight from the cast-iron pan or spread about an inch of rock salt on a serving platter and use tongs to nestle the oysters in the salt. Serve immediately.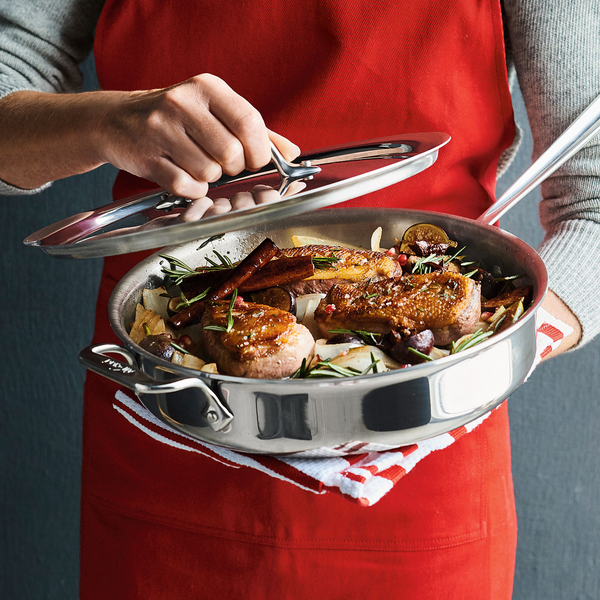 Seared Duck Breast with Figs and Pinot Noir-and-Shallot Sauce
Makes 4 servings
Ingredients
2 large (12- to 16-ounce) duck breasts, skin on
Sea salt and freshly ground black pepper
1 large shallot, minced
2 tablespoons finely chopped fresh thyme, divided
1 cup low-sodium chicken broth
¾ cup pinot noir or other fruity red wine
6 fresh figs, halved lengthwise
2 tablespoons unsalted butter, diced into ½-inch cubes
Instructions
To prepare the duck, score the skin (but not the meat) in a cross-hatch pattern, making the cross-hatches about ½-inch across; this helps the fat render and crisps up the skin. Generously season with salt and pepper. Place breasts, skin side down, on a dry skillet and set over medium heat to slowly render down the fat. While rendering, pour off the fat regularly into a bowl or jar, and keep for later use. After 8-10 minutes, flip breasts over and cook flesh side down for 2-4 minutes more. Transfer breasts to a rack set over a rimmed baking sheet, and tent loosely with foil to keep warm.
To make the pan sauce, pour off all but 1 tablespoon of fat from the skillet and return over medium heat. Add shallot and 1 tablespoon thyme and cook, stirring frequently, until softened, about 2 minutes. Add broth and wine and cook, scraping the bottom of the skillet to release browned bits. Add figs and simmer until figs are heated through and sauce is thickened, about 5 minutes. Whisk in butter. Taste and adjust seasoning with salt and pepper. Keep warm over low heat.
To serve, slice breasts into ¼-inch-thick slices on the diagonal using a sharp slicing knife. Divide slices evenly among warmed serving plates, overlapping the slices slightly. Ladle 2-3 ounces of sauce over the duck slices. Garnish with remaining 1 tablespoon thyme and serve immediately.
Chili-Glaze Baby Back Ribs
Makes about 6 servings
Ingredients
For the ribs:
1 tablespoon sea salt
3 tablespoons light brown sugar
1 tablespoon dry mustard
1 tablespoon paprika
1 tablespoon chili powder
1 tablespoon garlic powder
1 teaspoon freshly ground black pepper
2 racks baby back pork ribs (about 4 pounds)
For the glaze:
1 large shallot, roughly chopped
2 large garlic cloves, roughly chopped
¼ cup apple cider vinegar
3 chipotle chilis in adobo, plus 1 tablespoon of the adobo sauce or more based on spice preference (use caution as the chilis are very spicy)
1 cup honey
2 teaspoons sea salt
1 teaspoon freshly ground black pepper
Instructions
For the ribs, preheat the oven to 325°F. Combine the brown sugar and spices in a small bowl. Remove the silver skin from the underside of the ribs by sliding your fingers under the thin membrane and pulling it off. Rub the ribs with the seasoning on both sides. Place in a single layer in a large roasting pan and cover tightly with foil. Place the roasting pan into the oven and bake until the ribs are tender, about 1½ hours.
For the glaze, add all the ingredients to the bowl of a food processor and purée. Transfer mixture to a small saucepan and bring to a simmer over medium heat. Cook glaze uncovered, stirring occasionally, until thickened and reduced to a syrupy consistency, about 10 minutes.
When the ribs are almost done baking, preheat a grill or grill pan to medium heat. Grill the baked ribs on each side for 5 minutes. Using a silicone brush, baste ribs generously with glaze and cook an additional 2-3 minutes. (The sauce goes on at the end because it contains sugar and you don't want it to burn.)
Let ribs rest 5 minutes before slicing into individual ribs. Serve with extra glaze on the side.