Who says you can't have it all? Certainly not those lucky enough to live in Santa Barbara. This California community is nestled between the Pacific Ocean and the Santa Ynez Mountains, with all the beauty and advantages that come with access to both. And Santa Barbara's interiors style also embraces seemingly opposite influences: Spanish Colonial grandeur and California ease.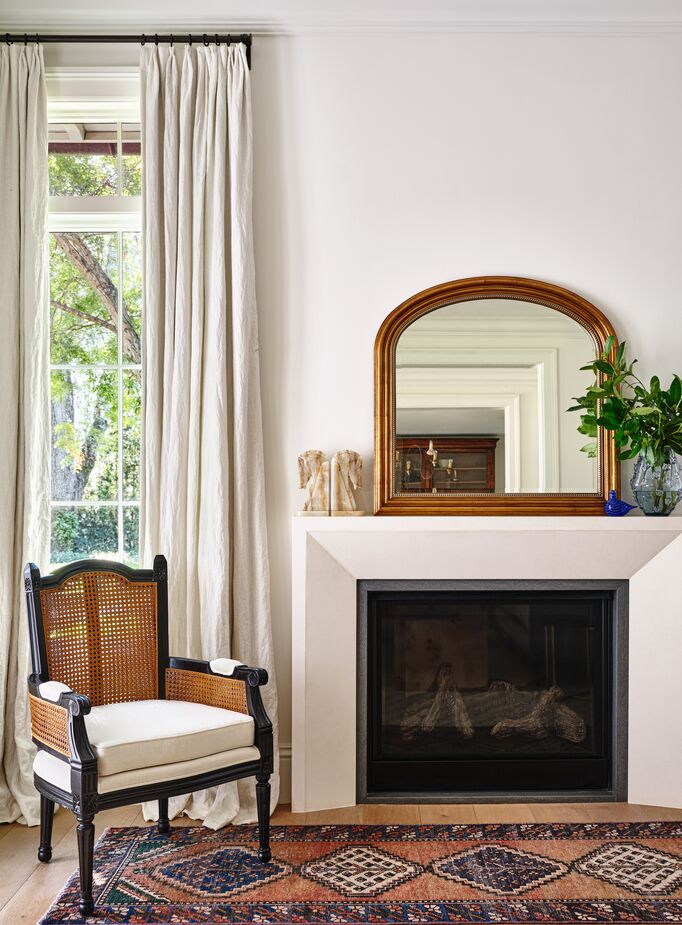 Making Santa Barbara Style Your Own
Some aspects of Santa Barbara design were born of necessity. White stucco, plaster, and adobe walls, for instance, reflected the ready availability of sand and the need to keep interiors cool. Other elements, such as arched doorways, reminded the Spaniards who settled here in the 18th century of their homeland. You don't have to add these features to your home to obtain the Santa Barbara look, however. Instead simply integrate several of the following:
• An earthy palette accented with blue. Cream walls, darker floors, and a gamut of earth tones, from ivory to taupe to rust, are key to Spanish Colonial style. The addition of blues elevates it to Santa Barbara elegance. The touches of blue can be subtle: as a secondary color in a traditional rug, in a seascape or beachside photography, on a pillow. 
• Terracotta. Whether it's planters or floor tiles—left bare in summer so that they feel cool underfoot, then topped with a rug come winter—Santa Barbara style is big on terracotta. And not just the earthenware itself. Pillows, throws, and artwork in the same color will work just as beautifully.
• California pottery. During the first half of the 20th century, companies such as Gladding, McBean & Co. led to the state becoming the domestic equivalent of Stoke-on-Trent in Staffordshire, England. While California pottery styles vary hugely, serving pieces, vases, and dinnerware in solid colors are especially popular.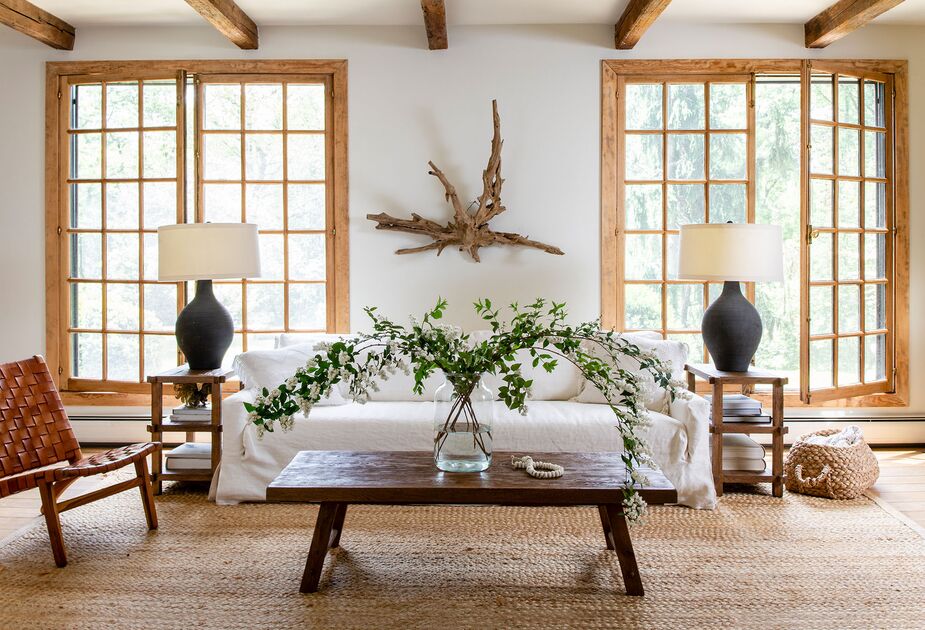 • Woven natural fibers. The Chumash, who settled in and around what is now Santa Barbara centuries before the Spanish, excelled at weaving baskets and other items from rushes. Modern Santa Barbara style pays tribute by including not just baskets but also natural-fiber rugs and linen textiles.
• Substantial wood furniture. If you want to lean more toward Spanish gravitas, opt for pieces with ornate carvings. To play up the laid-back California vibe, go for simple silhouettes with relatively little, if any, embellishments. And ideally, at least some of the furniture should have a darker finish.
• Blackened iron. Like dark wood, the introduction of black iron—a wrought-iron chandelier, say, or an accent table with a forged-iron frame—grounds the room.  
Five Favorite New Pieces with Santa Barbara Style 
• Allegra Small Chandelier. Also available in a larger size and as a sconce, this lighting fixture has the hammered texture and blackened iron finish that all but shouts Spanish Colonial elegance.
• Montauk Linen Throw in Terracotta. Luxuriously soft and terracotta in color: the ultimate in Santa Barbara bliss.
• Faley Jute Rug. This handwoven rug is a tactile and visual delight, with soft blues beneath sandy stripes and chevrons.
• Coastal II by Carol Benson-Cobb. This abstract artwork distills the beauty of the ocean to tonal blues and a sense of movement. 
• Dylan Accent Chair. The shape is Mid-Century Modern, and the materials time-honored: Woven strips of black leather make up this chair's back and seat, while the frame is mahogany, also given a black finish. The result is new-old luxury that is Santa Barbara style at its finest.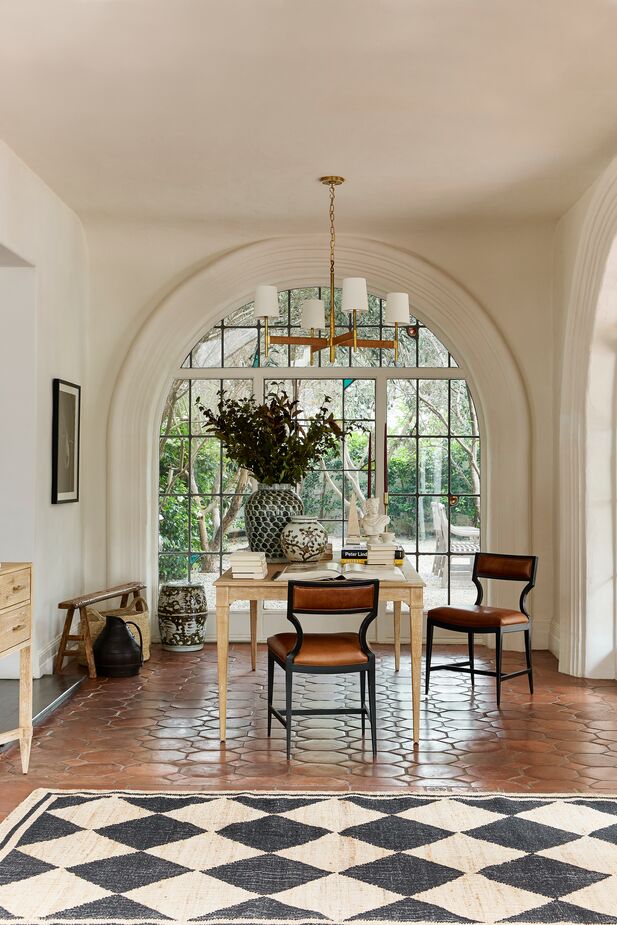 Five Favorite Vintage Pieces with Santa Barbara Style
• Santa Barbara by Juan Guzman. Born in Chile, Guzman (1948-2022) moved to California in his twenties, and the landscapes of his adopted land were a favorite subject, which he rendered in bold, Fauvist-influenced style.
• Wicker Wine Bottle Holder and Server. One end has a handle, the other a woven ring to hold a bottle, and the center basket can store anything from another bottle to napkins to glassware. Organic and ingenious!
• Ebonized-Wood Spanish Writing Table. Wood legs with exaggerated curves and blackened iron stretchers support a top of reclaimed teak given a dark finish. Ideal for use as a console table or a desk, this piece is undeniably Spanish Colonial in style.
• 1930s California Pottery Carafe. Produced by Gladding McBean and boasting the company's famed flame-orange glaze, this pitcher is especially notable for its soldered-on wooden handle.
• Spanish Colonial Iron Mounted Chest. Just two feet long, this chest is crafted of mesquite with oversize decorative iron nailheads on its front and its top, which opens to reveal handy storage space.