Even before she was given "free rein" to refashion this home, designer Sara Johnson knew that the owner "loves whimsy, prep, and color." In fact, she's known the client for years: They were sorority sisters at Southern Methodist University.
But when the client and her family moved into the apartment, in a 1924 co-op building on Chicago's Gold Coast, there wasn't much whimsy, preppiness, or color. Neutrals reigned supreme, and the owner's collectibles—she works at Sotheby's—weren't shown off to their full advantage. 
Among the significant changes Sara made was reversing the orientation of the living-dining area. Originally the half of the space with the fireplace was used as the living room, with the windows in the dining area. Now skirted tables that serve as buffets flank the fireplace, with the dining table resting in front of them.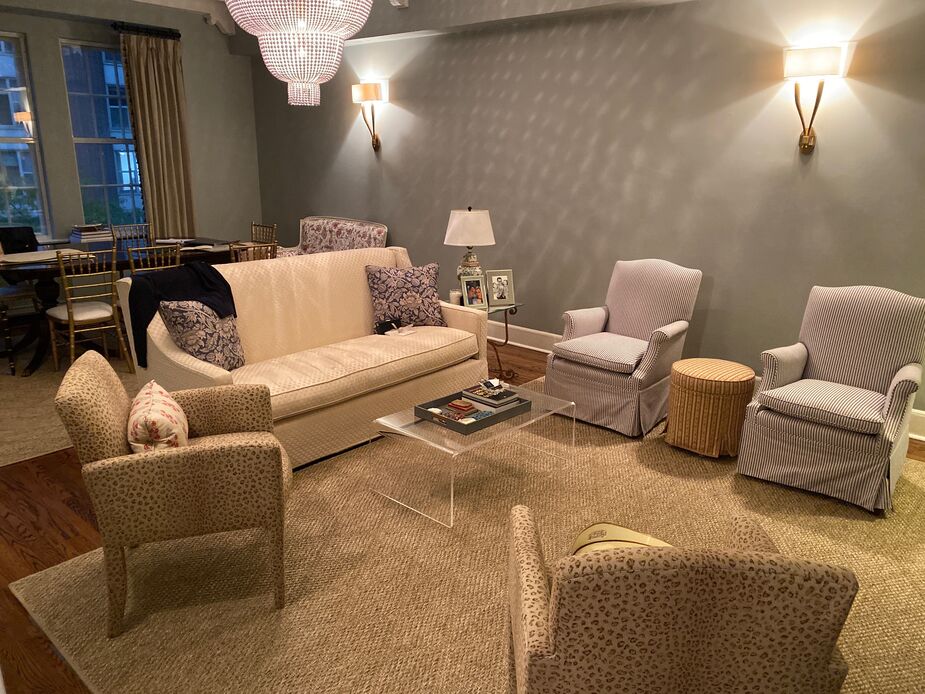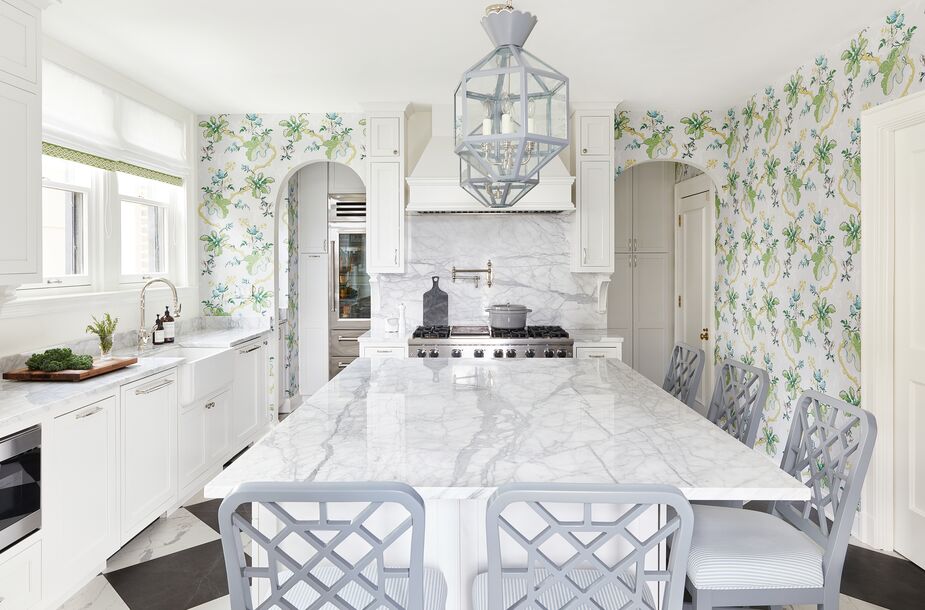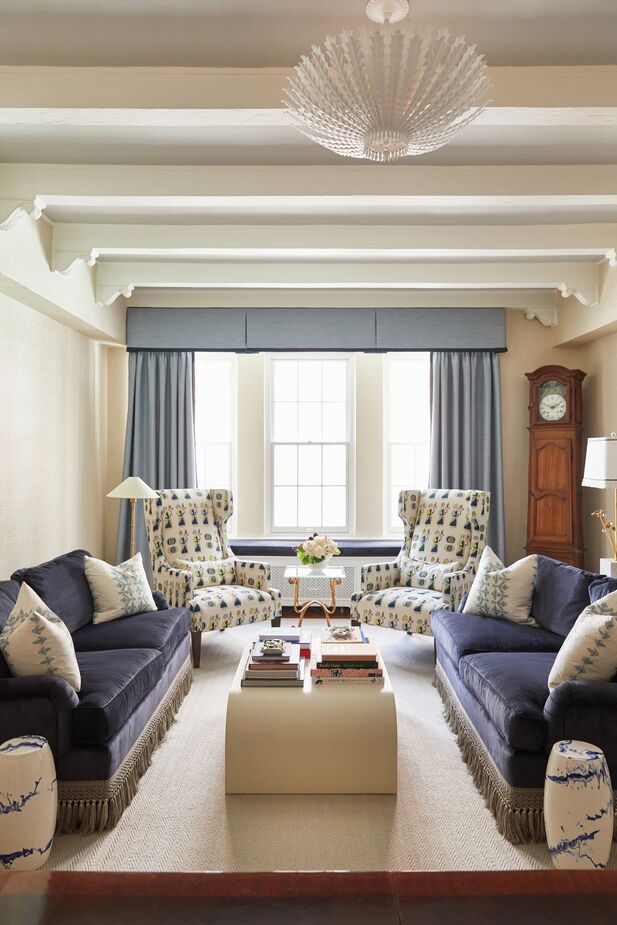 In turn, the window has become a focal point of the living area. Blue curtains and a classic valance frame the view, and a cushioned window seat provides an extra perch. 
Sara also reorganized the room for a more harmonious flow between the two areas. Gone is the sofa positioned as a divider, with the dining area looking onto its back. In its place: a pair of sofas in the living area placed perpendicular, not parallel, to the dining area, making the space feel roomier and less crowded. 
The room's walls and carved ceiling beams are still painted in pale neutrals, serving as a restful backdrop to the myriad shades of blue used throughout. The powder room is a rhapsody in blues as well. Not only was the millwork painted blue (New Born's Eyes by Benjamin Moore) but a custom trellis pattern was also painted over the silver Mylar wallpaper. "The room became the perfect spot for my client to display her blue-and-white ginger jar collection," Sara says. More of the collection is shown on the dining room's fireplace mantel.
Elements such as the ginger jars, the living area's grandfather clock, and the antique dining table and chairs speak to the client's love of the traditional. But there are plenty of contemporary, whimsical touches too, "which allows the traditional space to feel fresh and current," Sara says. These include modern artworks, the minimalist waterfall-style cocktail table, and the figural hand-printed fabric by Katie Ridder on the wingback chairs. Natural-fiber rugs bring a modern ease, and antique dining chairs found at an auction were painted white to add to the bright mood. 
The project did encounter one major obstacle. "We began weeks before the pandemic," Dallas-based Sara says, "and I had to rely heavily on my client and Chicago tradespeople to execute my vision to the finish line, without me physically being there."  
But Sara and her sorority sister agree that all parties more than rose to the challenge. And Sara is hard-pressed to single out a favorite room or feature: "I won't design a space with anything but my favorites, so I love all these rooms!"