If you don't like seafood, it's probably because you've never had good seafood. These recipes from our friends at Sur La Table will make seafood-lovers out of just about anyone. And if you already enjoy fish and shellfish but are wary of making it yourself, these recipes will show you how easy cooking delicious seafood can be.
Maryland Crab Cakes
Makes 18 small cakes
Ingredients
2 pounds jumbo lump crabmeat
2 tablespoons mayonnaise
1 teaspoon Dijon mustard
1 tablespoon Worcestershire sauce
¼ cup fresh parsley, minced
6 tablespoons cracker meal
Vegetable oil
Instructions
Discard any cartilage or shell from the crabmeat. Mix together mayonnaise, mustard, Worcestershire sauce, and parsley in a mixing bowl.
Add crabmeat, taking care not to break it up. Add cracker meal, then shape mixture into 18 cakes about 2 inches in diameter. Cover with plastic wrap and refrigerate 1 hour.
Pour vegetable oil into a large skillet to a depth of ¼ inch and heat over medium-high heat. Fry the cakes until golden brown, turning once, about 5 minutes per side. Serve with tartar sauce if desired.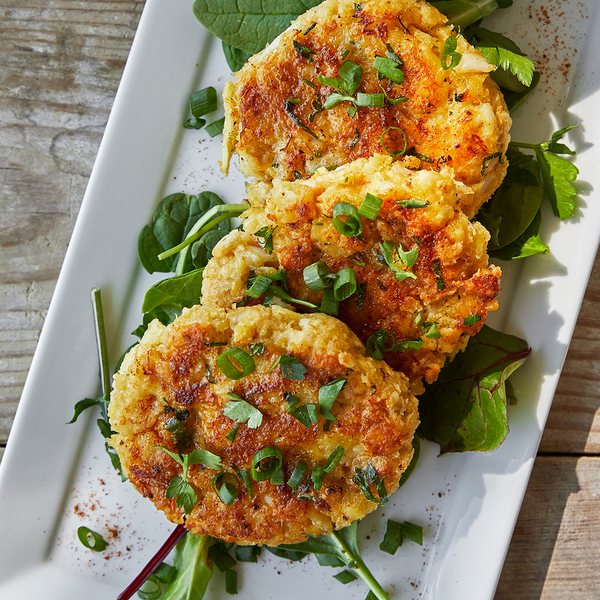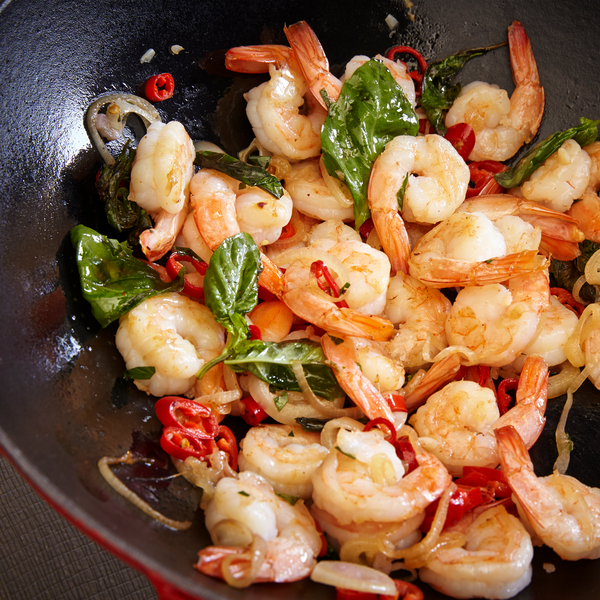 Spicy Shrimp Simmered in Basil
Makes 4 servings
Ingredients
1 pound medium shrimp, peeled and deveined, chopped into ½-inch pieces
2 tablespoons fish sauce, divided, plus more as needed
2 tablespoons lime juice, divided, plus more as needed
4 tablespoons vegetable or canola oil
2 medium shallots, peeled and thinly sliced
1 large clove garlic, peeled and finely minced
3 medium kaffir lime leaves, roughly chopped
1 or 2 Thai red chilis or 2 serrano chilis, stems trimmed, thinly sliced
1 large bunch Thai or sweet basil leaves, stems removed
3 tablespoons firmly packed palm sugar or light brown sugar, plus more as needed
Instructions
Place shrimp, 1 tablespoon fish sauce, and 1 tablespoon lime juice into a medium mixing bowl and toss until the shrimp are thoroughly coated. Cover and refrigerate for 10 minutes.
Place oil in a large wok or skillet on the stove over moderate heat. Once the oil is shimmering, add the shallots, garlic, lime leaves, chilis, and 2/3 of the basil leaves, and cook, stirring frequently, until shallots are golden brown, about 8-10 minutes. 
Increase heat to moderate-high and add the shrimp, stirring frequently, until firm and no longer pink (about 3-4 minutes). Stir in the remaining tablespoon of fish sauce and of lime juice. Add the sugar and stir until combined. Add the remaining basil and cook, stirring constantly until the basil wilts, about 1 minute. Taste and season with additional fish sauce, lime juice, and sugar as desired.
Perfect Pan-Seared Salmon
Makes 4 servings
Ingredients
4 salmon fillets, 5-6 ounces each, pin bones removed
Kosher salt and freshly ground black pepper
2 tablespoons vegetable oil
5 tablespoons unsalted butter
3 tablespoons capers, rinsed, drained, and roughly chopped
2 tablespoons freshly squeezed lemon juice
¼ cup dry white wine
¼ cup roughly chopped flat leaf parsley
Instructions
Season fillets generously on both sides with salt and pepper. In a large nonstick skillet, heat oil over medium-high heat until almost smoking. Sear salmon on both sides until nicely browned and the flesh is no longer translucent in the thickest part of the fillet, 3-5 minutes per side. Remove salmon from skillet and place on a large plate; tent with foil to it keep warm.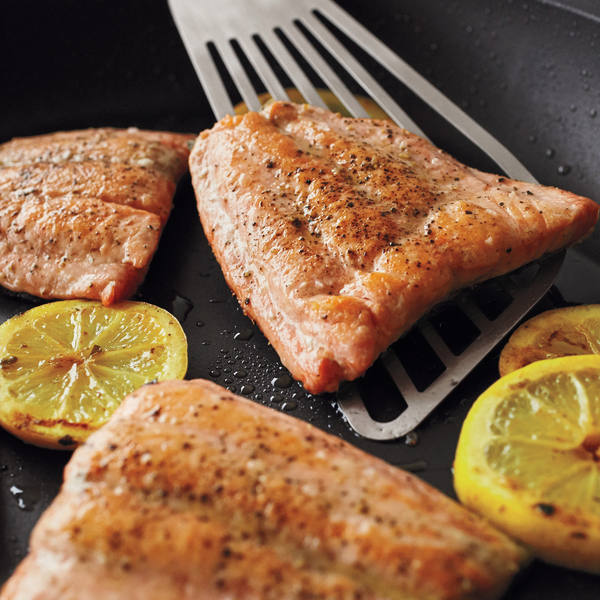 Discard oil from skillet and return to the stovetop over medium heat. Add 3 tablespoons of butter to the skillet and melt, stirring to release any browned bits on the bottom of the pan, until butter turns golden brown and smells nutty, about 2-3 minutes. Add capers, lemon juice, and white wine, then simmer, stirring constantly, for another 2-3 minutes. Whisk in the remaining 2 tablespoons of butter, remove skillet from heat, and stir in chopped parsley. Taste and adjust seasonings with salt and pepper.
Place each salmon fillet on a warmed dinner plate and divide lemon-caper butter among them. Serve immediately.
At right, the perfect tableware for a seafood meal—or any other meal where you'd like to invite both sophistication and whimsy: the Sailor's Farewell place setting and serveware by Kit Kemp for Wedgwood.