Shining example. Shine through. Take a shine to. Shine has so many positive connotations, probably because a bit of sheen and luster can brighten a mood—and a room. A number of spaces we found on Instagram prove the point; you can see a few of them below. 
For even more inspiration, follow us on Instagram @onekingslane—and feel free to share your own spaces by tagging us with #myOKLstyle.
Hattie Sparks knows that a bit of shine makes a sparkling first impression. The generous scale and dramatic geometric frame of the Hailey Deco Oversize Mirror helped her transform this entryway into much more than a space to simply pass through. The Alexandra Hanging Shade shows off the same gilded finish, with the circles providing a fun contrast to the mirror's triangles. Find the table lamp here.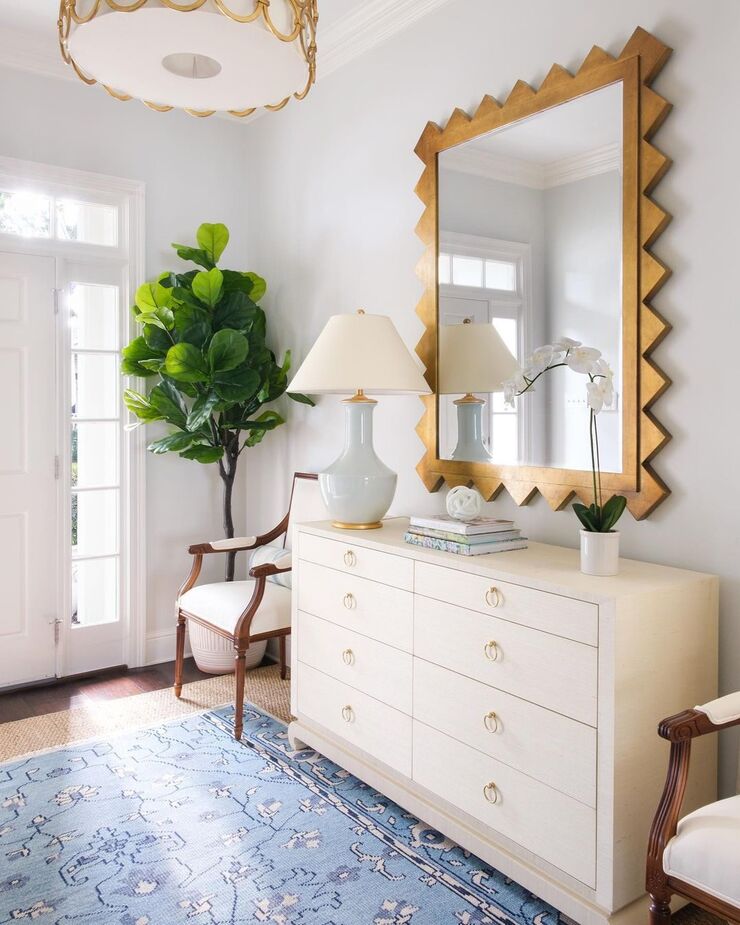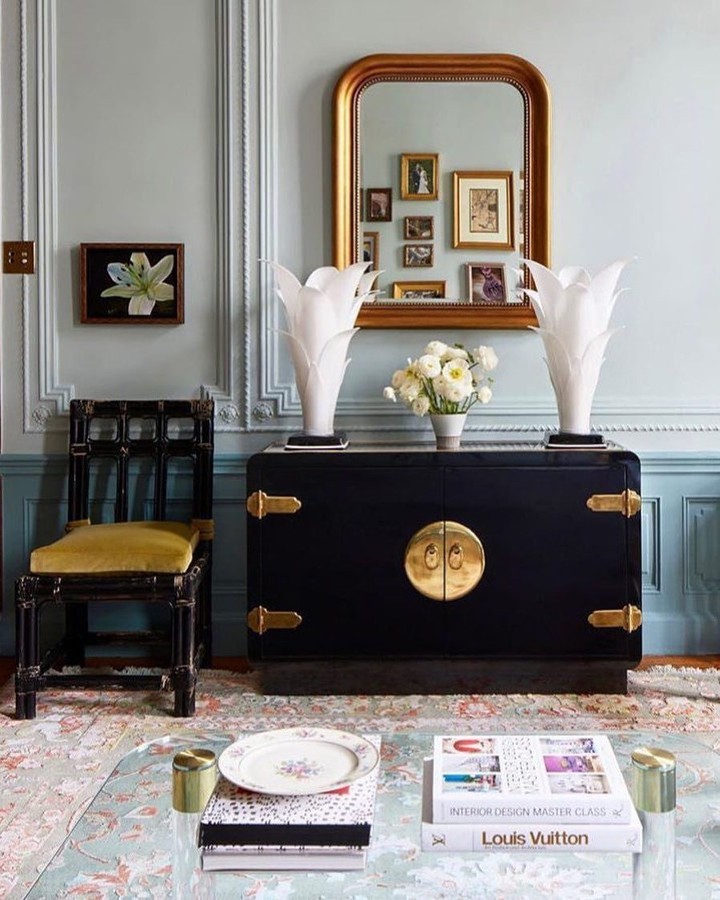 More mirror magic: The lacquered cabinet and side chair provide gloss in and of themselves. But by adding the Mason Mirror, Nicholas Obeid made sure that the extra gleam of the brass hardware (on the acrylic cocktail table as well as on the cabinet) felt considered rather than an afterthought. The golden color of the chair's velvet cushion has the same effect.
Organic materials such as rattan, raw wood, grasscloth, and jute remain favorites, but more often now, a few metallic glints are being placed alongside them. Case in point: the Piatto Pendants in this kitchen by Thorpe Concepts. The aged brass finish of each pendant's underside and chain brings a sense of considered luxury while shining a light, so to speak, on the earthiness of the room's other textures.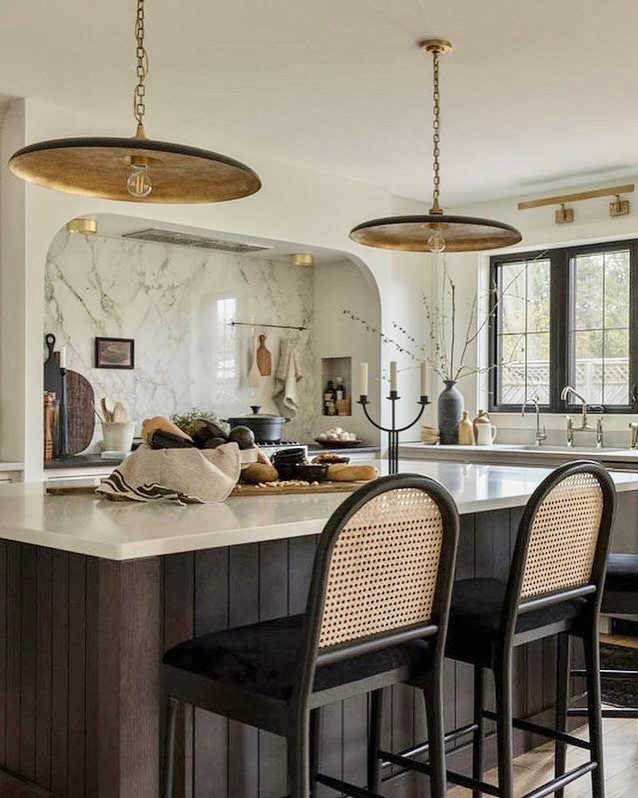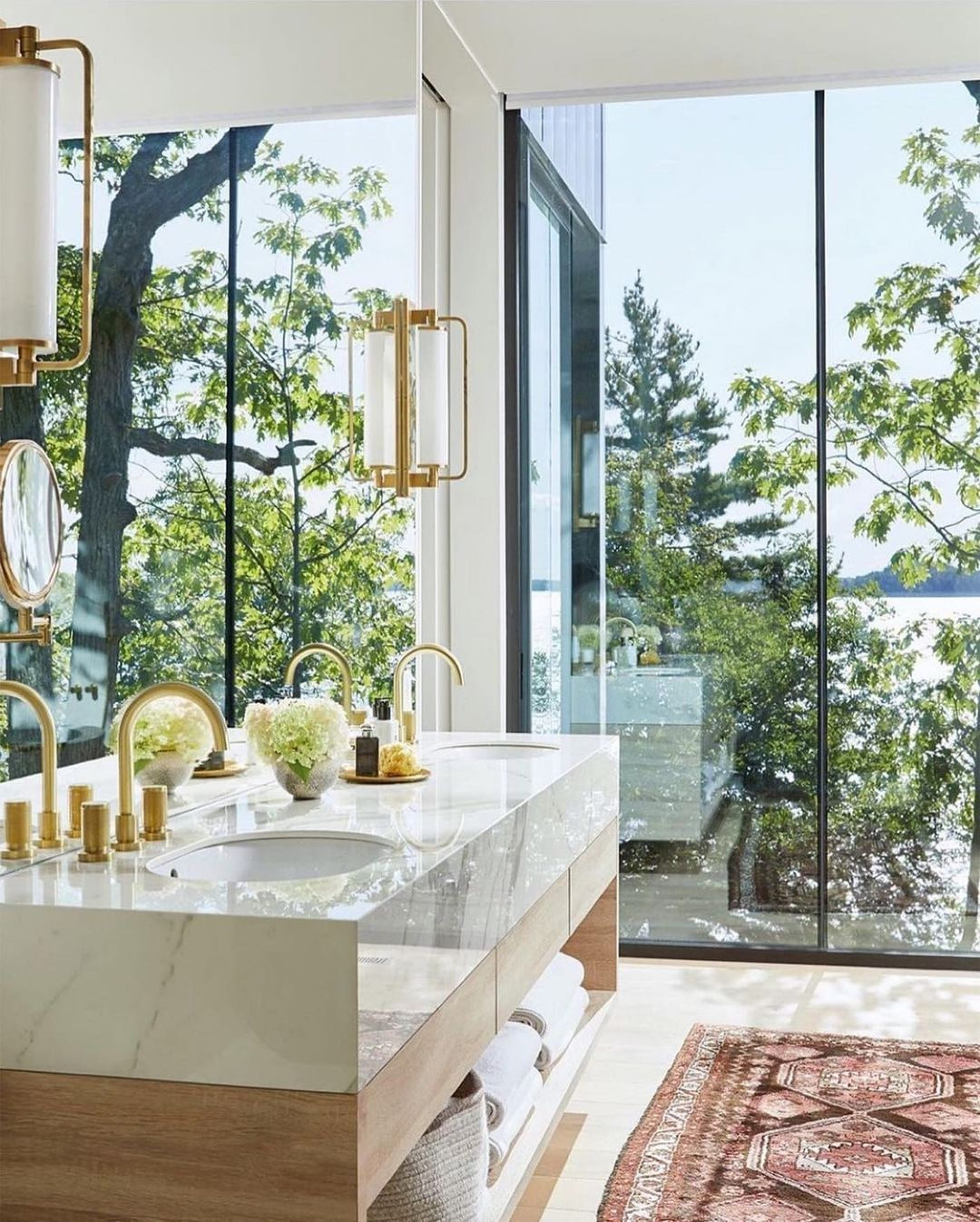 It's difficult to compete with the sunshine glinting off the waters of Ontario's Lake Joseph, but Lorraine Franklin Designs manages by pairing high-gleam marble with white oak and layering golden fixtures on top. 
A statement-making gold ceiling fixture, as in this office by Francesca Herro Interiors, can be all the shine a room needs. Then again, why stop there? The lustrous finish and golden bases of the lamps offer complementary gloss. Find a similar lighting pendant here, the rug here, and a similar console here.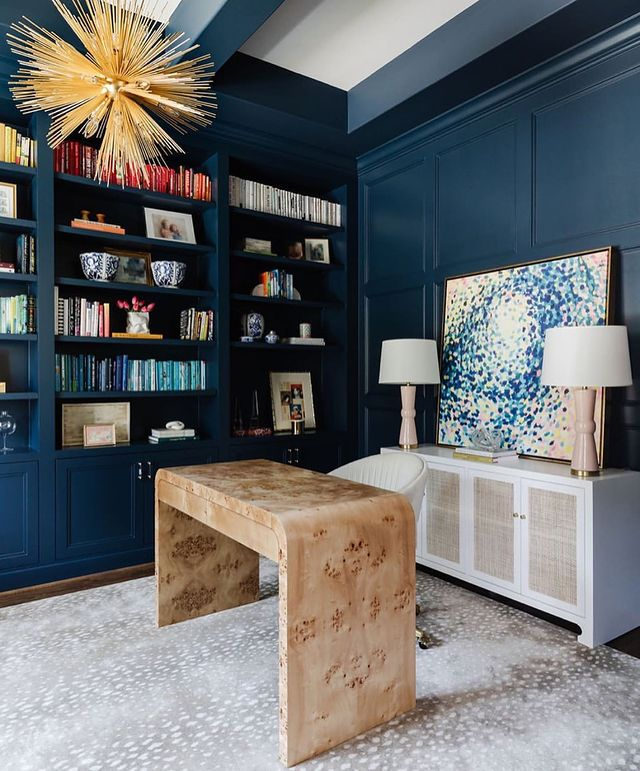 Red lacquered cabinets, gleaming brass hardware: Ashley Whittaker shows that even the smallest spaces can shine bright. The block-print wallpaper serves as a nongloss complement.