A staycation that's as stylish as a long-distance vacation? Sign us up. Fortunately bringing the blissful vibe of your favorite vacation spot—or of a destination you dream of visiting—to your home's outdoor spaces is surprisingly easy. And it's much more restful than queuing up at customs, packing and unpacking, and getting jostled by other tourists. Below we'll show you how to transform your porch, yard, or balcony into a retreat with your favorite getaway ambience.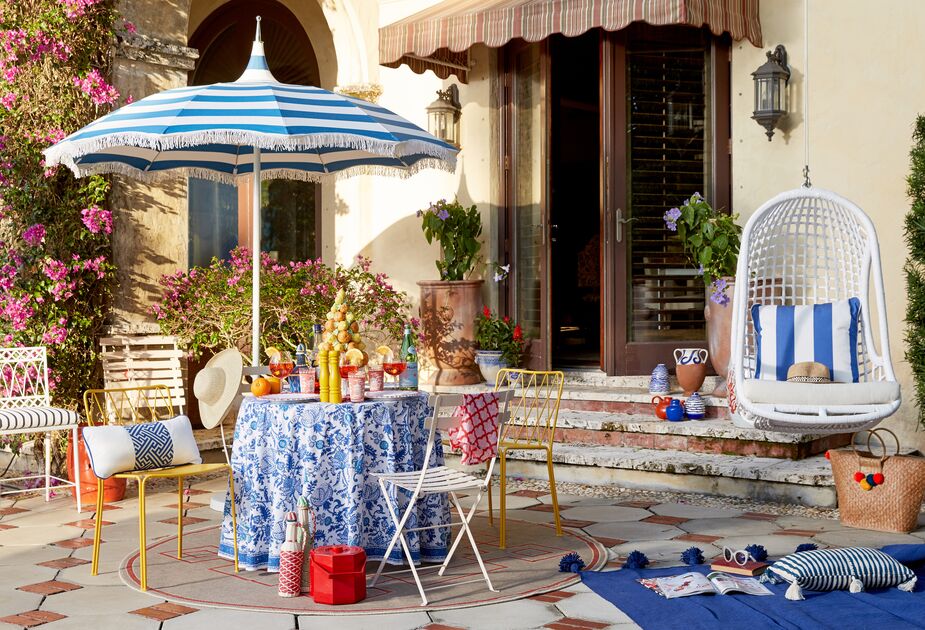 Mediterranean Magic
The terraced cliffs of the Amalfi Coast. The palm-lined promenades of the Côte d'Azur. The colorful fishing boats bobbing in the harbors of Malta. Each destination along the Mediterranean Sea has its unique charms, but they also have certain elements in common. Two such elements: strong, vibrant color and eye-catching pattern. Feel free to place chairs with blue-and-white floral cushions beneath a yellow-and-white striped umbrella, and then add a few coral pillows festooned with pom-poms just for the heck of it. Bistro-style tables and chairs also create a Mediterranean mood, and they're especially well suited for petite spaces. If at all possible, stretch string lights above your seating or dining area to create a twinkling canopy. And don't skimp on tall, lush, bordering-on-overgrown plants—bonus points if they're lavender or bougainvillea.
Five favorite pieces
• Classic Rolled-Rim Outdoor Planter. With its rusted-iron finish, it could easily pass as an antique from a Provençal farmhouse.
• Frances White Chaise with Blush Pink Upholstery. Belle Époque France inspired our exclusive Frances outdoor collection, from the slender metal frames to the gold finials. This chaise has wheels so you can easily move it in and out of the sun throughout the day.
• Santorini Tablecloth. Yes, Santorini is in the Aegean Sea, not the Mediterranean, but this tablecloth's lively blue-on-white floral print would look right at home on an Amalfi table. (It's also available as a table runner.)
• Rufus Outdoor Rug. This rug's bold navy-and-white geometric motif will bring a dolce vita vibe to any patio or balcony.
• Umbrella Swirl Outdoor Pillow in Navy. This pillow's print calls to mind an aerial view of sun umbrellas on the Positano beaches.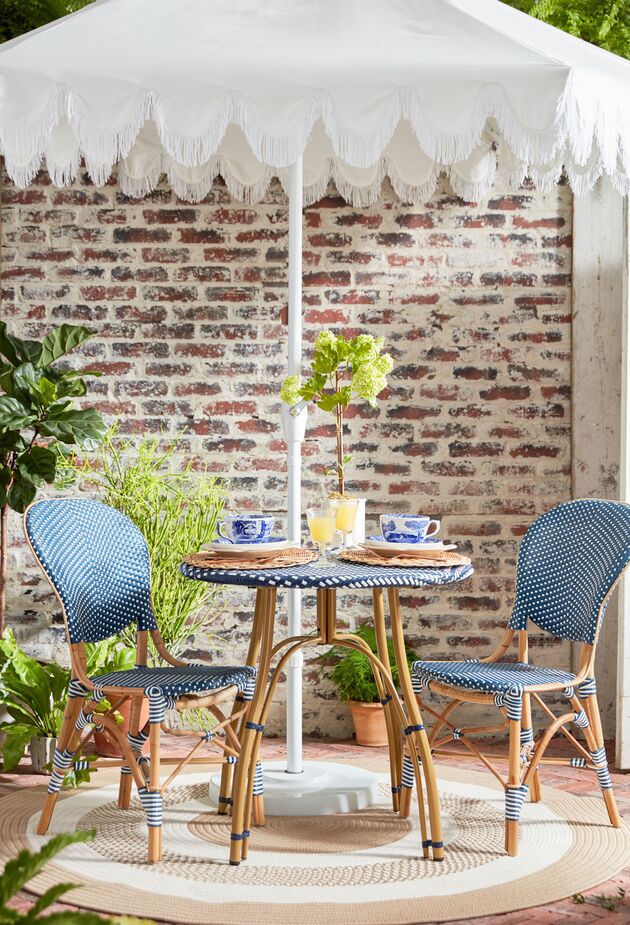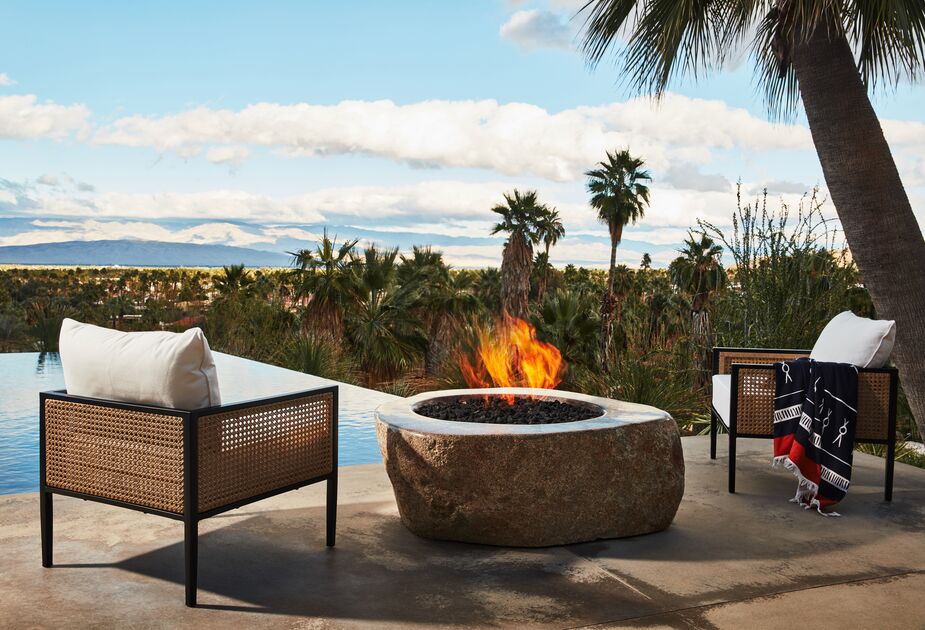 Island Idyll
Seating in which you can happily laze for hours is key to bringing home the sun-warmed serenity of a tropical resort. A chaise always does the trick, but so does a sofa you can stretch out on, a hammock, or a bed swing where you can savor a nap or spend the night under the stars. Include a side table or garden stool so that you can have cool beverages, sunscreen, and reading material within easy reach. Nearly as important is setting the scene with rattan, raffia, and bamboo furnishings. And that's it: Easy does it.
Five favorite pieces
• Trayta Side Table. Not only does bamboo evoke the tropics, but it's also impressively hardy.  
• Emilia Raffia Dining Chair in White. Its generous proportions and high style allow the chair to double as poolside or porch seating.
• Oran Outdoor Fire Pit. Depending on where you live, you might need a heat source to help achieve that tropical warmth. This iron fire pit has a suitably relaxed artisanal look and texture.
• Elephant Garden Stool in White. Maybe you can't go elephant-spotting in Indonesia this summer, but you can at least rest a drink atop this elephant-shape ceramic stool.
• Percy Porch Swing in Natural/Beige Sunbrella. This handcrafted swing makes it easy to get into a laid-back tropical mindset.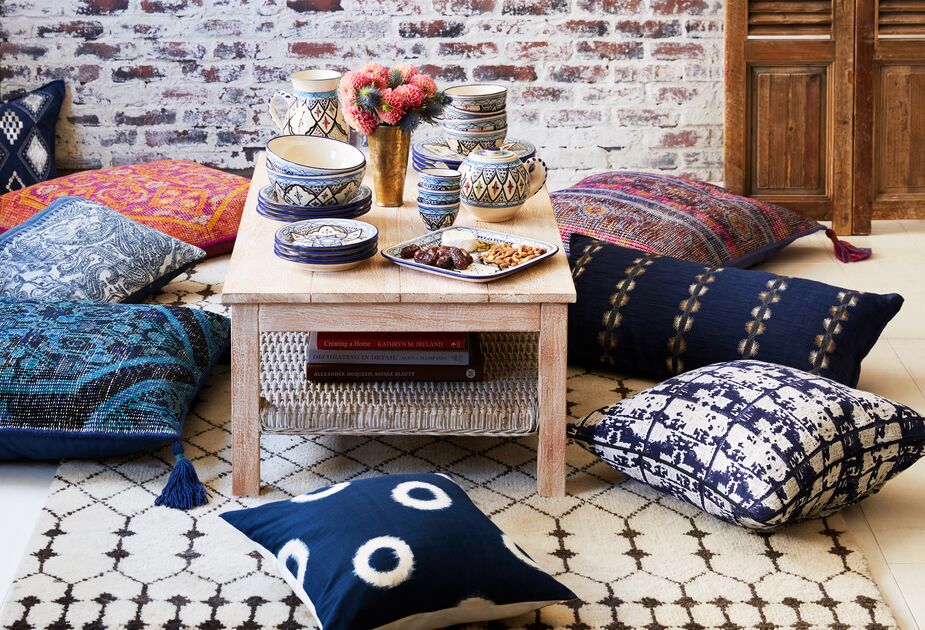 Moroccan Magnificence
Moroccan is probably the most affordable outdoor style to replicate. All you really need are pillows, rugs, and a lantern or two. Any furniture should be low-slung and easy to move about. Don't skimp on pattern and texture, though. Layer tassels on fringe, trellis motifs atop ikat prints, copper trays on flat-weave textiles—it's a way to evoke the buzz of the souk without the hubbub. At the same time, to conjure the serenity of a private riad, consider filling any empty nooks with potted cacti, aloe plants, and even citrus trees. You can always bring them inside when temperatures drop.
Five favorite pieces
• Dawson Outdoor Rug. Adorned with multiple Moorish motifs, this rug can withstand the elements and be hosed down when needed.
• Petra Pillow. Despite looking and feeling like it's made from a kilim, this colorful pillow is designed for outdoor use.
• Hayden Garden Stool. Perfect for resting your hummus and pita—or your sunglasses and cell phone.
• Albini Outdoor Ottoman in Dove/White. Available in two sizes, this multitasker can serve as a seat, a footrest, or an occasional table.
• Amari Outdoor Accent Table. The antiqued brass finish gives it the charm of a surprise souk find.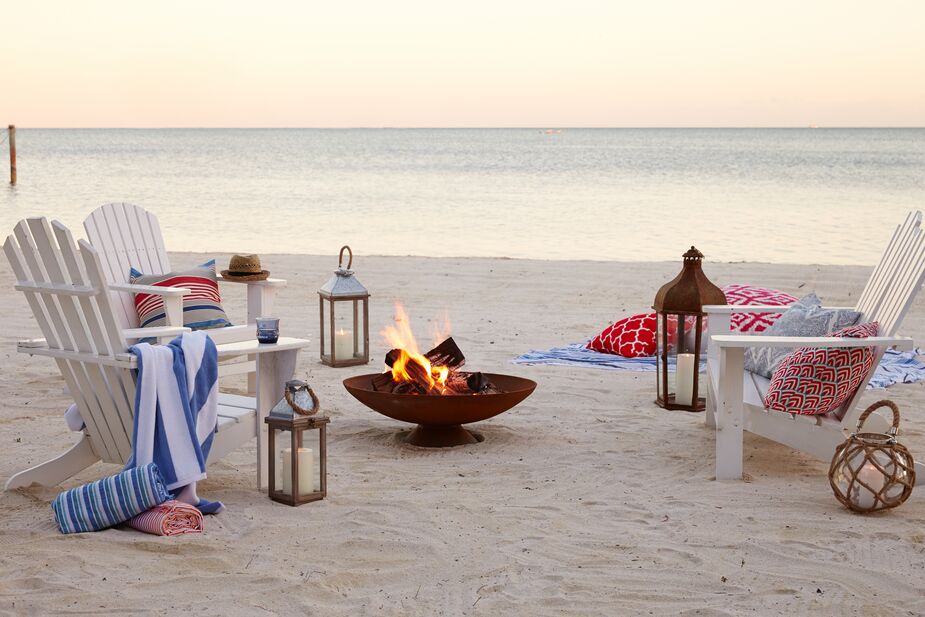 Nautical New England
Whale-watching, clambakes, early morning beach strolls searching for sea glass… While there are scores of reasons to vacation in New England, proximity to the Atlantic is a big one. So a palette reminiscent of sea, sand, and sky, or at least heavy on navy blue and white, will help transform your outdoor space into one where you can happily indulge in lobster rolls. Keep the furniture simple and classic; you can't go wrong with wood-planked dining tables and Adirondack chairs. And a few nods to nautical chic—tumblers adorned with anchors, say—won't go amiss. 
Five favorite pieces
• Shoreham Outdoor Rug. Braided rugs are quintessential New England. This one's navy stripes add a nautical vibe.
• Herringbone Indoor/Outdoor Throw in Navy. If you don't need to wrap yourself in it once the sun sets, this fade-resistant throw will look (and feel) great draped over a bench.
• Round Fire Pit in Sand. We love the plank styling and the square shape.
• Muse Portable Outdoor Lantern in Candlenut White. The streamlined shape and brass accents call to mind an 18th-century woman pacing her widow's walk, lantern in hand, scanning the sea for her husband's boat. Rather than relying on a flame, however, this modern update has a 24-hour battery life.
• Coventry 9-Piece Teak Dining Set. Practical yet handsome in an understated way: New England style in a nutshell.