Tired of the same old salads? So were we—until we reached out to our friends at Sur La Table for fresh recipes. Bring any of the three below to your next barbecue, and you'll be the belle of the potluck.
Watermelon Salad with Feta and Fresh Mint
Makes four servings
Ingredients
1 cup balsamic vinegar
4 ounces baby arugula leaves, washed and dried
1 ½ tablespoons extra-virgin olive oil
Kosher salt and freshly ground black pepper
2 cups seedless watermelon diced into 1-inch pieces
½ cup finely crumbled feta cheese
⅓ cup Kalamata olives, drained and pitted
10 mint leaves, cut into ribbons
Instructions
To prepare the balsamic drizzle, place vinegar in a small saucepan over medium heat. Simmer until vinegar is reduced to a third, about 15-20 minutes. Allow to cool to room temperature. Set aside.
Place arugula leaves in a medium mixing bowl, lightly dress with olive oil, season with salt and pepper, and toss to coat. Divide dressed arugula among 4 chilled salad plates and top with watermelon chunks. Sprinkle each salad with feta cheese, and garnish with olives and mint ribbons. Drizzle each salad with reduced balsamic vinegar and serve.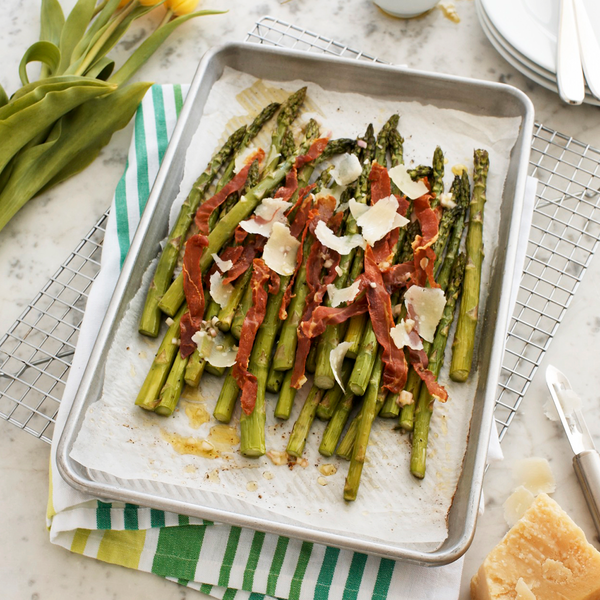 Roasted Asparagus Salad with Prosciutto Crisps
Serves four
Ingredients
6 thin prosciutto slices, cut into ½-inch-wide ribbons
¼ cup white-wine vinegar
1 medium shallot, peeled and finely minced
1 teaspoon Dijon mustard
5 ounces plus ⅓ cup extra-virgin olive oil
Kosher salt and freshly ground black pepper
1 tablespoon fresh thyme leaves
1 pound asparagus spears, washed and trimmed
1 (2-ounce) piece Parmesan cheese, cut into curls with a vegetable peeler
Instructions
To make the prosciutto crisps, preheat oven to 350° and place a rack in the center. Line a rimmed baking sheet with parchment paper or a Silpat baking mat. Arrange the prosciutto slices on the baking sheet about 1 inch apart and bake until golden, about 8-10 minutes. Cool completely on the baking sheet and remove carefully with a metal spatula. Set aside.
To prepare thyme vinaigrette, whisk the vinegar, shallot, and mustard together in a medium mixing bowl to blend. While whisking vigorously, slowly drizzle 5 ounces of olive oil into the vinegar mixture. Taste and season with salt and pepper. Stir in thyme and set aside.
To roast the asparagus, increase the oven temperature to 425°. Pour ⅓ cup of olive oil across a rimmed baking sheet and arrange asparagus in an even layer on the pan, rolling to coat with the oil. Season with salt and pepper, and roast until tender, about 8-10 minutes. Remove from oven and allow to cool to room temperature.
To serve, divide asparagus among 4 chilled salad plates. Drizzle with thyme vinaigrette and top with prosciutto and Parmesan curls. Serve immediately.
German Potato Salad
Serves four
Ingredients
1 pound Yukon gold potatoes, peeled
Sea salt
5 slices bacon, cut into ½-inch strips
½ red bell pepper, diced
2 celery stalks, thinly sliced
2 teaspoons seeded mustard
2 tablespoons apple cider vinegar
Freshly ground black pepper
3 tablespoons minced parsley
Instructions
Place potatoes and salt in a large pot and cover with cold water by 1 inch. Heat over medium-high heat until water just begins to boil. Reduce heat to maintain a simmer, and cook potatoes until tender and cooked through, about 15-20 minutes. Drain potatoes in a colander and set aside until cool enough to touch. Slice potatoes in quarters, place in a large bowl, and set aside.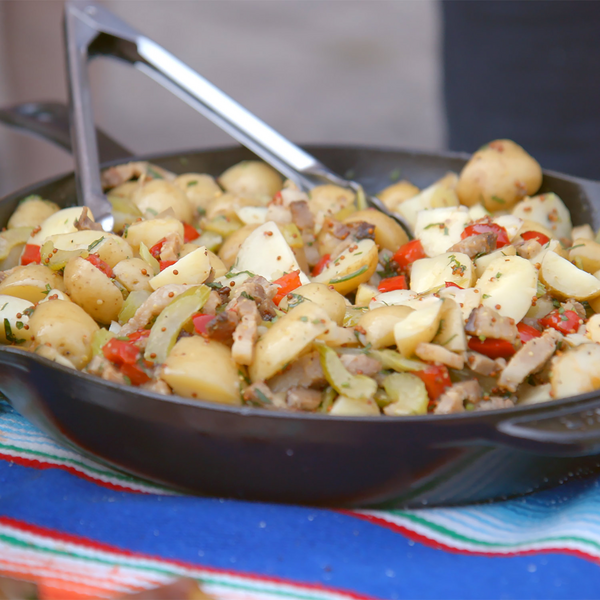 Cook bacon in a large skillet over medium heat until the fat has been rendered and the bacon is golden brown and crispy, about 5 minutes. Using a slotted spoon, transfer the bacon to a plate lined with paper towels and set aside, reserving the rendered fat.
Place the skillet back on the stove over medium heat, add the red pepper and the celery to the bacon fat, and sauté until tender, about 3 minutes. Add the red pepper and celery to the bowl with the potatoes.
In a small bowl, combine the mustard and the vinegar; pour over the potato mixture. Add the bacon and the parsley, and gently toss until just combined. Taste and adjust seasoning with salt and pepper. Serve warm or at room temperature.