Sweet potatoes are delicious, whether you bake them, fry them, or use them as the base of anything from soup to dessert. What's more, their vibrant orange color makes them a beautiful addition to a table. Below are three recipes from our friends at Sur La Table that use sweet potatoes in unexpected ways. As a bonus, you'll find some table-setting inspiration too.
Apple and Ginger-Spiced Sweet Potatoes
Makes 4 servings
Ingredients
2 pounds sweet potatoes
Coarse salt and freshly ground black pepper
1 cup unsweetened apple juice
2 tablespoons unsalted butter
1 teaspoon peeled grated fresh ginger
1 tablespoon minced fresh chives or thinly sliced green onion tops, for garnish
Instructions
Place the sweet potatoes in a large saucepan and add water to cover. Bring to a boil over high heat, then cover partially, reduce the heat to medium-low, and cook for 30 minutes, or until tender when pierced with a skewer. Drain in a colander and let cool. Use a paring knife to pull off the skins. Cut the potatoes into 1-inch chunks and puree. Season the potatoes with salt and a grinding of pepper.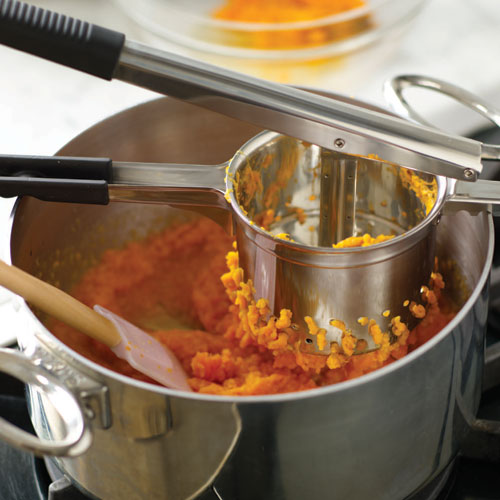 Rinse and dry the saucepan, then add the apple juice, butter, and ginger. Place over low heat, stirring with a wooden spoon, until the butter is melted. Remove from the heat.
Add the potatoes to the saucepan. Reheat over low heat, stirring with a wooden spoon, until hot. Spoon into a warmed serving dish and garnish with the chives or onion tops.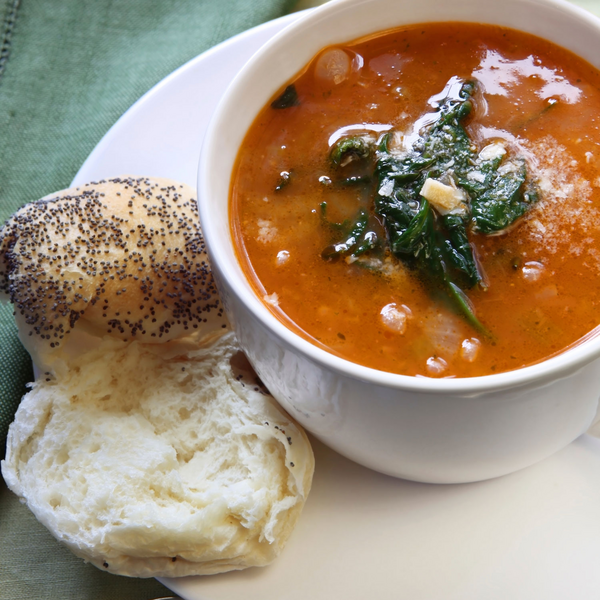 Senegalese Sweet Potato and Peanut Soup
Makes 6-8 servings
Ingredients
2 tablespoons olive oil
1 large onion, diced
3 ribs celery, diced
3 large carrots, peeled and diced
2 medium sweet potatoes, peeled and cut into cubes
1 tablespoon minced garlic
2 tablespoons minced ginger
1 medium jalapeño, seeded and finely diced
1 bunch cilantro, stems minced, leaves set aside for garnish
3 cups low-sodium vegetable broth
1 (28-ounce) can chopped tomatoes with juice
⅔ cup creamy peanut butter
1 cup coconut milk
2 cups baby spinach, roughly chopped
Kosher salt and freshly ground black pepper
Instructions
In a large saucepan or Dutch oven, heat the oil over medium heat until shimmering. Add the onions, celery, and carrots, and sauté until onions are translucent. Add the sweet potatoes, garlic, ginger, jalapeño, and cilantro stems, and sauté until fragrant, 1-2 minutes. Stir in vegetable broth and chopped tomatoes, and simmer until sweet potatoes are tender, about 30 minutes.
Turn the heat down to low, and add peanut butter and coconut milk, stirring until thoroughly combined and peanut butter has melted. Add chopped spinach and cook for about 1 minute to wilt. Taste and adjust seasoning with salt and pepper. Garnish with cilantro leaves when serving.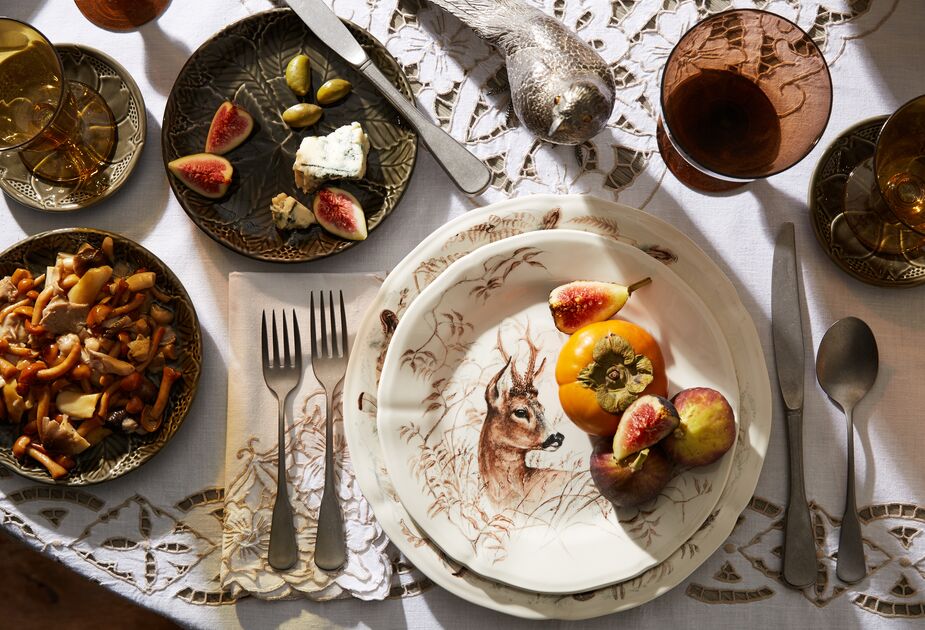 Sweet Potato Gnocchi with Brown-Butter Sage Sauce
Makes 4 servings
Ingredients
For gnocchi:
1 large sweet potato, scrubbed
1 large russet potato, scrubbed
1 large egg, beaten
1½ teaspoons kosher salt
Freshly ground black pepper
½ teaspoon light brown sugar
1/8 teaspoon ground nutmeg
2¼ cups all-purpose flour, plus more for rolling
For sauce:
1 stick (4 ounces) unsalted butter
3 tablespoons finely chopped fresh sage leaves
2 teaspoons lemon zest
Kosher salt and freshly ground black pepper, to taste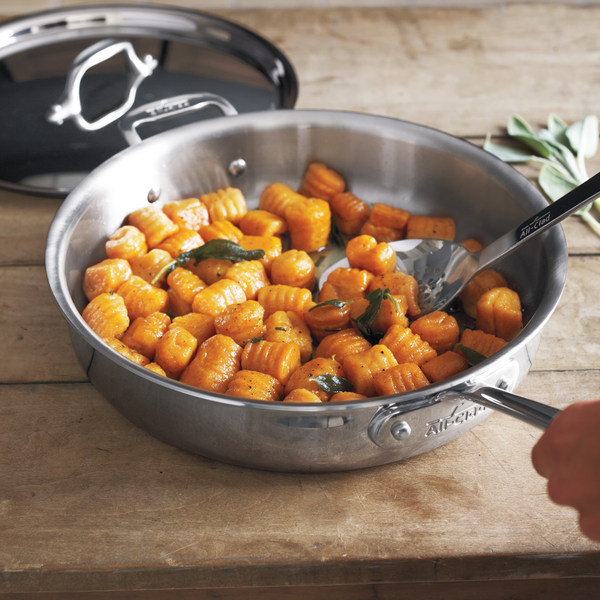 Instructions
Preheat oven to 375°F and place a rack in the center.
Pierce the potatoes all over with a fork. Place onto a baking sheet and transfer to the oven to bake until tender, about 1 hour. Set aside to cool.
Peel the potatoes and pass through a potato ricer into a large bowl. (If necessary, cut into smaller pieces so that they pass through the ricer more easily.) Stir in the egg, salt, pepper, sugar, and nutmeg until combined. Mix in the flour, 1 cup at a time, until thoroughly combined.
Place potato dough on a lightly floured work surface and cut into fourths, ideally with a bench scraper. Roll each portion into a long rope about ¾-inch in diameter. Using the bench scraper, cut the rope into inch-long pieces. Roll each gnoccho over a gnocchi board or over the back of a fork using your thumb. Set the gnocchi on a lightly floured baking sheet and cover with a kitchen towel as you form the remaining gnocchi.
To make the sauce, melt butter in a large skillet over medium heat, stirring occasionally, until butter turns golden brown and gives off a nutty aroma, about 3-5 minutes. Remove skillet from heat and stir in chopped sage and lemon zest.
To cook the gnocchi, fill a large pot with water and bring to a boil over high heat. Generously salt the water and add gnocchi in batches. Cook until they float to the surface, about 4-5 minutes. Using a slotted spoon or a spider skimmer, drain gnocchi and transfer to the skillet with the sage sauce. Toss until well combined. Taste and adjust seasoning with salt and pepper. Serve immediately.