Welcome to The Edit, a monthly series of all the products—both for the home and for you—that we're coveting.
Spring has finally arrived. While we normally would be getting set for all sorts of seasonal celebrations, things are a bit different this year. But that doesn't mean you can't dress up your home—or yourself—for more-intimate gatherings. So if your Sunday lunch or Saturday night dinner has turned into a virtual party, the items in our April edit below are sure to wow family and friends—even through a grainy webcam!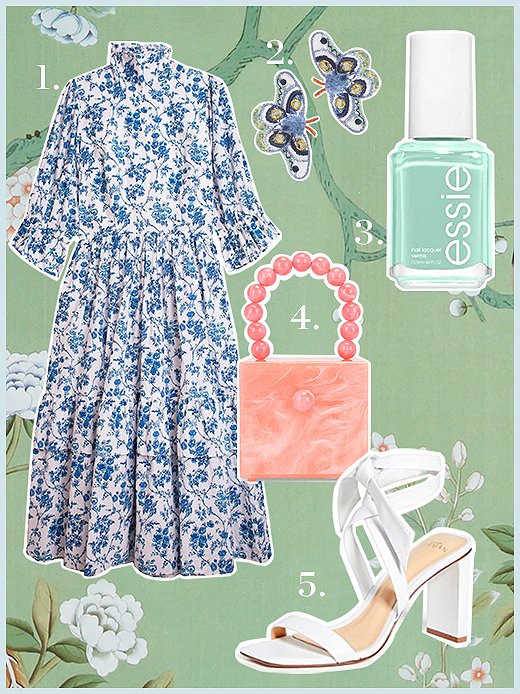 1. Clematis Dress from Meadows: We love the romantic and dreamy look of this dress, which is ideal for a holiday lunch with your immediate family as well as for an at-home date night. Shop here.
2. Atlas Moth Earrings by Mignonne Gavigan: These earrings from New York designer Mignonne Gavigan add just the right touch of whimsy to any outfit. Shop here.
3. Mint Candy Apple Nail Polish from Essie: Round out your spring color story with this mint nail polish from Essie. Shop here.
4. The Eos Box Bag by Cult Gaia No outfit is complete without a purse, even if you're only walking from your bedroom to your dining room. Shop here.
5. Katie Sandals from Alexandre Birman: We get it, heels might not be the right shoe for quarantine. But if you're looking to take a note from popular writer Rachel Syme and join in on her hashtag #distancebutmakeitfashion, try it with a set of heels. Shop here.
6. Dragon Gourd Vase: This vase takes the classic blue-and-white chinoiserie motif and turns it on its head with a pop of unexpected green. Shop here.
7. Cillian Rabbit Dish: If you can't make it to see the Easter Bunny this year, add some bunny touches for the next best thing. We love the way the metallic finish adds a springy touch of pink to your table. Shop here.
8. Faux Hydrangea Arrangement: Fresh flowers are a must for spring, but if you don't have an abundant garden, we suggest these impossible-to-detect-they're-faux flowers as the next best thing. Shop here.
9. Ostindia Dinner Plate: Few people do a better floral motif than the Finnish. These plates, from Finnish brand Iittala, are crafted of porcelain and fired at a high temperature for durability. Shop here.
10. Floretta Tea Towel: Tea towels should add a bit of playfulness and a dash of color to whatever space they're in. We love them as an eco-friendly alternative to paper towels. They do the same work while looking twice as chic. Shop here.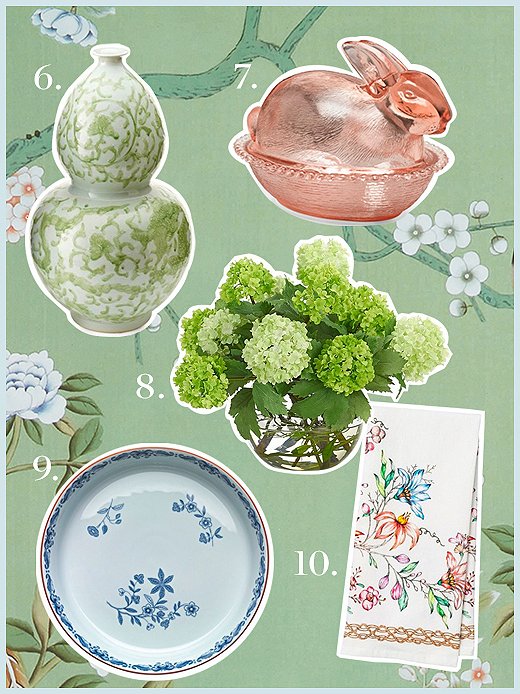 One Kings Lane independently selected all these products but may receive an affiliate commission from these links.