Pink is hot—and we're not talking just hot pink. From bold fuchsia and magenta to quieter blush and carnation, pink is brightening up runways, packaging, and of course, homes. Long associated with optimism, serenity, and nurturing, pink is the palate (and palette) cleanser we need after a tumultuous few years. Introducing even just a hint of pink into a room will give it a timely refresh, whether your style is New Traditional or Curator, Eclectic or Naturalist. (Not sure which best describes your style? Check out our primer here.)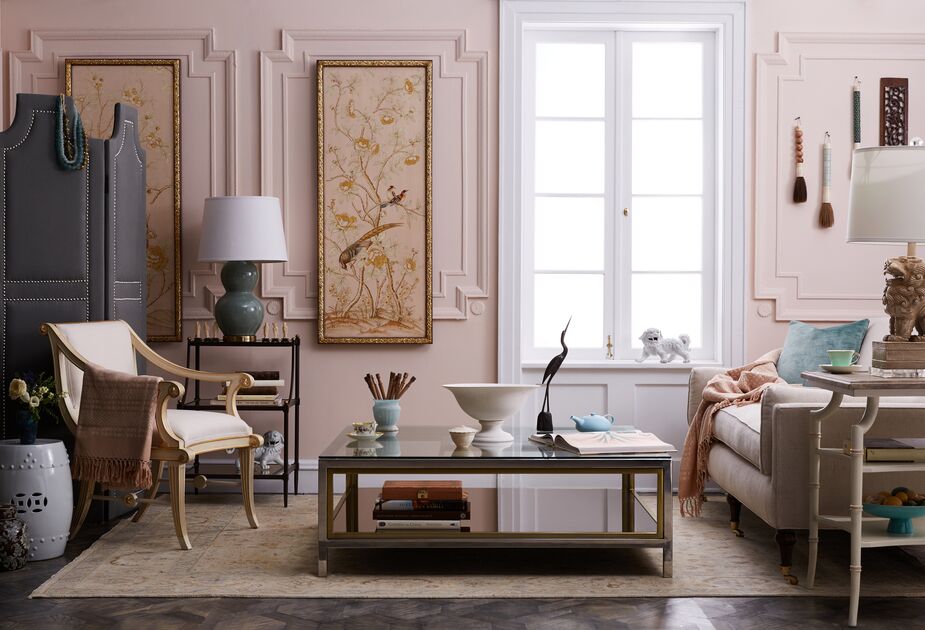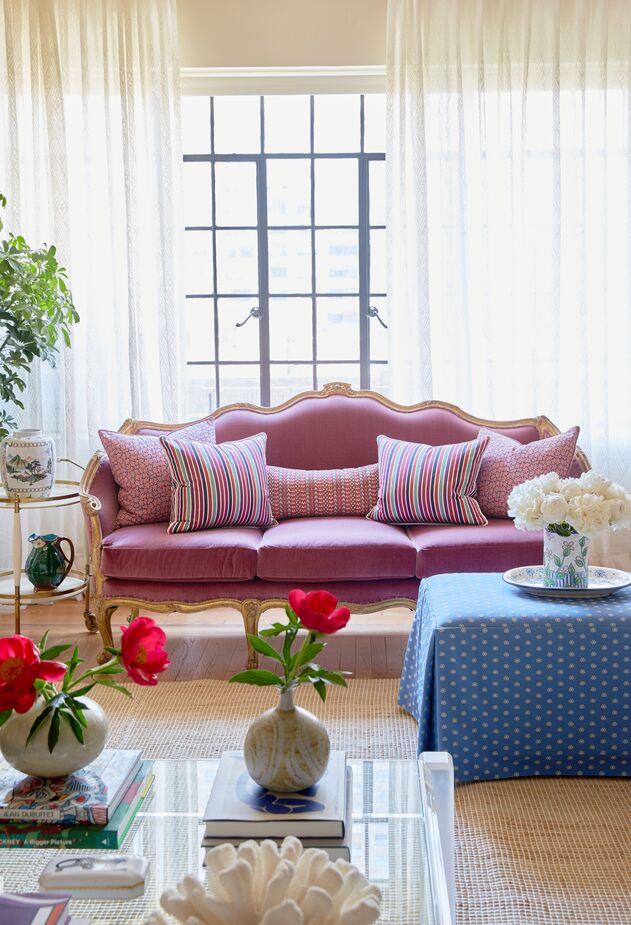 New Traditionalist
Pale and dusky pinks have been part of classical decor at least as far back as Georgian times, when they helped lighten rooms dominated by dark woods and dense prints. Walls painted in a pink-meets-beige hue will feel fresher than the typical off-white while also referencing Regency chic. 
If painting your walls is too much of a commitment or you just want to start smaller, introduce a few throw pillows—either solid pink or with a timeless floral print. In fact, adding roses, carnations, cherry blossoms, azaleas, or other pink blooms, in one form or another, is perhaps the most New Traditional way to ease into the trend. Consider bringing an arrangement of flowers (real or faux), traditional botanical studies, or tableware strewn with peonies into y0ur decor.
Another option is to introduce brighter, more-modern pinks via traditional silhouettes. Ginger jars decorated with pink geometric motifs will enliven a tabletop or mantel, a tufted slipper chair in flamingo velvet will transform a quiet corner into a favorite seating area, and a wingback bed upholstered in a pink ikat-inspired print will make mornings much cheerier.
Top five New Traditional pink picks:
• Liza Skirted Ottoman in Pink
• Matouk Schumacher Collection Pomegranate Bedding
• Udoka Rug
• Pink Chinoiserie Diptych by Dawn Wolfe
• One Kings Lane Collection Trinka Pillow in Mauve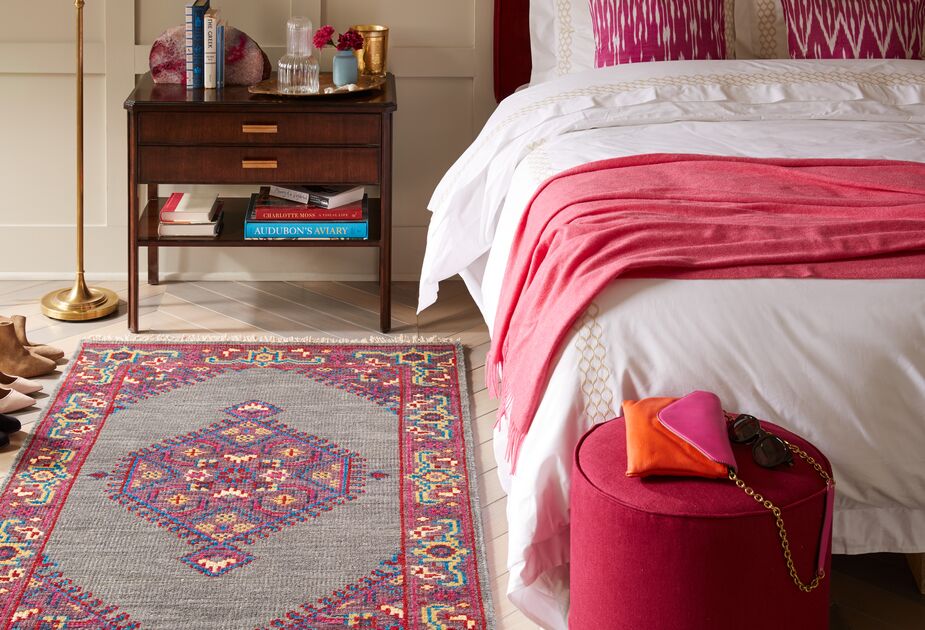 Naturalist
Naturalist palettes tend to be quiet and earthy, in keeping with the bare wood, rattan, sisal, jute, terracotta, and other organic materials that make up most of its furnishings. Pale pinks complement the browns, beiges, and ivories of Naturalist decor to a T, as do darker pinks with brownish undertones. And if the pink items are richly textured—eco-friendly abaca place mats, say, or a sumptuous throw—so much the better.
If you'd like to incorporate a few bolder pinks, look to artisanal designs that draw on time-honored traditions. Like organic materials, global craftsmanship is an element of the Naturalist aesthetic, and kilim and suzani textiles often include bright pinks. So does nature itself. Adding a floral arrangement featuring pink peonies or fuchsia orchids is a low-risk, high-reward way to punch up a room.
Top five Naturalist pink picks:
• One Kings Lane Collection Parker Performance Sofa in Quartz Velvet
• Sijo Eucalyptus Sheet Set in Blush
• Bolé Road Textiles Omo Shower Curtain in Cerise
• Basketweave Pouf in Pink
• Lands Downunder Herringbone Throw in Cherry Blossom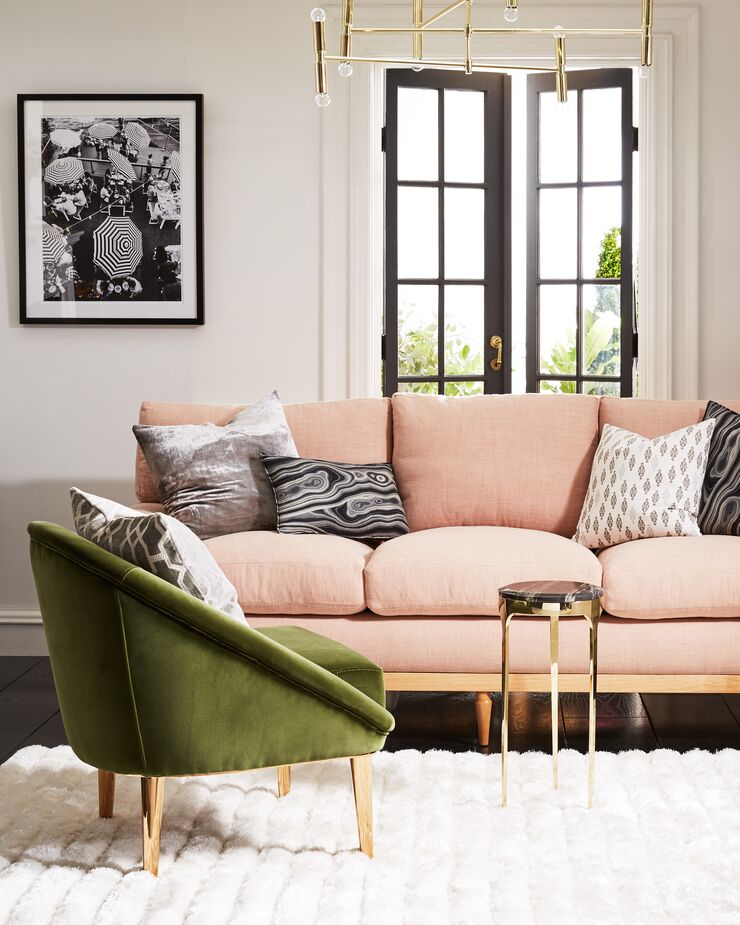 Curator
Pink is often associated with luxury: blush-pink linen bedding, cloud-soft pink cashmere, plush velvet in a veritable rainbow of pinks. Since Curator style is all about luxe, pink fits right in. It also helps that pink is a spectacular complement to gold, a key element of Curator chic. At the same time, gold—along with snow white, ebony, and rich jewel tones—can help ensure that even the pinkest of rooms stays sophisticated rather than veering into cutesy or girlish. 
Sticking with crisp, minimalist shapes will also keep your pinks firmly in Curator territory. Midcentury-inspired swoop-arm chaises, shapely table lamps, and minimalist vases in an unexpected matte finish are a few options to consider. Don't leave bold patterns out of the equation, though: A framed Hermès scarf, for instance, might be the ne plus ultra of Curator chic.
Top five Curator pink picks:
• Kim Salmela Edie Swivel Glider Chair in Blush Velvet
• Jetty Rug in Pink/Ivory
• One Kings Lane Collection Lou Pillow in Currant Velvet
• Cloth & Company Isabella Platform Bed in Blush Velvet
• Pink Hydrangea by James Ogilvy