It's never too early to think spring—and plenty of our Instagram friends agree. With their garden-fresh palettes and incorporation of nature-inspired elements, the spaces below show that spring isn't so much a season as it is a mindset. 
For even more inspiration, follow us on Instagram @onekingslane—and feel free to share your own spaces by tagging us with #myOKLstyle.
Adding floral cushions to stately Louis-style chairs, as Redd Kaihoi did in this entry, plays up the space's other nature-influenced aspects, such as the natural-fiber runner and the framed botanical prints. (Find a similar jute rug here and a similar set of six fern prints here.) We also like how the blues in the fabric reference the ceiling pendant's sky-blue shade and the blue stone of the mirror's frame. Later in the year, the room can easily be made to feel more autumnal simply by removing the cushions and layering a wool or hide rug atop the runner.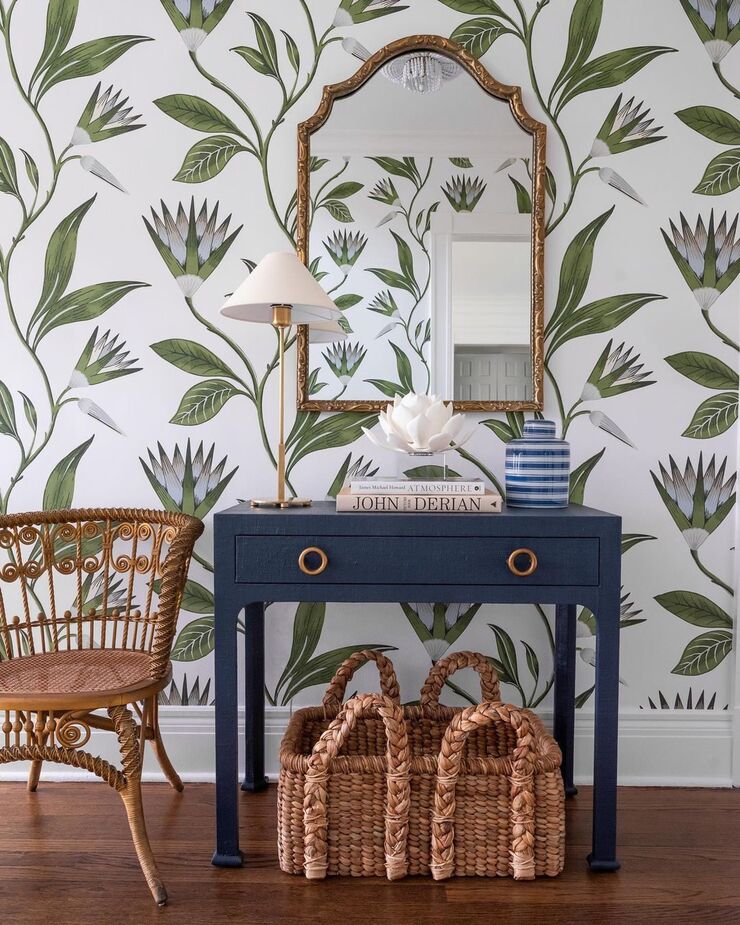 Floral wallpaper, as seen in this entry by Lee Owens, makes it easy to slip into a springtime state of mind. Ditto the wicker basket and chair. But the navy color of the Kos Raffia Console ensures that the space feels appropriate year-round. You can shop the entire Kos Raffia collection, which encompasses étagères, dressers, and more in four colors, here.
This dining room by Beauregard Design also takes advantage of floral wallpaper to create a garden-party ambience. The moldings and the paneling below the chair rail are painted in the same breezy blue as the wallpaper's ground so that the room's antique furnishings never feel too heavy or dark. The diamond motif of the wood floor, painted by Shelly Denning, beautifully bridges the room's dark and light elements.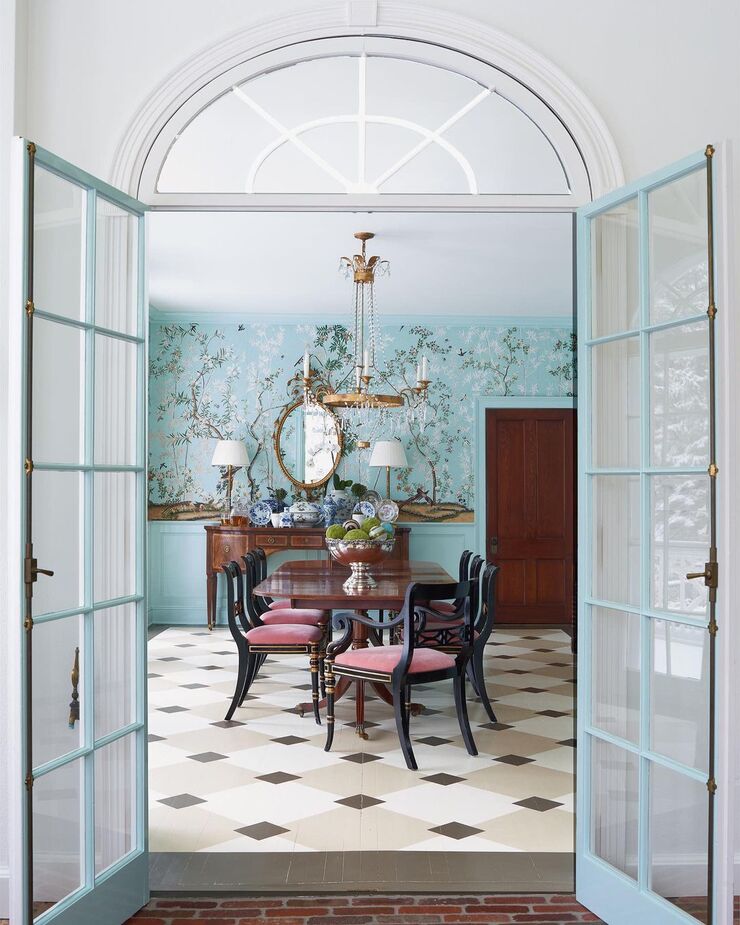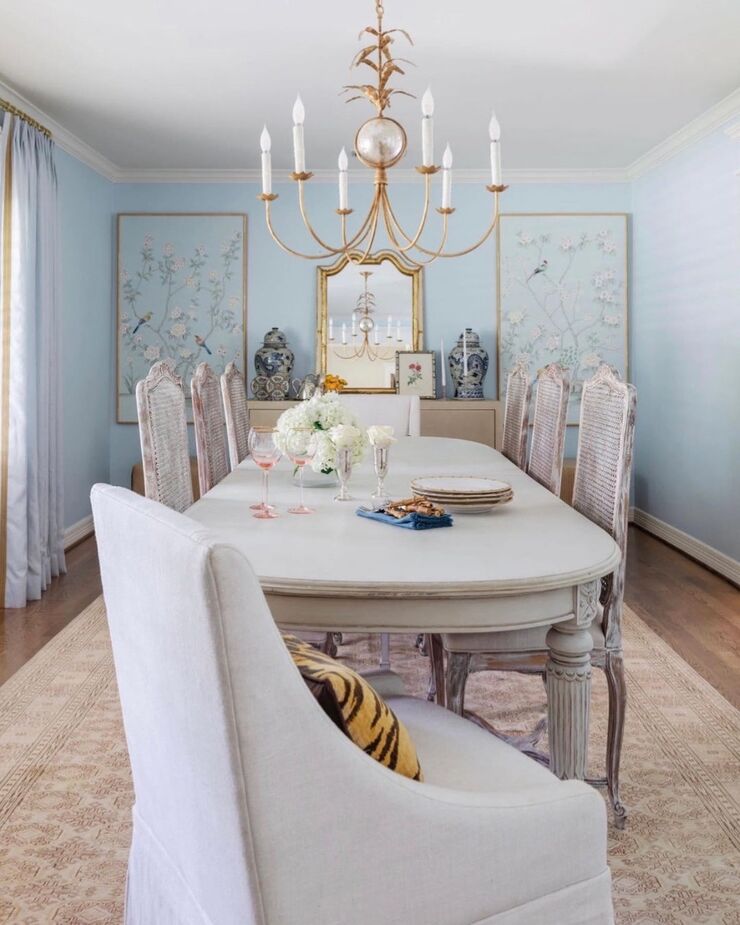 Francesca Herro used similarly pale blue walls in this dining room but instead of floral wallpaper opted for floral art (find a similar diptych here). As with Gustavian style, the pale furniture keeps the room light and bright through long winter nights, but the classic detailing adds gravitas, as does the antique Oushak rug. For a warmer feel in winter, velvet drapes could be added as well as table linens in deeper blues. Find more vintage and antique Oushaks here and the chandelier here. 
Amanda S. Gluck is known online as Fashionable Hostess, and this dining room shows how apt the moniker is. Here she uses Cape Cod Summer by Pascal Shirley to imbue the neutral room with the joys of spring and summer; she can just as easily swap out the art with a ski scene in winter, a bountiful still life for autumn entertaining, or a moody abstract just for the heck of it.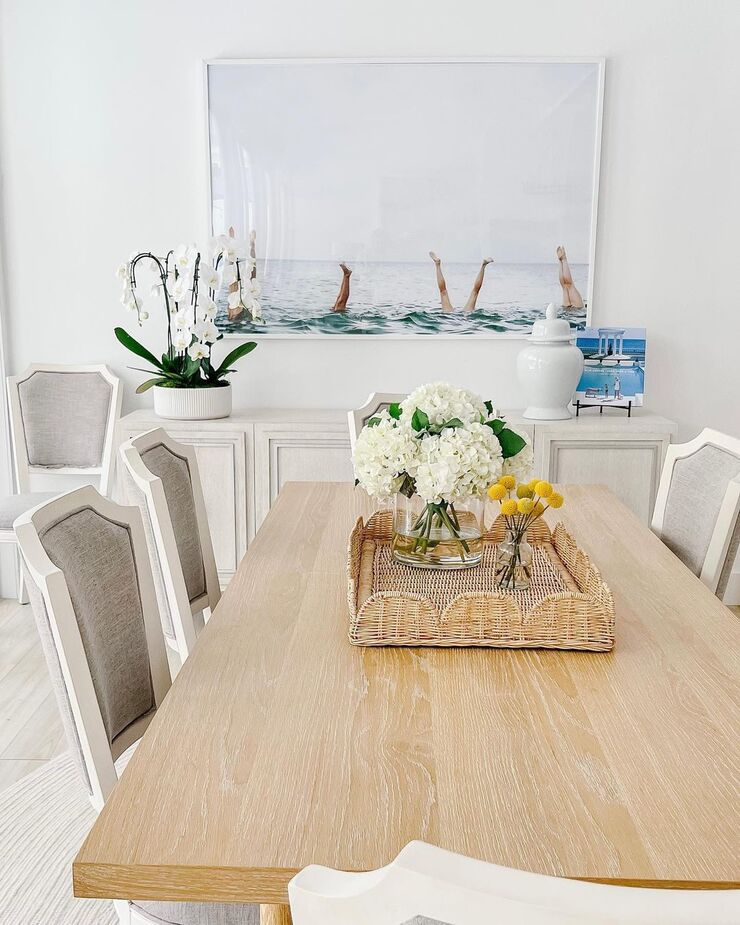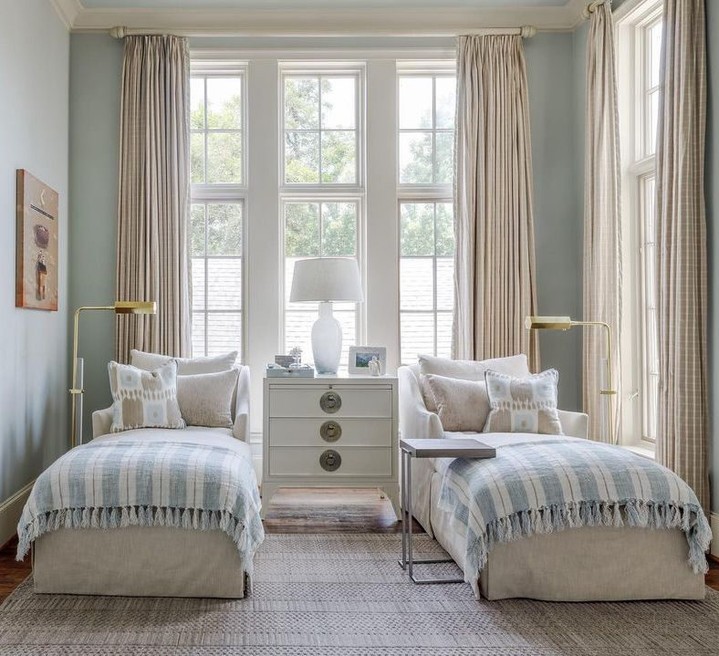 This sitting room by Modify proves how something as simple as the right throw—in this case, Pom Pom at Home's Laguna Throw—can take a room from winter to spring, or from functional to inviting. We also love the side-by-side chaise, as well as having a side table that can sidle close enough to serve as a lap desk. Find a similar table here and similar floor lamps here.